The concept of a human burrito was something I learned in my childhood, but I can say that as an adult, I still want it in fact, I even do it sometimes. Whenever I went to bed as a kid, my parents would tuck the blankets all around my body and call me a human burrito. That was a great way to keep me warm.
Sometimes I wonder what the human burrito equivalent is for cats. They sometimes don't like blankets or the feel of them. I was sure it had to be a place.
A garage with all the safety measures in place, could be such a place. Cats can live inside garages, as they do not have many windows and can effectively block the cold winds.
With the necessary arrangements to keep them warm and comfortable, a garage could be the most suitable place if you need to leave your cat for a while.
Many people may suggest otherwise, they may say that garages are not safe for your cats. Keep reading to find out what is and is not safe for your cat.
Key Takeaways

A garage can serve as a shelter for cats in winter, as long as necessary safety measures are taken.
Remove anything that could pose a danger to the cat (sharp tools, etc.).
Cover vehicles inside the garage.
Ensure proper ventilation and insulation to block cold winds.
Arrange for food, water, litter, and other necessities.
Check under and around vehicles before starting them to make sure the cat is not hiding there.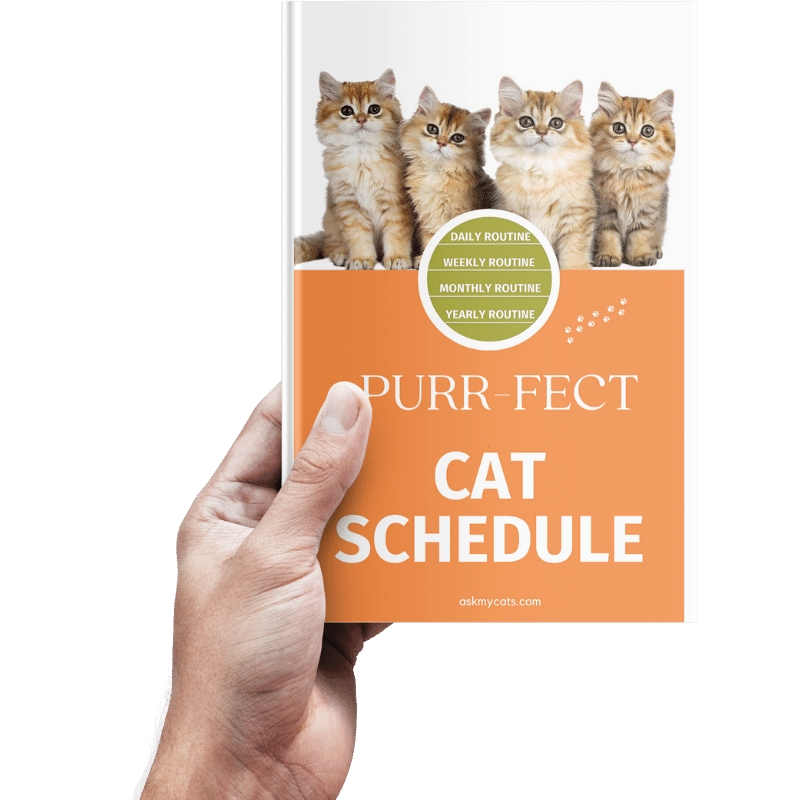 Discover the Secrets to a Happy Cat!
Discover the secrets to creating a happy and healthy daily routine for your feline friend. From playtime to mealtime, sleep to grooming, our expert guide will show you how to make every day a purrfect day for your cat.
Give Your Cat the Perfect Day – Get the Ebook!
Can Cats Stay In The Garage In Winter?
If the said garage has proper ventilation and is safe for your cat, there is no harm, and your cat can comfortably stay in the garage.
It is often frowned upon when someone says that they let their cat stay in their garage, but if all the possible dangers are removed from the garage, it is possible to leave your cat in it.
Garages in houses are often home to all kinds of tools and machines; cats, if left there with that stuff out in the open, could be very risky for them. Tools have sharp ends and edges, if the curiosity of the cat gets the better of it, your cat might end up getting seriously hurt. Removing such tools is the first thing you should do if you plan on leaving your cat in the garage.
Another thing you need to remember is that the vehicles inside the garage should be covered. Dr. Nicole Frey, an Extension Assistant Professor at The Utah State University Extension, says,

"While humans seek shelter from the biting cold, the animals around us seek out warm places to live and sleep for their survival. Sometimes those warm places are our homes, sheds, and other similar structures.

Other times they find shelter inside of our vehicles," If your cat spends a lot of its time in the garage, sometimes to chase out the cold, it may seek warmth inside the warm engines of cars.

If by any chance you start the car with your cat still there, you might as well end up killing the cat.

Dr. Nicole Frey, an Extension Assistant Professor at The Utah State University Extension
Even Kansas State University points out,

"The warm engine can provide a cozy place for a nap, with cats sometimes climbing up into the engine compartment to nestle on or near the engine block. Fan blades can lead to injury or death when the vehicle is started."

The hazards of living inside a garage are no less, but they can be resolved if the necessary measures are taken.

Kansas State University
Must Read: Can I Keep My Cat In The Garage At Night?
Is It Okay To Leave Your Cat In The Garage In Winter?
If your garage is pet-proofed, i.e., anything that could be a possible danger for your cat is removed, the garage is an inhabitable place for your pet.
Many pet parents who cannot afford to leave their pet cats without supervision leave their cats in the garage.
If you worry about the emotional state of your cat, you should leave one of your old shirts or any other piece of clothing that gives off your scent. This will make the cat feel more at ease, and it will not be as sad or scared.
If you plan on leaving your cat in the garage for an extended period of time, you need to arrange for their food, water, litter, and weather-appropriate needs.
In winter, you need to make sure that there are no cold winds seeping in and that proper ventilation is maintained too. This could be ensured by using a good quality insulated door that is capable of blocking the chilly and harsh winds of winter.
A good door with insulation may also block out any voices. That would also be good for you, as your neighbors could never complain about your cat making noises.
If you leave your cat inside the garage in winter, make sure you keep it covered so they don't damage the vehicle by scratching or chewing.
Sometimes cats hide in the hoods of cars, seeking warmth. Before starting the vehicle, check below it and thump its hood so your pet does not get in the way.
Even Susan Nelson, a veterinarian, and clinician at Kansas State University's Veterinary Health Center remarks, that by thumping the hood, your cat may indicate its presence or move away, as she quotes,

"Hopefully any cat that is nestled in there will skid out before any damage can be done from the motor."

Susan Nelson, a veterinarian, and clinician at Kansas State University's Veterinary Health Center
Interesting Read: Litter Box In Garage! Is It Safe?
Pros and Cons of Cats Living in Garages During Winter
| Pros | Cons |
| --- | --- |
| Protection from extreme outdoor weather conditions | Limited space and lack of natural light |
| Reduced exposure to outdoor hazards | Lack of insulation and proper heating |
| Lower cost of living and lower energy costs | Increased risk of disease and illness |
| Quiet and peaceful environment | Reduced socialization with humans and other pets |
| Increased independence and self-sufficiency | Difficulty providing necessary stimulation and exercise |
| More controlled environment for indoor elimination | Increased risk of accidents and injury due to limited space |
Pros and Cons of Cats Living in Garages During Winter
Must Read: How Cold Can Cats Survive Outside?
How To Keep Cats Warm In The Garage During Winter?
There is no use in putting your cat in the garage in winter if it is not warm enough for it. Here are some ways you can keep your cat warm inside the garage
1. Door
Choosing the correct door or making sure that the door is thick enough or insulated enough is the first step. If the door is not able to retain a little warmth or it allows the cold winds to seep through, it is of no use.
This also serves the purpose of blocking out noise. You don't need to worry about your neighbor complaining about noise at any time of the day, either.
2. Food and Water
Cats burn more calories in winter to stay warm. So if they are not fed enough calories, it may affect their metabolism and immunity.
Also, plan out meals and make sure there is plenty of water needs to be done if you leave your cat in the garage. You can use a variety of pet products that will feed your pet at the time you set in the machine.
3. Bedding
Warmth in cats is often associated with comfort. Keep a small bed in there so that it can be comfortable any time it wants.
If your pet needs it, you can lay out an extra blanket for it so that it can get warm enough. They may not use the blanket, but it can still be used later instead of exposing them to the cold.
4. Temperature
Many garages have a heating connection along with the house. If you have such a house, make sure that the temperature is not too warm.
The temperature outside changes as the day progresses, if the temperature is too hot at a certain time of the day, it could be uncomfortable and stressful for the cat. Don't increase the temperature to the point where it's too warm or hot; just enough so that it's comfortable.
These ways should be enough to keep your cat warm, but it's different for all cats. Some cats can tolerate colder temperatures, but others cannot, so arrangements should be made based on your cat's comfort and endurance.
Interesting Read: Lost Cat in Winter? Here's How to Find Them
Essential Items for Keeping Cats Warm in a Garage
| Item | Description |
| --- | --- |
| A heating pad or blanket | Provides a warm, comfortable place for your cat to sleep |
| Insulated bed or house | Keeps your cat warm and protected from the cold ground |
| Warm bedding | Adds an extra layer of warmth for your cat |
| Heating lamp or electric heater | Raises the temperature in the garage to a safe level |
Essential Items for Keeping Cats Warm in a Garage
Frequently Asked Questions
For how long can you leave your cat in the garage?
You can leave your cat in the garage for all the time that you have made sure that it gets fed and is comfortable and warm. With proper ventilation, cats could stay in there, for days comfortably. But if the garage has no ventilation and is not pet-friendly, it is not possible to survive for a few days either.
What are the things that are important for cats to survive in a garage?
To survive in a garage, you need to have food, water, a litter box, bedding, toys, blankets, etc. for your pet to be comfortable in the garage. They may be tempted to play with or, better yet, tear apart the stuff in the garage if you don't put some toys in there.
Summary
Garages are not only used to park cars, but in most houses, they also store all the tools and other materials for repair. It is usually very warm and humid in such places.
In the winter, places like sheds or garages that are always warm are ideal places to leave your cats. Pet parents who work often, do this, and absolutely nothing happens if they have taken all the precautions.
If the tools, machinery, and products in the garage are stored properly so that your cat cannot reach them, it is safe to keep your cats there.
In harsh winter weather, these locations are warm and comfortable for small animals such as cats. With all the arrangements for food, water, litter, and comfort, a garage could also be a permanent home for your cat, not just in winter. Would you keep your cat in the garage in the summer too?
You might also like to read some articles related to winter and your cat:
References