The Utah state university found that House, stray, and feral cats species, Felis catus or also seen as Felis domesticus, are the most prevalent domesticated animal species in the United States, numbering between 148 – 188 million individuals. They are found on all 7 continents, with an estimated 600 million cats worldwide.
Now with such a huge number of cats that are found in the wild and open a question arises in one's mind, what happens to these cats when winter strikes? How do they manage to survive such harsh weather conditions? What do they do all these winter months?
Stewing over such questions leads to many more questions, so let's find out what happens to them during this time.
Key Takeaways

Stray cats can survive in winter by adapting and finding warm places close to their sources of food and water.
Un-owned cats are highly active and have to search harder for food and warmth during winter.
Kittens and old cats are at risk of hypothermia or frostbite, and sick cats could also lose their lives if they don't find shelter and food/water.
There is no specific temperature at which stray cats can survive, as it depends on factors such as fur, bone density, and weight.
Stray cats hide in warm places such as under vehicles, dense trees/bushes, and garden sheds.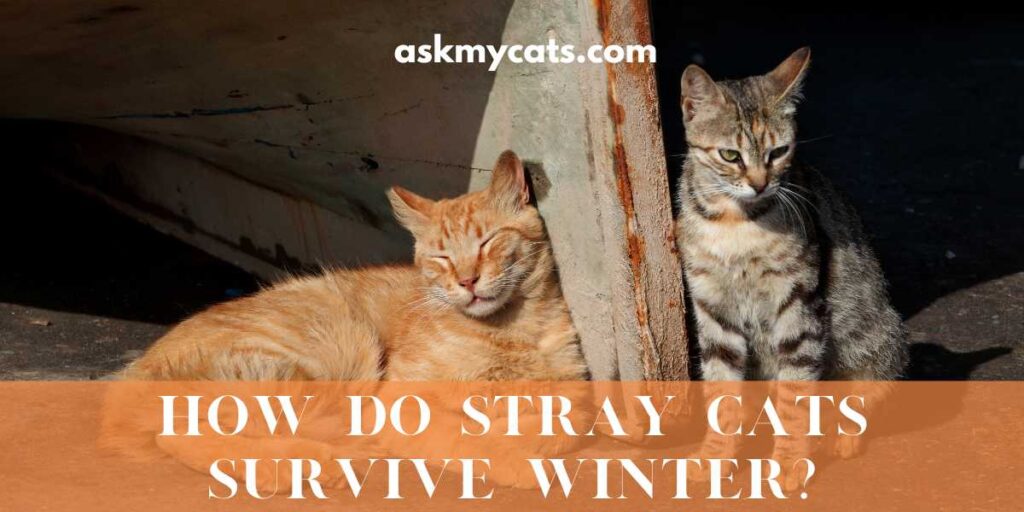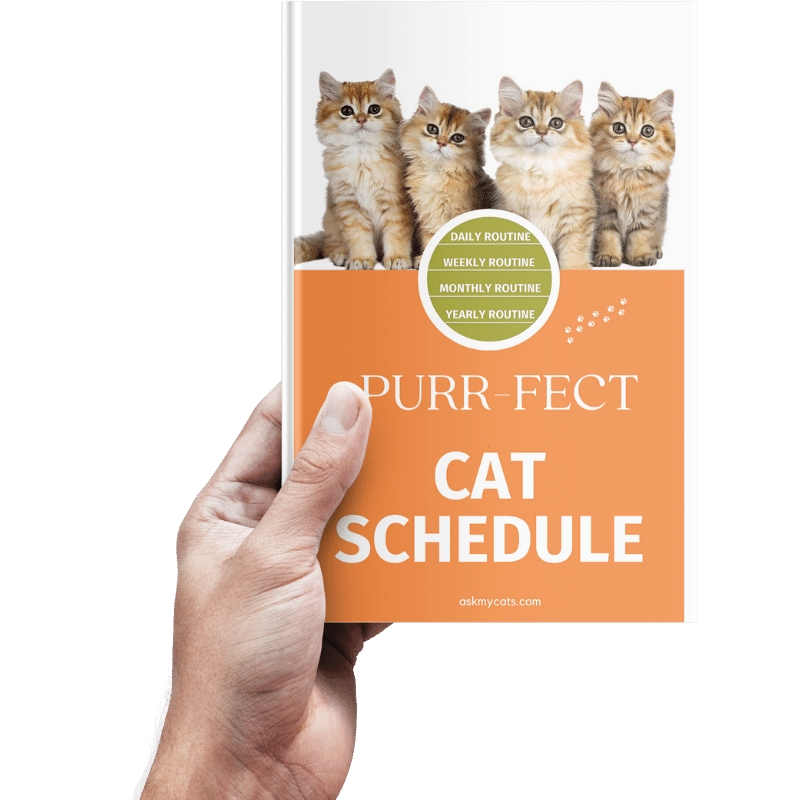 Discover the Secrets to a Happy Cat!
Discover the secrets to creating a happy and healthy daily routine for your feline friend. From playtime to mealtime, sleep to grooming, our expert guide will show you how to make every day a purrfect day for your cat.
Give Your Cat the Perfect Day – Get the Ebook!
Can Stray Cats Survive Winter?
Yes, stray cats manage to survive in winter. They adapt quickly and actively work to make arrangements for the season. They survive all those months by finding a warm place preferably close to their sources of food and water.
Jeff Horn, a former graduate student in the department of natural resources and environmental sciences, and colleagues collaborated on a two-year study of owned and unowned cats outdoors and observed that,

The un-owned cats were highly active 14 percent of the time.

"The un-owned cats have to find food to survive, and their activity is significantly greater than the owned cats throughout the day and throughout the year, especially in winter," Horn said.

Jeff Horn, department of natural resources and environmental sciences
"These unowned cats have to search harder to find food to create the (body) heat that they need to survive." was reported by Diana Yates, life sciences editor at Illinois news bureau.

Diana Yates, life sciences editor at Illinois news bureau
Normal adult cats aren't at risk as much as kittens and old cats. The harsh weather poses a risk of hypothermia or frostbite. Kittens and old cats can easily catch either which could cost their lives.
Sick cats could also lose their lives if they don't find shelter and a stable source of food and water. For cats, finding a warm shelter becomes their priority.
Must Read: How Long Can A Cat Survive In The Cold?
What Temperature Can Stray Cats Survive?
There is no certain value that can be specified at which stray cats can survive. They are very adaptive and manage to survive in harsh conditions.
For cats in general, a temperature under 45 degrees Fahrenheit is classified as dangerous but stray cats manage to pass even worse or they don't so finding a temperature that can be termed as safe for all the cats is not possible.
The amount of cold cats can endure depends on many factors like fur, hairless cats are more prone to cold than cats with fur as their fur helps them keep warm.
Bone density, the thickness of fur, weight, etc are other factors that help in determining the chances of survival in extreme conditions
Interesting Read: What To Feed Feral Cats In Winter?
Where Do Stray Cats Go During The Winter?
Stray cats hide in warm places to keep themselves warm. In the regions where it snows, these cats find places that are both dry and warm because cats aren't the biggest fans of water.
The Utah State University reports that, in the winter, stray or lost cats and other cat-sized mammals are attracted to vehicles when they are looking for warmth and shelter from the environment.
They can be seriously injured or killed when the engine is started. If they survive the engine starting, they could fall off your car as you are driving and be injured.
Jane Harrell, Editor-in-Chief of Pet Health Network, said, "I've been in the pet industry for thirteen years, and every year there is a story that comes up about a cat that's gotten trapped in a car.

Jane Harrell, Editor-in-Chief of Pet Health Network
Cats do not see the dangers in places like car engines, they only see that the places are warm enough and hence they often die in places like these.
People are not very careful and almost forget to check in weather conditions like those and sometimes run over such animals.
Cats also find shelter in dense trees and bushes which act as barriers against strong winds in the winter season. These bushes also provide them a good camouflage which helps them hunt their prey and have steady meals during times like these.
Is It True? Do Cats Sleep More in Winter?
Where Do Stray Cats Go When It Snows?
Stray cats gravitate towards warmer and drier places to find shelters in these weather conditions they dislike getting water on them. They find shelters preferably with walls so that they can be safe from strong winds or snowfall.
People with garden sheds in their backyards have observed that they find cats in the winter months in those sheds.
Even the temperature inside the sheds may not be particularly warm but it is comparatively warmer than in the open also they can easily sneak into the houses and even get food so they generally camp in similar places.
Instead of going into the wild cats are lured towards where civilization exists as those areas increase their chances of finding food every day and also many warm places where they can live.
Not only stray cats but other bigger cats that live in the wild are known to move a little out of their homes in search of prey as they are scarce in such weather conditions.
Hence in areas where it snows many shelters are set up so they can reach out and provide better living situations to these stray cats.
You can also help them by letting them stay in your backyard if they take up shelter there instead of driving them out.
Interesting Read: How To Keep A Stray Cat Warm Outside In Winter?
Where Do Stray Cats Sleep In Winter?
The places where cats are found hiding around during these times are:
1. Car engines or near the car tires:
Cats snuggle in the engines of cars because they are very warm after the car shuts down. They sleep snuggling close to the warmth of the engine.
Due to the friction and movement on roads even the tires of such vehicles are warm and they sleep near the tires too that's why many fatal accidents occur around these.
2. Dumpsters:
Usually, dumpsters are tucked into small corners and these are excellent sources of food for stray animals so they hide near those to protect themselves in winter.
3. Backyards:
If the cat is near a residential community they find shelters in people's backyards or garages where is it warmer and drier than it is outside. unused garden sheds and doghouses become their makeshift houses during this time.
Being near civilization also increases their chances of finding food and water easily without much of a struggle.
4. Dense trees and bushes:
The thick foliage of trees and bushes protects them against biting cold winds and also provides great camouflage to hunt their prey.
This works in their favor as they get constant food and also warm shelter. This is more likely a more stable option as nobody would drive them out of such places which could be a probable outcome in all the places listed above.
Interesting Read: Do Cats Get Cold In The Winter?
How Stray Cats Survive the Winter Months?
1. Taking Shelter from the Cold
As winter approaches, stray cats have to find somewhere to hide from the elements. Now, you may think that cats are tough creatures and can handle anything, but the reality is, winter can be brutal!
I mean, who wants to be outside when the temperature drops to single digits and the wind is howling? Not me, that's for sure.
So, where do these brave felines go? Well, they often seek refuge in abandoned buildings, under cars, and on porch steps.
They're experts at finding cozy spots where they can huddle together for warmth. But just because they've found a place to hide doesn't mean they're completely safe. They still face challenges like limited access to food and the risk of injury.
2. Scavenging for Food
With the colder weather comes a shortage of food for stray cats. The birds have flown south, and there are fewer insects for them to hunt. That's why they often resort to scavenging in dumpsters and garbage cans.
"Stray cats have to be very resourceful to survive," says Dr. Sarah Smith, a veterinarian who specializes in feline health. "They have to adapt to changing circumstances, whether it's finding food or avoiding danger."
But even dumpsters can be empty during the winter months, so these cats have to get creative. They might even hunt small animals like mice and voles. It's amazing to see the skills they develop just to survive!
3. Strength in Numbers
Did you know that stray cats often form colonies to help each other survive the winter? It's true! These groups of cats huddle together for warmth and protection. They also share food and resources, which is a huge help when the winter is harsh.
In fact, a study by the American Society for the Prevention of Cruelty to Animals found that colonized cats have a higher rate of survival during the winter months.
It's pretty incredible, don't you think? These cats, who were once solitary creatures, come together and work as a team to make it through the toughest time of the year. Talk about survival of the fittest!
Factors that Affect Stray Cats' Winter Survival
| Factor | Explanation |
| --- | --- |
| Age and Health | Older and sick cats are more vulnerable to the cold and may struggle to survive the winter. |
| Fur Thickness | Cats with thicker fur are better equipped to handle the cold, while those with thin fur may struggle. |
| Access to Food and Water | Stray cats need access to food and water to survive the winter, especially if it is very cold or snowy. |
| Availability of Shelter | Cats without access to a shelter are more likely to struggle to survive the winter. |
How You Can Give Stray Cats a Helping Hand During Winter
1. Providing Food and Water
If you're looking for a way to help stray cats this winter, one of the simplest things you can do is to provide food and water. I mean, who wouldn't want a warm meal on a cold day?
Just imagine if you were hungry and it was freezing outside, wouldn't you appreciate someone leaving a bowl of food for you?
But, it's not just about feeding them once and forgetting about them.
"Consistency is key when it comes to feeding stray cats," says Dr. Smith. "They need to know they can count on you every day."
So, make sure you leave food and water out every day, especially on the coldest days. It'll make a huge difference in their survival.
2. Building Outdoor Shelters
Another way you can help is by building outdoor shelters for stray cats. It doesn't have to be fancy, just a simple box with a roof and some insulation will do. You can even get creative and decorate it with a cute design!
These shelters will provide much-needed protection from the cold and wind. They'll also give stray cats a place to hide from predators and other dangers.
"Outdoor shelters can be lifesavers for stray cats during the winter months," says Dr. Smith. "They give cats a safe and warm place to escape the harsh weather."
So, grab some supplies and get to work! Your local hardware store can help you find everything you need.
3. Spaying and Neutering Stray Cats
One of the most effective ways to help stray cats is by getting them spayed or neutered. This will not only prevent more cats from ending up on the streets, but it'll also improve the health of the cats you're already helping.
"Spaying and neutering can reduce the risk of certain health problems and improve their overall quality of life," says Dr. Smith.
Plus, when you spay or neuter a stray cat, you're also reducing the chances of fighting and marking territory.
So, it's a win-win situation! You're improving the life of the cats you're helping, and you're helping to control the population of stray cats.
Frequently Asked Questions?
Can cats go out in the snow?
Yes, cats can go out in the snow but that does not mean they necessarily want to. Going out in the snow means getting water in themselves which is one of the things cats dislike the most so they don't usually enjoy going out in the snow
How long can cats stay outside in winter?
This depends on the endurance of the cat. Some may be able to stay overnight without any warmth but some may be exposed to the risk of hypothermia or frostbite so there is no fixed amount of time they can stay outside.
Summary
With the change in seasons, your neighborhood may not frequent your doorstep as much as it used to. In winter stray cats focus more on finding warm places where they can stay for the nights as the temperature drops.
If they live in areas where it snows they would try to find places that are also dry along with warm as cats are not the biggest fans of getting water on themselves.
They find places where they can be warm, and find steady sources of food and water so they never run out of them for the following months. car engines are one of those places. The cats do not realize how dangerous this can be for them, as people unknowingly start their cars and it could get them killed.
That's why many people try to spread awareness and urge to help these small stray animals during these times. What would you do to help these furry friends of ours?
You might also like to read:
References