Did your cat run away somewhere before a rainstorm, and now you are worried if it can find its way back home?
Fact: Even years after getting lost or wandering off, cats can find their way back home. Cats have been reported to travel 50–80 miles in 2.5 years, 38 miles in 6 months, 30 miles in 10 days, and 20 miles in 21 days.

according to the Lost Pet Research Project.
In this article, we'll talk about whether cats get lost in the rain and whether rain makes it difficult for felines to smell their surroundings and, as a result, hinders their activities.
Check it out.
Key Takeaways

Cats have a good sense of direction and can often find their way home even in rainy weather.
A cat could become lost or confused in heavy rain, especially if they are not familiar with the surroundings or if they are scared.
Cats have a keen sense of smell and can detect the odors of other cats even when they have been diluted or washed away.
It is a good idea to have your cat microchipped and wear a collar with identification tags in case they become lost.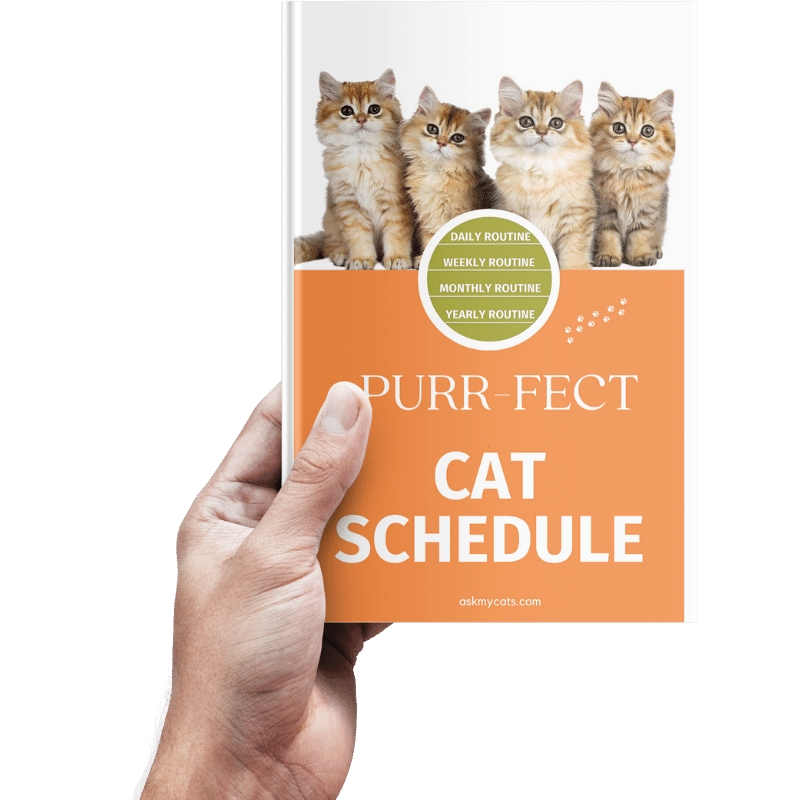 Discover the Secrets to a Happy Cat!
Discover the secrets to creating a happy and healthy daily routine for your feline friend. From playtime to mealtime, sleep to grooming, our expert guide will show you how to make every day a purrfect day for your cat.
Give Your Cat the Perfect Day – Get the Ebook!
Do Cats Get Lost In The Rain?
Even in damp or rainy situations, cats often have a good sense of direction.
However, a cat could get lost or confused in a downpour, especially if they are unfamiliar with the surroundings or if they are fearful or frightened.
A cat could become lost and unable to return to its house or another familiar place in these circumstances.
When it rains, cats are normally not in any greater danger than usual. If you live close to a busy road and it's a dark, rainy winter night, things can get a little worrisome, but the worst that can happen is that your wet cat gets sick.
Things you can do when your cat is alone and you are not at home:
Your yard should have an outhouse. Cats are particular about where they find shelter, yet it is preferable to have a place than none.
Create a spot in your garage or large outhouse where your cat may enter and exit using a cat flap. Much more effective than a little pet home for blocking the wind.
To allow guests to enter your house, leave a little window open. Many cat owners tilt their bathroom window down so that rain won't run through it, but their cat can still squeeze through.
Interesting Read: Why Is My Cat Sitting Outside In The Rain?
Factors that may affect a cat's ability to find its way home after being displaced
| Factor | Description |
| --- | --- |
| Weather conditions | Rain, fog, and other adverse weather conditions can make it more difficult for a cat to orient itself and find its way home. |
| Familiar landmarks | Cats rely on familiar landmarks and scents to navigate, so a lack of these cues can make it harder for them to find their way home. |
| Age | Older cats may have a harder time finding their way home due to age-related declines in vision, hearing, and other senses. |
| Stress | Cats that are stressed or frightened may have a harder time finding their way home, as their normal navigation abilities may be impaired. |
Factors that may affect a cat's ability to find its way home after being displaced
Does Rain Wash Away Cat Scent?
While some fragrances can be washed away by rain, a cat's scent is unlikely to be entirely gone.
In order to mark their territory and communicate with other cats, cats use glands on their faces, paws, and other parts of their bodies to release pheromones and other chemical messages.
Even when exposed to rain or other damp conditions, these odors are frequently highly strong and can be detected for a very long period.
Cats also possess a keen sense of smell, and they can distinguish the odors of other cats even after they have been diluted or washed away.
They can speak with other cats and navigate their surroundings thanks to this, even in muddy or rainy conditions.
That terrifying moment when you realize your treasured pet has vanished is something many of us have experienced or thought about.
How are you supposed to find your lost cat in the commotion of your neighborhood?
Here's what you can do to stop this situation from happening:
Your cat and all of your animals should be microchipped and wear collars and tags as a matter of course. You just never know, so unless you enjoy gambling, make sure your cats are identified! The Safe Cat breakaway collars are the top collars. They might fall off, for sure, but the microchip serves as a backup, so that's why it's there!
After that, file a lost pet report. Both your veterinarian's office and the microchip company should be informed. Create flyers and distribute them widely! Post them at your neighborhood clubhouse, your vet's office and nearby vets, the grocery store, local animal shelters, animal control agencies, and pretty much wherever else you can think of that would be useful.
Interesting Read: Do Cats Like Rain? Know The Secret
Can Cats Smell Their Way Home In The Rain?
Storms can make it challenging for cats to traverse, but the majority of cats are able to return home. Their ability to navigate is hampered by the rain, but once the storm passes, things improve once more. No matter the weather, whether it is hot or cold, your cat will be fine.
However, the cat could develop hypothermia if the temperature falls to or below freezing. Cats can venture outside in the rain if the conditions are terrible enough, but not if they choose to.
Cats look for the coziest hiding place during the rain. If that is not an option, they pick the one that is closest.
Underneath vehicles, under houses, within garages, on decks and porches, and under nooks and overhangs are all related to this. If necessary, cats will even accept junk heaps, trash cans, and abandoned structures.
Rain protection is provided by trees and bushes, and a pleasant vantage point is provided by bushes and hedges.
A cat will leap from one place to the next whenever an opening occurs if it needs to hide in more than one location. This behavior continues until the cat feels secure.
Interesting Read: Why Do Cats Go Crazy When It Rains?
Studies on cats' ability to find their way home after being displaced
| Study | Findings |
| --- | --- |
| Leger et al. (2006) | In this study, cats were displaced up to 9 miles from their homes and then allowed to return on their own. Most of the cats were able to find their way home within a few days, with younger cats having a higher success rate. |
| Mills et al. (2007) | This study found that cats were able to find their way home from distances of up to 3 miles, but their success rate decreased the further they were displaced from home. |
| Wells et al. (2012) | In this study, cats were displaced up to 20 miles from their homes and fitted with GPS tracking collars. The majority of the cats were able to find their way home within a few days, with some taking as long as two weeks. |
Studies on cats' ability to find their way home after being displaced
What should you do if your cat gets drenched in the rain?
Cats can endure wind and rain because they can locate shelters. On the other hand, if a cat gets wet in a chilly downpour, its health may rapidly worsen.
Finding your cat and bringing it inside as soon as you can will help keep it warm.
If it came back on its own, you should dry it off as soon as you can. When it is rubbed with warm food and water, try to brush a fluffy towel over it.
The cat's temperature will return to normal when blood flow is promoted. If your pet displays symptoms of hypothermia, you should call the vet right away.
Interesting Read: Lost Cat in Winter? Here's How to Find Them
Cats try to come home before they sense rain because:
Your home is the safest location to be during a hurricane.
When the weather deteriorates, it will likely turn back. Apparently, your cat wasn't very far from home.
According to a Mammal Study study, indoor or outdoor cats are likely to have a smaller home range than feral cats. As a result, when your cat walks outside, it won't stray too far from your home or apartment. It can come back as soon as there are indications of a rainstorm.
Interesting Read: Are Cats Scared Of Thunder & Lightning?
Does Rain Make It Harder For Cats To Smell?
Rain doesn't make it harder for cats to smell, instead, it washes out the existing scents, and as a result, your cat finds it difficult to navigate its surroundings.
It turns out that cats react to variations in air pressure more strongly. Yes, thanks to their enhanced senses, they can detect warning signs of impending storms. The inner ears of cats may be able to sense a sudden drop in air pressure.
A cat is also more sensitive to odors and sounds. Consequently, your cat will hear the thunder before you do. Similarly, your cat is more likely to detect the metallic scent of lightning in the air than the impending rain.
You May Also Want To Know: Where Do Stray Cats Go When It Rains?
Various Locations To Lookout For If Your Cat Is Missing During Rain
These are some of the typical locations cats seek shelter in when it's raining, so you may go look for them or just have peace of mind that they are somewhere dry and safe:
Sheds and Garages
The first place you should look for a missing cat is in sheds and garages. They enjoy hiding in these places because they frequently find lots of room and good protection.
Wooden Areas
We've gotten out of the rain under trees enough times to know that it's a place to go. Don't be surprised if your cat is found in a nearby forested area when it's pouring; cats are smarter than humans, remember.
Under Vehicles
You can be aware that on rainy days you can nearly always find one of the cats under the car you have parked on your driveway. For cats, it's one of the most obvious and convenient places to stay dry and, if the engine is still hot from running, even warm.
Garden Sheds
If they don't arrive home on time, look here first as it is one of the common hiding places for cats. Please read my post on how long a cat can survive confined in a shed if you're worried about your cat becoming trapped there.
Doorways
Have you ever noticed how cats enjoy perching on front porches? One of the main causes is that doors are frequently covered, allowing visitors to stand at your door without getting wet.
Interesting Read: Can Cats Drink Rain Water?
Frequently Asked Questions
Do thunderstorms affect cats?
Cats often jump in response to odd noises. They often feel uneasy when it thunders. It makes sense that large booms may startle animals because they are frightening and can even cause people to jump.
Lightning can also frighten cats, especially if it is striking nearby. Cats prefer small, enclosed locations, so they will want to hide till it passes. That suggests that they will rush to the house as soon as the storm begins or breaks.
It will take some time to soothe the cat after he enters the house. Think of this as your cat's last opportunity to survive. Before it tells you everything, it might talk for a while.
Final Words
Hopefully, this article has given you a better understanding of where your cat might hide when it rains, whether cats can use rain to find their way home, and what you can do to assist them as a cat owner.
I hope you enjoyed the read. Please leave a comment below with any queries or suggestions.
Interesting Read: Do Cats Sleep More When It Rains?
References