As a mother of three cats, I wouldn't say that cats hate the rainy season or water in general.
If your cat has ever been caught in the rain, you've probably seen him flatten his ears, crouch low to the ground, and flee for the closest shelter that was available.
Fact: Rain generally does not appeal to cats. You might come across the occasional exception, though, like the Turkish Van, also known as the swimming cat.
In this article, we'll talk about whether cats like playing in the rain and whether they can sense rain beforehand or not.
Let's check it out.
Key Takeaways

Most cats do not like rain and will try to avoid it.
Cats may dislike rain because it makes their coat thicker and heavier, hindering their agility and putting their safety at risk.
Cats will seek shelter in a variety of places when it rains, including shrubs, tight spaces, and the overhangs of buildings.
Some cats may find the sound of rain to be soothing, while others may find it frightening.
If a person wants to help a cat during the rainy season, they can provide it with food, water, and shelter, and consult with a veterinarian if necessary.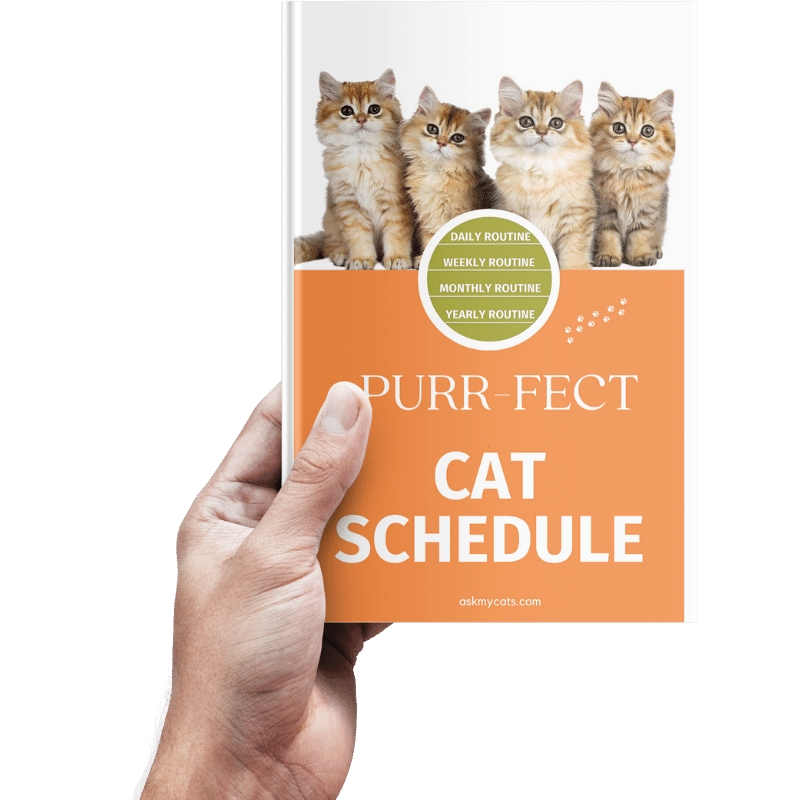 Discover the Secrets to a Happy Cat!
Discover the secrets to creating a happy and healthy daily routine for your feline friend. From playtime to mealtime, sleep to grooming, our expert guide will show you how to make every day a purrfect day for your cat.
Give Your Cat the Perfect Day – Get the Ebook!
Do Cats Like Playing In The Rain?
The majority of cats don't appear to enjoy the rain, according to the common view among cat owners. They like to huddle up and snooze through the gloomy weather while it's pouring rain outside. Simply put, most cats dislike water.
Why are cats not fond of rain?
Cats dislike rain and water for a variety of reasons, according to Reader's Digest. Your cat may feel uncomfortable if it rains since the water makes his coat thicker and cooler. It may take some time for that wet coat to dry, especially if your cat has a thicker coat that is really wet.
Imagine getting soaked on a rainy day because you didn't have your raincoat with you. How do you feel about the fact that your clothes are wet and saggy?
Your cat's agility and balance may be hampered by the increased weight of a wet coat. Cats can jump and move quickly in general, but excess weight can make it difficult for them to maneuver.
Cats' quickness and reactions serve as a natural defense in the wild, so getting their coats wet can put their safety in danger.
While some cats may enjoy the novelty of playing in the rain, others may be frightened by the sound of thunder or the sight of lightning.

It's best to monitor your cat's behavior and provide them with a safe, dry place to retreat to if they seem uncomfortable or scared.

Dr. Jennifer Coates, DVM
Where do cats go when it's raining?
Cats are instinctual, intelligent creatures, so they will know where to look for shelter. An outdoor cat will be familiar with her surroundings and have "go-to" spots for cover.
Cats will seek refuge in a variety of places, including shrubs, automobiles, tight spaces, and the overhangs of buildings.
Interesting Read: Can Cats Drink Rain Water?
Factors That May Influence A Cat's Preference For Rain
| Factor | Description |
| --- | --- |
| Breed | Some cat breeds may be more prone to enjoying or tolerating rain than others, due to their coat type or other physical characteristics. For example, a cat with a long, thick coat may be more resistant to getting wet than a cat with a short, thin coat. |
| Age | Younger cats may be more curious and adventurous, and therefore more likely to explore and play in the rain. Older cats may be more sedentary and less interested in getting wet. |
| Personality | Some cats are more outgoing and bold, while others are more timid and reserved. A bold, confident cat may be more likely to venture out in the rain, while a timid cat may prefer to stay inside. |
| Training and socialization | Cats that have been exposed to rain at a young age and have had positive experiences with it may be more likely to enjoy it as adults. Cats that have had negative experiences with rain (e.g. being caught in a thunderstorm and getting scared) may be more fearful of it. |
Factors that may influence a cat's preference for rain
Do Cats Like Rain Sounds?
When they hear heavy rain, felines panic and become alarmed. Drizzling sounds, on the other hand, can be extremely soothing for cats.
They are quite weather-sensitive. They are able to detect changes in the atmosphere and respond appropriately.
Cats can be quite frightened by thunder and lightning since they have a keen hearing sense and can hear it kilometers away.

Another explanation would be that they are terrified by the abrupt shift in the surroundings, which might force them to frantically dart around looking for a place to hide or even jump off tall structures.

Some cats may find the sound of raindrops on the ground or a windowpane to be quite loud and unsettling. Some cats go mad when it rains because the sound of rain also has a different pitch from other sounds, which might make it appear more intense to cats.
Must Read: Why Do Cats Go Crazy When It Rains?
Why do cats sit out in the rain sometimes?
You may rarely see your cat sitting out in the rain and wonder what made this miracle happen.
Well, it can be because of the following reasons:
Given that cats have a greater body temperature than people do, some of them may be sitting outside in the rain in an effort to cool off.
Attempting to get rid of fleas or ticks that have been troubling them all day may be the reason some cats are relaxing outside in the rain.
Some cats may be lying outside in the rain hoping their owners will notice them.
Are cats affected by windy conditions?
A cat's fur may stand on end under windy conditions, which might make them feel chilly. A stronger cat is more likely to seek cover from the wind.
They do this because they don't want to be exposed to the wind, which could irritate their delicate ears.
Cats have experienced storms as a natural phenomenon, and as storms are occurring more frequently, cats may be reacting more strongly than they would have in the past.
Cats are territorial creatures, and they perceive a storm as an intrusion into their territory, which makes them feel threatened.
Cats can be very sensitive to changes in their environment, and the sound and sight of rain can be stressful for some cats.

If your cat seems anxious or distressed during a rainstorm, try providing them with a cozy hiding place and some extra attention and comfort.

Dr. Liz Bales, DVM
Must Read: Are Cats Scared Of Thunder & Lightning?
Why Do Some Cats Like Going Out In The Rain?
Some cats like venturing out in the rain for the following reasons:
Some breeds of cats adore the water, and some cats have a natural affinity for it. Among the breeds that truly like swimming and taking baths in water are Turkish Vans, Bengal, and Savannah. They have a natural liking for water, so a light downpour won't worry them too much.

A cat that lives outside spends a lot of time hunting. Even though cats were tamed decades ago, they still have a strong need to hunt. This urge might still need to be met despite the weather because it keeps them active and stimulated. It's possible that the sound of the rain and the poor vision will actually make it simpler for your cat to catch prey.

Cats rely heavily on fragrance as a means of communication due to their highly developed sense of smell. An important communication tool for cats is the scent, especially when it comes to establishing territory. Other cats can then understand the scent that was left behind. Many odors will be washed away by rain, preparing the ground for fresh markings and perhaps new territory for your cat.

Many cats prefer to use an outside litter box instead of an inside one. They will still want to go outside if this is the case, regardless of the weather. An indoor smaller tray should always be available as a backup, but we all know that cats typically do what makes them happy.

Cats appreciate order and routine in their daily lives. They will frequently still want to go outside even on a rainy day if a regular walk outside is a part of that habit. The temptation to leave the house may still be present even though they are home earlier than normal or are merely outside in a shelter.
Interesting Read: Do Cats Sleep More When It Rains?
Can Cats Sense Rain?
Even if there is no scientific evidence that cats can forecast the weather, that doesn't mean they can't perceive changes in the weather.
Like most animal species, cats frequently rely on their gut feelings to guide them in order to survive.
Most animals, including cats, are thought to be capable of hearing thunder, smelling rain, and detecting approaching storms and weather pressure.
Interesting Read: Where Do Stray Cats Go When It Rains?
How Can You Help Your Cat Handle A Rain Shower?
Even though your cat might dislike the rain, it is a natural occurrence, especially in the spring. It's a good thing that there are several methods you can use to keep your cat cozy even while it's raining outside.
Make sure your cat has access to shelter from the rain if he spends time outside. Cats are pretty good at finding cover; they will automatically retreat under porches and cars.
If rain is expected that day, you might prop open the door to your enclosed porch or leave the door to your shed open so your cat can enter if he so chooses.
Consider getting your cat a cat raincoat if you plan to walk him on a leash on a rainy day. Your cat will need some time to adjust to wearing the raincoat, so introducing it may take some time.
If it starts to rain while you're still some distance from home, the coat can provide him with some additional protection.

If it starts to rain, you might also think about adding a pet door so your cat has full access to allow himself back inside.
If a pet door is something you're thinking about, make sure it's the right size for your cat, and pick one with a latch so you can lock it at night.
Interesting Read: Why Is My Cat Sitting Outside In The Rain?
Tips for keeping your cat safe and comfortable in the rain
| Tip | Description |
| --- | --- |
| Provide shelter | Make sure your cat has access to a dry, warm place to retreat to if they get wet or cold. This could be a porch, a garage, or a special cat house. |
| Keep your cat indoors | If it's raining heavily or there is a thunderstorm, it's best to keep your cat inside to prevent them from getting lost or injured. |
| Dry your cat off | If your cat does get wet, use a towel to gently dry them off, paying special attention to their ears and paws. |
| Offer warmth and comfort | Cats may become chilled if they get wet, so it's a good idea to provide them with a warm, cozy place to rest. A heated cat bed or a blanket can help keep them warm. |
Tips for keeping your cat safe and comfortable in the rain
Frequently Asked Questions
Do cats like getting wet from the rain?
No, cats do not like getting wet from the rain. The cat's fur may become wet after a rainstorm or extended period of rain.
Although your cat's top layer of fur is water-resistant, if they get completely wet and their fur is soaked, they may feel uncomfortable. Your cat's agility will be compromised by the thicker, wetter fur.
Being thoroughly wet will result in a loss of body heat, and prolonged exposure to cold and wet conditions has the potential to cause hypothermia.
Final Words
Since cats are highly sensitive creatures, they can sense impending storms and get agitated and restless.
You should consider putting your cat in a small room or closet because some cats prefer to be in constrained areas. If you have a box or carrier that is enclosed, you can also place your cat in it.
Tell us in the comments if your cat likes the rain and what she does when it starts to become windy.
Interesting Read: Can Cats Find Their Way Home After Rain?
References