I know that you have been reading articles that portray rain and this season itself as a cat's enemy. But not all cats are afraid of it or despise it.
It is natural for a cat to hide when it's raining outside or act like a maniac, jump around, and scratch inanimate objects inside the house.
But is your cat behaving in a different way? Does she like sitting outside the house when it rains? I can see why you are confused.
In this article, you'll learn about everything from why a cat likes to sit in the rain when they dislike water in general to how to care for a cat who is drenched in rainwater and needs urgent care.
Let's get into it!
Key Takeaways

Cats may prefer to go outside when it is raining as there is less activity and the environment is quieter.
They may also be trying to cool themselves down or get rid of fleas and ticks.
It is not advisable to let your cat outside during a thunderstorm as they may become frightened by the loud noises.
Cats can get sick from being in the rain, as their body temperature can drop and they may develop hypothermia.
It is important to dry your cat off and keep them warm if they become wet in the rain.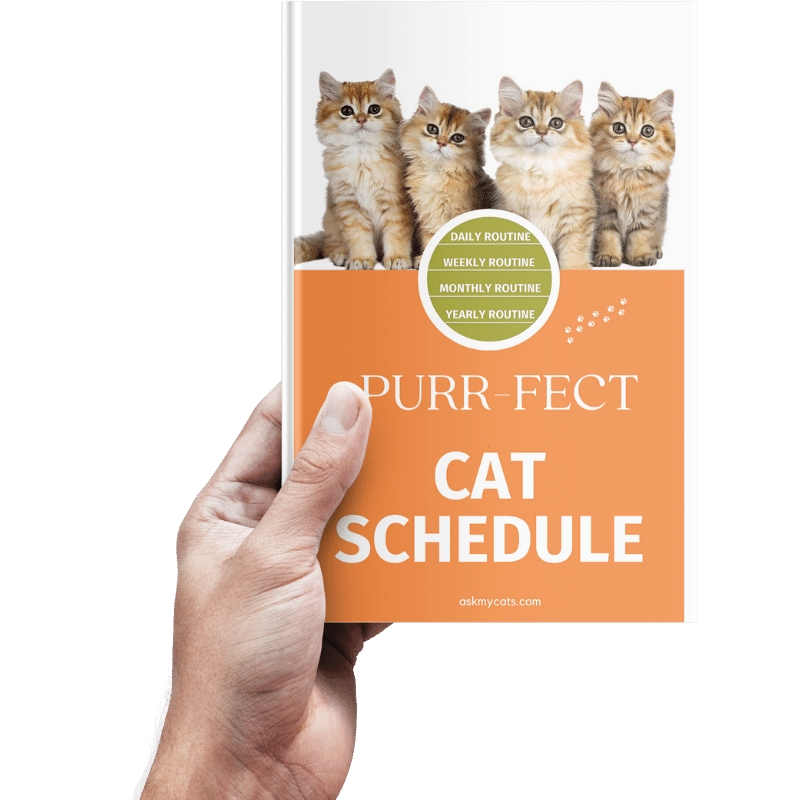 Discover the Secrets to a Happy Cat!
Discover the secrets to creating a happy and healthy daily routine for your feline friend. From playtime to mealtime, sleep to grooming, our expert guide will show you how to make every day a purrfect day for your cat.
Give Your Cat the Perfect Day – Get the Ebook!
Why Does My Cat Sit In The Rain?
Your cat may likely prefer to go outside when it is quieter and there is less activity, such as at night if you live in an area that is frequently busy with pedestrians, dogs, or other cats.
Many people stay inside when it rains, so your cat may be taking advantage of the quieter conditions to explore and possibly explore areas they wouldn't normally be able to safely or comfortably explore.
Cats fear and panic when they hear a lot of rain. On the other hand, cats can find great comfort in drizzling sounds. They are quite sensitive to the weather and can recognize changes in the environment and react accordingly.
You may rarely see your cat outside in the rain and wonder how this miracle occurred.
Well, it might be for the reasons listed below:
Some cats may be lounging outside in the rain to cool themselves, as cats have higher body temperatures than people do.
Some cats may be lounging outside in the rain, trying to get rid of fleas or ticks that have been bothering them all day.
Some cats might be sleeping in the rain in the hopes that their owners will see them.
Changes in the home environment: If there have been recent changes in your home, such as a new pet or family member, your cat may be seeking a more peaceful or familiar space outside.
Boredom or lack of stimulation: If your cat is not getting enough mental or physical exercise inside, they may seek out new adventures outside, even in the rain.
Territorial behavior: If there are other cats in the neighborhood, your cat may be trying to mark their territory by spending more time outside, especially in bad weather.
Cats are natural hunters and explorers. Even in the rain, they may be drawn to the sights and smells of the outdoors.
Interesting Read: Do Cats Like Rain? Know The Secret
| Reason | Description |
| --- | --- |
| Curiosity | Cats are naturally curious animals, and they may be drawn to exploring the outdoors, even in inclement weather. |
| Territorial behavior | Cats may sit outside in the rain as a way of marking their territory or deterring other animals from entering their territory. |
| Seeking shelter | If a cat's outdoor shelter is not sufficient to protect it from the rain, it may seek shelter elsewhere. |
| Health issues | In some cases, a cat sitting outside in the rain may be doing so due to a health issue, such as a urinary tract infection or arthritis, which causes discomfort or pain. |
Possible reasons for a cat sitting outside in the rain
Should I Allow My Cat To Go Outside In The Rain?
Your cat probably won't want to venture outside during a thunderstorm; instead, she'll prefer to stay safe and toasty inside.
If you think a storm is on the way, you should probably refrain from letting your cat outside. Instead, make sure they have a tranquil location where they can flee the loud thunder and drenching rain.
Rain and loud noises are detested by cats. Both are abundant during a storm; therefore, it makes sense that your pet would prefer to hide beneath a table until it is done.
Your cat can hear a considerably wider variety of sounds than the average human since its hearing is three times as powerful.
It also means that a clap of thunder will be considerably louder to them than it will be to you. This indicates that your cat is well-tuned to recognize the rustle of prospective prey.
"Cats are generally able to tolerate wet weather and can take care of themselves in most cases. However, if the rain is accompanied by extreme cold or lightning, it may be wise to bring your cat inside for their own safety."

Dr. Rachel Barrack, DVM
Why is my cat lying low during a storm?
Cats naturally hide during a storm, whether they are indoors or outside. They will flee to a quiet, dark area where they feel safe from the worst of the weather at the first sound of thunder.
If they are inside the house, they may seek refuge in a far corner or under a bed. If your cat is outside when a storm starts, they usually do a fantastic job of finding cover, whether it be under a car, in a doorway, in a shed, garage, porch, or other such places.
So if your cat gets caught in a storm, try not to worry too much. These kittens of feline friends are extremely cunning when it comes to hiding until the worst of the weather has passed.
Interesting Read: Are Cats Scared Of Thunder & Lightning?
Can Cats Get Sick From Being In The Rain?
Yes, cats can get very sick from being in the rain.
If a cat is dry, it can stay warm. However, they suffer the same fate as people when they are wet and exposed to the wind.
Their body temperatures drop because their coats are unable to keep them warm.
Fact: The typical cat's body temperature ranges from 100.5 to 102.5 degrees Fahrenheit. The cat experiences hypothermia when its body temperature falls below 100 degrees, which can result in frostbite and even death if untreated.
What are the symptoms of hypothermia?
The main and most noticeable symptom of hypothermia is a sharp drop in body temperature.
Other symptoms include:
Cold Skin
Shivering
Weakness
Stumbling
Lethargy
Muscle Rigidity
Slow Respiration and Heartbeat
Shallow Breathing
Sleepiness
Coma
Death
Is it possible to prevent hypothermia?
Yes, if you apply common sense, it is quite simple to prevent hypothermia in cats. Keep your cat indoors during the chilly rain.
Allowing your cat to stay outside in the cold is not a good idea. Your cat will be happier sleeping next to a roaring fire than in the rain or snow. Because indoor-only cats live longer than outdoor cats do, keeping your cat indoors is far safer than allowing him to roam.
Interesting Read: Can Cats Drink Rain Water?
How can you treat hypothermia?
You can treat hypothermia in the following ways:
If your cat is hypothermic, you must warm him up and take him right away to the clinic.
Bringing the cat to a warm location indoors and covering him in blankets should work in cases of moderate hypothermia if the cat is still awake and alert.
You must get veterinary help if your hypothermia is serious or severe. You can use hot water bottles or heating pads that are filled with warm water. To prevent burns, place a towel between the cat and the heating pad or water bottle. Every 10 minutes, take the cat's rectal temperature to make sure you are not overheating him.
"While cats are generally able to withstand wet conditions, it is still important to monitor their behavior and overall health when they are outside in the rain. If your cat seems uncomfortable or appears to be suffering from hypothermia, it is best to bring them inside."

Dr. Joanne Intile, DVM
You Might Also Want To Know: Why Do Cats Go Crazy When It Rains?
Should I Dry My Cat After Rain?
You and your pet are sure to experience the blues due to the persistent downpour of rain, the chilly winter air, and the constant display of clouds.
Drying them as soon as they return home from a downpour should be your priority.
Due to the humidity and lack of exercise, this is the time of year when they are most likely to become ill.
As a result, with knowledge of safety and preventive steps during this particular season, make sure your furry friend is healthy and receives his daily nutrients despite the fact that the elements are working against him.
Here's how you can take care of your cat after rain:
1. Dry Fur
Make sure to give his fur a thorough rubdown before and after his stroll because moist fur is a breeding ground for bacteria and fungi.
Another effective approach is to blow-dry the fur. With the constant rain and lack of sunlight, bathing your pet can also become challenging. For now, use dry shampoo in place of a bath.
2. Clean Ears
Moisture can readily build in the ears during the wet season. Because of this, moisture and ear wax work together to produce ear infections.
Therefore, it's important to keep your pet's ears dry, especially after his stroll. Tie it up over his head if your pet has long, closed ears so that it stays dry.
3. Clean Paws
Because they are constantly touching the ground, paws are extremely sensitive and may harbor microorganisms that cause disease.
Protective boots or shoes should be worn to prevent grass, mud, or insects from getting into your pet's paws because they are easily susceptible to infection. You can always wipe and clean his paws after his walk if he won't use them.
4. Dry Bedding
Even your pet doesn't like to sleep in a chilly, damp bed. If your pet enjoys a certain area of the house to sleep in, make sure it is dry and well-covered because a cold surface will inevitably cause joint pain.
Additionally, it's important to replace the bedding periodically to prevent bacterial growth.
"If your cat is an outdoor cat and it's raining, it's important to make sure they have a dry, sheltered place to retreat to. This can be a covered porch, a garage, or a specially-made outdoor cat house."

Dr. Carly Fox, DVM
Interesting Read: Where Do Stray Cats Go When It Rains?
Ways to keep your cat safe and dry during rainy weather
| Solution | Description |
| --- | --- |
| Provide an outdoor shelter | Make sure your cat has a dry, warm place to go when it is raining outside. A sturdy, waterproof shelter with bedding can provide protection from the elements. |
| Keep your cat indoors | If possible, keep your cat indoors during rainy weather to prevent it from getting wet and chilled. |
| Check for health issues | If your cat is behaving unusually, such as sitting outside in the rain, it may be worth having a veterinarian check for any underlying health issues. |
| Use a raincoat or umbrella | If you must take your cat outside during rainy weather, consider using a raincoat or umbrella to keep it dry. |
Ways to keep your cat safe and dry during rainy weather
How Can I Encourage My Cat To Stay Inside During The Rain?
If you prefer that your cat stays inside during rainy weather, there are several strategies you can try to keep them happily indoors.
Provide plenty of toys and activities to keep your cat entertained and stimulated.
Make sure your cat has a cozy, comfortable relaxing spot, such as a cat bed or blanket.
Set up a scratching post or pad to give your cat a place to stretch and mark its territory inside.
Consider feeding your cat treats or wet food during the rainy season to encourage them to stay inside.
If your cat is prone to wandering, consider installing a cat flap or door to keep them contained inside.
Frequently Asked Questions
Can Cats Catch A Cold By Being In The Rain?
Cats can, of course, catch a cold when they become drenched in rain. In the colder months, it is even worse for them to be chilled during a rainstorm. Since a cat's fur is not waterproof, when its coat is wet, it makes the animal feel heavy, uncomfortable, and less mobile than when it is dry.
If their body temperature drops significantly, they may not be able to live any longer.
Final Words
You may create a number of indoor cat activities because it's raining outside. Make use of any stairs you have by running up and down them with your pet.
Play a game of Frisbee or ball in your large hall if you have cleared the tables and couches. You might even turn to find his favorite snacks and toys into a treasure hunt by hiding them.
Do you have any advice on how to keep your cat secure and happy during a storm for our animal-loving community? Please post your ideas in the comments section of our website. We are eagerly waiting to hear from you!
Interesting Read: Do Cats Sleep More When It Rains?
Interesting Read: Can Cats Find Their Way Home After Rain?
References