'This the rainy season again! And now you'll see several feral cats hoping here and there for shelter. I know you want to help them, but don't worry; their natural instincts will keep them safe.
Stray cats are much stronger and more capable than you think. These previous predators know exactly what kind of spot to look out for when it comes to their safety.
However, if you are interested in a stray kitten and want to take on its responsibility, please do so.
In this article, we'll talk about where feral cats go when it rains and how to help them if one wants to.
Here we go!
Key Takeaways

Feral cats are strong and capable animals that know how to protect themselves in the rain.
Cats will hide in a variety of places when it rains, such as under porches, in abandoned structures, and under sheds.
Cats are skilled climbers and agile animals, so they have many options for finding shelter in the rain.
If a cat gets lost, it may take refuge in an abandoned structure or shed until the storm passes.
If a person wants to help a stray cat during the rainy season, they can provide it with food and water, and build or provide access to a sheltered area for the cat.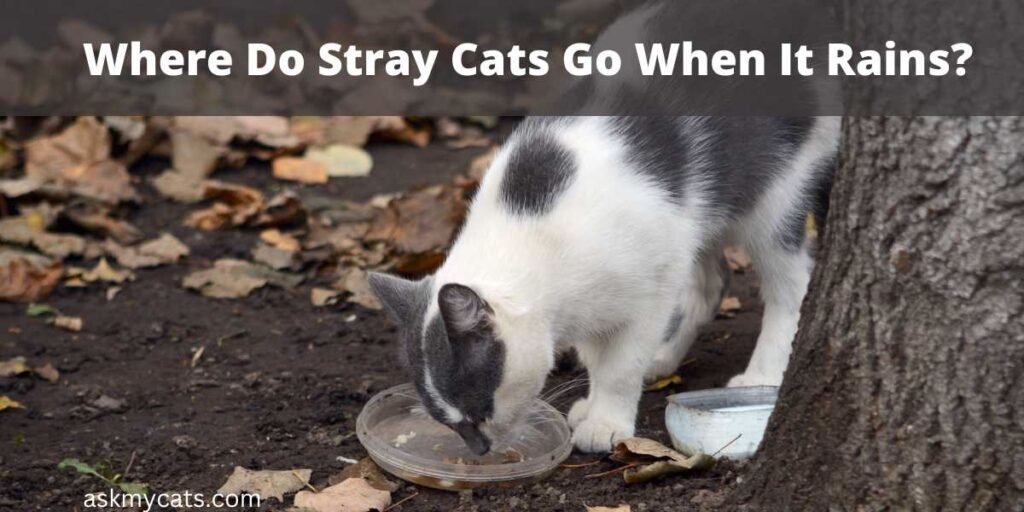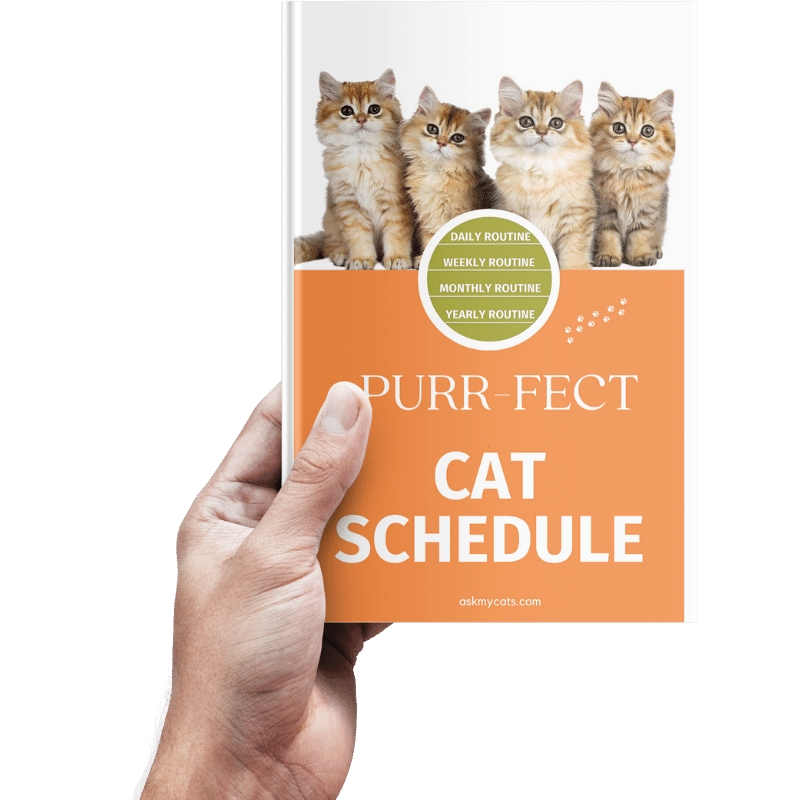 Discover the Secrets to a Happy Cat!
Discover the secrets to creating a happy and healthy daily routine for your feline friend. From playtime to mealtime, sleep to grooming, our expert guide will show you how to make every day a purrfect day for your cat.
Give Your Cat the Perfect Day – Get the Ebook!
Where Do Cats Hide When It's Raining?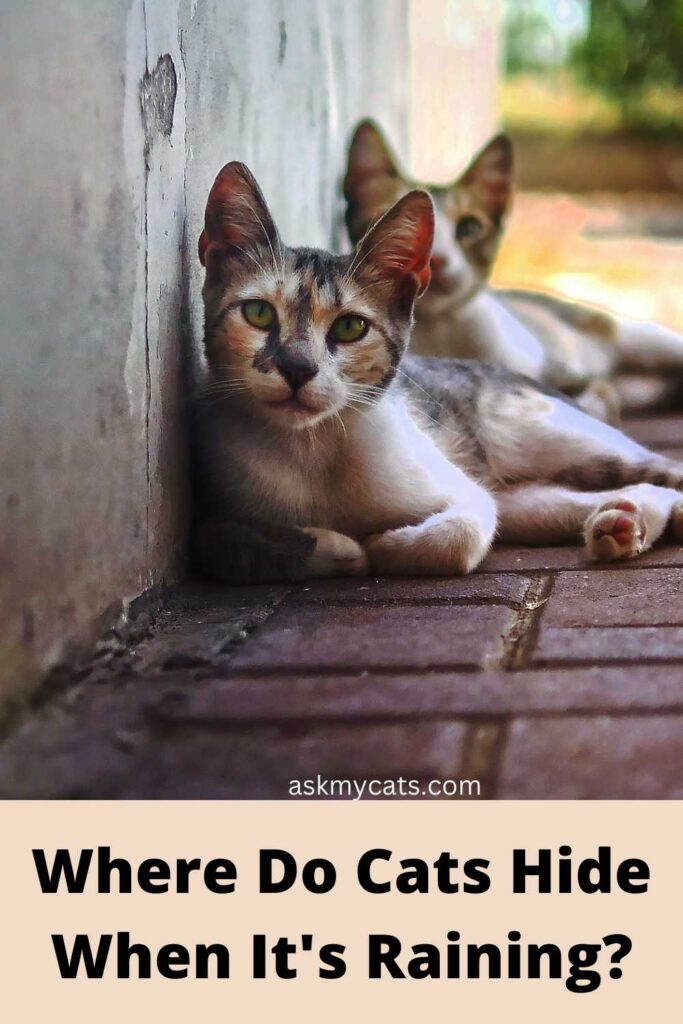 If the coziest hiding place is not available, cats will choose the closest one when it starts to rain. This could be in garages, under houses, in alcoves or under overhangs, and underneath decks and porches.
Cats will even accept a place in an abandoned structure, a shed, or a pile of trash if necessary. Bushes and hedges will make an excellent cover from the rain, and trees' vantage points will be reassuring.
A cat can hide in multiple locations if necessary, moving from one to the next whenever an opening presents itself until it feels secure.
Although the rain may make it difficult for some cats to travel, most cats can find a safe place during a storm. Your cat won't mind the weather as long as it's warm or just a little cool.
"Stray cats are highly adaptable animals and are used to finding shelter in a variety of places. In the rain, they may seek refuge under bushes, sheds, or porches, or in abandoned buildings.

It's important to remember that stray cats are still vulnerable to the elements, so providing them with a safe and dry place to take shelter is crucial for their well-being."

Dr. Jennifer Coates, DVM, Board Certified Veterinary Consultant
However, if the temperature falls to freezing or below, the cat could develop hypothermia. Normally, if cats want to go outside in the rain, they can, but not in very terrible weather.
Rain will be avoided at all costs by cats since they detest getting wet. When a storm approaches and your outdoor cat is out exploring, it will immediately start looking for a spot to hide.
The optimal location for this is inside your house, and most cats will come back the moment they notice a drop in barometric pressure.
The cat will have to make do, though, if it isn't quick enough or wanders too far from its house. They have a lot of options because they are skilled climbers and agile animals.
Interesting Read: Why Do Cats Go Crazy When It Rains?
Where Do Outdoor Cats Go When It Rains?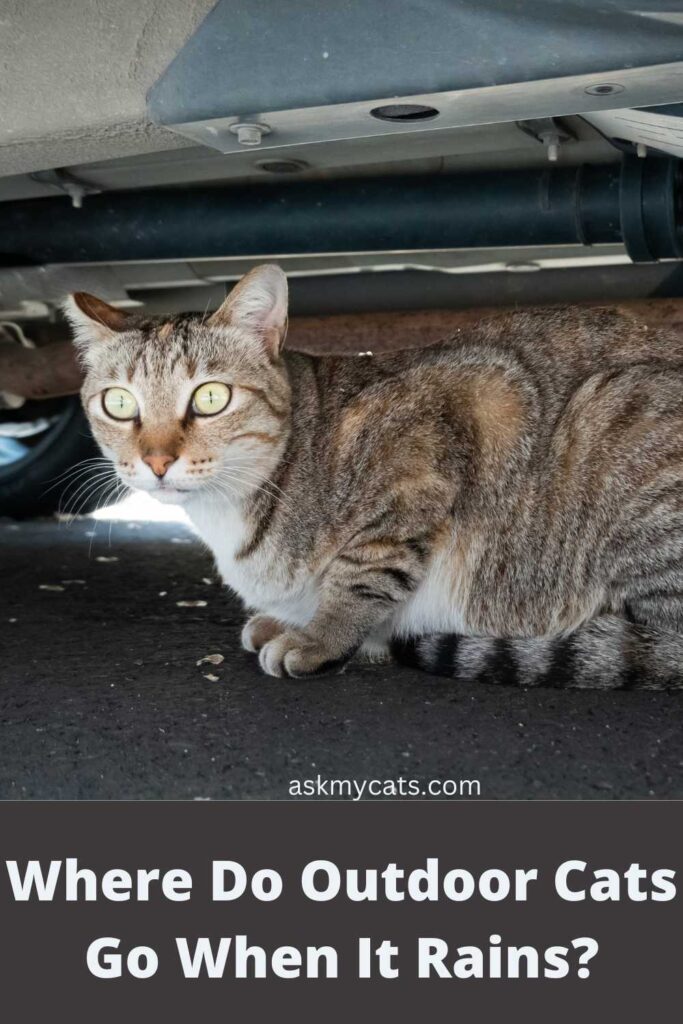 There are no limits to where a cat can go when it encounters harsh, rainy weather. However, generally, these are the common places you'll find a cat hiding:
1. Bushes, Shrubs, and Trees
Cats navigate to their homes using their sharp senses and small home range. However, rain might stop that.
Rain changes the way the landscape looks by uprooting mud and soil. Any scent clues left behind by your cat to guide it can also be removed.
As a result, even in the rain, your cat can find its way home. It might be harder than on a sunny day, though.
Instead, your cat might decide to stay inside a makeshift shelter until the rain stops. It can then try to find your location once the sensory disturbance has subsided.
2. Abandoned Landscapes
Cats can find excellent refuge in abandoned structures at any time, not just when it rains. This is so that the walls can muffle the sound of the rain, and there won't be any human activity.
This gives a stressed cat a peaceful, comforting, dark environment. Additionally, as abandoned structures frequently deteriorate, cats have multiple entry points.
It could be challenging to locate your outside cat if it has taken refuge in an abandoned structure. Your cat will depart on its own after the rain stops and it is no longer alarmed by the storm.
Interesting Read: Why Is My Cat Sitting Outside In The Rain?
3. Under A Shed
Cats may fit through cracks or holes in sheds, which also keep out the rain. In a frightening downpour, cats will prefer them since they are dark and quiet.
That would be a good compromise for a lost cat if the shed was far from the main house, whether it was your home or your neighbor's. The cat will need cover more urgently if the rain gets heavy.
4. The Garages
Some people leave their garage doors open, which could allow a cat to enter during a downpour in need of shelter.
Your cat can be trapped in the garage if the door is closed and there is no way out. The house's owner will probably find the cat shortly and let it out.
Alternatively, it's possible that your outside cat is hiding in your garage.
5. Under A Car
Cars are widely used in urban and suburban areas. Cats can always set up camp underneath them in a dry area. Better yet, the shape of cars will channel water away, protecting cats from getting wet even in heavy downpours.
Large predators can't get to a cat from underneath because cars are relatively low to the ground.
For this reason, a lot of outdoor cats view them as the best shelters. Some people will even ascend to the engine, particularly during cold weather.
"When it rains, stray cats often seek shelter wherever they can find it. This may include under cars, in tree hollows, or in any other dry, protected space they can find.

While they are adaptable animals, it's important to remember that they still need our help and protection during inclement weather."

Dr. Sarah Wooten, DVM, Board Certified Veterinary Journalist
Interesting Read: Are Cats Scared Of Thunder & Lightning?
| Shelter Option | Pros | Cons |
| --- | --- | --- |
| Porches and Overhangs | Provides some protection from the rain | May not be fully covered and may not provide enough warmth or comfort |
| Garages and Sheds | Offers more protection from the rain and can provide warmth | May not be easily accessible to the cat or may be occupied by humans or other animals |
| Abandoned Buildings | Can offer significant protection from the rain and may provide warmth | May be dangerous or unhealthy for the cat to enter or may not be easily accessible |
Potential Shelter Options for Stray Cats
Do Cats Seek Shelter When It Rains?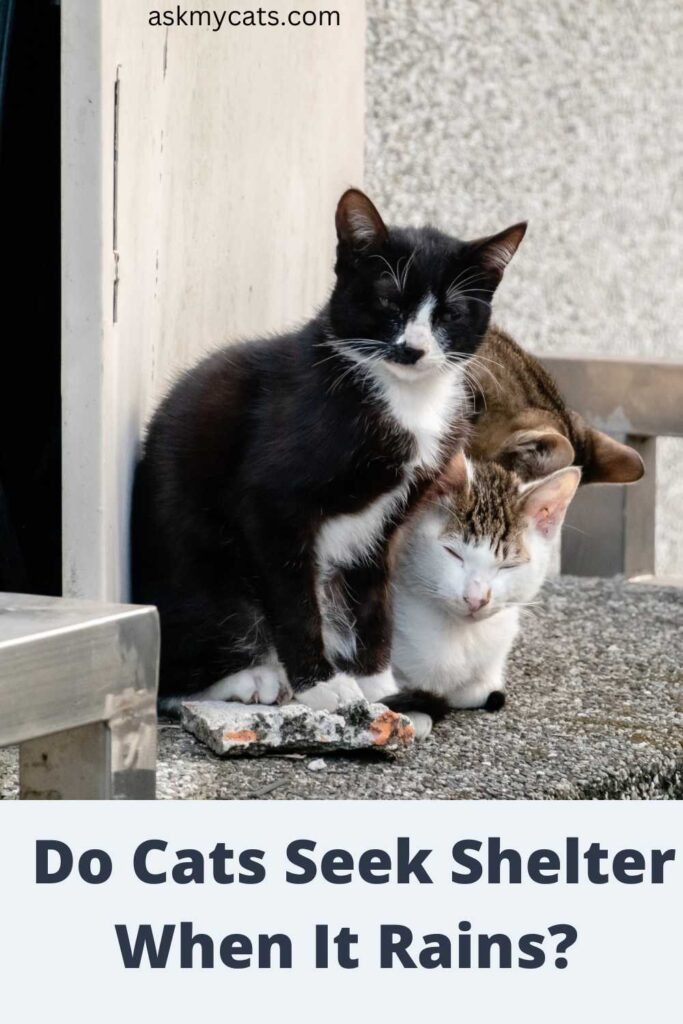 Because they can find shelter, cats can survive in the rain. A cat's health might rapidly deteriorate if it is caught in a freezing downpour, though. Find your cat right away and take it inside so it can warm up.
If it has managed to come back on its own, you need to quickly dry it off. Try to rub it down with a soft towel and give it warm food and water.
By doing so, the cat's blood flow will be stimulated, and its body temperature will return to normal.
You must contact your veterinarian as soon as possible if it displays any signs of hypothermia.
Factors That May Influence a Stray Cat's Choice of Shelter
| Factor | Impact on Shelter Selection |
| --- | --- |
| Age and Health | Older or sickly cats may prefer more sheltered and warm options |
| Presence of Other Cats | Cats may seek out shelters with other cats for companionship or protection |
| Available Resources | Cats may choose a shelter based on the availability of food, water, and other necessities |
| Personal Preference | Some cats may have a preferred type of shelter or location |
Factors That May Influence a Stray Cat's Choice of Shelter
Is it okay to let my cat out in the rain?
Depending on your cat and the weather outside, you may or may not let your cat out in the rain. There is no harm in letting your cat explore the outside if it feels warm and wants to, whether or not there is water.
It is advised to keep your cat inside if it is raining too hard, there is a thunderstorm, or it is cold outside. If it rains a lot, your cat's fur may become waterlogged, which will affect its agility and ability to stay warm. This would be especially harmful in the winter.
Cats are more likely to become frightened during a thunderstorm and seek refuge in unsafe areas. In its haste to find cover, you don't want it to become tangled in a tree or even to dart into oncoming traffic.
Do cats in general like rain?
Rain is generally disliked by cats, and for good reason. Although their top coat is water-resistant, if they are out in the rain, moisture may penetrate past this layer and cause discomfort.
A cat's capacity to stay warm is hampered by a wet coat because it loses body heat more quickly than usual. In addition, a wet coat weighs more than a dry one, which can make a cat less agile.
Must Read: Do Cats Like Rain? Know The Secret
Having stated that, the rule is not always true. Some cat species are obsessed with water and love to play in bathtubs, sinks, puddles, and swimming pools. They can be cute little weirdos as a result of this genetic anomaly, which is all that causes it to be.
How To Help A Stray Cat While It's Raining Outside?
Dry her fur and warm her up. If you can get a cardboard box, place a heating pad on low or some hot water bottles in with her.
Make sure there is sufficient room for her to flee the heat if she so chooses. It would be nice if you could provide her with some towels or an old robe.
She should sleep as you relocate the box to a peaceful location. If she's that exhausted, she might sleep the entire day, which would allow her body to recover.
Keep it quiet and dark where she is if you can. If she's awake, you can add food and drink. But don't try to make her eat or drink; let her make those decisions on her own.
Depending on where you are, a humane organization or animal shelter may be nearby. You can call them to ask if anyone has reported a lost cat.
Consult a veterinarian in your area as well. Your local newspaper may offer free classified ads online and in print editions.
Strategies for Providing Shelter for Stray Cats During Rainy Weather
| Strategy | Pros | Cons |
| --- | --- | --- |
| Building a Cat Shelter | Can be customized to meet the needs of the cat and can provide a permanent option | May require time, effort, and materials to construct |
| Providing a Temporary Shelter | Can be set up quickly and easily and can be moved as needed | May not be as durable or effective as a permanent shelter |
| Encouraging the Use of Existing Shelters | Can be a quick and simple solution if the cat is already using an existing shelter | May not be a feasible option if the cat is not already using a shelter |
Strategies for Providing Shelter for Stray Cats During Rainy Weather
Interesting Read: Can Cats Drink Rain Water?
Final Words
That's all you had to know about stray cats and their behavior during the rainy season
If you've ever witnessed a stray cat looking for refuge, please share your thoughts in the comments area. Have you ever rescued a cat from such a situation?
Interesting Read: Do Cats Sleep More When It Rains?
Interesting Read: Can Cats Find Their Way Home After Rain?
References