Hey there, cat lovers! Have you ever lost your furry friend during winter and felt helpless trying to find them? I know the feeling all too well.
Winter can be a tough time for cats, with harsh weather conditions and limited visibility. But don't worry, I've got you covered!
In this article, I'm going to share some of my tried-and-true tips for finding a lost cat during winter. Trust me, it's not as impossible as it may seem.
You'll learn about the best places to search, what to look for, and even how to use technology to your advantage. Plus, I'll give you some advice on how to keep your cat safe and secure in the future.
And let me tell you, it's a game-changer! So, whether you're searching for your own lost cat or helping out a friend, grab a cup of hot cocoa, and let's get started!
Are you ready to become a pro at finding lost cats this winter? Let's go!
Key Takeaways

Factors that increase the risk of a cat going missing in winter: cold temperatures, snow and ice, holidays and fireworks, changes in routine, and outdoor cats.
Nearly 61% of cats safely return home if they are lost.
Chances of finding a lost cat increase if the search starts without wasting much time and if thorough physical searches are carried out.
Tips for keeping a cat safe and secure: use tracking chips or other devices, keep registration up-to-date, and provide a well-fitting collar with identification information.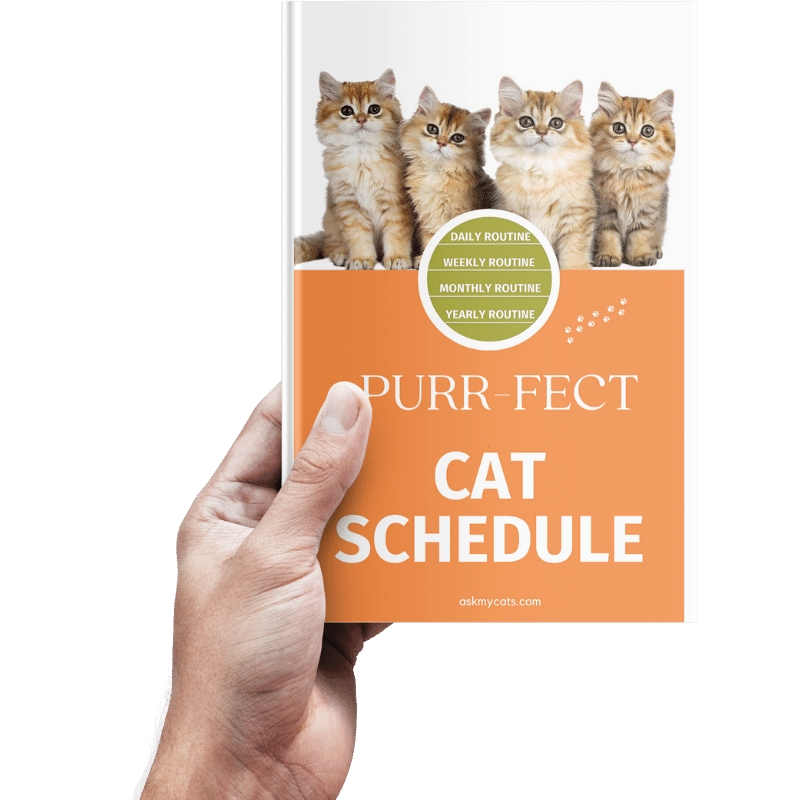 Discover the Secrets to a Happy Cat!
Discover the secrets to creating a happy and healthy daily routine for your feline friend. From playtime to mealtime, sleep to grooming, our expert guide will show you how to make every day a purrfect day for your cat.
Give Your Cat the Perfect Day – Get the Ebook!
Do Cats Get Lost In The Snow?
Yes, cats can easily lose their way in the snow.
If it is snowing, the paw prints left on the snow will be buried beneath the new snow. Blowing winds can also cover their tracks, which could make them lose their path.
Snow can easily change the appearance of your neighborhood, so if a cat is lost, it may not be able to relocate. Snow makes it difficult for them to recognize something familiar, too.
Scents are also masked very easily in the snow. Animals have a great sense of smell, especially cats, and a lot of their responses are based on the scents of various things. If they can't sense the scent, identifying their way can be very difficult for them.
On the brighter side, cats do not like spending much time in the snow; initially, they are curious, but they don't really like the snow very much.
Must Read: How Cold Can Cats Survive Outside? (Domestic & Stray)
Can Cats Find Their Way Home In The Snow?
The chances of a cat finding its way home in the snow are low. Snow masks their scents, and cats usually rely on their senses to guide them. Losing the sense of smell in such situations makes it very difficult for them to come back home.
Cats recognize objects with their scents. Their sense of smell is stronger than their sense of sight. If they even try to visually recognize their surroundings, the snow makes it even more confusing to recognize their surroundings.
To prevent this from happening, you can always use tracking chips or other devices on their collars.
"Many pets become lost in winter because snow and ice can hide recognizable scents that might normally help your pet find his/her way back home. Make sure your pet has a well-fitting collar with up-to-date identification and contact information.

A microchip is a more permanent means of identification, but it's critical that you keep the registration up to date"

says Waunakee Remodeling inc.com
Tracking devices can help you get your cat safely home. The harsh weather and being away from home could even stress them.
Even the Bel-Rea Institute Of Animal Technology agrees as they remark, "Winter is the season when many pets become lost because the snow and ice can hide scents they normally use to find their way home.

A microchip is a great permanent solution. Just make sure to keep your pets' identification accurate and up-to-date."

Bel-Rea Institute Of Animal Technology
Must Read: How Do Stray Cats Survive Winter?
Factors that Increase the Risk of a Cat Going Missing in Winter
| Factor | Description |
| --- | --- |
| Cold temperatures | Cats may seek shelter in warm, enclosed spaces, increasing the risk of getting trapped or stuck. |
| Snow and ice | Snow and ice can make it difficult for cats to navigate and find their way back home. |
| Holidays and fireworks | The loud noises from holiday festivities and fireworks can cause cats to become frightened and run away. |
| Changes in routine | Visiting family and friends or holiday travel can disrupt a cat's routine, making them more likely to wander or become lost. |
| Outdoor cats | Outdoor cats are at a higher risk of getting lost, especially in unfamiliar or new environments. |
Interesting Read: How To Keep A Stray Cat Warm Outside In Winter?
What Are The Chances Of Finding A Lost Cat In Winter?
As general statistics show, nearly 61% of cats safely return home if they are lost. According to PetMD, their data suggests that "Unfortunately, not all lost cats make it home, but a little over 60% are reunited with their pet parents. From a 2018 study, a third of lost cats find their way home in the first week. This number grows to 50-60% after around 2-3 months of going missing."
If the search for them is started without wasting much time, your cat can be found easily. If a lot of time has passed, the chance that you may never find your cat increases.
If rigorous measures such as thorough physical searches are carried out, the probability of finding the cat increases.
According to the National library of medicine,

"A least 15% of cat owners lose their pets in a five-year period and some are never found. The most important finding from this retrospective case series was that approximately one-third of cats were recovered within 7 days.

Secondly, a physical search increased the chances of finding cats alive and 75% of cats were found within a 500 m radius of their point of escape.

Thirdly, those cats that were indoor-outdoor and allowed outside unsupervised traveled longer distances compared with indoor cats that were never allowed outside.

Lastly, cats considered to be highly curious in nature were more likely to be found inside someone else's house compared to other personality types.

These findings suggest that a physical search within the first week of a cat going missing could be a useful strategy."
Interesting Read: Can Cats Find Their Way Home After Rain?
Interesting Statistics on Lost Cats in Winter
| Statistic | Description |
| --- | --- |
| 10% increase in lost cats | Studies show that there is a 10% increase in the number of lost cats reported during the winter months compared to other times of the year. |
| 45% return rate | Approximately 45% of lost cats return home on their own within the first 48 hours. |
| 30% of lost cats in shelters | Approximately 30% of lost cats are found in animal shelters. |
| 1 in 3 cats without ID | 1 in 3 cats that are lost does not have identification, making it harder for them to be reunited with their owners. |
| 50% of lost cats are found within a 5-mile radius | 50% of lost cats are found within a 5-mile radius of their home. |
Note: These statistics provide some useful information to help guide your search for a lost cat during the winter months. I hope they are helpful!
What Are The Places To Look For The Lost Cats During Winter?
If your cat is lost the first places to search should be your home and your neighborhood. Check all of the places your cat likes to visit frequently or where they hide on a regular basis.
If they are not found there or in the neighborhood, you should contact the nearest pet shelter or several other pet shelters. The University Of Florida presents the statistic that, "47 to 65% of pets who enter shelters are lost or stray."
Except for these places, you should look for cats hiding in the hoods of cars or under them, near the tires. They gravitate towards these places as they serve as their sources of warmth.
This is a very dangerous place, and if you don't start looking for your cat, you may lose it forever.
Interesting Read: Why Do Cats Wander Off For Days? Where Do They Disappear?
First Step to Do When Your Cat is Missing In Winter: Preparation: Get the Word Out!
1. Notify the Neighborhood
As soon as you realize your cat is missing, the first thing you should do is let your neighbors know. Trust me, they'll be happy to help!
In fact, according to the American Society for the Prevention of Cruelty to Animals (ASPCA), "Notifying neighbors and putting up flyers in the immediate area is one of the most effective ways to find a lost pet."
So don't be shy, knock on some doors and hand out flyers. Who knows, they might have seen your cat or have some information that can help.
2. Put Up Flyers
Flyers are a great way to get the word out about your lost cat. Make sure to include a clear picture of your cat, a description, and your contact information.
You can even offer a reward for any information leading to your cat's safe return. Just remember to make the flyers eye-catching and easy to read.
According to pet expert, Dr. Jane Bicks, "An attention-grabbing flyer is crucial for getting the word out about a lost pet."
Here's some sample text you could use on a lost cat flyer:
Title: Lost Cat – Please Help!

Description: Our furry friend [cat's name], [breed and color], has gone missing. Last seen in the [neighborhood or street name] area.

Please keep an eye out and let us know if you have any information. Reward offered for [cat's name] safe return.

Contact Information:

[Your Name]
[Phone Number]
[Email Address]
Title: Have You Seen Our Missing Feline?

Description: Our beloved [cat's name], a [color and breed], went missing in the [neighborhood or street name] area.

[Cat's name] is a cherished member of our family and we are desperately searching for their safe return. If you have any information, please contact us immediately.

Contact Information:

[Your Name]
[Phone Number]
[Email Address]
Title: Winter Wonderlost: Help Find Our Feline Friend!

Description: Our furry companion [cat's name], a [color and breed], has gone missing in the [neighborhood or street name] area.

As winter sets in, we are worried about [cat's name] and their safety. If you have any information or have seen [cat's name], please reach out to us.

Contact Information:

[Your Name]
[Phone Number]
[Email Address]
3. Register with Local Animal Control
It's also important to register with your local animal control.
According to the Humane Society, "Animal control facilities often have a lost-and-found database and can help with the search."
They can also provide you with valuable information on where to search and what to do if you find your cat.
Plus, if your cat is found and taken to a shelter, they'll know to contact you right away.
Searching for Your Lost Cat During Winter: Time to Put on Your Sleuth Hat!
1. Best Places to Search
Now that you've spread the word about your missing cat, it's time to start searching. But where should you start?
Well, according to pet expert, Dr. Jennifer Coates, "Indoor-only cats tend to hide close to home, so start your search in the immediate area and gradually expand it out."
So check under bushes, in sheds, and in any other hiding spots in your yard.
2. What to Look For
When you're searching, it's important to know what to look for. Listen for meows, look for movement, and pay attention to any other sounds or scents that might lead you to your cat.
Don't forget to bring treats and a familiar blanket or toy to attract your cat's attention.
According to pet expert, Dr. Marty Becker, "The sound of a familiar voice and the scent of familiar things can be incredibly comforting to a lost pet."
3. Using Technology
Technology can also be a helpful tool in finding your lost cat. Consider using GPS trackers or apps that help reunite lost pets with their owners.
Just make sure you understand how the technology works and what information you need to provide.
It's also a good idea to post on social media and online lost-and-found groups to reach a wider audience.
4. Persistence is Key
And finally, it's important to keep searching.
According to the American Humane Association, it takes an average of two weeks to find a lost pet. So don't give up!
Keep searching daily and reaching out to your network of friends, family, and neighbors. Keep flyers and posters up and continue to spread the word about your missing cat.
As a pet owner, finding your furry friend can be a stressful and emotional experience. But with determination and persistence, you can increase your chances of a happy reunion.
So grab your coat, grab a flashlight, and let's start searching!
Keeping Your Cat Safe During Winter in the Future
Prevention is key! Once you've found your lost cat, it's important to take steps to prevent this from happening again in the future.
Here are some tips to keep your feline friend safe and secure:
Microchip Your Cat: Did you know that only 2% of lost cats without microchips are returned to their owners? Microchipping is a simple, painless procedure that can give you peace of mind in case your cat ever gets lost again.
Keep Indoor Cats Indoors: Outdoor cats are more likely to get lost, injured, or killed by predators. So keep your cat safe and happy by keeping them indoors.
Secure Your Home: Check windows and doors to make sure they're secure and won't let your cat escape. You can also invest in window screens to prevent escape.
Train Your Cat: Teach your cat basic commands and leash training, which can help keep them safe and secure in case of an emergency.
Regular ID Checks: Regularly check your cat's collar and ID tags to make sure they're up-to-date and legible. If your cat is microchipped, make sure your contact information is up-to-date.
By following these tips, you can keep your cat safe and secure, and avoid the stress and heartache of a lost pet. So let's make a plan to keep your furry friend safe and sound!
Frequently Asked Questions
Are tracking chips for cats reliable?
Yes, tracking chips in cats are very reliable until you make sure that their registration is up to date. This may not work if your tracking chip is not registered, and you may be unable to keep track of your cat.
Is it safe for cats to walk on snow?
It is not recommended for cats to walk on snow. Snow can get stuck in the areas near their paws. This residual snow can be responsible for them getting frostbite or hypothermia. 
How long should my cat be missing before I worry?
If your cat is missing for a few hours, you don't need to be worried, as it's in their nature and it's not uncommon for them to do so. But if your cat goes missing for more than two days, you should probably start worrying and taking steps to find it. Gathering resources is also time-consuming, so it's recommended to keep a check on your cat in extreme weather, and if it even happens, start looking before it's too late.
Summary
Snow-clad scenes look so pretty on postcards that you would surely love to lose yourselves in the view, but I'm not sure if cats share the same feelings. They may like watching it too, but losing their way home in such snow is not what they would do at all.
Snow makes it very easy for them to lose their way as it masks scents, and they cannot distinguish one thing from the other and get lost.
They may even hide in small and warm places to keep the cold at bay, and you may presume your cat to be missing.
If it has been more than 2 days and you still have no idea where your cat is, you should be concerned.
Ask your neighbors and look for the cat all around the neighborhood. Contact animal shelters, as they have a lot of lost cats coming in. Your cat may even be one of those cats.
Even if your cat has a habit of disappearing for periods of time, make sure they are safe and well-guarded. The best way to avoid this is to keep them indoors in harsh conditions. What would you do, let them be or keep them indoors?
You might also like to read some articles related to winter and your cat:
References