Whether you have an indoor cat that enjoys snuggling or an outdoor cat that enjoys pursuing prey through the snow, it is critical to know what to do to protect your cat from the low temperatures.
As pet owners, it is important to know about our cats' tolerance for cold temperatures because it can help us keep them safe and comfortable during the winter months.
It is scientifically acknowledged that indoor pets that have not been exposed to cold weather should not be let outside when the average daily temperature is less than 45 degrees Fahrenheit.
Cats, especially if they are used to being outside, should always have access to warm shelters. Kittens, elderly cats, and ill cats should never be left outside when the temperature falls below 45 degrees Fahrenheit.
By understanding how cold is too cold for cats and taking steps to protect them from the cold, we can help ensure that they stay healthy and happy.
Key Takeaways

Most cats can handle temperatures between 50-60°F, but anything below 45-50°F is considered too cold
Outdoor cats can handle lower temperatures better than indoor cats, but temperatures below 32°F are not tolerable for cats
Factors that can affect a cat's ability to tolerate cold temperatures include age, size, health, and access to food and water
Cats may experience cold stress when the temperature falls below 50°F, and risk hypothermia below 32°F
Younger and larger cats with access to food can survive in cold temperatures for longer periods of time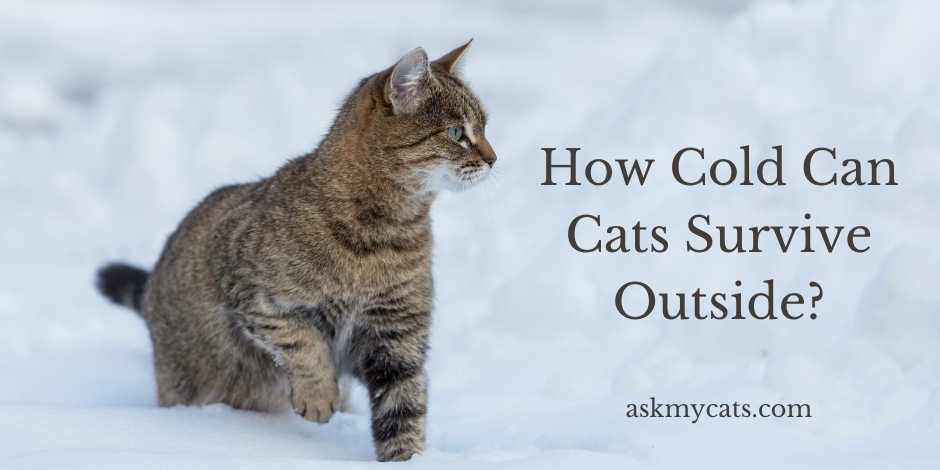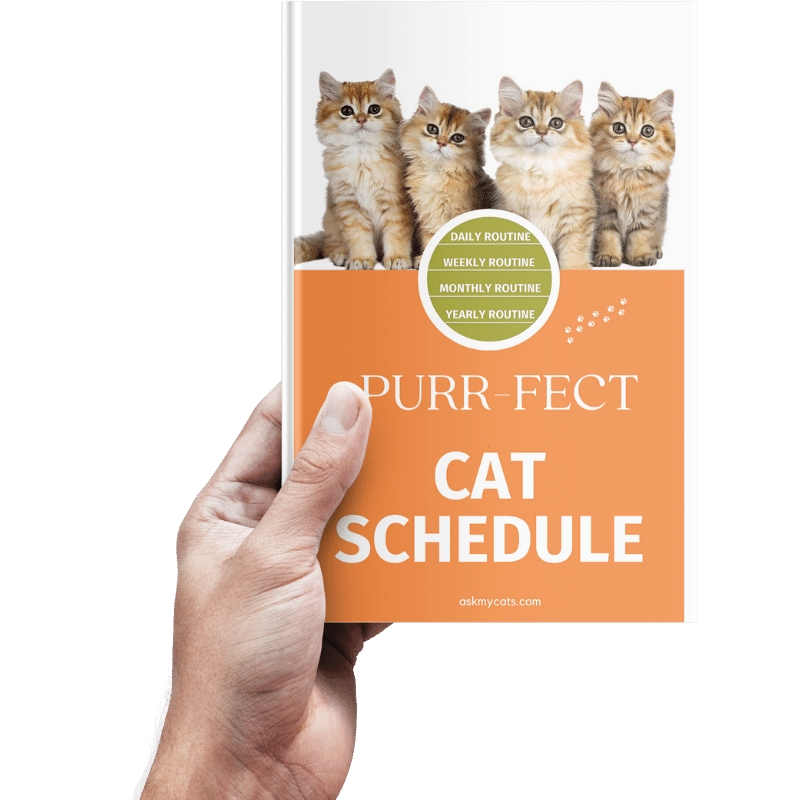 Discover the Secrets to a Happy Cat!
Discover the secrets to creating a happy and healthy daily routine for your feline friend. From playtime to mealtime, sleep to grooming, our expert guide will show you how to make every day a purrfect day for your cat.
Give Your Cat the Perfect Day – Get the Ebook!
How Cold Can Cats Handle or Survive?
Although most cats can handle low temperatures very well, the average daily temperature of 50-60 degrees Fahrenheit (10-15 degrees Celcius) can be handled by most cats.
Usually how cold can cats survive outside will depend on a variety of factors like age, breed, fur, health, and body mass.
According to a recommendation by The American Veterinary Medical Association, the ideal temperature for sheltered pets should be maintained between 80 to 50 degrees Fahrenheit.
Although, cats have very high resilience and can survive in very low temperatures outside.
So the most important question that comes to mind for any cat owner is "how cold can a cat survive?"
In general, outdoor cats can surely handle lower temperatures better than indoor cats, and temperatures below 32 degrees Fahrenheit is not tolerable for cats and hard to survive.
Interesting Read: Do Cats Get Cold In The Winter?
Expert Quote

"Cats are more sensitive to the cold than humans and dogs. They can become hypothermic faster and suffer frostbite more easily.

A cat's normal body temperature is between 100-102.5 degrees Fahrenheit, and they start to show signs of hypothermia when their body temperature drops to about 99 degrees.

A cat's body temperature can drop quickly in cold weather, so it's important to bring them inside as soon as possible if they become chilled."

Dr. Sarah Wooten, DVM
Factors That Can Affect a Cat's Ability To Tolerate Cold Temperatures
Age:
Kittens and senior cats are more prone to cold stress than adult cats because they may have a harder time regulating their body temperature.
Size:
Larger cats tend to have a higher body mass and may be better able to retain heat compared to smaller cats.
Coat type and thickness:
Cats with thick, long fur are better equipped to handle cold temperatures than those with thin or short fur.
Health:
Cats with certain health conditions, such as diabetes or thyroid problems, may have a harder time regulating their body temperature and may be more susceptible to cold stress.
How Cold Is Too Cold For Cats?
There is no hard and fast rule for determining the minimum temperature at which cats start to feel the cold, as it can vary depending on factors such as their age, size, and health.
However, as a general guideline, cats may start to experience cold stress when the temperature falls below 50°F (10°C).
At this point, they may begin to experience decreased activity, reduced appetite, and a decrease in body temperature.
| Temperature | Survival Ability |
| --- | --- |
| Above 50°F | No risk of cold stress or hypothermia |
| 50-32°F | Risk of cold stress; bring inside or provide shelter |
| Below 32°F | Risk of hypothermia; bring inside or provide shelter |
survival abilities of domestic and stray cats in cold weather
How Long Can Cats Survive In Cold Weather?
Younger cats may be able to endure cooler temperatures than older cats or animals suffering from illness or arthritis. It will also depend on how much food the cat has access to.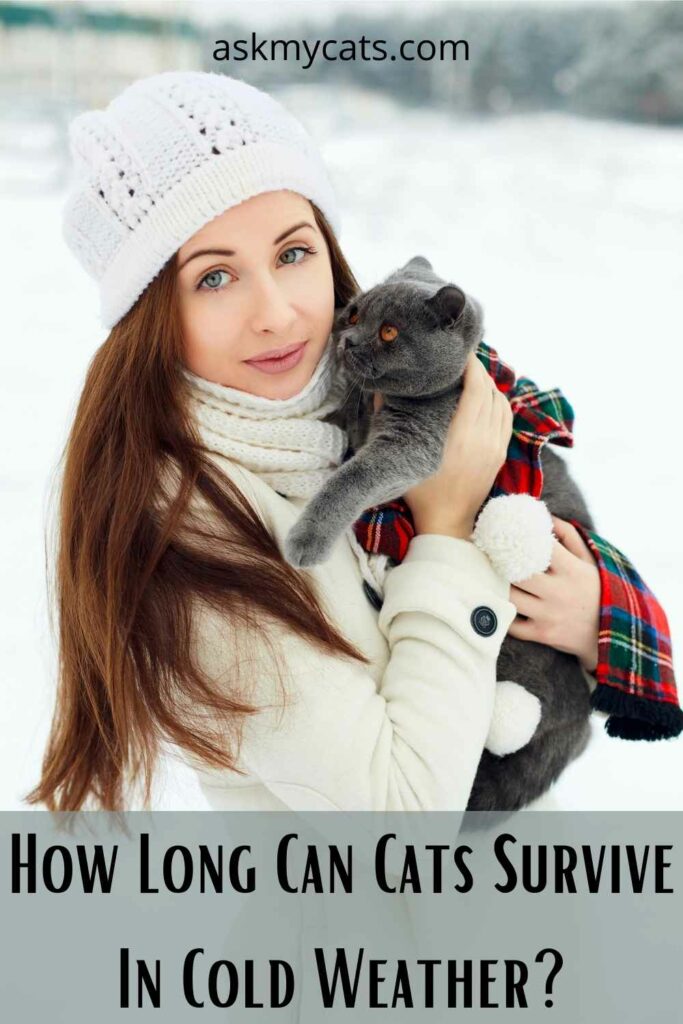 If they're going to be outside in the cold, they'll require extra calories. It also depends on whether the cat is an indoor-only cat or has regular outside access.
Outside cats are more likely to be familiar with the region and to know where the best shelter is. Indoor cats will lack this expertise and therefore be more prone to fear if they are forced to venture outside.
Frostbite and hypothermia are most likely around 32 degrees Fahrenheit or 0 degrees Celsius, although your cat may be uncomfortable even at higher temperatures. It is dependent on the cat in question.
Long-haired cats are thought to be able to endure colder temperatures, according to some. True, certain cat breeds have coats that help keep them a little warmer in cold weather, but they are still susceptible to hypothermia and frostbite.
Hypothermia occurs when the body temperature falls below 100 degrees Fahrenheit (37.8 degrees Celsius). The normal body temperature of a cat varies depending on the breed, but it's generally around 102°F (38.9°C).
Frostbite may affect any area of the body exposed to freezing temperatures for an extended length of time. The ears, tail, and paw pads are the most commonly affected areas.
You may not detect the indications of frostbite for a few days, which means the condition may progress. Your veterinarian will need to treat both frostbite and hypothermia.
Most people are aware that they should not leave their cat, or any pet, in the car on a hot day, but many believe that they will be fine in the car during colder weather.
A chilly automobile, in fact, is just as dangerous as a hot car. It effectively turns into a refrigerator, and cats can soon succumb to hypothermia under these conditions.
While your garage may appear to be an excellent location for your cat in the winter, it isn't. The majority of garages include hidden risks.
Must Read: Can I Keep My Cat In The Garage At Night?
You might like to read about Do Cats Get A Winter Coat?
Expert Quote

"Cats are able to tolerate cold temperatures better than heat, but they are still at risk in cold weather.

It's important to provide outdoor cats with a warm, dry place to seek shelter from the elements, such as a heated barn or garage.

Cats should also have access to plenty of food and water to help them maintain their body temperature and energy levels in cold weather."

Dr. Justine Lee, DVM, DACVECC
Minimum Safe Temperature: Outdoor vs. Indoor Cats
| Minimum Safe Temperature (°F) | Outdoor Cats | Indoor Cats |
| --- | --- | --- |
| Kittens | 40-50 | 50-60 |
| Healthy Adults | 30-40 | 50-60 |
| Seniors or Sick/Injured Cats | 30-40 | 50-60 |
Minimum Safe Temperature: Outdoor vs. Indoor Cats
*Note: These temperature ranges are general guidelines and may vary based on individual cats' tolerance to cold weather. Always monitor your cat for signs of discomfort or distress and take necessary precautions to keep them safe and comfortable.
Signs Of Cold Stress In Cats
There are several signs that a cat may be experiencing cold stress, which can occur when the temperature falls below 50°F (10°C). It's important to watch for these signs and take steps to protect your cat if necessary.
Some common signs of cold stress in cats include:
Shivering: Cats may start to shiver when they are cold in an attempt to generate heat.
Lethargy: Cats may become less active and may seem less playful when they are cold.
Huddling near a heat source: Cats may seek out warm places to rest, such as in front of a fireplace or under a blanket, when they are cold.
Reduced appetite: Cats may lose their appetite when they are cold, as their body is using energy to try to stay warm.
Decreased body temperature: A cat's body temperature may drop slightly when they are cold. You can check your cat's body temperature by using a rectal thermometer (make sure to lubricate the thermometer first). A normal body temperature for a cat is between 100.5°F and 102.5°F (38°C to 39°C).
If you notice any of these signs in your cat, it's a good idea to bring them inside or provide them with a warm, sheltered place to rest.
It's also important to keep an eye on your cat's body condition and to consult with a veterinarian if you have any concerns about their health.
Can Cats Freeze To Death?
Cats can freeze to death if they are exposed to extremely cold temperatures for an extended period of time.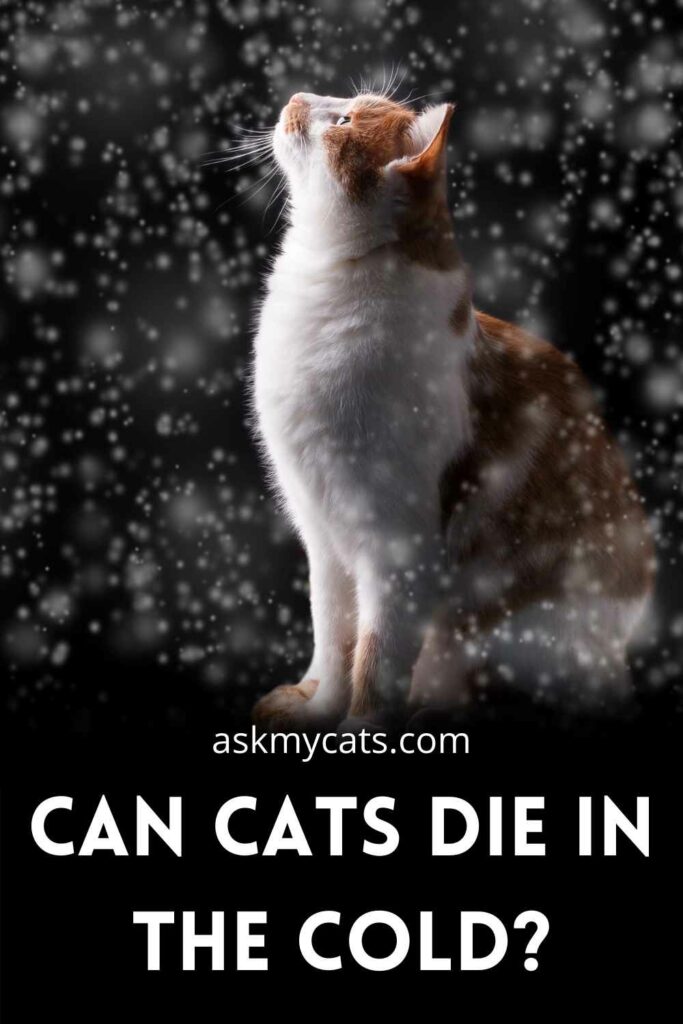 Cats can die if their body temperature drops below 16°C (60°F) – it should typically be around 38°C (100°F) – according to an early experiment.
Shorthaired cats that are older or in poor condition are more susceptible to the cold than healthy longhaired cats. Don't forget that the wind chill effect might cause temperatures to drop even more.
Cats seeking refuge from the cold frequently enter automobile engines where there is still some warmth left over from the last time the car was driven, so check underneath before driving away.
Anyone feeding an outdoor feral cat colony in winter should make sure the cats have a warm place to sleep, plenty of food to keep them warm, and access to fresh water.
If you're hosting a party or having visitors over, make sure your cat has a quiet refuge to go to away from the crowds and somewhere dark to hide.
Also, check out How Long Can a Cat Survive Locked in a Shed?
How Long Does It Take For A Cat To Freeze To Death?
A cat will successfully sustain very frosty conditions for up to 3-4 days and then they will ultimately freeze to death.
Hypothermia is the most serious danger a cat confronts in cold weather. Hypothermia is potentially deadly that occurs when body temperature drops to dangerously low levels.
If a cat is exposed to freezing temperatures or its fur becomes wet in a cold setting, hypothermia is likely to occur.
When the body temperature drops below a particular level, the pulse rate and respiration reduce, increasing the risk of coma, renal failure, heart attacks, and even death.
Just because a cat has a thick coat to shield them from the cold doesn't mean they're immune to it.
While certain varieties of a cat are more suited to cold weather than others (e.g., long-haired types like the Maine Coon, Norwegian Forest Cat, and Siberian), any cat can get frostbite or hypothermia if exposed to freezing conditions.
Interesting Read: How Do Stray Cats Survive Winter?
Do Cats Shiver When They Are Cold?
If your cat is really cold, he may begin to shiver in the same way that a human would.
Shivering can be a symptom of worry, discomfort, or disease, so keep an eye on your cat's other behaviors.
Shivering when panting is a symptom of tension or discomfort, for example. It might also be an indication of fever, especially if it's followed by a loss of appetite or grooming. Consult your veterinarian if you have any doubts.
Can Domestic Cats Survive Outside?
Yes, domestic cats can survive outside in the cold but not for an extended period of time.
It's pretty obvious that the resilience power of indoor cats to survive in the cold outside is less compared to outside cats as they are not used to facing such extreme environmental changes very frequently.
But it doesn't mean that indoor cats can't survive at all in cold temperatures.
Cats are very adaptable creatures and adapt to any changes very quickly for survival.
Interesting Read: Do Cats Sleep More in Winter?
How Do Stray Cats Survive Cold Weather in Winter?
Stray/Feral cat survives cold weather in winter by seeking out abandoned houses, and abandoned automobiles, and even digging tunnels in the ground to remain warm.
Stray cats are hardy, adventurous, and used to living in the open. They don't want to be in a house and don't want to be near others. Some of them can withstand below-zero temperatures because they live in colonies in an area they are familiar with.
While it may be difficult for some animal lovers to believe, feral cats, unlike their tamed counterparts, is happier being outside.
Keep your outdoor kitty warm and cozy all winter long with our recommended heated cat house! Click here to check now and give your furry friend the gift of comfort.
What To Do If Your Cat Gets Too Cold
If your cat gets too cold, it's important to take steps to protect them and to monitor them for signs of hypothermia.
How to recognize if your cat is suffering from hypothermia
Symptoms of hypothermia in cats, such as lethargy, stiffness, shallow breathing, and a body temperature below normal
How to check your cat's body temperature using a rectal thermometer
First aid measures to take if your cat is hypothermic
| Measure | Description |
| --- | --- |
| Bring your cat inside or provide them with a warm, sheltered place to rest | This will help your cat stay warm and dry. |
| Cover your cat with a warm blanket or place them in a warm, dry environment | This will help your cat retain heat. |
| Do not use hot water bottles or heating pads on your cat | These can burn your cat's skin. |
| Do not give your cat any medications without consulting with a veterinarian | Some medications may not be safe for cats with hypothermia. |
First Aid Measures for Cats with Hypothermia
When to seek veterinary care
If you suspect that your cat is suffering from hypothermia, it's important to seek veterinary care as soon as possible
Even if your cat seems to be recovering from hypothermia, it's a good idea to have them checked out by a veterinarian to make sure that there are no underlying health problems
If your cat has been outside for an extended period of time in cold weather and you are not sure if they are hypothermic, it's a good idea to have them checked out by a veterinarian just to be safe.
You might like to read about where do cats sleep outside at night
Interesting Read: How To Keep Indoor Cats Warm In Winter?
Check out How To Keep A Stray Cat Warm Outside In Winter?
Frequently Asked Questions
How do you know if your cat is cold?
You'll need to be especially vigilant to spot these subtle symptoms that your cat is chilly because cats try to disguise their pain. Your cat's ears, paws, and tail tip will be the first to lose heat. Your cat is undoubtedly feeling cold if these body areas are cold.
Can cats survive negative freezing temperatures?
Cats can survive in negative freezing temperatures for a short period of time, but they are at risk of cold stress and hypothermia if they are exposed to extreme cold for too long. It's important for pet owners to understand that cats are at risk of freezing to death if they are left outside in cold weather for too long, and to take steps to protect them if necessary.
Final Words
Cats become vulnerable to the symptoms of hypothermia and frostbite as the temperature drops below 32°F, both of which can lead to death. When your cat's body temperature drops dangerously low, it's called hypothermia.
Feel free to drop your questions in the comments section below!
You might also like to read:
References