How would you feel if the power went out while you were enjoying your day and your cat was warming up around the heater during the cold winters? To say you would be angry would be an understatement, as you would be bursting with anger.
What if you were taken out of this situation and your cat was alone in the winter and all the sources of warmth were cut off due to a power shortage? Or if you have to go out of the house, leaving your cat alone in the cold, and the power goes out?
The possibilities of these situations are highly likely, and if you are a pet parent, it is advised that you stay prepared for all the possibilities.
And if you ever find yourself in any situation where you need to find ways to keep yourself warm without electricity, keep going ahead in the article to find out what to do in those cases.
Key Takeaways

It is not necessary to have electricity to keep a cat warm in the winter
Indoor cats may have access to electrically-heated environments, but stray cats survive without it
Alternative methods for keeping cats warm include: providing sweaters, snuggling, feeding extra calories, and lining sleeping areas with blankets
Alternative heating sources for keeping cats warm include: wood stoves, oil heaters, and microwavable heating pads
Make sure to not leave your cat alone in the cold and provide extra blankets or heating sources in the case of a power outage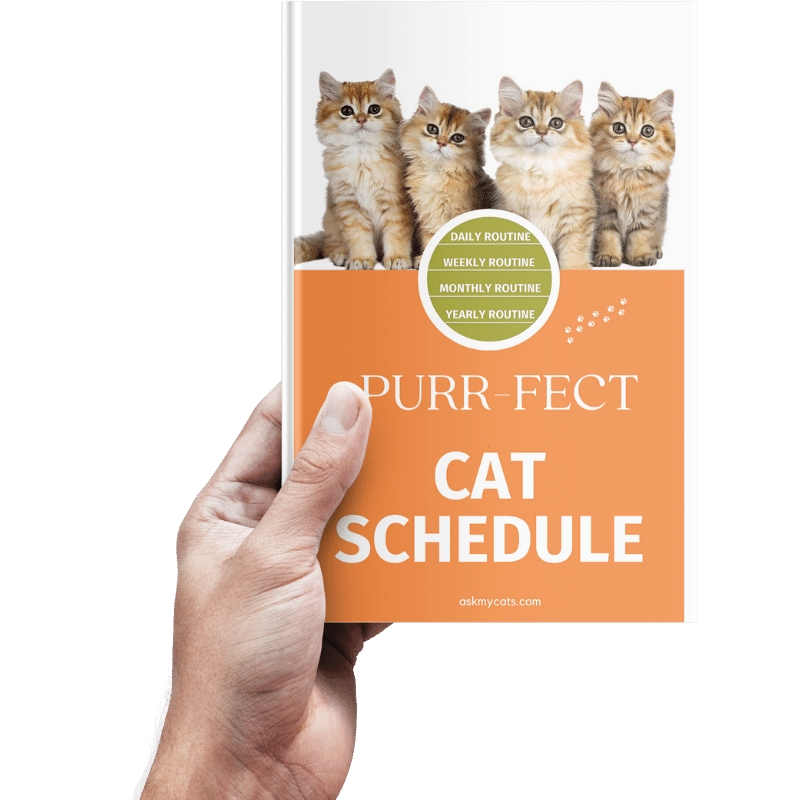 Discover the Secrets to a Happy Cat!
Discover the secrets to creating a happy and healthy daily routine for your feline friend. From playtime to mealtime, sleep to grooming, our expert guide will show you how to make every day a purrfect day for your cat.
Give Your Cat the Perfect Day – Get the Ebook!
Is Electricity Required To Keep Your Cats Warm?
No, it is not a necessity to have electricity to keep your cat warm. Stray cats too survive winter without electricity; only indoor cats have the privilege of an electrically warmed environment.
People who have jobs that require them to leave their cats at home during the winter and who cannot leave them without making arrangements to keep them warm.
Those who can afford to leave the thermostat on should adjust the temperature accordingly. Or else they use heating pads or blankets to line their space inside the house.
For those who can't afford such things, there are alternatives. Some people are even paranoid to leave the thermostat on while leaving the house.
"You can create a clean, warm, and safe spot for your pets no matter what your situation is," said Dr. Nancy Welborn, DVM (LSU 1990), associate professor of community practice, who offers advice to help keep your pets safe from winter conditions.

Dr. Nancy Welborn
Using too many electrical appliances too close to your pet's body can be risky too. Electrical devices, even when built for the utmost safety, can still pose a threat to them and cannot be entirely trusted.
Dr. Christine Rutter, a clinical assistant professor at the Texas A&M College of Veterinary Medicine & Biomedical, says, "It's very important that if you provide your pet with a heat source, that it not be a fire, carbon monoxide, or anything that could be an electrocution risk."

Dr. Christine Rutter
"Space heaters or bedding on or near heat registers can be dangerous for your dog and cat," says James L. Voss Veterinary Teaching Hospital in Emergency and First Aid, Seasonal at the Colorado state university.
Space heaters can also burn your cat if it accidentally touches it. Cats are generally curious, and they could hurt themselves if they get curious about heaters or other devices and decide to explore them.
Interesting Read: Are Heating Pads Safe For Cats?
How Can I Keep My Cats Warm Without A Heater?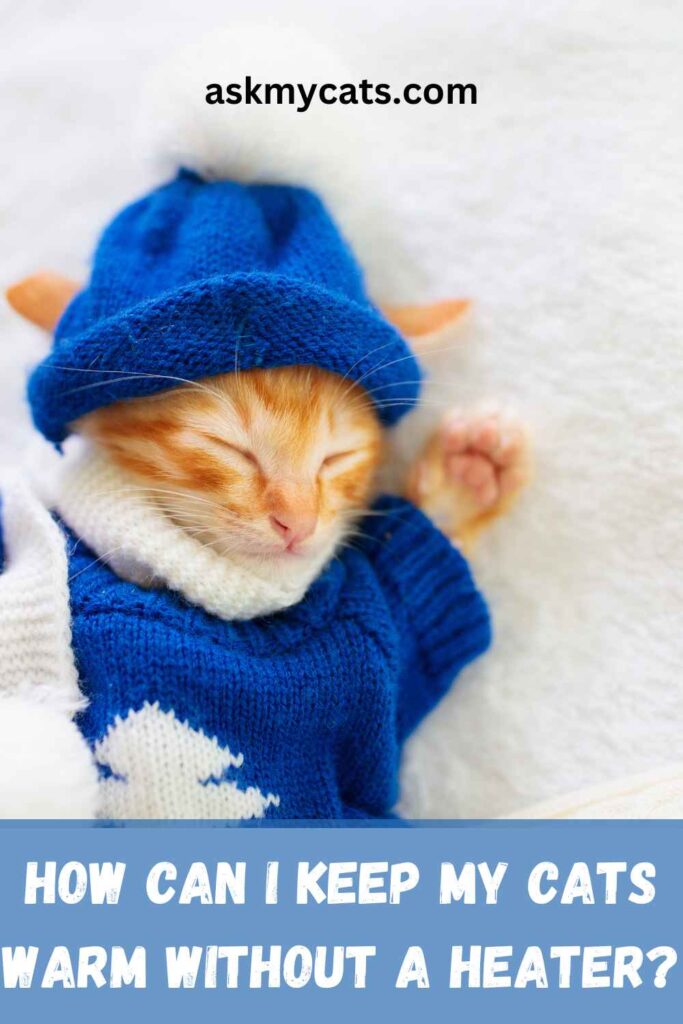 A heater or an electrically operated device is not necessary to keep your cat warm. here are a few alternatives:
Sweaters: not all cats are fans of clothes, but if your cat does not object to clothes, you can use soft and warm sweaters that could keep them warm. Make sure you choose a sweater that would not irritate the cat's skin.
Snuggling: You can snuggle with your cat and sometimes allow them to sleep in your bed with you. There is nothing better than body heat to warm your cat up. Snuggling with your cat will also help you strengthen your bond and bring you closer to your pet.
Food: Feeding them extra calories will help them sustain themselves and stay warm in the cold. It would also help maintain their weight in the colder months.
Blankets: Lining places of sleep or places they lounge in the house with blankets is a great alternative to prevent your cats from getting frostbite or hypothermia.
Interesting Read: Do Cats Need Winter Clothing?
Alternative Heating Sources To Kepp Cat Warm
| Heating Source | Pros | Cons |
| --- | --- | --- |
| Wood stove | Provides long-lasting heat | Requires fuel and proper ventilation |
| Gas fireplace | Can be turned on and off as needed | Requires a gas line and proper ventilation |
| Propane heater | Can be portable and used in a specific room | Requires fuel and proper ventilation |
Alternative Heating Sources To Kepp Cat Warm
Must Read: How Cold Can Cats Survive Outside?
How To Heat A Cat House Without Electricity?
Many people have cat houses built if they have enough outdoor spaces to accommodate them. They face dilemmas while trying to come up with solutions to keep those houses warm in the winter season.
These pet houses don't have a heat generation process, they are kept warm by trapping the heat. You need to find ways to retain the heat if you want to keep the house warm.
As styrofoam is used in outdoor shelters, you can use other similar materials to line the pet house so that it would retain heat.
It is also advised to lay hay or blankets, which could help them retain heat. But in the tips provided by the City of Rochester, they advise against the use of hay and normal blankets because according to them, "they soak up moisture like a sponge and make the shelter wet and cold."
They also suggest that you use mylar blankets instead of normal blankets to keep the shelter warm
"The key is that it has a small entrance and exit and that it's protected from water, wind, and drafts," said Dr. Christine Rutter, is a clinical assistant professor at the Texas A&M College of Veterinary Medicine & Biomedical Sciences.

Dr. Christine Rutter
The place at which the house is kept also affects the weather inside of it. "Try to face the opening of the shelter away from the wind.

Also, if it rains and the bedding gets wet, replace it with dry bedding," said Dr. Paul DeMars, associate professor in Community Practice at the Center for Veterinary Health Sciences at Oklahoma State University.

According to him, "Wet bedding can grow bacteria and mold, which are not healthy for your pet."

Dr. Paul DeMars
Interesting Read: How To Keep Indoor Cats Warm In Winter?
Various Insulating Materials You Can Use
| Material | Pros | Cons |
| --- | --- | --- |
| Weatherstripping | Easy to install, can be removed easily | May not be as effective in extreme cold |
| Draft stoppers | Inexpensive and easy to use | May not be as effective in extreme cold |
| Thermal curtains | Can help retain heat in the home | May be more expensive than other options |
| Window films | Inexpensive and easy to install | May not be as effective in extreme cold |
Various Insulating Materials You Can Use
How To Keep A Cat Warm During A Power Cut?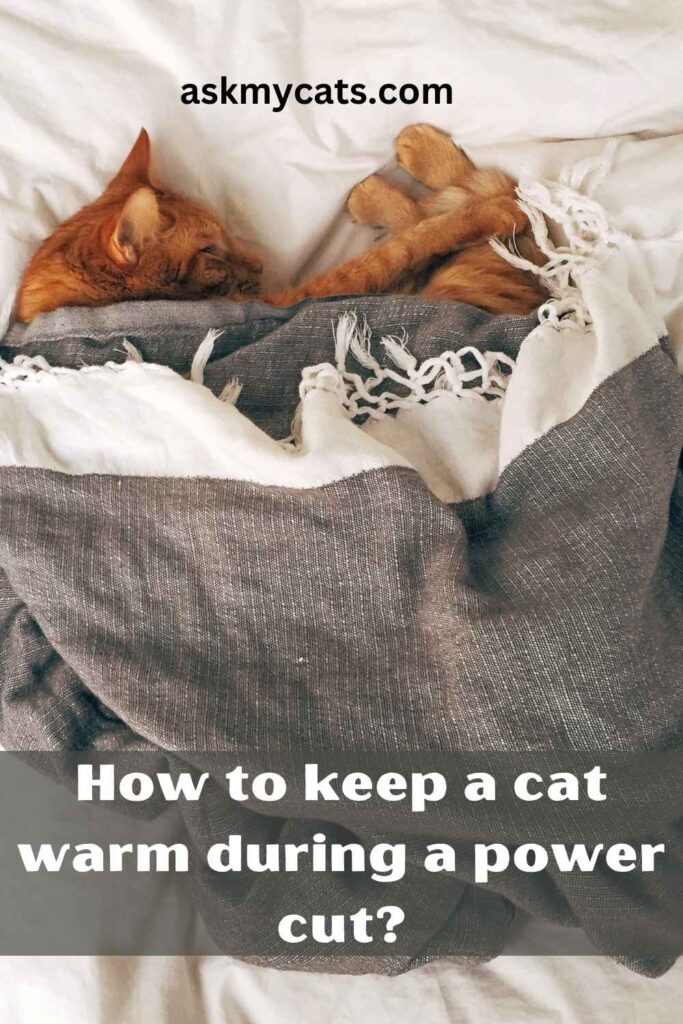 While using electrically heated sources to keep your pet warm may seem effortless and easy, they won't have your back when there is a power outage.
When you have a power outage and need something to keep your cat warm, you can snuggle with them. If necessary, this would also keep you warm too. Cats are unpredictable, especially when it comes to showing affection, so if your cat agrees to lay down and snuggle with you, take that opportunity.
Running around the house with them and keeping them on their feet would also help them keep them warm.
You can also try putting sweaters on your cats if they agree, as cats don't like clothes on their body.
Feeding them extra calories will help them to burn more calories in keeping them warm and maintain their weight too. In winter, many pets don't get enough food and lose a lot of weight. This weakens their immunity, which could kill them in harsher conditions.
It is not that hard to find ways to keep your cat warm in winter without electricity, and cats are more or less very adaptive pets; they can withstand fairly colder temperatures so in many cases, using an electric device could be extreme too.
Interesting Read: Do Cats Like Fans?
Interesting Read: How To Keep A Stray Cat Warm Outside In Winter?
Frequently Asked Questions
What to use to retain heat in the cat house?
To retain heat in a cat house, lining with mylar blankets is suggested, and in drier places, hay can also be used. In wet places, hay could get wet and make the place cold rather than keep it warm
Are electrically heated blankets useful for cats?
Yes, they can be useful for cats but if you are not careful your cat could get an electric shock from them. These kinds of things always possess the risk of electrocution or shock.
Is it safe to leave the cat with a heater on at home?
No, it is not advised to do so. In fact, you should not have a heater at home if you are a pet parent. Cats move around the house touching things without a care in the world and they may touch the heater burning themselves or their paws.
Summary
It is not always possible that you would get all things easy and simple when it comes to your cat. When it comes to their comfort there are so many things you need to take care of like in winter.
When it's cold outside your cat needs to be kept warm too and when you don't have the comfort of using electrically heated sources you switch to other alternatives.
To keep cats warm without electricity or due to a power outage you can snuggle up with your cat. this would serve two purposes: one, of providing warmth, and two, you would form a great bond with your cat.
Other methods like using blankets or sweaters could have been opted too. With electrically heated devices it is riskier as the possibility of an electric shock always looms over them.
It is better to use natural options even if it means a little extra work it is still safer. What would you do take the easy way out with electrical options which are unsafe or do a little extra work and use natural and safer options?
Check out more interesting articles:
References