Hey there, fellow cat lovers! I know we all want to keep our furry friends healthy and happy, but have you ever wondered if our cats are safe from fleas even during the winter months?
After all, we tend to associate fleas with warmer weather, but can cats still get fleas in the winter? Well, let me tell you, the answer may surprise you!
Winter weather doesn't mean that fleas disappear. In fact, fleas can survive in a variety of conditions, including colder temperatures. Yikes! And with indoor heating, our homes can provide the perfect breeding ground for fleas, even during the winter. Ew!
But don't panic just yet, because there are ways to protect our feline friends from these pesky parasites, even during the winter months. From keeping our homes clean to using flea preventatives, there are simple steps we can take to ensure our cats stay flea-free.
So, are you ready to learn all about how to keep your cat safe from fleas this winter? Keep reading to find out!
Key Takeaways

Fleas can survive in a variety of conditions, including colder temperatures, but flea eggs, larvae, and pupae are not known to survive winter weather.
Outdoor cats are more vulnerable to flea infection in the winter, as fleas can find shelter in humid and warm places away from direct sunlight.
Indoor cats can also get fleas in the winter if fleas find shelter in humid and warm places inside the house.
Excessive scratching, biting/licking, hair loss, and the presence of flea dirt on skin or fur are common signs of flea infestation in cats.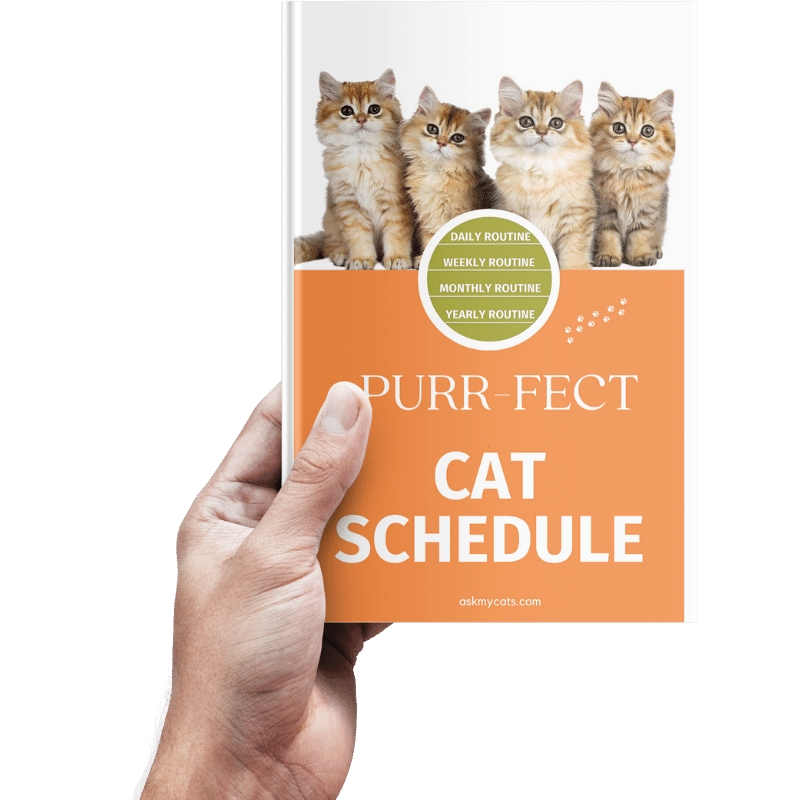 Discover the Secrets to a Happy Cat!
Discover the secrets to creating a happy and healthy daily routine for your feline friend. From playtime to mealtime, sleep to grooming, our expert guide will show you how to make every day a purrfect day for your cat.
Give Your Cat the Perfect Day – Get the Ebook!
Do Cats Get Fleas In Winter?
In general, fleas do not survive the winter weather. According to Purdue University, "cat flea eggs, larvae, and pupae are not known to survive winter outdoors and typically are not found indoors during winter."
But under the right conditions, cats can get infected by fleas. If cats spend too much time outside, in places where fleas can survive, they can get infected. In places where it is warmer and the temperature is higher, fleas can survive. Under bushes, houses, and plants where it is warm and moist, fleas can survive.
If fleas find suitable places with the right temperature and moisture, which is very difficult in cold weather, they can infect any animals they come in contact with.
Can Outdoor Cats Have Fleas In The Winter?
Fleas have a lower chance of survival in extremely cold temperatures. But if they find a humid and warm place away from direct sunlight, they hide in those places to come into contact with their host cat.
This makes outdoor cats vulnerable to these pests. There are far too many places outdoors that could provide shelter for these fleas and infect your cat.
If they attach themselves to your cat, it could cause an outbreak inside your house, and fleas not only infect cats but can also bite humans.
If the weather is too cold, the risk of infection may be lower for outdoor cats as larvae and eggs do not survive in cold weather than indoor cats.
Outdoor cats are more exposed and could bring fleas inside the house, but that could be easily prevented by keeping your cats indoors, as it would also protect your cat from the cold and wouldn't increase the risk of infection not only to the cats but also to the humans inhabiting the house.
Must Read: Can Cats Get Ticks In The Winter?
Can Indoor Cats Get Fleas In The Winter?
Yes, if fleas find shelter in humid and warm corners of the house, they can stick to your pet cat very easily. They could breed and lay eggs anywhere in the house, where they would easily blend in.
"Pet bedding, furniture cushions, and thick carpeting — basically any protected area where the pets spend their time — are likely to provide the right environment for flea development"

says Paul Pugliese, who is the Agriculture and Natural Resources agent for the University of Georgia Extension office in Bartow County.
Houses have many places that are damp and warm, like basements or the tiles of a bathroom, and so many more that could serve as hiding places for these fleas. If the fleas get inside your house, the infection cannot be avoided.
The only way to be safe and keep your cat safe is to detect and eliminate these fleas before they infect anyone.
Common Signs of Flea Infestation in Cats
| Sign | Explanation |
| --- | --- |
| Scratching | Excessive scratching is a common sign of flea bites. |
| Biting or Licking | Cats may bite or lick the affected area to relieve itching. |
| Hair Loss | Flea infestations can cause hair loss due to excessive scratching and biting. |
| Flea Dirt | The presence of tiny black specks (flea dirt) on the skin or fur is a sign of flea infestation. |
Common Signs of Flea Infestation in Cats
Interesting Read: Fleas On Cat's Face? Know These Most Important Tips!
Do Fleas On Cats Die In The Winter?
According to Dr. Lindsay Starkey, an assistant professor in the Department of Pathobiology whose veterinary medicine subspecialty is parasitology,

"That is a common misconception. Fleas and ticks can survive the winter, and some can even survive indoors. Ticks can survive a cold, damp winter better than they can a hot, dry summer. Pet and other animal owners need to protect their animals year round."

Dr. Lindsay Starkey, an assistant professor in the Department of Pathobiology whose veterinary medicine subspecialty is parasitology
The dry winds that are responsible for sucking the moisture out of every possible material do not leave many places that could provide shelter to fleas, and they eventually start dying.
Adult fleas can still survive the cold weather, but the younger fleas, i.e., larvae, cannot survive in such weather conditions.
But this does not mean that the fleas, if they are existing inside the cat's fur, would die because, to kill them, you have to expose them to a very low temperature consistently, which would mean exposing the cat too.
If the flea doesn't, the cold would definitely kill the cat. Cats are too sensitive to the cold and could get hypothermia too.
Must Read: How Cold Can Cats Survive Outside?
At What Temperature Do Cat Fleas Die?
The temperature that fleas can withstand is determined by the stage of their life. Adult fleas can survive colds up to 46.4 degrees Fahrenheit, and their larvae can withstand colds up to 55.4 degrees Fahrenheit. Consistent exposure to such cold weather can be effective in killing them.
In tropical places, The temperature does not drop even when it is the lowest, hence the risk of fleas is equal as it is in summer or spring. In places where the temperature is low and, as mentioned, even lower for long periods of time, the survival of fleas is difficult in such conditions.
Places like that, along with being cold, are also very dry, and fleas need moisture and humidity to survive.
Interesting Read: Do Cats Get Dandruff In Winter?
How Long Can Fleas Live In Winter?
In winter, if the temperature goes below 46 degrees Fahrenheit, consistently for a minimum of 5 days, they will start dying. If the temperature ranges from 46 to 53 degrees, it would take 10 to 20 days for them to die.
"Sustained temperatures below 55 degrees F inhibit development. Flea reproduction takes place indoors year-round, but outdoor reproduction is limited to warm-weather months"

reports the University of Missouri.
If fleas do not find shelter in winter and are exposed to temperatures below freezing, they will die. Fleas exist in a specific temperature range. They cannot even stand very high temperatures.
Interesting Read: Can You Shave a Cat To Get Rid of Fleas?
Should I Treat My Cat For Fleas In The Winter?
Despite the weather, you should also provide flea treatment for your cat; just make sure the treatment does not involve bathing the cat.
Bathing the cat is not an ideal activity to do in winter, so there could be other ways that do not include water to treat the problem of fleas on the cat.
Consulting a vet should be the first step you should take if you discover a flea on your cat, despite the season. The vet would help you navigate the next steps toward the treatment of your cat.
Even Michael F. Potter, Extension EntomologistThe University of Kentucky College of Agriculture remarks,

"It is usually prudent to consult a veterinarian for the most appropriate treatment for your pet. Veterinarians also tend to know which products are performing well in their particular locale."

Michael F. Potter, Extension EntomologistThe University of Kentucky College of Agriculture
Must Read: Can I Bathe My Cat In Winter?
How to Treat Flea Infestation on Cats in the Winter
"The traditional approach for battling fleas typically involved concurrent treatment of both the pet and the premises," says Michael F. Potter, Extension Entomologist University of Kentucky College of Agriculture.
For the treatment of your pet, you should first consult with your vet and then proceed with any treatment.
Here are a few possible alternatives that your vet may advise you to use in winter:
Spot-on: there are many trusted spot-on treatments available in the market like frontline. These treatments need you to apply a small amount of the product on the cat's fur near the affected areas.
Oral tablets: your vets would suggest these because they are the safest bet for your pet. They would not require direct contact, thereby eliminating other risks like hypothermia too.
Apart from these, many other shampoos are available in the market that could be used, but as bathing is out of the question, these would suffice.
For the prevention of such infestations in the future, make sure the premises are clear of any fleas or their eggs. To ensure :
Remove any objects that the cat used, like toys, bedsheets, bedding, etc.
Wash their water and food bowls.
Wash the bedding, sheets, and other cloth that could have been in contact with the infected cat.
After clearing the area, thoroughly vacuum it, as this will help remove any remaining eggs around the house.
Regularly washing and changing your cat's bedding and other places could prevent these fleas from infecting your cat in the first place.
Interesting Read: Pregnant Cat Flea Treatment: Is It Safe?
Preventive Measures to Keep Cats Flea-Free in Winter
| Measure | Explanation |
| --- | --- |
| Flea Medication | Regular use of flea medication can prevent flea infestations. |
| Cleanliness | Keeping the house and surrounding areas clean can reduce the risk of fleas. |
| Regular Grooming | Regular grooming of cats can help remove fleas and eggs. |
| Vacuuming | Regular vacuuming can help remove fleas and their eggs from carpets and upholstery. |
Preventive Measures to Keep Cats Flea-Free in Winter
Frequently Asked Questions
Can flea shampoos be used in winter on cats?
No, bathing cats in winter is not an option, so, using a shampoo without water is not possible. Other alternative treatments could be used in place of shampoo.
Can fleas on a cat kill the cat?
No, the fleas do not kill the cat, but they can cause fatal diseases such as tapeworm, which could eventually lead to the cat's death if they are not provided with proper treatment.
Summary
A flea infestation is literally a pesky little problem that could cause major problems for your cat and even kill it.
This issue becomes less concerning in winter, as constant exposure below a certain temperature of 46 degrees Fahrenheit could kill them. As a result, fleas do not infect cats as much in very cold climates. They need moisture and warmth to survive and breed, which are absent in cold weather.
But at times, they find places to hide in winter and infect your cat. Along with the cats the humans aren't safe too as they even bite humans.
To prevent this keep checking your surroundings regularly and keep washing the items that come in contact with your cat even if you keep your cat clean. This could help get rid of flea eggs if there are any.
Would you take up the burden of washing and cleaning regularly or rather have your cat infested?
You might also like to read some articles related to winter and your cat:
References