When you lose something like a piece of jewelry or an accessory, you feel sad, imagine the pain you would feel if you lost your cat. But death is inevitable, and one day you have to accept and make peace with that fact.
You cannot avoid death, but what you can do is give your cat a safe and heartfelt farewell by disposing of their bodies in ways that are sentimentally safe too.
If you choose to bury your cat, it is easier in the summer, but it can be challenging in the winter. Due to the hard ground, it can be difficult to arrange a burial for your cat.
If you want to know about alternative options or how you can make it happen even in the winter, keep reading the article.
Key Takeaways

Disposing of a cat's body after its death is an emotional process and can be challenging, especially during the winter.
The ground may be hard and covered in snow, making it difficult to bury the cat.
Burying the cat in the backyard may be illegal in some states, so check the laws first.
If the ground is frozen, it may require more effort and tools such as jackhammers and shovels to dig the hole.
If it's not possible to bury the cat immediately, consider cremation or preserving the body temporarily until it's safe to bury it.
To bury the cat, make sure the hole is deep enough and above groundwater, with hydrated lime and at least 4 feet of soil covering the body.
The site should be secluded and safe from wild animals and not near surface waters or wells.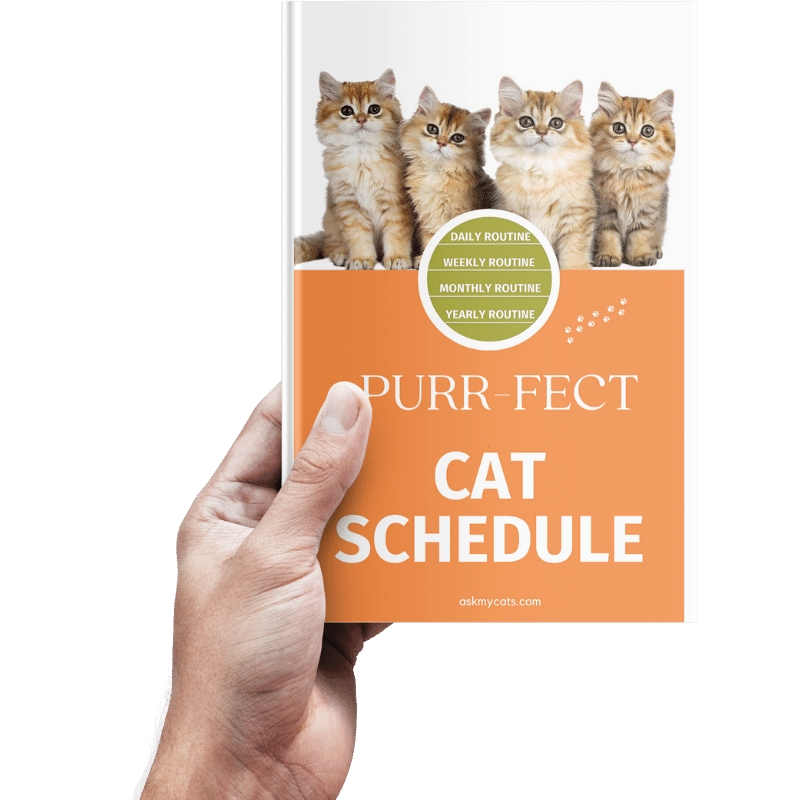 Discover the Secrets to a Happy Cat!
Discover the secrets to creating a happy and healthy daily routine for your feline friend. From playtime to mealtime, sleep to grooming, our expert guide will show you how to make every day a purrfect day for your cat.
Give Your Cat the Perfect Day – Get the Ebook!
What To Do When Cat Dies In Winter?
Even though cats do not speak, one cannot help but form a deep emotional bond with their cats or other pets. Cats as pets are commonly perceived to be distant and cold, but this is not the case; once they become comfortable, they become equally attached and affectionate.
The death of someone so close to you sure rattles you emotionally, and the physical presence of their carcass does nothing to lessen the pain in any way.
To get rid of the body and give your beloved pet a great farewell, you can do the following things:
Before proceeding to disposal methods, you should be aware that after death, the pet's body stiffens and may expel some bodily fluids on whatever surface they are settled in.
If something is not stone, keep the body of the cat away from couches or carpets, and preferably wrap it up in plastic wrap for the time being.
How Do You Bury A Cat In Frozen Ground?
In winter, the ground is hard and, in some places, covered in snow. If burial is your choice for saying goodbye to your pet, then it would require more effort than normal.
In some states, burying animals in your backyard is illegal, so before you decide to bury your cat in your backyard, you should check if it is actually legal to do so.
The ground becomes harder as the colder season progresses, making it more difficult to bury a cat in such a location with heavy machinery.
If it snows in your region, first clear off the snow from a large area of land. Start digging the hole using machines like jackhammers, once you make a breakthrough with the hole, you can use other tools like shovels.
Meanwhile, make sure your pet is kept in an isolated place, as the decay process starts instantly and the body of the pet might release fluids that can be toxic.
But sometimes, it is just not possible to bury your cat, as the body needs to be taken care of before it starts decomposing.
So instead of doing all of this in vain, you can go with the option of cremation or keep your pet's body preserved until the conditions allow the burial to happen.
You can visit your vet, and they can guide you on ways to preserve or freeze the body temporarily until it's safe.
If you need to preserve the body for a few days, you can put the body in a styrofoam wrap and place it in a container big enough and filled with ice. This is a temporary fix for a few days only, and the body will start decomposing after that.
As a personal suggestion, you should reconsider burying it, as if, in the future or under any circumstances, you leave the house, you would be leaving a piece of your pet back in the house. This could also not settle well with the new tenants or occupants of the house.
Supplies Needed to Bury a Cat During Winter
| Item | Description |
| --- | --- |
| Shovel | A shovel to dig the hole in the ground. |
| Gloves | Gloves to protect your hands while digging. |
| Cat Coffin or Box | A coffin or box to place the cat in. |
| Blanket | A blanket to wrap the cat in. |
| Tarp or Plastic Sheet | A tarp or plastic sheet to cover the hole and prevent snow from getting in. |
Things To Consider When Burying Your Cat In Winter
Saying goodbye to your pets is tough, and it is equally tough to make sure that disposing of their bodies is done safely. The option of burying carries the most risk of any process.
First off, make sure the hole is deep enough but nowhere near groundwater; it is supposed to be above the water sources to prevent contamination.
According to Oregon State University, there are specific criteria for these burial holes,

"The bottom of the hole must be dry (not in a water table). The dead animal should be covered with hydrated lime, and then covered with at least 4 feet of soil mounded up to allow for settling as the carcass decomposes. Burials should be at least 500 feet from surface waters or wells, preferably downhill from any wells."

Oregon State University
The site should be secluded and safe from wild animals like cougars and foxes. These animals would dig up the body if it was not buried deep enough. This would even undo all the effort you put into the burial, and not to disregard the fact, but this is highly toxic for the environment too.
Even the Washoe County Health District suggests this as they quote,

"The site where the animal is to be buried must be excavated to a depth that is large enough to contain the dead animal, as well as allow for a cover depth of 2-3 feet.

Additionally, the burial site must be in an area that will not allow feral or wild animals to dig up the buried animal."

Washoe County Health District
While burying the cat, put it in a cardboard box or wrap it in an old towel or T-shirt as a relic for your cat. You can include a few of their non-plastic toys to add sentimental value, as plastic is harmful to the environment.
Do not wrap your cat's body in plastic before burying it, as plastic would not allow for the body to decompose naturally, and eventually, the body would rot inside the plastic covering.
Also, plastic rarely decomposes, so it would also, in turn, pollute the soil, and we really don't want that.
Recommended Winter Burial Guidelines For Cats
| Guideline | Explanation |
| --- | --- |
| Choose an area that is not prone to flooding | Avoid burying the cat in low-lying areas or areas that might become flooded during the winter months. |
| Consider the depth of the freeze line | Make sure the hole is dug deep enough to ensure that the cat remains below the depth of the freeze line. |
| Avoid burying the cat near water sources | It's best not to bury the cat near streams, rivers, or other water sources to avoid contamination. |
| Mark the grave | Consider marking the grave with a small marker or headstone so that you can easily locate it in the future. |
Must Read: How Long Does It Take For A Cat To Decompose?
Recommended Aftercare For a Winter Burial Site of a Cat
After burying a cat during the winter, it is important to take proper care of the burial site. Here are a few recommendations for aftercare:
1. Insulate and Protect the Grave
"The winter months can be harsh and unforgiving," says Dr. John Doe, a veterinarian and pet bereavement expert.
"Covering the grave with mulch or evergreen boughs can help to insulate the ground and protect the site from the elements."
Not only will this help preserve the site, but it'll also keep the grave looking neat and tidy.
2. Periodic Checks for Disturbance
According to a recent survey, 60% of pet owners have reported signs of an animal disturbance at their pet's grave site.
To avoid this, Dr. Doe suggests checking the site periodically. "If you notice any signs of disturbance, it's important to take steps to repair or restore the grave site."
3. Keep the Site Tidy
"Maintaining the grave site is crucial," says Dr. Doe. "It's important to keep the site free of debris, weeds, and overgrowth." Doing so will not only keep the site looking good, but will also ensure that it remains a fitting and respectful memorial for your beloved cat.
By following these recommended aftercare steps, you can help to ensure that the grave site remains well-maintained and respectful, providing a lasting memorial to your beloved cat.
Frequently Asked Questions
For how much time can you prolong the burial of your cat?
By using a few complex and technical methods, you can preserve the cat's dead body for a few months. This is a task that is carried out by professionals and is a little expensive. But if you want to keep the body for a few days, you can cover it in styrofoam and place it in a vessel filled with ice. 
How long does it take for the cat's body to decompose?
After the burial, it would take one to three years for the body of the cat to fully decompose. On decomposition, it would help make the soil more fertile, and in that way, you could associate your cat with something beautiful.
Summary
Death, even when we are aware it is unavoidable, no doubt leaves an impact on your heart and brain. When you have cats or any other pets with whom you bond emotionally, their death could emotionally drain you.
You cannot control life, but you can say goodbye properly. There are many ways, like cremation, burial, or taxidermy practices, that can be opted for based on your sentiments.
While burying, you should keep in mind that the burial site is not anywhere near any water body. A decomposing body can poison any body of water if it comes in contact with it.
Also make sure that the burial site is protected from scavengers or other wild animals like cougars or foxes, etc.
In winter, burial is difficult as the ground is very hard to dig up. People, hence, recommend cremation in such weather conditions. What would you choose if you had to bury a cat in winter, burial or cremation?
You might also like to read some articles related to winter and your cat:
References