Cats are not the biggest fan of water so do they take a bath on a regular? Are they comfortable with cold water or warm water? What about winter, do they bathe in winter? Is the cold water safe for them to bathe in?
So many questions pop up in our mind when we think about cats bathing, especially in weather like this. You can bathe your cats in winter but it is not a necessity.
While thinking about your pet cat, you should consider that if you are cold it is cold too. So even if you don't mind bathing in winter it is not your cat's favorite activity.
Key Takeaways

It is safe to bathe cats in the winter, but it is not always necessary. Cats are generally able to groom themselves and do not require frequent baths.
Cats should only be bathed if they are dirty or infected with fleas.
When bathing a cat in the winter, it is important to use warm water and carefully regulate the temperature and duration of the bath to avoid hypothermia.
If a cat needs a bath, it should be done once every 4-6 weeks in the winter.
It is important to thoroughly dry the cat after a bath to prevent hypothermia.
If a cat is unwilling to be bathed, it is important to respect their wishes and find alternative ways to groom them.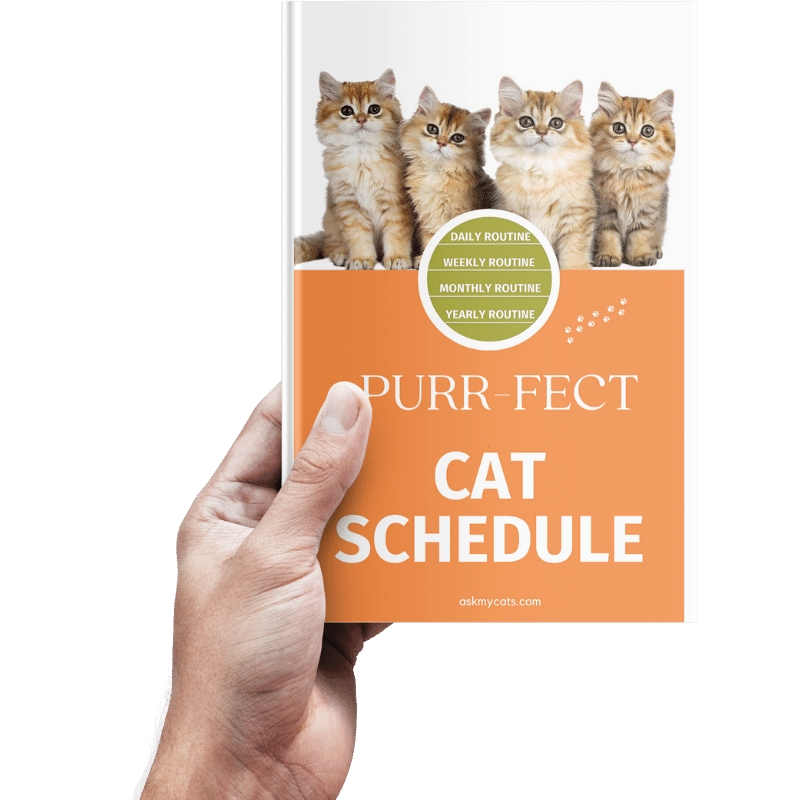 Discover the Secrets to a Happy Cat!
Discover the secrets to creating a happy and healthy daily routine for your feline friend. From playtime to mealtime, sleep to grooming, our expert guide will show you how to make every day a purrfect day for your cat.
Give Your Cat the Perfect Day – Get the Ebook!
Is It Safe To Bathe A Cat In Winter?
Yes, it is safe to bathe cats in winter but only if you make sure that the cat is comfortable with it. It is not even a necessity to give your cat a bath unless it is infected with fleas.
"Just as we wear clothes and eat differently when the seasons change, pets' grooming and nutritional needs also vary in the winter," said James Sokolowski, DVM, Ph.D., professional communications manager for WALTHAM U.S.A., Inc.

James Sokolowski, DVM, Ph.D., professional communications manager for WALTHAM U.S.A., Inc.
As Sokolowski pointed out, we must make sure that the cat needs a bath. If it is not absolutely necessary, then why bother making the cats uncomfortable?
It may be safe to bathe cats sometimes but it is not safe to bathe kittens. Even if you use warm water, kittens are already at high risk of being hypothermic and losing their life.
Cats are capable enough to groom themselves, so even if you don't give them a bath in the cold weather, they would be able to take care of themselves.
A cat's fur may look dense and provides protection against cold, but when we bathe the cats, it does not absorb any water. The water comes in contact with the skin which could cause a lowering of their body temperature.
To avoid this, the temperature of the water and the amount of time spent in the bath needs to be regulated.
Must Read: Do Cats Get Dandruff In Winter?
Is Bathing A Cat Really Necessary In Winter?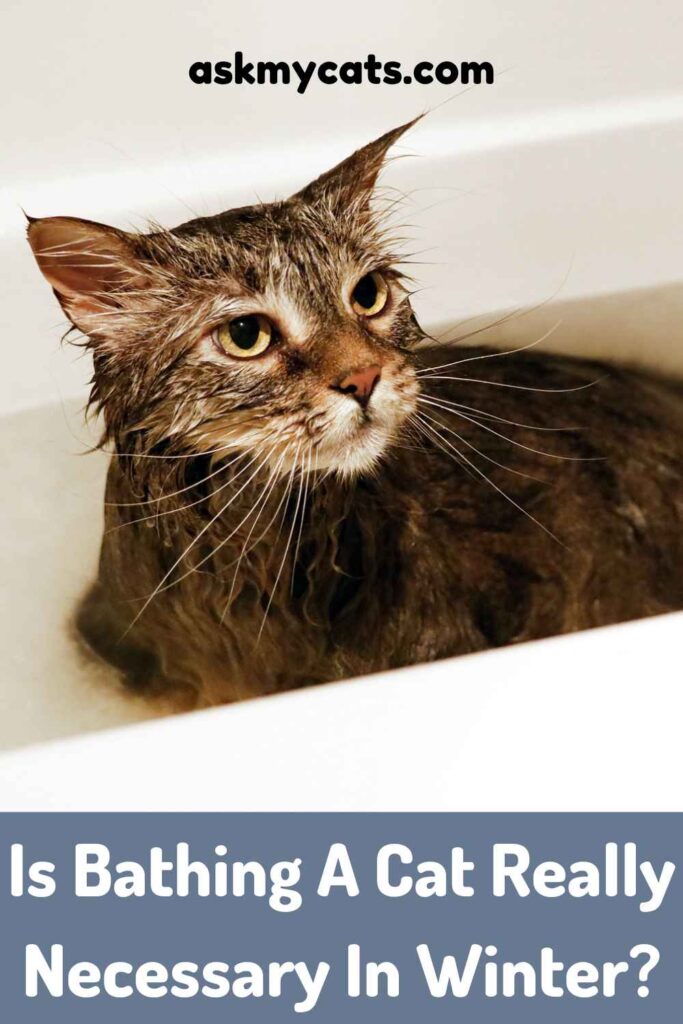 Bathing a cat may or may not be necessary for the cat. This solution depends on the cat. If the cats are very active and play a lot around dirty surfaces, they need to get cleaned. If they aren't much active, then self-grooming would be enough for them.
As pointed out earlier, the fur only provides insulation, it does not cover the skin.
According to the Texas department of state health services, Being in cold temperatures with a wet coat and skin can increase the animal's chances of developing hypothermia.
So unless it is fatal for the cat to go without a bath, you should forgo it in the colder months.
But as the Department of Agriculture, Trade and Consumer Protection State of Wisconsin points out that "wet, dirty, and matted fur does not provide insulation against cold."
This does not mean bathing. If your cat needs a bath to be clean, you should give it one. But if brushing or other grooming activities do the job, you should not stress about giving your cat a bath.
According to Washington State University, "Self-grooming is not just a cat's way of keeping itself clean. Licking stimulates the skin glands which produce a waterproofing agent for the coat.

Besides, grooming is also a method of temperature regulation. Cats are unable to sweat because of the fur, so saliva becomes a substitute for the cooling effect of sweat. That is why cats groom themselves more often in warm weather."

Washington State University
You can leave cold baths in winter for cats and trust that they would take care of themselves nicely.
Interesting Read: Cat Died After Bath: What Could Be The Possible Reasons?
Pros and Cons of Bathing Your Cat in Winter
| Pros | Cons |
| --- | --- |
| Helps to remove dirt and debris that may have accumulated on your cat's coat during winter activities | Cold temperatures may make your cat anxious or uncomfortable |
| Keeps your cat's coat clean and healthy | May be more difficult to dry your cat off after a bath in winter |
| Can help prevent skin irritation or infection | May be more challenging to get your cat into the bath in the first place |
Pros and Cons of Bathing Your Cat in Winter
How Often Should I Bathe My Cat In Winter?
The frequency of cat baths in winter months should be around once every 4 to 6 weeks. If your cat is an outdoor cat, the frequency of baths should be increased to around twice every four to six weeks.
If your cat is unable to groom itself due to physical problems like obesity or arthritis, make sure you groom your cat efficiently.
You are responsible for the skincare needs of these cats, so you need to choose very cautiously, according to the needs of the cat.
Cats would also need baths more frequently if they are infected with fleas.
Even though in winter, fleas cannot exist, in a recent study Oklahoma state university found out that due to evolution, The pupal or cocoon stage of the life cycle is resistant to any and all insecticides, leading to failure to regulate the population of the fleas.
The pupal stage can lay dormant for 140 to 170 days. Thus, in some areas of the country, fleas can actually survive through the winter.
This information points towards a threatening situation. This means that if your cat gets flea infected in winter, you would have no option but to give your cat a bath. Giving a bath in such harsh weather could pose a greater risk to the cat's life.
Interesting Read: Do Cats Shed More In Winter?
What Temperature Do Cats Like For Baths?
For baths in cold weather, cats prefer Temperatures around 100 to 103 degrees. This is the chosen temperature range as this helps maintain their body temperature and this temperature makes sure it is not too cold or would get a fever.
A cat's normal temperature is 100.5˚F–102.5˚F. "105˚F is a danger sign, and 108˚F is life-threatening, requiring immediate cooling off in a cold water bath", was an observation recorded by the Washington state university.
When you bathe your cat, the water directly touches the cat's skin cats.
The Chicago government in their guidelines mentions that "Even though companion animals have a fur coat, most dogs and cats cannot endure the cold of winter for more than 10 to 15 minutes. Cats generally do not need a bath they clean themselves"
Interesting Read: Can I Use Baby Shampoo on My Cat?
Precautions To Take While Bathing Your Cat In Winter
While giving a bath to your cat in winter keep these things in your mind:
● Dry baths: instead of bathing your cat with water, you can give it a dry bath. Products such as corn starch or baby powder can be used as substitutes for dry baths for your cat. These products are mild and relatively gentle on your cat's skin and hence possess no harm in using.
● You should consider giving your cat a bath with water only when you have a hair dryer, leaving their skin and fur cold for not more than a few minutes. Even leaving their fur cold for 15 minutes could be very harmful to the cats.
● Make sure you maintain the temperature of the water and the cat's body temperature while giving it a bath. Make sure that the cat's body temperature does not rise above 102 degrees Fahrenheit. Temperatures above those indicate a fever which could make your cat seriously ill.
● Do not unnecessarily bathe them in the colder months and leave them to groom themselves. Bathing alone is exposing them to the risk of hypothermia and if you excessively bathe them they may also die.
Those few things need to be remembered and applied in real life when needed.
Interesting Read: Do Cats Need Winter Clothing?
Tips for Bathing Your Cat in Winter
| Tip | Description |
| --- | --- |
| Choose a warm location | Set up the bath in a warm room or area to help keep your cat comfortable |
| Use warm water | Make sure the water temperature is lukewarm, not hot or cold, to avoid stressing your cat or causing discomfort |
| Use a comfortable, secure bathtub or sink | Choose a bathtub or sink that is the right size for your cat and has smooth, non-slip surfaces to help prevent accidents |
| Use a gentle, cat-friendly shampoo | Choose a shampoo that is specifically designed for cats and avoid using human products, which may be too harsh for your cat's skin |
| Dry your cat thoroughly | Use a clean, dry towel or blow dryer to remove excess water from your cat's coat and keep them warm and comfortable |
Tips for Bathing Your Cat in Winter
Winter Bathing Alternatives For Cats
| Alternative | Description |
| --- | --- |
| Use wipes or dry shampoo | Instead of giving your cat a full bath, you can use wipes or dry shampoo to clean specific areas or remove dirt and debris |
| Brush your cat regularly | Brushing your cat's coat regularly can help to remove loose fur and keep their coat clean and healthy |
| Use a humidifier | Adding a humidifier to your home can help to keep the air moisture and may reduce the need for frequent baths |
Winter Bathing Alternatives For Cats
Frequently Asked Questions
Can we use talcum powder for a dry bath for cats?
No, for a dry bath using talcum powder is not recommended as it may contain harmful chemicals. You can use corn starch or baby powder to do so as they are mild and do not have many chemicals.
Do cats bathe in cold water or warm water?
Cats generally do not bathe in winter but if you need to bathe your cat due any reason you need to use warm water. Cats are sensitive to cold and bathing in cold water could cause the risk of catching hypothermia. So to maintain their body temperature you should use warm water to bathe your cat.
 Can we skip bathing cats in winter?
Yes, bathing is not absolutely necessary for cats in any season actually. In winter, bathing them could also kill them. So before even thinking about bathing your cat, you should really consider that if the cat actually needs a bath or if you are doing it just for the sake of routine
Summary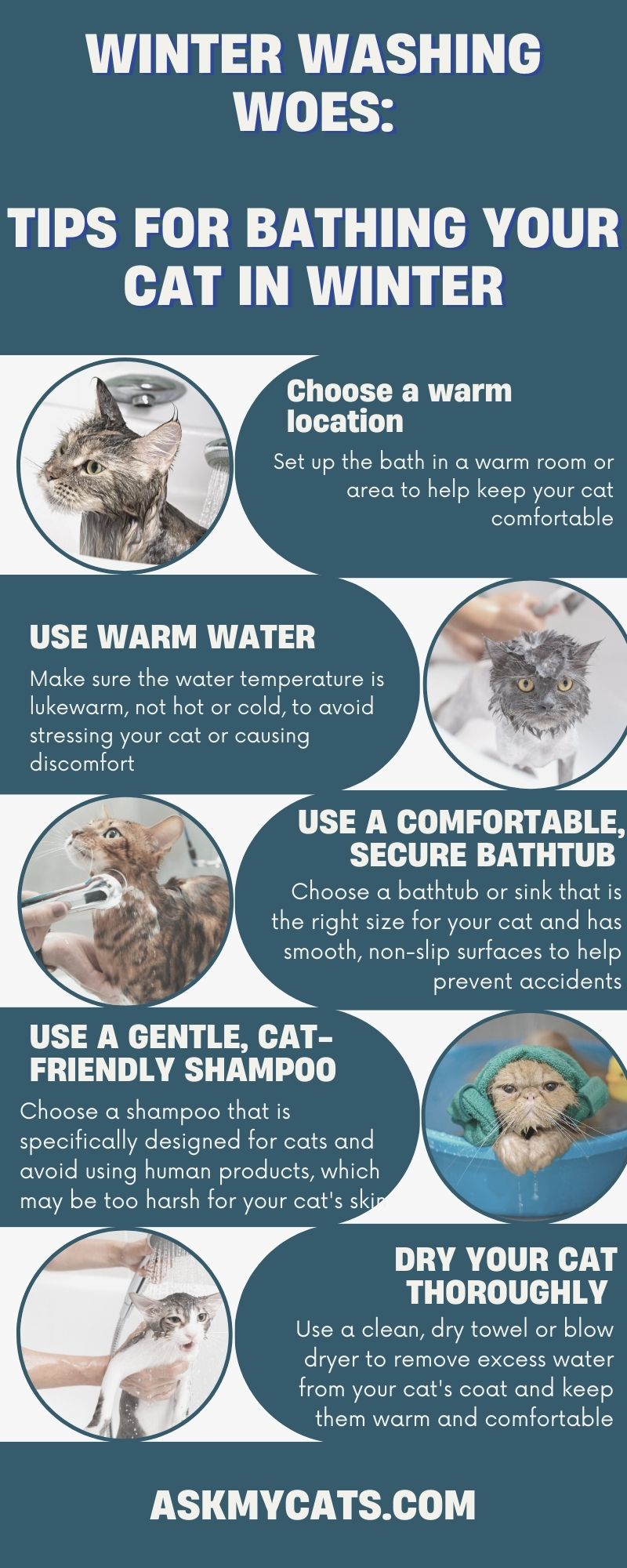 Even when it's cold outside, the thought of not jumping in the shower would have definitely crossed your mind once. Cats feel like this every day because they don't like water hence bathing is not even an option.
This gets worse in the winter months as the weather is too cold for bathing. In such weather, bathing would cause them discomfort and also poses a risk to their lives. When we bathe a cat, the water does not stay in its fur but touches its skin directly.
Unless you have a hair dryer that could dry their skin and fur immediately, you should not even think about giving your cat a bath.
If your cat is flea-ridden or has any other skin conditions, then I would recommend you give it a bath. You should use warm water to bathe your cat in. with With warm water, its body temperature is maintained and they don't get too cold or warm.
Cats are excellent groomers and can take care of themselves. Pet parents sometimes get too possessive over these facts and still proceed to do things like giving a bath to their pets when they don't even need it.
So as a pet parent what would you do, leave the cat be or would you be the possessive kind?
You might also like to read:
References