When we go out we bundle ourselves with every warm piece of clothing possible be it caps, gloves sweaters, boots, etc but what about someone who is already staying out without such barriers as stray cats?
To help these stray and feral cats, a few things can be arranged like setting up shelters and keeping food. These things could help them survive harsher weather conditions.
These alternatives are just the tip of the iceberg, so let us know more about how we can help these stray and feral animals in these harsh conditions.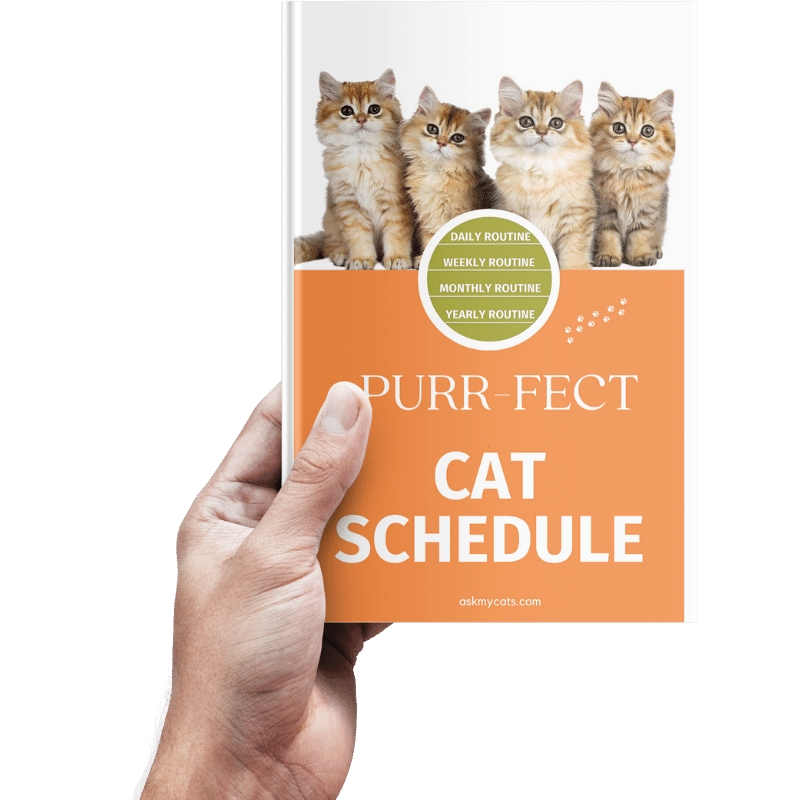 Discover the Secrets to a Happy Cat!
Discover the secrets to creating a happy and healthy daily routine for your feline friend. From playtime to mealtime, sleep to grooming, our expert guide will show you how to make every day a purrfect day for your cat.
Give Your Cat the Perfect Day – Get the Ebook!
How Can I keep Outdoor Cats In Warm In Winter?
According to Kelly Sackmaster, cat director at WAHS, who works with the 100-plus cats that are currently at the humane society,

"freezing weather confuses and shocks the animals, which causes them to get lost. In addition to the frostbite and car engine, burns associated with winter weather, and the stressful and freezing conditions can increase the risk for upper respiratory infections."

Kelly Sackmaster, cat director at WAHS
The bare minimum we can do in these situations is do everything in our power for the cats around us to be safe and alive.
In winter you can help them by providing them with means for them to keep warm. Building a warm shelter and leaving them warm food is one of the few things you can do.
If the cat is comfortable being around your house and you can afford to keep a pet for a few days it would help the cat a lot. this would also help as you would also get a companion.
Must Read: What Temperature Can Cats Stay Outside?
Various Ways To Keep Outdoor Cats Warm In Winter?
To avoid situations like the ones Sackmaster suggested, these are a few of the many ways through which you can help your friendly neighborhood stray cat:
Urge them to come inside. If it is affordable, you can adopt a stray cat for a few months until winter passes.
Building them a makeshift shelter for them to protect them from the harsh weather
Leaving them warm food outside your house along with unfrozen and warm water to maintain their health
Leaving heating pads outside your house on which they can lounge whenever required.
These are a few things that can help the cat and help it to stay warm in the winter. These things are something we can always afford and make the surroundings a better place for all of us to live in.
The phrase giving back to the community is something that can be bought to life by doing small gestures. This may seem insignificant initially but a little kindness never hurt anyone.
Must Read: How Do Stray Cats Survive Winter?
Outdoor Shelter For Cats
One of the ways to help a stray cat is by building a shelter so it can feel warm and sheltered and has a place to go to in harsher conditions.
To build a shelter you can follow these steps:
According to Arlington city texas, the animal services department, select a box with approximate dimensions of 2 feet by 3 feet and 18 inches in height. This size should be enough to fit 3 to 5 cats. The source of warmth being body heat, hence the more number of cats equals more warmth. Instead of a box, a large bin can also be used by lining it with smaller bins.
Make sure the shelter is covered from all sides so that most of the winds are blocked from entering
Do not forget a door or something through which the cats can easily come and go but still, it would block maximum winds. Something like a flap door should suffice
Cover the floor of the box or the bin with styrofoam or a warm blanket.
The animal department at Arlington city texas also suggests that the shelter should be kept elevated from the ground so that it wouldn't get too cold and wet in places it snows.
Generally, cats find their accommodations on their own for the season but this could be of huge help if they do not manage to find a place or are kicked out of their existing places of shelter.
Interesting Read: What To Feed Feral Cats In Winter?
How To Get Feral And Stray Cats To Use Your Shelter And Feeding Station?
Building shelters or laying out food and water for a stray cat is of no use if the cat doesn't use it.
Cats are animals of pride and they may not feel comfortable if they are under scrutiny while feeding or resting hence they may not use the feeding station or the shelter.
Cats along with being prideful are also very clean. This is also one of the reasons they do not use many shelters or feeding stations
To make feral or stray cats use your feeding stations or shelters ensure a few things:
Camouflage: hide your shelter behind rocks or keep it slightly concealed in bushes or other small plants. Cats may feel comfortable using these shelters if they feel familiar with them and these elements may help with that
Cleanliness: if you keep food and water out for the cats make sure the containers you put them in are clean. Having water out in the container can result in the formation of algae on the container so periodically clean the containers
Accessibility: use containers large enough to allow more than one cat to feed through them. If more than one cat uses the container they may water more food. Make sure your shelter is within reach for the cats and they can easily come and go out of it
Safety: not only making sure the shelter is at a safe place away from larger wild animals if they sometimes frequent any neighborhood. Also, make sure your feeding station is covered enough so that no dirt or debris goes flying into it.
These factors should make the feeding stations and shelters seem fit for the cat to use.
Interesting Read: Do Cats Need Winter Clothing?
Special Precautions To Be Taken For Your Outdoor Cats While Winter
Kelly Sackmaster, cat director at WAHS reports that

"What has surprised me the most in the winter months has been how many cats are brought to us with frostbite, or they have been found in the cold, or they were burned on a car engine because they were trying to warm themselves; it is all because people view them as disposable."

Kelly Sackmaster, cat director at WAHS
To make sure that cats do not meet fates like that some precautions need to be taken:
Before driving or starting your car make sure the cat is not hiding inside the hood or near the tires to seek warmth
If you use antifreeze make sure there are no spills because those substances are very alluring for cats. Even though antifreeze seems like a delicacy to them it is a poison and could kill them if ingested
Thump the hood of your car or make any kind of noise so that it alerts your cat and gives it time to come out of it own
If you are leaving the water out for your cats make sure that it does not freeze and keep changing it regularly.
If the cat is camping inside your car and refuses to move it is probably scared and prodding it would only make it retreat more inside. So to remove the animal give it some time and space and move out of its vision. Once it can't see you it may leave
Winters are a little extreme and making a few small changes can save lives for these furry animals. The smallest of gestures can result in saving their lives
Interesting Read: Where Do Cats Sleep Outside At Night?
Frequently Asked Questions
Do the shelters necessarily have to be boxes?
No the shape of the shelter does not matter much until it provides against the biting wind in the cold. Also, the shelter should be big enough for more than one cat to fit in
Should we feed the cats dry or wet food at the feeding shelters?
The texture of the food should preferably be wet. This would help cats maintain the necessary fatty acids in their body and prevent additional problems like dry skin. Along with a wet texture, the food should be warm too.
Is styrofoam necessary in building the shelter?
Yes. it is the preferred option as it would help keep the heat inside the cat shelter and keep it toasty inside.
Summary
Winters may be associated with the feeling of being warm but this may not be the case with stray cats who are left with no other option than to face it.
You can help these cats by doing small things like building a shelter for them and keeping warm food and water for them. Some people even go to the extent of taking these cats inside for the few harsh winter months.
Cats are generally adaptive but they could always use some help in weather conditions they can't control.
Doing these small things only requires a little effort and does not hurt much economically. It is actually pretty cheap and affordable. So would you put some effort to make the stray cats around you feel safe and keep warm?
You might also like to read:
References