You must have surely heard the quote "Curiosity killed the cat." Though it was said in regard to a science experiment, it can be associated with knowing a few things about the likes and dislikes of cats.
Among these things, there is snow. Cats are curious, and their curiosity might drive them toward it. But do they enjoy being in it?
If you feel the same curiosity over the likes or dislikes of cats over snow, keep going further in the article to get your answers.
Key Takeaways

The reaction of cats to snow depends on their frequency of exposure to it
Initial encounters with snow may lead to cats being curious, but they usually dislike being in it as it makes their fur wet
The behavior of cats in snow can be influenced by breed, age, personality, snow quality, and prior experience
A survey showed that 40% of cat owners reported their cats enjoying playing in snow while 60% said their cats avoid it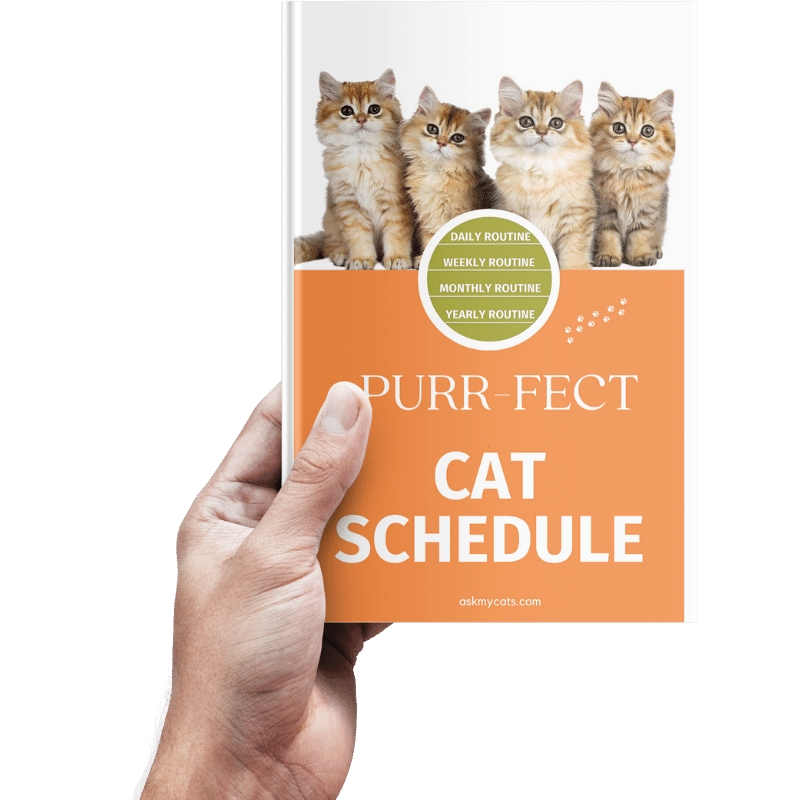 Discover the Secrets to a Happy Cat!
Discover the secrets to creating a happy and healthy daily routine for your feline friend. From playtime to mealtime, sleep to grooming, our expert guide will show you how to make every day a purrfect day for your cat.
Give Your Cat the Perfect Day – Get the Ebook!
Do Cats Like Being In The Snow?
The frequency with which cats have encountered snow influences their feelings about it. If your cat is unfamiliar with snow, it may initially enjoy it, but once familiar with it, it is usually disliked and associated with snow.
Cats are curious creatures, and if it is their first time in snow, they will certainly be a little wary of it. Cats don't like being wet and obviously dislike water, so playing in the snow is not what they would prefer. But if they have never experienced snow before, they will be drawn to it, and that is for sure.
Cats would prefer to perch on the windowsill and watch the snowfall, and after one encounter, they would prefer to stay as far away as possible from it.
Changing weather brings about changing scenery, which ignites curiosity in cats and can compel them to feel the change, like feeling snow in the winter.
After initial encounters, they prefer to be a spectator of the changing seasons rather than physically experiencing new things. Snow, when it melts, wets their fur, which is one thing cats try to avoid at all costs.
But on the other hand, many pet parents have shared that their cats like to play in the snow, and it becomes a bit difficult to bring their cats inside too.
So, you can never be too sure about your cat's opinion on snow. But you don't need to fret over it. In their own way, your cat would show contempt or wariness toward you.
How Do Cats React To Snow?
You cannot be sure of how your cat would react to the snow. If it has already once been in the snow, they wouldn't want to be a part of it as it is too cold and on melting leaves their fur wet.
Snow may be a new experience for indoor pets, but before taking them outside, allow them to see it and become accustomed to it.
Once they are used to how the snow looks, they might even want to go out and feel it themselves.
After realizing that what it is and how it can make them wet should be enough for them to stay away from it in the future too.
Stray cats living in the area for a long time get used to it and they are better acclimated to it. But even the familiarity does not stop them to feel wary of it. They stay away from snow as much as they can and find shelter in warmer places.
This is a general dislike of water and the feel of it on their fur, which makes them dislike the snow. And the cases of stray cats prove enough that snow still is a bother to cats even if they are used to it.
Interesting Read: Can I Walk My Cat In Winter/Snow?
Snow Play Behaviors Observed in Cats
| Behaviors | Explanation |
| --- | --- |
| Rolling | Some cats will roll around in the snow, possibly to get comfortable or to mark their territory. |
| Pouncing | Cats may use the snow as an opportunity to pounce and play, which can be a form of exercise for them. |
| Sniffing | Snow can have a different scent and texture than other surfaces, so cats may be interested in sniffing and exploring it. |
| Avoidance | Some cats may avoid snow altogether, preferring to stay inside or on a warmer surface. |
Feline Behaviour in Snow
As a cat-lover, you may have noticed that some cats seem to enjoy playing in the snow, while others avoid it at all costs.
But what causes these variations in behavior? Well, I did some research and found out that there are several factors that come into play.
Factors Affecting Cats' Behaviour in Snow
| Factors | Explanation |
| --- | --- |
| Breed | Some breeds, such as the Siberian and Norwegian Forest cats, are better equipped to handle the cold and snow. |
| Age | Older cats may be less interested in playing in the snow and may prefer to stay warm inside. |
| Personality | Just like people, cats have unique personalities, and some may be more likely to enjoy playing in the snow than others. |
| Snow Quality | Cats may be more likely to enjoy playing in fresh, fluffy snow as opposed to slushy, packed-down snow. |
| Prior Experience | If a cat has had positive experiences playing in the snow in the past, they are more likely to enjoy it in the future. |
Statistics Alert

In a recent survey of cat owners, around 40% reported that their cats enjoy playing in the snow, while 60% said their cats avoid it.
So, it's clear that there's no clear consensus on how cats feel about snow. But regardless of which camp your cat falls into, it's important to make sure they're safe when they're outside.
Interesting Read: How Cold Can Cats Survive Outside? (Domestic & Stray)
Reasons Why Cats May Like Snow
1. Unique Textural and Sensory Experiences
Snow is a whole new world of sensation and texture for cats! They love exploring and engaging with their environment using their paws, claws, and whiskers. Snow provides a unique and thrilling experience for them to sink their paws into.
As a cat owner, you may have seen your cat rolling around in the snow, digging their paws in, or even sticking their tongue out to taste it. All these behaviors are a result of their natural curiosity and instinct to explore their surroundings.
Dr. Rachel Barrack, a veterinarian and animal acupuncturist, says: "Cats are naturally curious creatures, and snow provides a new and exciting sensory experience for them to explore."
2. Hunting Instincts Come Alive
Cats are natural predators, and snow provides the perfect opportunity for them to use their hunting instincts. They can stalk and pounce on prey, such as birds and mice, hidden in the snow.
It's so cute to see them crouch down, slowly inch forward, and then pounce! Even if they don't catch anything, they're still exercising their instincts and having fun.
3. Playful Behavior in Snow
Cats are natural hunters, so they may see snow as a form of play. They can engage in physical activity and practice their hunting skills.
Jumping, chasing, and pouncing in the snow can provide a great outlet for their energy and keep them healthy and happy.
Interesting Read: Do Cats Get Cold In The Winter?
Reasons Why Cats May Dislike Snow
1. Uncomfortable Temperatures
Let's face it, cats are warm-blooded creatures and they don't enjoy being cold. Snow can be freezing and uncomfortable for them, especially if they have shorter fur or are outside for extended periods.
As a cat owner, you may have noticed your cat seeking out warm spots, such as under the bed or by the heater, during snowstorms. This is because they're trying to escape the cold and find comfort.
Dr. Karen Sueda, a veterinarian at the VCA West Los Angeles Animal Hospital, says: "Cats are very sensitive to temperature changes, so if it's too cold outside, they may not enjoy the snow and seek out a warm place to stay."
2. Limited Mobility in Snow
Snow can also limit a cat's mobility. It may be difficult for them to run, jump, and play in the snow if it's too deep or heavy. This can be frustrating for them and reduce their overall enjoyment of the snow.
As a cat owner, you may have seen your cat struggling to move around in the snow, and that can be a real downer for them. It's important to keep an eye on them and make sure they're not struggling too much.
3. Snow Can Be Irritating
Finally, snow can also be irritating for cats. It can get stuck in their paws and fur, causing discomfort and leading to hygiene issues.
Snow can also cause their eyes to water and become irritated, making it uncomfortable for them to be outside in the snow.
Interesting Read: Do Cats Need Winter Clothing?
Can Cats Eat Snow?
No, eating snow is not healthy for cats. There are a lot of chemicals that people use in their everyday lives that could be very harmful sometimes toxic and fatal for your cats.
Many people use chemicals or products like salt to clear up snow from places near them. If your cat ingests it, it could cause itching or discomfort around its mouth and other body parts.
In inter, people also use antifreeze in their cars which can be spilled easily. For cats, it is very toxic and they die if they ingest antifreeze. That's why leaving your cat in the snow unsupervised is very harmful.
Cats may eat snow out of curiosity and once they realize that it is basically water they may start to associate it with water and seek it out when they are thirsty.
To avoid that make sure that your cat has access to clean drinking water. It is preferred that you fill your cat's water bowls with lukewarm water as it may help in the cold.
Your cat should only eat snow if it is curious about it, as it will be unfamiliar to them. But it is not very safe hence make sure you accompany your cat out in the snow at all times to avoid any such mishaps.
Is It Okay To Let My Cat Out In The Snow?
Unless it is for a longer and unsupervised period of time, you can let your cat out to play in the snow.
North Carolina State University remarks,

"Snow can be fun for everyone, and daily exercise is necessary for health, but be mindful of the temperature and the time spent outdoors. Fur does not mean complete protection from the cold.

Don't leave pets outside in extremely cold weather. If it's too cold for you to stay out, it's too cold for them."

North Carolina State University
Their fur protects them up to a certain extent, and that is not enough in conditions like snow. After being out in the snow, some of it gets stuck in the small curves and crevices of the cat's body, causing frostbite when it melts.
Staying outdoors for too long or being in the snow for a long can increase the risk of frostbite or hypothermia.
The veterinary department at Purdue University also says something similar along the lines, as they quote,

"Pets can easily get frostbite on their extremities, such as their ears, legs, and tail. Try to control the amount of time your pet stays outside and use booties to prevent frostbite to the feet.

Although some pets are conditioned to cold weather, veterinary experts agree that you should bring outdoor pets indoors if the temperature drops below 20 degrees Fahrenheit.

Puppies, kittens, and short-haired pets should come inside anytime the temperature goes below 40 degrees."

The veterinary department at Purdue University
If the weather conditions are favorable and the snow is not too deep, you can take your cat outside. You can avoid the risk of their paws getting wet and cold by putting booties on your cat's feet.
Apart from that, once you have come back from the snow, you should dry off your cat's fur to get rid of any residual snow. This would remove any leftover snow, which could not harm your cat if it melted too.
Precautions for Cats in Snowy Environments
| Precautions | Explanation |
| --- | --- |
| Antifreeze | Antifreeze and other chemicals used in the winter months can be toxic to cats if ingested, so keep these substances out of reach. |
| Snow Plows | Snow plows and other heavy machinery can be dangerous for cats, so make sure your cat stays away from busy roads and sidewalks. |
| Snow Mounds | Cats can get stuck in snow mounds and have trouble getting out, so make sure to keep a close eye on them. |
| Salt and De-icers | Salt and de-icers can be irritating to a cat's paws, so consider using booties or wiping their paws after they've been outside. |
| Cold Exposure | Cats can become cold quickly in the winter, so be sure to limit their outdoor time and provide a warm, dry place for them to retreat to if they become cold or wet. |
| Snowballs | Snow can get caught in a cat's fur and paws, forming painful and irritating "snowballs". Brush your cat regularly and trim their fur to prevent this from happening. |
| Dehydration | Cats can become dehydrated from the dry air in winter, especially if they are drinking snow instead of water. Provide fresh, clean water for your cat to drink and monitor their water intake. |
Frequently Asked Questions
Is snow harmful to cats?
No, snow is not harmful to cats until they are exposed to a limited amount of time. Snow on their fur, after melting, can make them very cold. The cold could even cause problems like frostbite or hypothermia, which could be fatal to them.
For how long can cats stay in the snow?
Cats can stay in the snow for a few hours at the latest, as there is a looming risk of frostbite. Also, snow in cities has a lot of chemicals in it because people use them to melt the snow. Antifreeze, a chemical used in car engines in winter can sometimes be spilled, which, if ingested, can kill your cat. so these hazards are lurking in the snow which could be harmful to them.
Can cats walk in the snow?
Yes, cats can walk in the snow, but they do not prefer it. Snow on melting leaves them with wet and cold feet, which they highly dislike; hence, they don't appreciate walking in the snow. But if you still want to take your cat out you can use booties on their feet
Summary
The snow settles on every surface in winter, and in colder places, it is a sight to behold. Animals in it now look pretty too. But does your cat in the snow feel as pretty as they look?
No, cats generally do not like the snow because they don't like feeling wet. The fur on their bodies is wet as the snow melts.
If your cat has never experienced snow, it may be tempted to go out and feel it, but once it catches on to the fact that it is cold and wet, it may show a clear dislike of it.
Along with their dislike, the snow may get stuck in their paws or toes, which could later melt, and they might catch a cold or catch other diseases.
It is better for you to leave your cat indoors and let it enjoy looking at the snow rather than going out in it. Would you rather leave your cat indoors or take it out?
You might also like to read some articles related to winter and your cat:
References