When you first think of winter what comes to your mind? For me, the first thoughts that would come to my mind would be about snuggling in a cozy blanket along with a warm drink.
When you think of cats most of them also have that thick and cozy fir that resembles to that of a blanket, so does this mean they do not feel cold in the winter?
No. just like humans, cats feel cold too, the soft fur on their body keeps them warm to some extent but they still feel the bite of the chilly weather in extreme conditions. They even contract the cold in those weather conditions.
But is this the same for all the cats or there is something different about different cats? let's find out.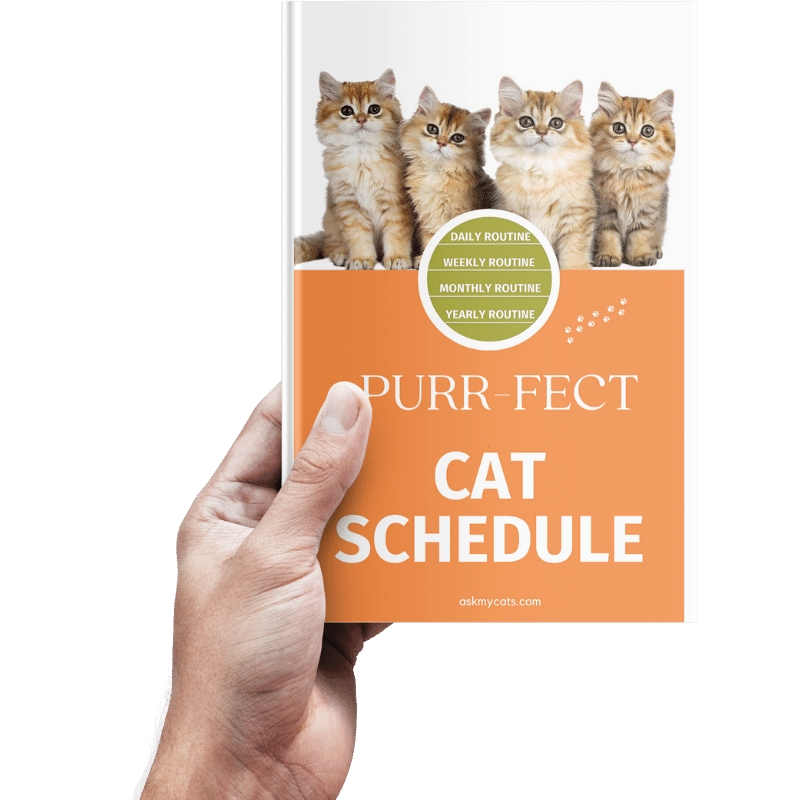 Discover the Secrets to a Happy Cat!
Discover the secrets to creating a happy and healthy daily routine for your feline friend. From playtime to mealtime, sleep to grooming, our expert guide will show you how to make every day a purrfect day for your cat.
Give Your Cat the Perfect Day – Get the Ebook!
Do Indoor Cats Get Cold?
No, indoor cats do not get much cold. Pet cats in homes are much more comfortable than shelter cats as homes are equipped with things like thermostats and have things to warm them at their disposal.
At shelters, they may not have all these facilities but they are surrounded by walls that prohibit direct contact with the chilly winter breeze.
Most animal shelters are not so well funded and hence it becomes difficult to provide against harsh weather conditions but still, they are saved from the risks of being outdoors in winter.
Hairless cats are more troubled in winter than cats with fur as their fur helps them keep warm and if hairless cats found them outdoors in winter their chances of survival are lesser than cats with fur.
Must Read: How Cold Can Cats Survive Outside?
Do Outdoor Cats Get Cold In The Winter?
Yes, outdoor cats get cold in the winter after a certain temperature. The cats also feel what we feel in terms of the weather around us so if it is too cold for you outside it is probably too cold for the cats too.
Staying outdoors poses more threats for the cats as they are exposed to the risks of frostbite and hypothermia which could be fatal for them.
According to Cornell Feline Health Centre at Cornell University more than the weather conditions cats are more prone to automotive hazards outdoors.
When cats are outdoors and they get cold they try to find warmth in things around them. They usually snuggle up near the engines or tires of cars which could hurt them if the car is started unexpectedly.
Another automotive hazard that the Health center states about is antifreeze. In winter many people use antifreeze which sometimes gets spilled outside, cats find the taste of antifreeze tempting which is very toxic for them.
Cats outdoors if survive the cold they get into accidents due to low visibility all the time. We can conclude that cats feel cold outdoors and it is very risky for them.
Interesting Read: How Do Stray Cats Survive Winter?
What Temperature Do Cats Get Cold At?
That applies to cats in general but according to Dr. M.A. Crist, a clinical assistant professor at the Texas A&M University College of Veterinary Medicine & Biomedical Sciences

"Determining what temperature is too cold for your pet can depend on many different factors, from fur thickness and length to body mass. This makes it hard to determine an exact temperature that could be dangerous to your pet's health,"

Dr. M.A. Crist, a clinical assistant professor at the Texas A&M University College of Veterinary Medicine & Biomedical Sciences
So, in conclusion, we can say that in general temperatures below 45 degrees Fahrenheit are dangerous for your cat but nothing can be said for sure. Some cats may be ok in temperatures depending on different criteria like mass, fur thickness, etc.
Interesting Read: Do Cats Go Into Heat In The Winter?
How Do I Know If My Cat Has A Cold?
Symptoms that cats have colds are:
Sneezing
Runny nose
Watery eyes
Lethargy
Fever
Low appetite
These generally point out that your cat has a cold. They do not have colds due to the weather but it could be because of diseases like herpesvirus or calicivirus.
Cold weather would only affect the cat as much as lowering its immunity which makes it more vulnerable to contracting diseases but it could not be the reason for it.
Calicivirus or herpesvirus if not treated quickly may cause permanent damage to the cat's body.
Herpesvirus is known to cause eye problems like keratitis. But these are generally covered when your cat is vaccinated against these.
Is It True? Do Cats Sleep More in Winter?
How To Prevent Cats From Getting Cold In The winter?
Some ways to prevent your cat from getting cold in the winter are:
1. Make sure your cat stays indoors most of the time and does not keep running out of the house. Outside the house, there are more fatal forces at play than just the cold weather which could result in the death of your cat.
2. In winter, to stay warm cats burn more calories so to make sure your cat does not start losing weight or if her feeding habits start to affect its immune system, feed it more than its regular intake.
3. Cats generally don't need sweaters but if they are facing extreme conditions, use sweaters that fit them perfectly, if they are loose, the cats may get annoyed and remove them.
4. Keep a warm blanket and unfrozen water around their regular places to keep them warm.
These would suffice against the cold and this would also keep them safer from other dangers that come up during winters in the outdoors.
Houses are generally equipped with things like heaters and thermostats which would be enough most of the time and if not the above-stated methods would be sufficient
Interesting Read: Do Cats Shed More In Winter?
What To Do If Your Cats Get Cold During Winter?
If your cat gets cold, the first thing you should do is take it to the vet and get make sure that it is not something other than an upper respiratory infection.
Dr. Kate Stenske, a K-State clinical assistant professor says that "supportive care is often the best medicine. This can include keeping their nose clean, steam therapy, warming their food- it makes it smell tasty and adding an amino acid supplement called lysine"

Dr. Kate Stenske, a K-State clinical assistant professor
Antibiotics prove effective for the cold but they would also make your cat lethargic and drowsy. So taking care of the cat during that is equally more important.
Maintaining a healthy diet during that time and keeping your cat hydrated during that time is also important as it is losing a lot of body fluids.
Cats show symptoms due to allergies so if your cat is allergic to something make sure you keep them away from it.
Is It True? Do Cats Eat More In The Winter?
Frequently Asked Questions
 Can I leave my cat outside in winter?
It's not advisable to keep your cats outside in winter as not only does the weather threatens their life but the chances of them getting in accidents increase during these weather conditions, keeping them indoors would be the best in situations like these.
At what temperature are cats comfortable in winter?
The temperature in which the cats are comfortable is different for every cat but in general, they should be comfortable at around 55 to 60 degrees Fahrenheit. These are generally what temperatures people keep sometimes more so that would be comfortable enough for your cat.
Summary
Just like humans, even cats get cold and feel cold in winter. You might think their fur coats keep them warm which they do but they still do not provide much protection against harder conditions.
Indoor cats do not feel much effect if they are in a comfortable living situation as most houses have thermostats in colder regions but for outdoor cats not only the risk of hypothermia and frostbite looms over them but other things like low visibility or automobile accidents are also a major threat to them.
They can also contract upper respiratory infection which is also known as the common cold and could be fatal for them at times.
To prevent this and keep your cat safe you need to keep them warm. Having cozy blankets around them is one thing you can do to keep them warm.
In winter cats burn more calories so give them more than usual portions so they don't lose weight.
Make sure they do not wander outside much and try to keep them warm whenever possible. Even if they are outside make sure they are in insulated shelters and away from cars.
In these weathers would you want your cat outside or inside?
You might also like to read:
References