There are many reasons why one would ask this question. Maybe your kitten is a troublemaker who meows all night and deprives you of a peaceful night of sleep.
Maybe she has a temper and leaves scratch marks all over the furniture. Or maybe you just have a pet hampster and want to protect it from the eager claws of your kitten.
Either way, you are left wondering "Can I Leave My Kitten In The Garage?"
Well, the answer to this is inconclusive.
You can keep your kitten in the garage but only after you ensure her safety and comfort. You also should only resort to the garage as a last-case scenario.
Continue with the rest of the article for an in-depth analysis.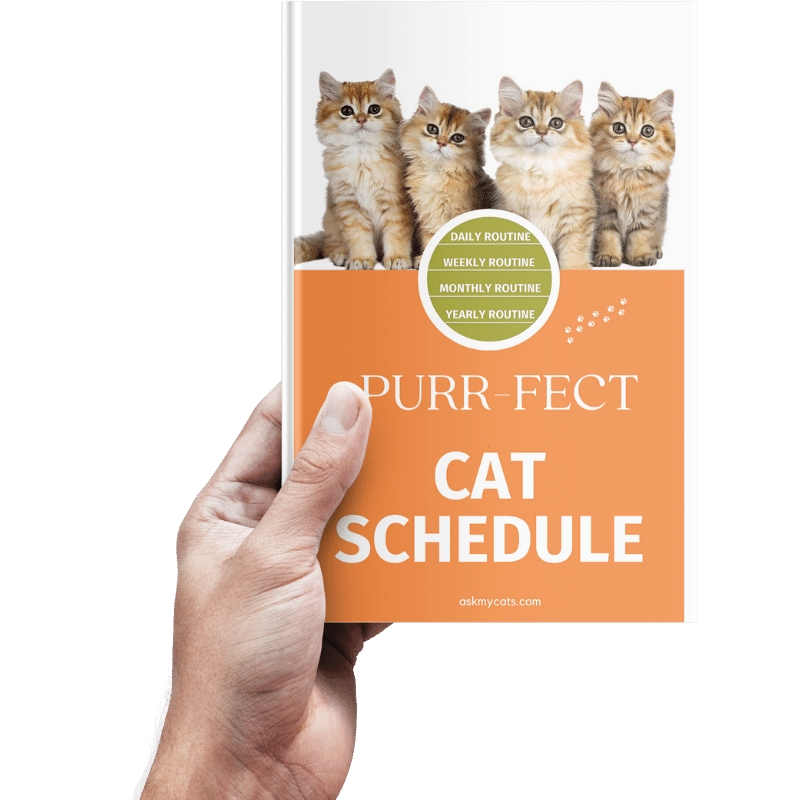 Discover the Secrets to a Happy Cat!
Discover the secrets to creating a happy and healthy daily routine for your feline friend. From playtime to mealtime, sleep to grooming, our expert guide will show you how to make every day a purrfect day for your cat.
Give Your Cat the Perfect Day – Get the Ebook!
Is It Okay To Put Your Cat In The Garage At Night?
A garage isn't particularly the safest or the coziest resting spot for your kitten. If your garage is anything like mine, then it is surely stuffed with a massive stock of dysfunctional and hazardous hardware. These unsafe tools could be jeopardizing for your kitten.
Thus, if possible, you should avoid keeping your kitten in the garage overnight.
Here are some other risk factors to consider:
1. Cold
Generally, most garages are poorly insulated and are vulnerable to extreme temperature changes.
People assume that cats don't feel cold because of their thick fur coats, however, they are highly susceptible to cold and need a warm and cozy place to rest.
2. Oil and Other Harmful Lubricants
Oil and Antifreeze are common lubricants found in almost every garage. These liquids, when consumed by the cat, can be extremely harmful and even fatal to her health. Antifreeze has a sweet smell that is attractive to animals.
PetMD warns "antifreeze ingestion can be fatally toxic to the body's organs, including the brain, kidneys, and liver."

PetMD
3. Dangerous Equipment
Cats are explorative by nature and this penchant quality can often land them in trouble. Garages are not conducive to a kitten's safety and it is best to keep them out of harm's way.
4. Car Storage
If you store your car in the garage, then that will limit the space your kitten will have. A big cat could also land on top of the car leading to significant scratches on the car's paint.
When you move your car in and out of that garage, you could accidentally end up injuring your kitten.
Interesting Read: Litter Box In Garage! Is It Safe?
Why Would You Keep Your Cat In The Garage At Night?
There are many reasons why you would want your kitten to stay in the garage. Let's look through some of them:
1. Separation From Other Animals
If you have other pets, such as dogs, then that can make it difficult for all your pets to coexist peacefully. You might be considering keeping your kitten in the garage to prevent her from becoming a feast for your dog.
Also, if you have a hampster enclosure, then you would need to protect it from your cat's claws.
2. Protecting Your Furniture
You have most likely witnessed your furniture and upholstery being torn to shreds by your kitten. Thus, a lot of cat owners keep their feisty fur balls in the garage to safeguard their furniture.
3. Allergy
According to Healthline, "Nearly a third of Americans with allergies are allergic to cats and dogs. And twice as many people have cat allergies than dog allergies."

Healthline
Looking at this statistic, you might be wondering why so many households have cats. But cats are such bundles of joy that even allergies can't prevent cat-allergic households from bringing home a kitten.
Thus, such families prefer keeping their kittens in the garage as an alternative.
However, there are other ways to handle allergies such as medications.
Interesting Read: How Long Can a Cat Survive Locked in a Shed?
Points To Consider While Keeping Your Cat In The Garage?
There is a chance that keeping your kitten in the garage will not suit her personality and she might find the adjustment difficult to process. In such cases, there are certain things you need to be mindful of:
1. Start Slowly
Don't rush to keep your kitten in the garage. Start by playing with her in there for short periods for a couple of days.
Let her become accustomed to the place and grow comfortable with it.
2. Don't Confine
Avoid confining or putting a leash on your kitten in the garage. Let her roam around and move with free will.
If you confine her, she might perceive it as a punishment and will grow unnecessarily stressed.
3. Garage Door
Your garage must have an appropriate door as it is a big part of the insulation process. If your garage door isn't properly insulated, consider replacing it or trying other ways to make the garage cozier for your kitten.
Interesting Read: How Cold Can Cats Survive Outside?
How To Make Your Garage Cat Friendly?
As we've already established, a garage isn't a secure place for your kitten at the best of times. Thus, you must take some precautionary measures to ensure her well-being:
1. Insulation
Insulating the garage is the first step to ensure that your furry friend won't get too hot or cold. If you are not too keen on insulating the entire space, then simply insulating the garage door should also suffice.
Check out this video that can help you insulate your garage by yourself!
2. Use Fans/ Heater
Even after insulation, it can still get unbearably hot or cold if your place doesn't have an additional heating mechanism.
Therefore, you can install some fans or space heaters to make sure that your kitten is comfortable throughout the year.
3. Remove Harmful Objects
A garage is a home to a myriad of sharp and dangerous pieces of equipment.
Before you settle your kitten in the garage, you want to remove all those or put them in a storage cupboard. You should also remove harmful chemicals or cleaning supplies.
Must Read: Where Do Cats Sleep Outside At Night?
How To Make Your Cat Comfortable In The Garage?
1. Control the Temperature
If you don't have heating running into the garage, there are other things you can do to control the temperature. Having an appropriate garage door is one of them.
Another could be to insulate the garage so that during winters, the heat stays in and during summers, it stays cool.
Aim to keep the temperature 50 degrees Fahrenheit or higher in winter.
Interesting Read: Can Cats Live In A Garage In The Winter?
2. Feeding
Ensure that your cat's feeding schedule stays the same. Keep her food/water bowls full and also a litter box nearby.
3. Make It Comfortable
You can install a small cat bed in the garage or fashion a makeshift bed out of warm, soft blankets and fluffy towels. Make sure that your cat is comfortable and at ease with staying in the garage.
4. Make It Stimulating
Staying in the garage can be lonesome for your kitten. So ensure that you give her a lot of toys and puzzles to play with. You can also add some obstacle courses to keep her entertained.
5. Provide vertical climbing spaces
Cats don't typically require a lot of floor space, they rather prefer heights, especially young kittens. They love climbing and are the happiest at high vantage points.
Therefore, you can install some climbing walls to prevent them from sitting on top of storage containers.
You should also provide them with hiding opportunities like empty boxes, cat beds, etc.
Interesting Read: Should I Leave A Light On For My Cat At Night?
Frequently Asked Questions
How long do outdoor cats live?
According to the Freeport Veterinary Hospital, " the average lifespan of an outdoor cat is 5 years" which is extremely short compared with that of indoor cats who live for as long as 18-20 years.
What temperatures are uncomfortable for cats?
Generally, anything below 45 degrees is too cold for cats. Thus, ensure that you are keeping your kitten at an apposite temperature to prevent the occurrence of frostbites on their ears, nose, etc.
Final Words
A garage can be a safe space for a kitten to stay in if you take the precautionary steps to make it so. For starters, you will need to remove all unsafe objects and then insulate the garage to regulate the temperature.
Then, you should add in your kitten's necessities like blankets, food, litter box, etc. to ensure that your kitten is as comfortable as possible.
However, you shouldn't make a habit of keeping your kittens in the garage as this will limit their social interactions and might have an adverse effect on their mental and emotional health.
References