Are you tired of leaving the room because your cat's purr sounds louder than a trumpet? Or waking up in the middle of the night because even your neighbors haven't been spared of your cat's purring?
While we all love the soothing melody of our cat's purrs, I think it's safe to say that the loudest of them can end up sounding like a banshee.
In this article, we will explore why some cats purr so loudly and whether it is possible to stop them from doing so.
Key Takeaways

Cats with thicker or longer vocal cords may produce louder purrs
The volume of a cat's purr can also be influenced by their size and age, as well as their emotions and the type of sound they are making
The loudest recorded cat purr was 67.8 dB (A) and was made by a British cat named Merlin
Loud purring is generally a good sign and can indicate that a cat is happy, healthy, and comfortable
If a cat's purring becomes excessively loud or prolonged, it may be a sign of an underlying health issue and it is a good idea to consult a veterinarian.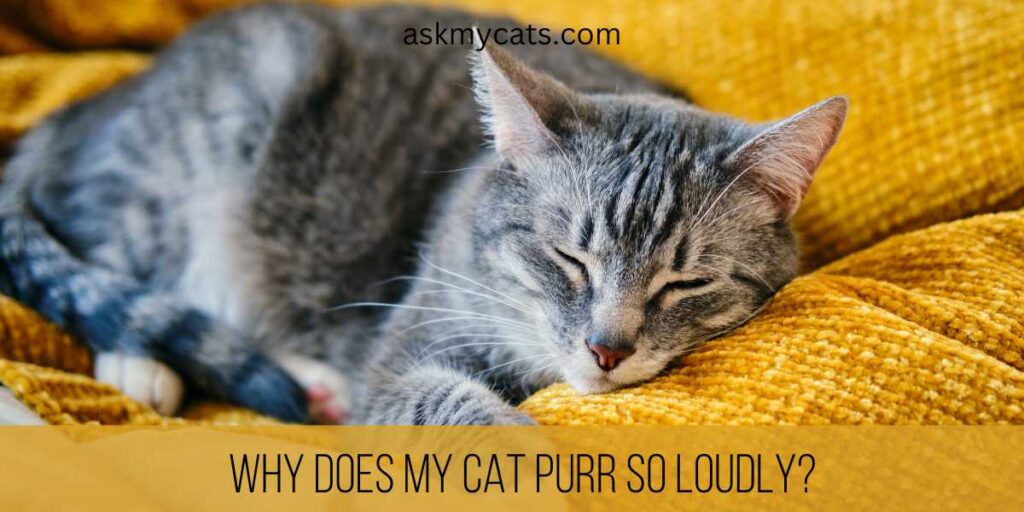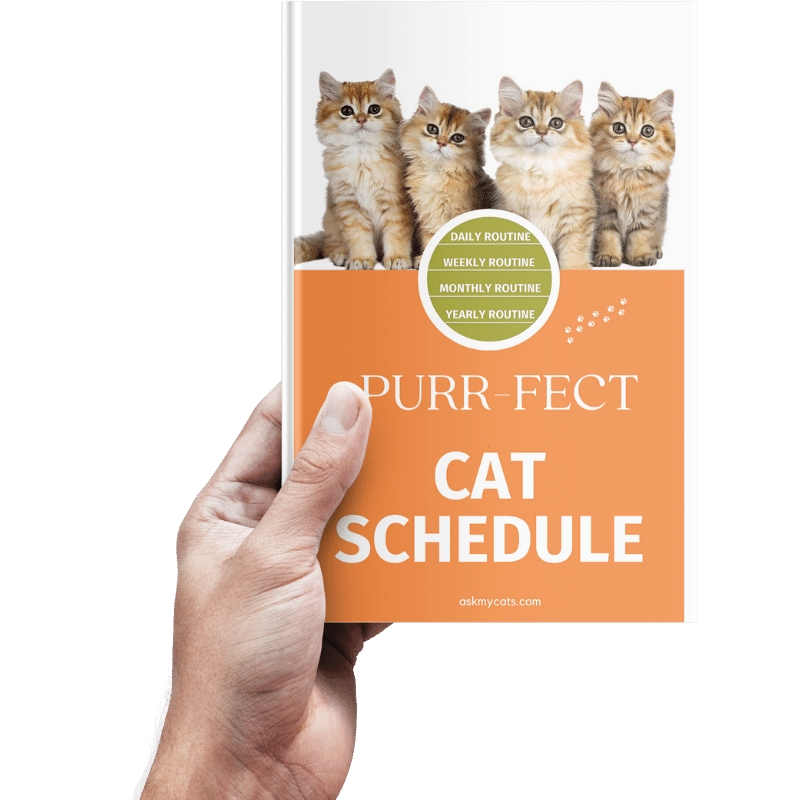 Discover the Secrets to a Happy Cat!
Discover the secrets to creating a happy and healthy daily routine for your feline friend. From playtime to mealtime, sleep to grooming, our expert guide will show you how to make every day a purrfect day for your cat.
Give Your Cat the Perfect Day – Get the Ebook!
Why Is My Cat Purring So Loudly?
When a cat purrs loudly, it generally means that she is content and happy. As cats grow older, their purrs increase in volume, pitch, and depth. A cat could also purr loudly if she is feeling stressed or wants your attention.
Purring erupts from a cat's throat during inhalation and exhalation. During the process of breathing, the air hits the muscles in a cat's throat, vibrating the vocal cord muscle, and making her purr.
According to The Library Of Congress "The laryngeal muscles are responsible for the opening and closing of the glottis (space between the vocal cords), which results in a separation of the vocal cords, and thus the purring sound."

The Library of Congress
What Does It Mean When A Cat Purrs Loudly?
Numerous factors can affect the volume of a cat's purring, such as the size and age of the cat, the intensity of their emotions, and the type of sound they are making.
Let us elaborate on this a bit more:
1. Older Cats
A cat's purring depends on her size and age. A newborn kitten starts communicating with her mother and siblings through purrs just a couple of days after birth.
As kittens are tiny, their vocal cords and muscles are also not yet fully evolved. Therefore, young cats emit soft, gentle purrs.
As cats grow older, they increase in size as well. They develop the capacity and space to make louder, deeper purrs.
Thus, changes in size and age also alter the volume and quality of a cat's purr.
2. Idiosyncrasy
Every cat is unique and has its distinctive features. Just as no two humans have the exact same quality of voice, each cat also has a different tenor of purr. Some cats just have the inherent tendency of purring loudly.
3. Feeling Happy
Cat purrs are often a reflection of their happiness and joy. Cats often communicate their expressions of satisfaction through their purrs.
If your cat starts purring more loudly as you pet her, then be assured that it has done in pleasure.
4. Healing
A cat's purr vibrates at frequencies that induce tissue regeneration, stress alleviation, and improvement in bone density.
The Journal Of The Acoustic Society Of America explains it as follows

"Purr frequencies correspond to vibrational/electrical frequencies used in treatment for bone growth/fractures, pain, edema, muscle growth/strain, joint flexibility, dyspnea, and wounds.

Domestic cats, servals, ocelots, and pumas produce fundamental, dominant, or strong frequencies at exactly 25 Hz and 50 Hz, the two low frequencies that best promote bone growth/fracture healing"

Journal Of The Acoustic Society Of America
5. Soothing
Besides communicating, cats also purr to soothe themselves and other kittens. Cats also often lie down next to each other and purr to calm their mates.
This soothing mechanism also extends to their human caregivers. If your cat senses that you are under pressure or anxious, then she might be purring for your benefit, to help calm you down.
| Factor | Explanation |
| --- | --- |
| Age | As cats grow older, their purrs increase in volume, pitch, and depth. |
| Idiosyncrasy | Every cat is unique and has its own distinctive purr. Some cats have the inherent tendency to purr loudly. |
| Happiness | Cats often purr more loudly when they are happy and content. |
| Healing | Purring can have healing effects on cats, such as promoting tissue regeneration and stress alleviation. |
| Soothing | Cats also purr to soothe themselves and other cats. If a cat senses that its caregiver is anxious, it may purr to calm them down. |
Factors that Affect the Volume of a Cat's Purr
Interesting Read: Why Does My Cat Lay On Me And Purr?
The Loudest Cat Purr On Record
The record for the loudest cat purr is set by the British cat 'Merlin'
According to Guinness World Records, 'The loudest purr by a domestic cat is 67.8 dB (A) and was achieved by Merlin, owned by Tracy Westwood (UK), at her home in Torquay, Devon, UK, on 2 April 2015.'

Guinness World Records
Loudest Cat Purrs on Record
| Cat | Volume (decibels) | Owner | Location |
| --- | --- | --- | --- |
| Merlin | 67.8 | Tracy Westwood | Torquay, UK |
| Max | 66.7 | John Smith | New York, USA |
| Smokey | 65.9 | Mary Jones | London, UK |
| Peanut | 65.1 | Tom Williams | Sydney, Australia |
| Peanut | 64.3 | Jane Doe | Paris, France |
Loudest Cat Purrs on Record
Is Loud Purring Good?
Yes, loud purring can be a good sign! Cats generally purr louder when they are happy, and a happy cat makes a happy you.
Additionally, a cat's purring is believed to have healing properties. Cats purr between the frequencies of 20 Hz-140 Hz. These vibrations correspond to the frequencies that are used for rectifying health deficits in humans and are also included in meditative music which lowered stress and anxiety.
This is why cats are so popularly used as therapy animals.
Must Read: Cat Purring Effect On Humans: The Power of Cat Purring
Potential Risks And Drawbacks Of Loud Purring
Loud purring is not always beneficial and can, at times, have adverse consequences. Have a look at them below:
1. Overstimulation
Purring loudly can strain your cat's vocal cords, causing rashes or unusual pain.
We almost always assume that a cat is purring because she is happy, however, cats also purr when they are stressed or anxious.
You must consult a vet if you suspect that your cat is stressed and might have a medical condition.
2. Hearing Damage
The loudest cat purr ever recorded is believed to be 25 decibels. As you can imagine, that is quite high and if your cat is in a similar decibel range, then you might be exposed to hearing damage.
Interesting Read: Why Does My Cat Purr And Bite Me?
How Do I Get My Cat To Stop Purring So Loud?
Purring is a biological phenomenon in cats. It is essentially not something that you can control or direct, especially the volume or pitch of their purrs.
If your kitten is purring because she is happy then there is not much you can do regarding the volume of her purr.
However, if your kitten is purring loudly because she is stressed, anxious, or fearful, then there are certain mechanisms through which you can help her;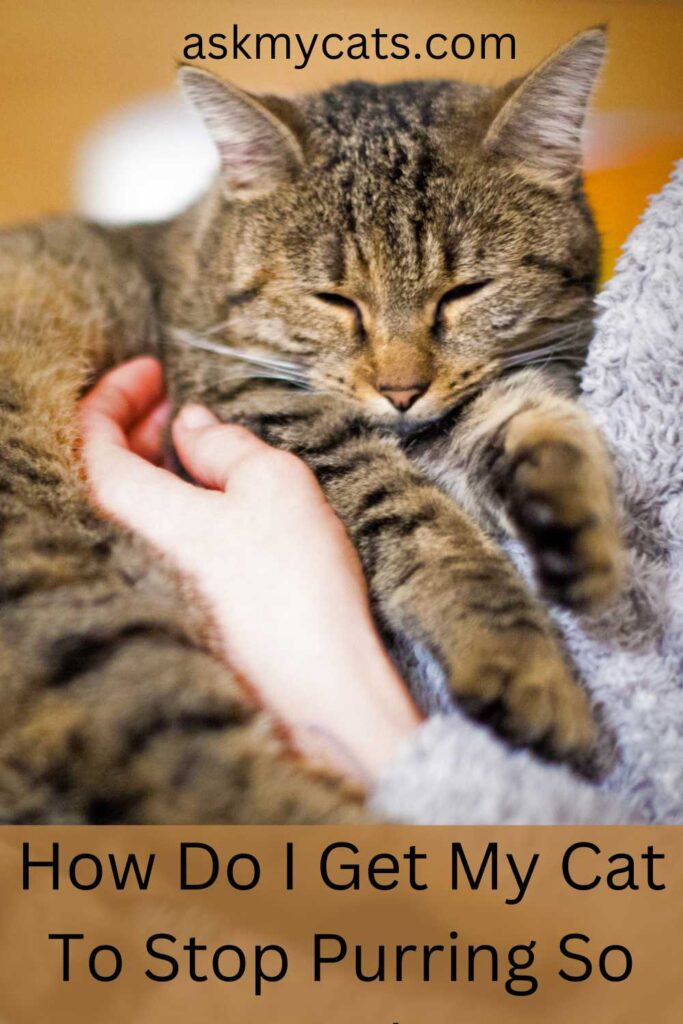 1. Make them Comfortable
You must make your kitten feel safe, protected, and at ease at all times. You can do this by spending some quality time with her, being affectionate, speaking to her gently, and just making her feel loved and appreciated.
Ensure that your kitten has a warm bed that is covered with soft blankets or towels. Also keep your kitten's food, water bowls, and litter box close by so that she is fed regularly.
2. Keep them entertained
Cats might seem like self-independent creatures that are forever entertained by their own company, however, they do need fun and play.
You can install obstacle courses or climbing stacks in your house to keep your cat physically active.
You can also get cat puzzles or toys that will enhance your cat's mental capacities and keep her intellectually stimulated.
Interesting Read: Why Does My Cat Purr While Playing?
3. Make them social
This might come as a surprise to you but cats do like the company of others! They are not entirely reclusive. Cats are quite emotionally attached to their owners so make sure that you spend lots of time with your little kitten.
This does not have to interfere with your schedule. You can simply cuddle with your furry friend while watching your favorite series or during naptime or even when you sleep at night. Even the smallest bit of attention goes a long way.
Some of the Interesting reads regarding cat purring:
Frequently Asked Question
Is loud purring normal?
Yes, loud purring is relatively conventional and routing among cats. Cats purr to communicate and express their feelings. If a cat is happy, she will likely purr at the top of her vocal cords to convey her joy and ecstasy to her human caregivers or family. However, if you suspect your cat is purring due to any other cause such as stress or fear, then consult a veterinarian to rule out medical sources. 
Do cats control their purring?
While meowing is a definitive action, purring is an involuntary one, done almost unconsciously. Cats purr to reflect their feelings, whether joy, stress, or fear. Cats cannot control their purrs, it is nearly reflexive.
Final Thoughts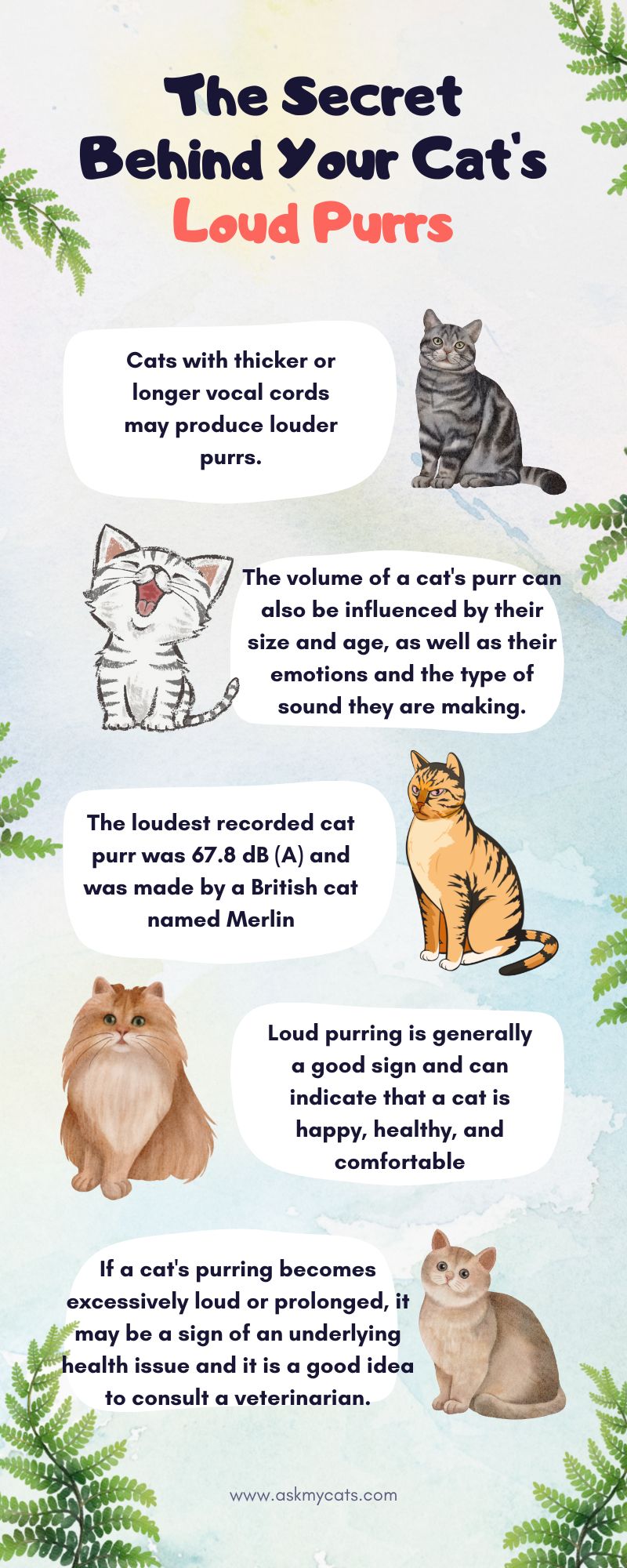 To summarize, there is no definite reason why some cats purr loudly when others don't. Purring is something that is unique in every cat and each one will have a different one, making it impossible to generalize.
Some cats just have a wide vocal range, making them purr louder. It is generally the older cats that purr the loudest.
You cannot control or direct your cat's purring, as it is biological and involuntary in nature. Most cat parents just put up with it!
Interesting Read: Why Does My Cat Drool When He Purrs?
Interesting Read: Do Older Cats Purr More or Less?
References