Hey there, fellow cat lovers! Have you ever noticed your feline friend purring away while you talk to them? I certainly have, and I always found it quite fascinating. It's like they are responding to me, but what does it all mean?
Well, after some digging, I discovered the reasons why cats purr when you talk to them, and let me tell you, it's not just because they are happy! From communication to healing, there are various explanations behind their soothing vibrations.
So, whether you're a seasoned cat owner or just curious about our feline friends, join me as we uncover the secrets behind why cats purr when you talk to them. Trust me, you won't want to miss it!
Key Takeaways

Cats understand human emotions and moods and use purring to communicate their emotions, wants, or needs to their owners.
Cats can purr when happy, stressed or anxious, as a greeting, to communicate with their owners or other cats, and as a means of healing.
Talking to your cat and encouraging them to purr has potential benefits, such as making your cat feel understood and helping them self-soothe and calm down.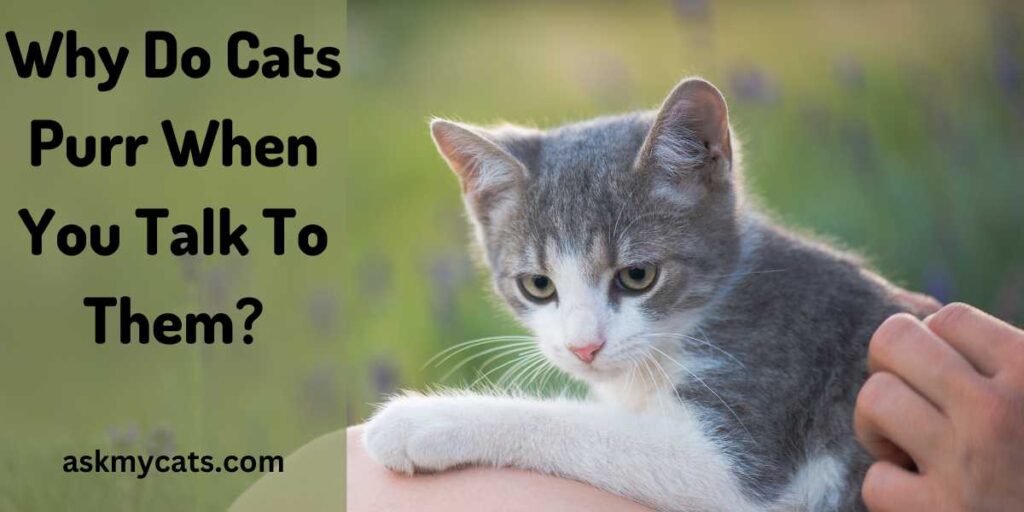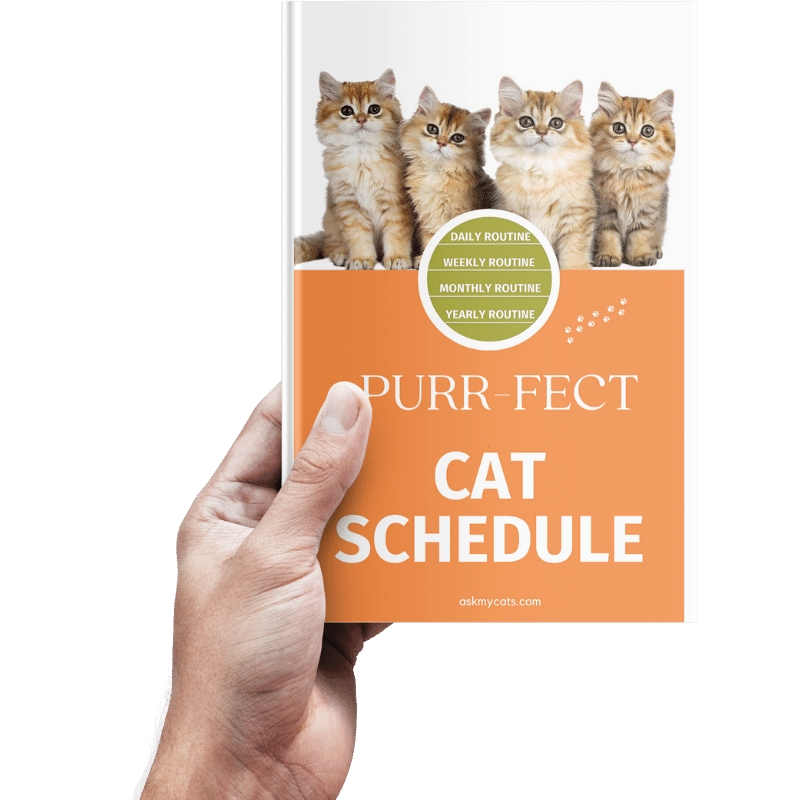 Discover the Secrets to a Happy Cat!
Discover the secrets to creating a happy and healthy daily routine for your feline friend. From playtime to mealtime, sleep to grooming, our expert guide will show you how to make every day a purrfect day for your cat.
Give Your Cat the Perfect Day – Get the Ebook!
Do Cats Understand When You Talk To Them?
Obviously, cats and other animals cannot understand what humans are saying word-for-word or in an absolutely implicit manner. However, they are capable of drawing inferences or picking up on your feelings or moods.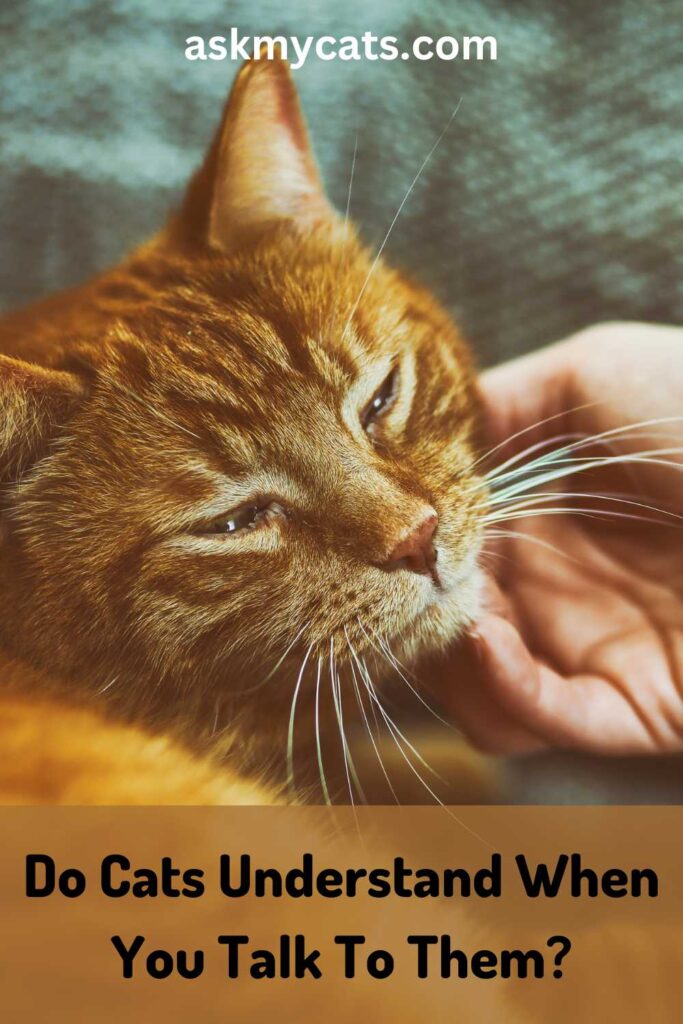 You might have noticed your cat cuddling to you extra gently when you are feeling down, or acting playfully when you are radiating happiness.
Cats are great at sensing the kind of frequency that you are exuding. When you talk to her softly, your cat will pick up on your aura and respond back in kind. 
When your cat purrs or meows at you, then that means she is trying to communicate with you as best as she can. Cats use purring as their prime means of communication.
Even before they learn how to meow, cats start purring to interact with their mothers or to catch their attention for feeding. This behavior of cats continues well into adulthood. 
They purr to communicate their emotions, wants, or needs to their human parents. If your cat purrs at you, she could be trying to say a number of things. It might be an implore for food, a sigh of contentment, or even a reflection of fear or anxiety.
Why Does My Cat Purr When I Talk To Her?
A cat's purring is most noticeable when she is being petted or stroked by her owner or even when nursing her younger one. Thus, naturally, it is assumed that a cat's purring is an expression of her joy and satisfaction.
But, in actuality, a cat also purrs in times of stress or trepidation such as during an injury or a visit to the vet.
As explained above, cats use purring as a means of communication, as they do with meowing. When you talk to your kitten, she will also purr back to express herself to you.
Here are some of the reasons why your cat might be purring:
1. Your Cat is happy
The most common reason behind your cat's purring could be that she is happy. A cat can be seen purring when she is being petted or stroked by her owner. Cats also associate it with positive interactions and experiences. 
2. As a Means Of Communication
Kittens start communicating with their mothers and siblings through purring when they are only a couple of days old. Kittens are born deaf and blind, therefore purring guides them through their nursing.
Christine Sellers, a veterinarian at the Cat and Bird Clinic says "The mother communicates to her kittens from the day of birth and the kittens communicate back to the mother by purring after they are a few days old,"
3. Stress
In addition to happiness, a cat also purrs when she is feeling stressed or anxious like on a visit to the veterinarian. If your cat is indeed stressed, then the healing frequencies of her purrs can be an effective way to self-soothe and calm down.
You will usually be able to make out if your cat is exhibiting stressful purrs because those are higher in pitch and will be accompanied by the blaring of her canines. 
4. Healing
The low-frequency purrs can help to relieve pain and ease stress, especially when a cat is in labor. A cat's purr also stimulates bone growth and tissue regeneration in humans.
5. As a Greeting
Your cat might greet another cat with a purr to let it be known that she is approachable and friendly and not a threat. She may also purr as a way to greet you, her human parent.
6. To Communicate with You
Purring can be a way for cats to communicate with their caregivers, like if they want food. This attention-craving purring tends to be more high-pitched and urgent than the others.
'Insider' explains "According to researchers, humans are more likely to react to this type of urgent, solicitation purr. A 2009 study conducted playbacks of purrs from 10 cats recorded in both solicitation contexts with cries accompanying the purrs and in non-solicitation contexts. The 50 human participants regarded the solicitation purrs as more urgent and less pleasant."
Must Read: Why Do Cats Purr? The Science of Cat Purring
Potential Benefits of Talking To Your Cat and Encouraging Them to Purr?
Talking to your cat has great benefits, not only for your cat but also for you. Let's first discuss how talking helps your cat:
1. Your Cat Feels Understood
When you take the time to listen to your cat's purrs, you gradually start to understand what she is trying to convey.
A cat's purrs could mean different things in different contexts and situations. When you will pay attention, you will be perceptive and have knowledge of the meaning behind your cat's purrs. This will make your cat feel understood.
2. Teaches Commands
When you start using certain words, followed by related gestures, your cat will begin to form an association between those things.
This is how you can train your cat to listen to your orders. Cats are quick learners and will begin to pick up on these repeated associations.
3. Strengthens the Bond
Speaking to your cat gently and softly will exacerbate her affection and love for you. She will also respond to you with her purrs, and this will build a healthy and strong relationship between you and your cat.
4. You Will Notice When Something Is Wrong
Animals cannot communicate with you when they are in pain or are unwell. Thus, cats use purring as an indication of when they are unwell. However, this type of purring will also be accompanied by related behaviors such as loss of appetite, or change in sleeping patterns.
Cats are great listeners and talking away your worries will definitely help you feel calmer and more purposeful.
A cat purrs to communicate with her close ones and it is generally a sign of positive social situations: grooming, nursing, petting, etc. It is also a reflection of self-soothing behaviors. A cat's purr is said to have healing properties.
Research conducted by "The Journal Of The Acoustic Society Of America" advocates that the vibrational frequencies of a cat's purring can improve and enhance bone density.
Thus, cat purring is very beneficial for your mental and physical health.
Interesting Read: Why Do Cat's Noses Get Wet When They Purr?
Potential Risks Of Cat Purring  When You Talk To Them
There are no serious risks associated with a cat purring. However, there are some things that you can be mindful of.
At times, some cats purr very loudly which is a strain and can be damaging to your ears. 
1. Overstimulation
Purring loudly can strain your cat's vocal cords, causing rashes or unusual pain. We almost always assume that a cat is purring because she is happy, however, cats also purr when they are stressed or anxious.
You must consult a vet if you suspect that your cat is stressed and might have a medical condition. 
2. Hearing Damage
The loudest cat purr ever recorded is believed to be 25 decibels. As you can imagine, that is quite high and if your cat is in a similar decibel range, then you might be exposed to hearing damage. 
Interesting Read: Differences In Purring Between Cat Breeds
Frequently Asked Question
Do all cats purr?
No, all cats do not purr. Purring is simply a means of vocal communication in cats, much like meowing. It is possible that your cat does not communicate through purring and prefers some other method instead.
Do cats control their purring?
While meowing is a definitive action, purring is an involuntary one, done almost unconsciously. Cats purr to reflect their feelings, whether joy, stress, or fear. Cats cannot control their purrs, it is nearly reflexive.
Final Thoughts
In a nutshell, cats purr when you talk to them because they are trying to communicate with you. Since cats can't speak our language, this is how they convey their feelings and emotions.
Cats are capable of picking up on the feelings and emotions that you are portraying. They will try to comfort you when are in pain and feel happy when you are exuding the same.
Cats purr to communicate their feelings of happiness, satisfaction, fear, anger, or stress. 
Some of the Interesting reads regarding cat purring:
References