If you're one of the 45.3 million households who own a cat in America, then you have probably witnessed your furry friend exhibiting a curious kneading gesture which some people also coin as 'making biscuits'.
In this 'kneading' behavior, cats rhythmically push their paws in and out on a surface, like blankets, pillows, etc., similar to how a baker would knead the dough.
If you want to know more about why your cat kneads and purrs, carry on with the rest of this article.
Key Takeaways

It is normal for cats to purr and knead at the same time, and it is a sign of happiness in cats.
Purring is a vocal mechanism while kneading is an active gesture, and they serve different purposes in communication.
Cats purr and knead when they are feeling elated, joyous, and content.
Purring and kneading are methods through which cats communicate and express their feelings, and both behaviors are learned by kittens at a young age.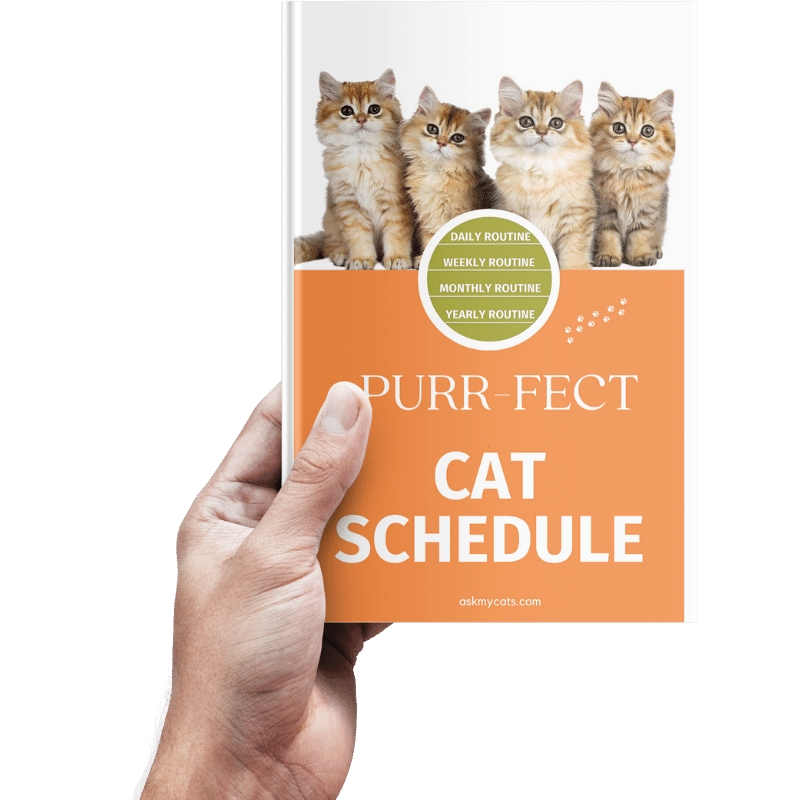 Discover the Secrets to a Happy Cat!
Discover the secrets to creating a happy and healthy daily routine for your feline friend. From playtime to mealtime, sleep to grooming, our expert guide will show you how to make every day a purrfect day for your cat.
Give Your Cat the Perfect Day – Get the Ebook!
Why Is My Cat Kneading And Purring On Me?
A cat's kneading could be tied to a plethora of different reasons. It might be a remnant of her nursing behavior, or maybe serving a territorial purpose.
1. Nursing
The habit of kneading is inculcated in cats when they are young. They learn to knead the stomach of their mother to stimulate the flow of milk into their mouths.
According to BlueCross, 'This is also why some cats dribble when they knead; they expect the milk that would have come from their mum after kneading her stomach.'

BlueCross
2. Affection
If your cat kneads when she is cuddling in your lap, then that means that the little fur ball feels secure and comfortable with you. She is transferring the role of her mother with you.
Unfortunately, the happier your cat is, the harder she will knead you! You can trim your cat's nails to ensure that her sharp claws don't injure you in the process of her kneading.
3. Stretching Muscles
We all have experienced the satisfaction of stretching sore muscles after a nice, long nap. It is the same for cats. They like to stretch after naps to keep themselves limber and agile.
4. Marking Territory
As we all know, cats are fiercely possessive creatures. They like marking their territories. One of the ways through which they do this is scent-marking. When they knead any particular surface or object (including you), it releases the pheromones i.e the scent glands in their paws, claiming the object as theirs.
5. Mating
Female cats also knead to indicate to the males that they are going into heat, also known as oestrus. They may also indicate this with other gestures like being more affectionate than usual and wanting to sneak outside.
According To PetMD 'They may purr, stretch, and knead the air while lying on their side to tell male cats that they can approach for possible mating.'

PetMD
Cats purr to communicate their expressions and feelings such as happiness, and joy, or even negative emotions like duress, fear, anxiety, and stress.
If your cat is purring on you, then it could indicate that she is feeling happy and content to be cuddling in your lap.
To know more about why cats purr, check out our article Why Do Cats Purr?
Comparison of Purring and Kneading
| Purring | Kneading |
| --- | --- |
| Vocal mechanism | Active gesture |
| Can reflect negative emotions | Primarily positive gesture |
| This happens when a cat is feeling elated, content, or stressed | Happens when a cat is feeling elated or content |
Comparison of Purring and Kneading
Is It Normal For Cats To Purr And Knead At The Same Time?
Yes, purring and kneading simultaneously is normal for cats. Not only is it normal, but it is also encouraged and a symbol of happiness in cats.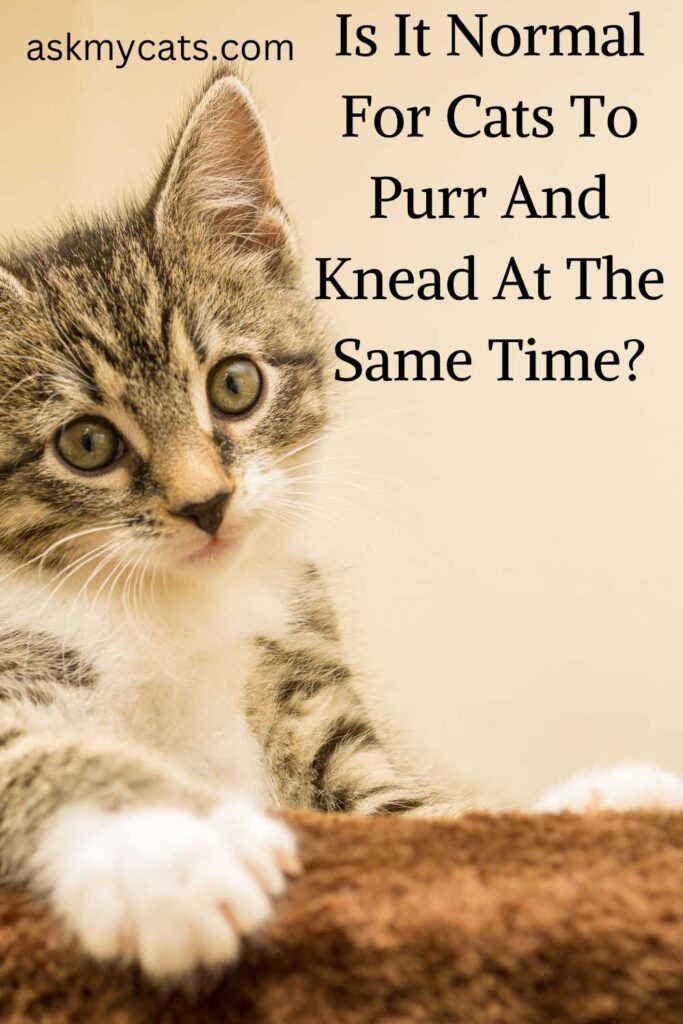 Both purring and kneading are methods through which cats communicate and express their feelings. Kittens learn to knead and purr soon after they are born. These features facilitate kittens in conveying information to their mothers or siblings.
While purring is a vocal mechanism, kneading is an active gesture that cats make. Purring and kneading differ in more ways than one.
Cats purr not only to express happiness but also to reflect other emotions related to stress, anxiety, and anguish as well. However, kneading is primarily a positive gesture that is not related to any negative mental states.
If your cat is purring and kneading while she is sitting in your lap, or even just cuddling next to you, then it likely reveals that your furry friend is quite glad and satisfied to be there with you.
Interesting Read: Why Does My Cat Drool When He Purrs?
Why Do Cats Knead And Purr At The Same Time?
Cats purr and knead when they are feeling elated, joyous, and content.
Purring is a vocal rasp elicited by rapid vibrations of particular throat muscles. It is a sign of attention in cats.
1. Happiness
Kneading is more common in some kittens than in others. If your kitten doesn't knead or purr, then it could indicate that she is stressed or maybe that she doesn't communicate through these gestures. Each cat is different and has its own way of communicating.
However, most kittens continue to knead and purr into their adulthood. It's safe to establish, that a kneading cat is a happy cat.
2. Territory
Your cat could be kneading on you to mark her territory. When cats knead, it stimulates the scent-glands in their paws and releases their pheromones. Cats are possessive over their caregivers, and this scent-marking allows them to stake their claim.
Interesting Read: Why Do Cats Lick And Knead You?
Potential Benefits Of Purring And Kneading
This might come as a surprise to you, but according to science, cats have a humungous impact on the health of their owners.
Cat purring and kneading are mechanisms that have a large positive effect on your well-being.
Here's how:
1. Well-being
A cat purr at frequencies between 24-150 Hx. These frequencies also correspond to the vibrations that are used to alleviate human stress in meditations and other procedures.
An Australian study conducted reports that cat owners have significantly less stress and psychological distress in their lives.
The findings of the research depicted that 'the cat owners had significantly lower scores for general psychological health, indicating a lower level of psychiatric disturbance, and could be considered to have better psychological health than the non-pet subjects.'
According to Healthline, people with cats reported fewer feelings of loneliness and seclusion than people without cats.

Healthline
2. Health
The purring frequencies of cats have been reported to be able to supplement tissue regeneration and the healing of bones.
Research conducted by 'The Journal Of The Acoustic Society Of America' advocates that the vibrational frequencies of a cat's purring can improve and enhance bone density.
3. Relationships
Even though cats are typically considered to be reclusive and somewhat antisocial creatures, research suggests that cat owners actually develop more socially conducive characteristics.
They tend to be more empathetic, trustworthy, and open to new opportunities and experiences.
Must Read: Cat Purring Effect On Humans: The Power of Cat Purring
Potential Risks And Drawbacks Of Purring And Kneading
While purring is generally a pretty safe and non-threatening vocal feature, the same cannot be said for kneading. When a cat kneads, her sharp claws cat penetrate and pierce through any surface that she is kneading on.
This includes any household furniture, blankets, pillows, or even you. To prevent your pillows from becoming tattered pieces of cloth, or to safeguard your own skin from bleeding out, you should trim your cat's nails to reduce their sharpness.
Apart from these risks, there are no added risks of a cat purring or kneading.
Interesting Read: Why Does My Cat Lay On Me And Purr?
Tips For Managing And Redirecting Purring And Kneading Behavior In Your Cat
Purring and kneading are purely biological and instinctual activities in cats, there's not much you can do in order to manage them. They are just forms of communication that more often than not, indicate that your cat loves you.
However, there are certain methods through which you can ensure that these activities are not injuring or harming you. If your cat is intent on sitting on your lap and kneading, then you can attempt to redirect her attention elsewhere.
You can do this by getting a scratching post for your kitten. Cats love their scratching posts, so will be able to successfully save yourself from your cat's nails.
Some of the Interesting reads regarding cat purring:
Frequently Asked Questions
Do all cats purr?
No, all cats do not purr. Purring is simply a means of vocal communication in cats, much like meowing. It is possible that your cat does not communicate through purring and prefers some other method instead.
How to stop my cat from kneading?
Well, kneading is such a happy reaction that signifies that your cat loves you, so you maybe shouldn't entirely stop your cat from kneading altogether. However, if your cat kneads on you forcefully and her claws end up piercing your skin, then you can try redirecting her attention somewhere else.
Final Thoughts
The bottom line is that purring and kneading are normal and in fact extremely positive behaviors in cats. Cats knead and purr to express their feelings of happiness, joy, and satisfaction.
If your cat purrs in your lap then that indicates that she feels very protected and secure with you.
Purring is also very beneficial for you as it has been scientifically proven to have healing properties and positive effects on health and stress.
However, a caveat to keep in mind if your cat kneads in your lap is to keep her nails trimmed so that she does not inadvertently injure you.
Interesting Read: Why Does My Cat Purr And Bite Me?
References