Do you have a feral cat on your hands and are puzzled by her lack of interaction and reluctance to display conventional cat behaviors like purring?
Or perhaps you encountered one on the streets and have a deep urge to gather the little furball under your wing?
Either way, you are probably curious to know more about feral cats and how they are different from domestic ones.
Well, one thing you should know is that feral cats tend to purr a lot less than house cats.
This stems largely due to the fact they have very minimal to negligible social contact and develop poor communication skills.
In this article, we'll dive into the world of feral cats and explore whether or not they purr. Get ready to be amazed and educated on these fascinating felines. Let's get started!
Key Takeaways

Feral Cats have minimal or no human contact since birth which makes it difficult for them to socialize
Feral cats purr and meow less than domestic cats due to lack of development of expression and socialization skills
Feral cats avoid interacting with humans and therefore do not purr as a means of communication
Purring is discouraged by feral mothers to avoid luring in predators
Feral cats can be heard purring at a person who has been feeding them consistently for a long time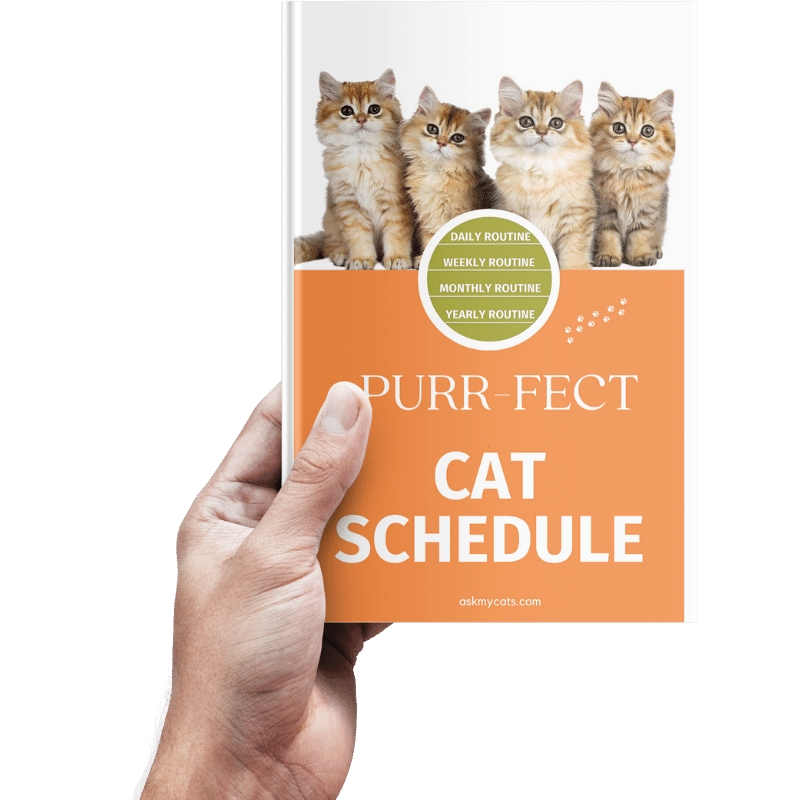 Discover the Secrets to a Happy Cat!
Discover the secrets to creating a happy and healthy daily routine for your feline friend. From playtime to mealtime, sleep to grooming, our expert guide will show you how to make every day a purrfect day for your cat.
Give Your Cat the Perfect Day – Get the Ebook!
Difference In Purring Between Domestic Cats And Wild Cats
People often tend to group feral and stray cats in the same brackets but there are very noticeable differences between the two types of cats. Feral cats are wanderers of the wild.
Since birth, they have nearly negligible human and friendly contact. This makes it very difficult and challenging for them to socialize. You would also find that their behavior patterns differ from those of domestic, and even stray cats.
While domestic cats have an average lifespan of up to two decades, while wild cats live up to only 2-3 years. This is because the lack of hygiene, proper nutrition, shelter, and vaccination make sit very hard for feral cats to survive heartily.
Due to the lack of contact with humans, they can be very skeptical and apprehensive of humans advancing toward them. However, with tie, they will learn to accept food and water.
They do not respond well to sudden movement and will likely startle if you start petting or stroking them.
Kim Kelly, founder, and president of C.A.T.S says, "Cats are not born feral. It is a learned trait. The longer the cat goes without human interaction, the longer it takes to socialize them. Usually, they bolt at the first sight or sound of humans."

Kim Kelly
Adopting a feral cat is a long and challenging process, but also immensely rewarding.
You will find that a feral cat will purr and meow a lot less compared to domestic cats. This is because they haven't properly developed the skills of expression and socialization. They are much less vocal than house cats.
Why Do Feral Cats Not Purr?
Like most house cats, feral cats also purr. However, they do it almost sparsely compared to their domestic counterparts. Feral cats tend to live far away from human civilization and stay in close-knit cat colonies.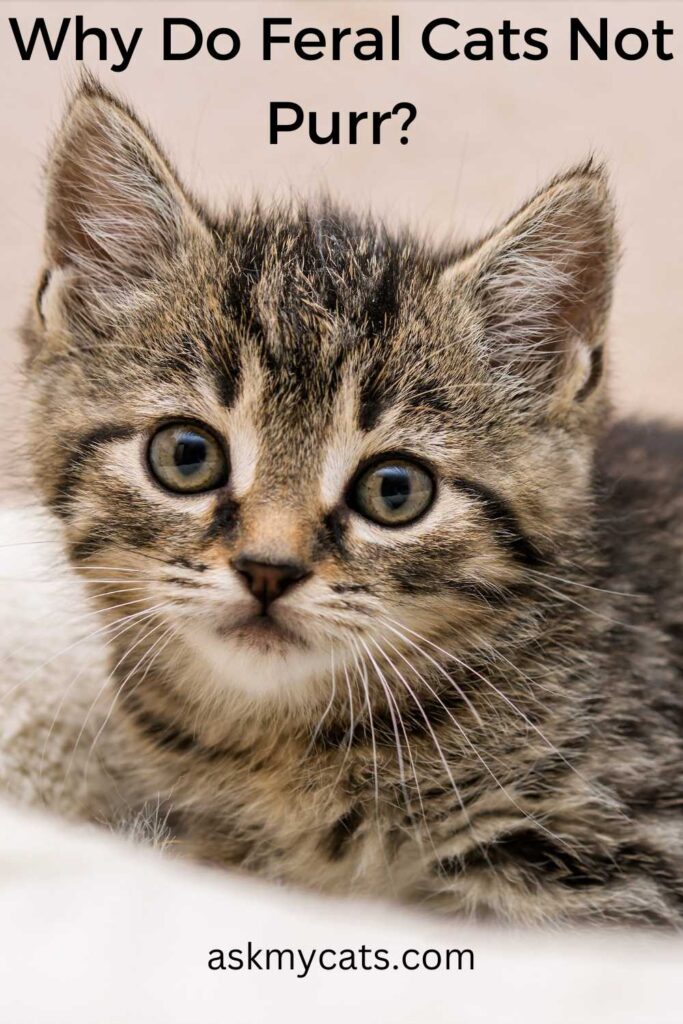 Experts believe that wild cats prefer to not purr due to survival and evolutionary purposes. Feral mothers discourage their kittens from purring to avoid luring in predators.
Domestic kittens develop the mechanism of purring to communicate with their mother or siblings. When they enter adulthood, they use it to express and convey their feelings to their human parents.
However, feral cats avoid interacting with humans and therefore do not deem purring as a necessary vocal feature. They do not wish to catch the attention of humans.
This behavior can change with time and the environment. Feral cats can be heard purring at a person who has been feeding them consistently for a long time. This happens in exceptional cases.
Most often, they tend to shy away from human involvement.
Feral cats who have been adopted into homes of high socioeconomic status, where they are provided nourishment adequately and are recipients of love and care, do undergo major changes.
They grow comfortable with affection and also gradually start communicating with their human parents. This also increases their vocal characteristics and they might start purring and meowing more often than they were earlier used to.
However, this process is very time-consuming and should be brought about with meticulous care and patience. Ensure that you don't rush your feral cat and start introducing her to social behaviors at a pace that she is comfortable with.
Interesting Read: Why Stray Cat Meowing/Crying Loudly At Night?
Will My Feral Cat Ever Purr?
Even though cat experts assure us that feral cats are quite capable of purring, it is still unconventional for them to purr very often.
Domestic cats purr for communication purposes and to express their feelings of happiness, satisfaction, fear or even anger, irritation, and stress.
On the other hand, feral cats are colony cats and purr only when their mother bonds or when they are excessively anxious. Feral cats are those that have never been socialized to humans. Most of them, in fact, are fearful of humans and run away when approached by people.
Because they live away from human civilizations, they are also never spayed or neutered by a veterinarian. This leads to a deluge of feral cats and kittens.
Megan Arroyo, a veterinary student at the Texas A&M College of Veterinary Medicine & Biomedical Sciences, advises,

"If you find a potentially feral cat with a litter of kittens, one of the best places to start is by contacting your local animal shelter or animal control.

They should be able to help you to decide the most appropriate action to take, which is often trapping the mom and the kittens so that the mom can be spayed and the kittens socialized and placed in homes."

Megan Arroyo
The lack of socialization and interaction with others leads to a nonoccurrence of purring in feral cats. However, upon being adopted into homes, their communication with humans increases significantly. This inclusion into a socialized life can make feral cats start purring.
The sudden change of environment and lifestyle is not a smooth journey for feral cats, so it will take a lot of time and painstaking effort before they will feel comfortable enough with their human parent to start purring.
But, it is not an inconceivable phenomenon and your furry friend could very well surprise you with her purrs.
Interesting Read: Why Do Cats Purr When They Are Dying?
Purring in Feral Cats
Scientists have observed feral cats purring in the wild, and studies on wild cat species have also found evidence of purring.
This is interesting because it suggests that purring may be an innate behavior in cats, rather than something that's only developed through domestication.
Expert Quote

"Purring is not just a domestic cat behavior. Wild cats purr too, suggesting that this behavior is innate, not learned."

Dr. John Bradshaw, anthrozoologist and author
Factors That Influence Purring In Feral Cats
| Factor | Description |
| --- | --- |
| Stress levels | Feral cats may not purr if they are experiencing high levels of stress or fear. |
| Health status | Cats that are injured or ill may not be able to purr. |
| Age | Kittens and older cats may purr less frequently than adult cats. |
| Socialization | Feral cats that have had little interaction with humans may not purr in their presence. |
Factors that influence purring in feral cats
Interesting Read: Do Cats Purr When Stressed?
How To Get A Feral Kitten To Purr?
In cats, purring is something that is related to trust and friendship. If a cat feels comfortable and at ease with someone, then she will indicate her feelings through purring.
In feral cats, this vocal rasp often remains latent because wild cats hardly ever socialize, least of all with humans.
Hence, to get a feral cat to purr, you first and foremost have to earn her trust and companionship.
These are some of the steps you can take to socialize your feral kitten and consequently, make her purr more:
1. Getting Comfortable
The first order of action would be to ensure that your feral kitten is in a safe, comfortable, and familiar setting.
Let her get used to the new environment. Provide a warm, cozy bed and cover it with soft blankets and towels. This will help in easing your kitten and calm her nerves.
2. Approach Gently
Slow and steady is the best policy to apply to feral cats. Any sudden action or movement can startle or disrupt their equilibrium.
Whenever you are near your cat, make sure that you appear friendly and calm.
Approach her gently and talk to her in a soothing voice. Be patient if your kitten back away. Let her come to you at her own pace.
3. Provide Food
Food is one of the best ways to make your feral cat come out of her shell. Ensure that the little furball always has a comfortable full belly and that her food and water bowls are easily accessible.
The process of socializing a feral cat can be a very long and frustrating process, but rest assured, the end itself is very rewarding. The feeling of knowing that your cat has come to trust you and feels safe with you is unparalleled.
Interesting Read: Why Do Cats Purr When You Stroke/Pet Them?
Comparison Of Purring In Feral And Domestic Cats
| Purring Behavior | Feral Cats | Domestic Cats |
| --- | --- | --- |
| Frequency of purring | Less frequent | More frequent |
| Purring in response to human interaction | Rare | Common |
| Purring in response to stress | Rare | Possible |
| Purring in response to health issues | Rare | Possible |
| Duration | Long | Short |
| Intensity | Moderate | Soft |
Comparison of purring in feral and domestic cats
What Does It Mean If A Feral Cat Is Purring?
Cats purr for various different happens. This includes happiness, joy, safety, or even anger, fear, anxiety, or gloom.
Purring is a communication mechanism. Just like a cat's meowing means different things, a purr also expresses a plethora of different feelings and emotions.
If a feral cat purrs near you, it could mean that she is fearful of you or maybe she is hungry and wants some food.
Cats also purr to heal themselves. The vibrational frequencies of a cat's purr are believed to be able to alleviate stress and anxiety and are also useful for muscle growth and tissue, and bone regeneration.
Expert Quote

"While domestic cats purr while they are relaxed or happy, wild cats may purr when they are stressed or injured as well. This can help them to cope with pain, and even heal faster."

Dr. Karen L. Overall, veterinary behaviorist and author
Interesting Read: Why Does My Cat Purr When He Sees Me?
Frequently Asked Questions
What are the risks of purring in feral cats?
Feral cats are taught to not purr by their mothers. This is because of evolutionary reasons. Feral cats are descendants of wild hunter cats. Therefore, it is a genetic adaptation that compels them to be stealthy and silent. Feral cats have evolved a disinclination to purring to avoid being caught or preyed upon by deadly predators.
What are the benefits of purring in feral cats?
The rhythmic vibrations of purring are capable of causing significant healing and health restoration in cats, as well as humans. Purring induce calm and relaxation. It lowers stress and anxiety by releasing happy hormones called endorphins. This benefits feral cats by stimulating healing. 
Final Thoughts
To conclude, even though feral cats are biologically capable of purring, they suppress this vocal feature due to reasons of self-preservation.
Feral cats hardly ever socialize with humans and this closes them off to the conventional communicating mechanisms that are so common to domestic cats. They also avoid purring to avoid being spotted by predators.
However, feral cats can learn to purr if their interactions with humans and other socialization practices increase.
Some of the Interesting reads regarding cat purring:
References