You may have considered drooling to be a behavior that is proprietary to canines, but it's not. In fact, when you catch your cat purring and drooling at the same, chances are that your furry friend is at her happiest.
There are numerous reasons why your cat will be purring and drooling simultaneously. We will discuss the same in this article.
Key Takeaways

Cats may drool and purr at the same time when they are feeling happy or content.
Cats may drool and purr if they are stressed or anxious, as purring can be a way for them to calm themselves down.
Cats may drool and purr if they are sick or in pain, as purring can help ease pain and stimulate the healing process.
To determine whether a cat's drooling and purring is due to happiness, stress, or a medical issue, it is important to observe other signs, such as the cat's appetite, behavior, and mouth or teeth.
If a cat is drooling excessively and showing other signs of a medical issue, it is important to see a vet as soon as possible.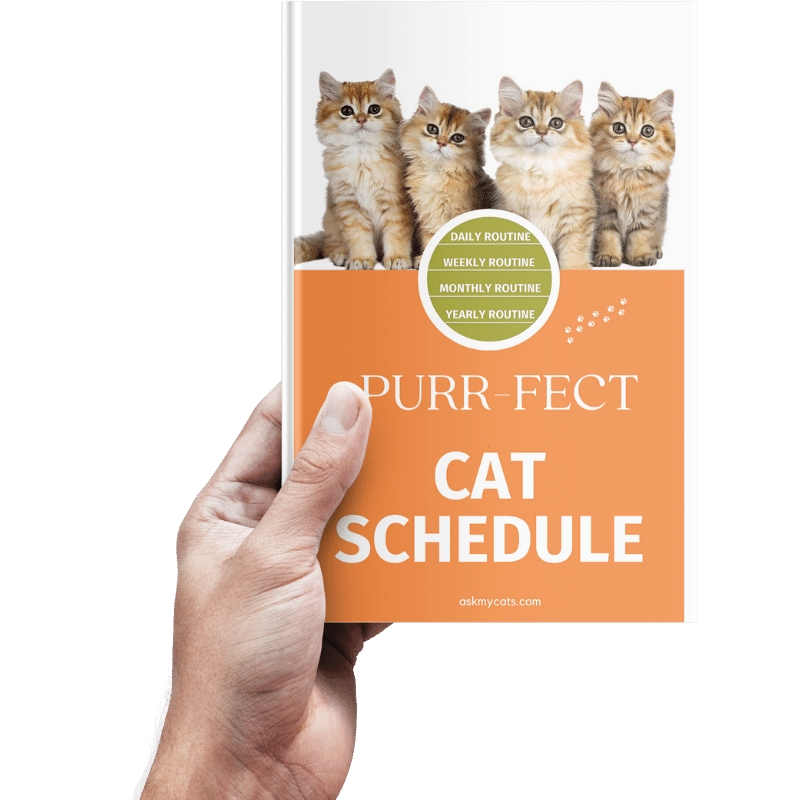 Discover the Secrets to a Happy Cat!
Discover the secrets to creating a happy and healthy daily routine for your feline friend. From playtime to mealtime, sleep to grooming, our expert guide will show you how to make every day a purrfect day for your cat.
Give Your Cat the Perfect Day – Get the Ebook!
Why Is My Cat Drooling While Purring?
Drooling and Purring are often considered contradictory gestures. Drolling is typically associated with dental diseases or other medical maladies, whereas a purring cat is generally a happy cat.
So when these two gestures occur together, it can be pretty puzzling to discern whether your cat is happy or in pain.
However, as we will discover in this article, drooling is not just limited to stress or pain, cats also drool when they are happy or content. A cat could also be purring because she is stressed or sick.
Let's explore why your cat could be purring and drooling at the same time.
1. She Is Content and Relaxed
The most probable reason why your kitten is drooling and purring simultaneously is that she is feeling joyous and satisfied. A little spittle is normal when a cat feels happy.
When cats feel calm, their body completely relaxes, including the muscles in their mouth.
Thus, their mouths hang open, causing saliva to trickle out. The 'happy hormone' known as serotonin also increases when feeling pleasure and this stimulates the salivatory glands.
Purring also increases when a cat wishes to express her delight. Purring traces back to the early days of kittens as they purr to communicate with their mother and catch their attention.
Kittens continue this purring behavior well into adulthood and use it to communicate with their human caregivers.
To confirm that what your kitten is feeling is happiness, also be on the lookout for other signs as well such as kneading, facial expressions, body position, etc.
2. She Is Stressed
Although cats are not easily ruffled, they don't respond well to change. To sensitive cats, even the most trivial things can be a trigger.
This can include moving to a new house, a change in their sleeping accommodation, changing their food, or traveling in the car.
It is conventional for a cat to drool when she is stressed or anxious. Stress triggers certain neural pathways that increase saliva production.
The increased amount of saliva makes it easier to dribble out of the cat's mouth.
It may sound unusual, but cats also purr when they are unhappy or anxious. Purring is a healing mechanism for cats.
The vibrational frequencies of a cat's purr promote stress alleviation and help in calming them down. Thus, cats use purring as a stress mechanism.
You should be able to distinguish whether your cat is purring and drooling because she is happy or stressed.
Look for additional signs like lethargy, loss of appetite, less social behaviors, etc.
3. She is Sick
Drooling also occurs when your cat is ill or in pain. Drooling due to pain will typically be excessive. This will happen if your kitten is suffering from oral pain or is feeling nauseous
Cats purr when they are sick because it exacerbates the healing process for them. Purring releases certain endorphins which act as natural analgesics i.e diminishing the sensation of pain.
The vibrations produced by purring enable muscles to contract and relax smoothly, enabling ease of blood flow.
According to mrbosscat "Vibrations at this frequency stimulate the production of cells that produce bone known as "osteoblasts", thus helping ease joint pain, broken bones, and bone cancer. Purring can help ease breathing difficulties and helps your cat's lungs to establish a steady respiratory rate."
| Reason | Description |
| --- | --- |
| Pleasure or contentment | Cats may drool and purr at the same time when they are feeling relaxed and happy, such as when they are being petted or groomed. |
| Dental problems | Cats may drool and purr if they have dental problems, such as toothaches or gum disease, which can be caused by tartar build-up or other issues. |
| Digestive problems | Cats may drool and purr if they are experiencing digestive problems, such as nausea or indigestion. |
| Heatstroke | Cats may drool excessively and purr if they are suffering from heatstroke, which can be caused by being left in a hot environment for too long. |
| Pain or discomfort | Cats may drool and purr if they are experiencing pain or discomfort, although this is less common. |
| Stress or anxiety | Cats may drool and purr if they are feeling stressed or anxious, as purring can be a way for them to calm themselves down. |
| Sensory overload | Cats may drool and purr if they are experiencing sensory overload, such as from loud noises or bright lights. |
Cat Drooling and Purring: Common Reasons
Interesting Read: Why Do Cat's Noses Get Wet When They Purr?
Is It Normal For A Cat To Drool While Purring?
Yes, it is perfectly normal for cats to drool when they are purring or even when they are kneading. Kneading is a continuous back-and-forth motion that cats exhibit with their paws.
Cats conventionally drool when they are happy, but they could also drool when they are unwell in order to self-soothe. However, drooling and purring at the same time is most likely because a cat is content.
However, if you suspect that your kitten is drooling excessively, then you must consult a veterinarian. Also, excessive meowing could also suggest that your cat is in pain.
According to the Spruce Pets " Stress or fear may cause a cat to drool temporarily, such as during car rides, vet visits, or loud events. If your cat seems extremely stressed regularly, it's a good idea to talk to your vet about options. If the drooling and stress are short-lived and stop on their own, then there is likely little cause for concern."

Spruce Pets
Interesting Read: Why Does My Cat Lay On Me And Purr?
What Should I Do If My Cat Drools When She Purrs?
Before thinking of a course of action, you first need to identify and establish why your kitten is drooling and purring. If she is doing so out of happiness, then you have got nothing to worry about and can rest easy.
However, if you suspect that she is sick or in pain, then you can try doing the following:
1. Remove any stressors
Try and identify what is making your cat unhappy or stressed. Only then will you be able to handle the situation and eliminate the stressors.
A cat could be stressed due to sudden changes, so ensure that she is as comfortable as possible and feels cared for and loved.
2. Provide hiding spaces
Cats are private beings and they appreciate a personal, secret getaway to retreat. When the surroundings get too overwhelming, they want to be alone and have some quiet.
Ensure that your cat has a warm, cozy space that is her own and away from the commotion of the rest of the house.
3. Give Them Space
It will be very hard to give your cat some space when you know they are suffering, but sometimes, that's actually what they need.
4. Visit A Vet
If you think that your cat is seriously ill, then you must visit a vet to rule out any underlying medical issues. Be on the lookout for any additional symptoms that might clue you into what your cat is going through.
Interesting Read: Why Does My Cat Purr And Bite Me?
How Do I Get My Cat To Stop Drooling and Purring?
The most probable cause behind a cat purring and drooling at the same time is that she is happy and feeling content.
Therefore, that is not something that you should worry about stopping, instead, it should be encouraged. After all, who doesn't want a happy cat in their hands?
However, if your furball is drooling excessively to an extent that seems abnormal, you should focus on identifying other potential signs such as whether your cat is being less social, losing appetite, or any other symptoms of discomfort.
Excessive drooling is largely due to dental pains or feelings of nausea. You should take your cat to a vet to gain professional advice and consultation.
As explained by Dutch, "While you can't prevent your cat's mouth from relaxing and letting out a few dribbles of drool when they're happy, you can be prepared to clean it up. Cat drool is easy to clean up with a wet towel, and it doesn't stain, so there's no reason not to let your cat drool when they're content."
Some of the Interesting reads regarding cat purring:
Frequently Asked Questions
When should I worry about my cat's drooling?
Cat drooling is largely harmless on most occasions and could be due to muscle relaxation and the fact that your cat is feeling happy and calm. However, if your cat starts drooling excessively all of a sudden, then that could be a cause for concern. 
Why do my cats drool when I pet them?
Being petted is a very comforting and affectionate gesture that releases happy hormones called endorphins in cats. This hormone decreases their stress levels and relaxes their muscles, including moth muscles. The state of relaxation induced by endorphins causes cats' mouths to become loose so that they often hang open. This results in more saliva production and some of it also dribble out. 
Final Thoughts
In most cases, when a cat drools and purrs at the same time, it is because she is elated and satisfied. You should be proud of yourself for having succeeded at making your cat feel comfortable and safe with you.
Isn't it the greatest achievement as a cat parent? Seeing your little furball exude joy and warmth.
However, excessive drooling in cats could be a sign of possible medical ailment. Cats also purr when they are stressed or unwell so be attentive and aware of what your cat is trying to convey to you. Consult a vet if you suspect a medical malady.
References