All cat owners would agree that the sweet, gentle purring of their kitten is arguably one of the best sounds on earth. The tranquil purring of cats is not just pleasing to the ears, but it is also believed to have healing properties.
According to the Daily Infographic "When a cat purrs within a frequency range of 20-140 Hertz, nearby humans may be therapeutically benefiting from these vibrations. Purring has been linked to lowering stress, decreasing symptoms of Dyspnoea, lessening the chances of having a heart attack, and even strengthening bones."
Considering these marvelous abilities of kittens, it is no wonder you also want your little furball to purr.
Continue reading the rest of the article to know more about how you can induce your cat to purr.
Key Takeaways

The mechanism for purring is not fully understood, but it is believed to be caused by the glottis (muscles in the larynx) rapidly dilating and constricting, resulting in vibrations during inhalation and exhalation
Purring is thought to have therapeutic benefits for humans.
Cats can't be trained to purr, but there are methods to encourage them to do so.
Tips for encouraging cats to purr include spending time with them, being affectionate, talking gently, making them comfortable, providing stimulation, and feeding them well.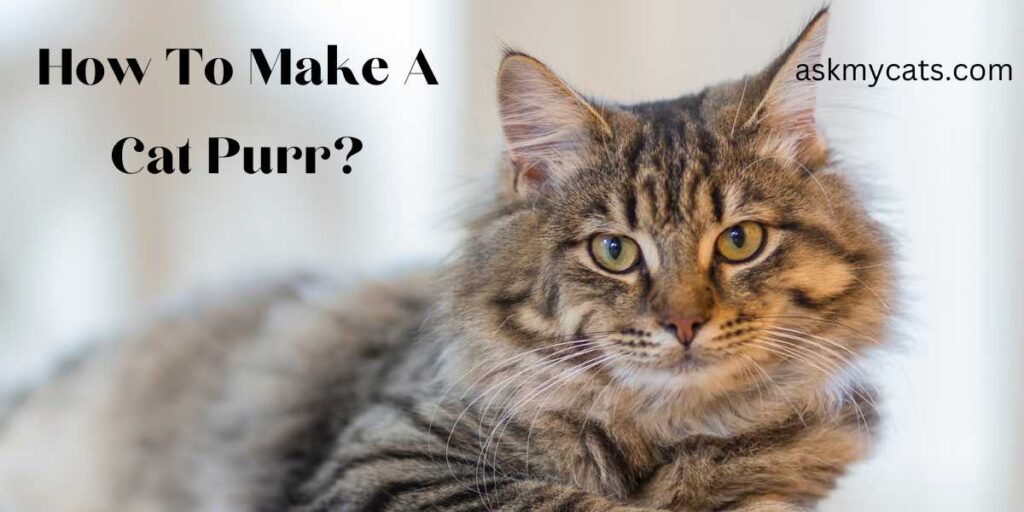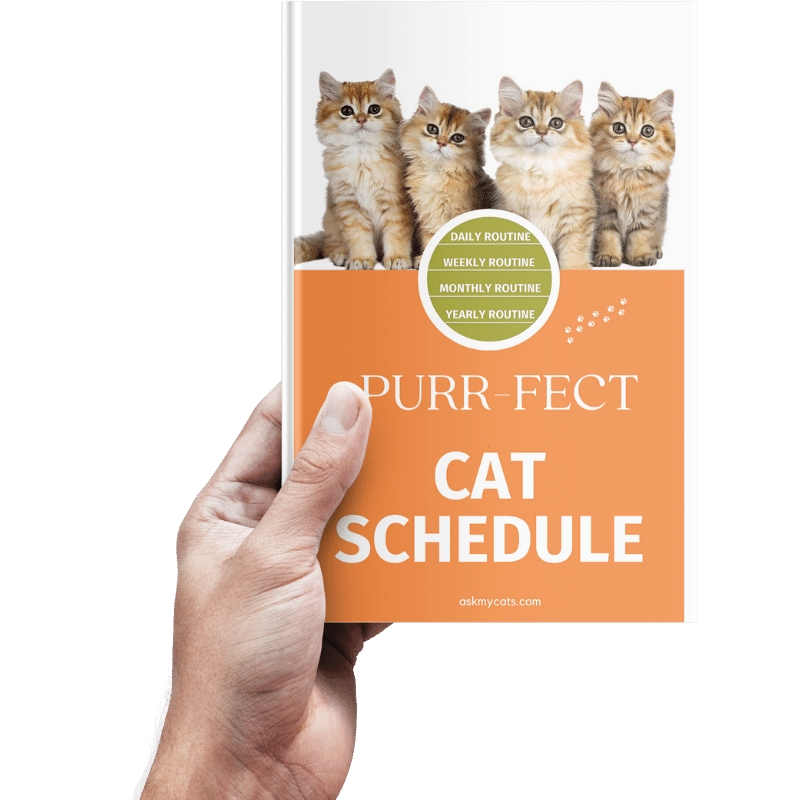 Discover the Secrets to a Happy Cat!
Discover the secrets to creating a happy and healthy daily routine for your feline friend. From playtime to mealtime, sleep to grooming, our expert guide will show you how to make every day a purrfect day for your cat.
Give Your Cat the Perfect Day – Get the Ebook!
Can I Teach My Cat To Purr?
No, you can't train your cat to purr.
Purring is a biological vocal phenomenon that occurs mainly in domestic cats. Cats generally purr to express feelings of happiness, contentment, and approval. However, some of them also purr to show other feelings such as stress, fear, or dissatisfaction.
The exact mechanism through which cats emit this vocal rasp has been largely elusive to cat researchers since there is no physiological organ or anatomical feature responsible for purring.
However, the consensus supports that when the glottis i.e the muscles in the larynx rapidly dilate and constrict, it causes vibrations in the air during inhalation and exhalation, thus causing the purring sound.
Cats primarily use purring as a means of communicating with other cats and their human carers.
If your cat doesn't purr, then she must use other communication tools like roaring or regular meowing. It is normal for some cats to not purr. Thus, you don't necessarily have to train your cat to purr, and even if you do, it might not be as effective as you think.
You can't train a cat to purr against her will. However, there are certain methods through which you might be able to encourage her to do so. We will talk more about these methods in the next section.
How Can You Encourage Cat Purring?
Cat owners whose cats purr know that it is such a soothing and pleasant sound.
Research also shows that purring has healing properties and that the rhythmic vibrations of purring are capable of alleviating stress and even promoting tissue regeneration.
Thus, if you too want to enjoy the benefits of ca purring, here's how you can encourage your cat to purr:
1. Spend time with them
Cats might seem like independent creatures but they still need your love and attention. If you spend very little time with your kitten, then she might perceive it as a sign that she is not wanted and uncared for. Even just sleeping or cuddling with your cat can make her purr contently.
2. Be Affectionate
Don't hesitate to be affectionate or caring towards your kitten. Gently pet your cat when she approaches, rub the skin under her chin, behind the ears, or stroke her back. Pet her stomach only if you know that she likes it.
According to National Geographic "Hair follicles on the belly and tail area are hypersensitive to touch, so petting there can be overstimulating"

National Geographic
Thus, petting her stomach unsolicitedly might cause your cat to hiss instead of purr.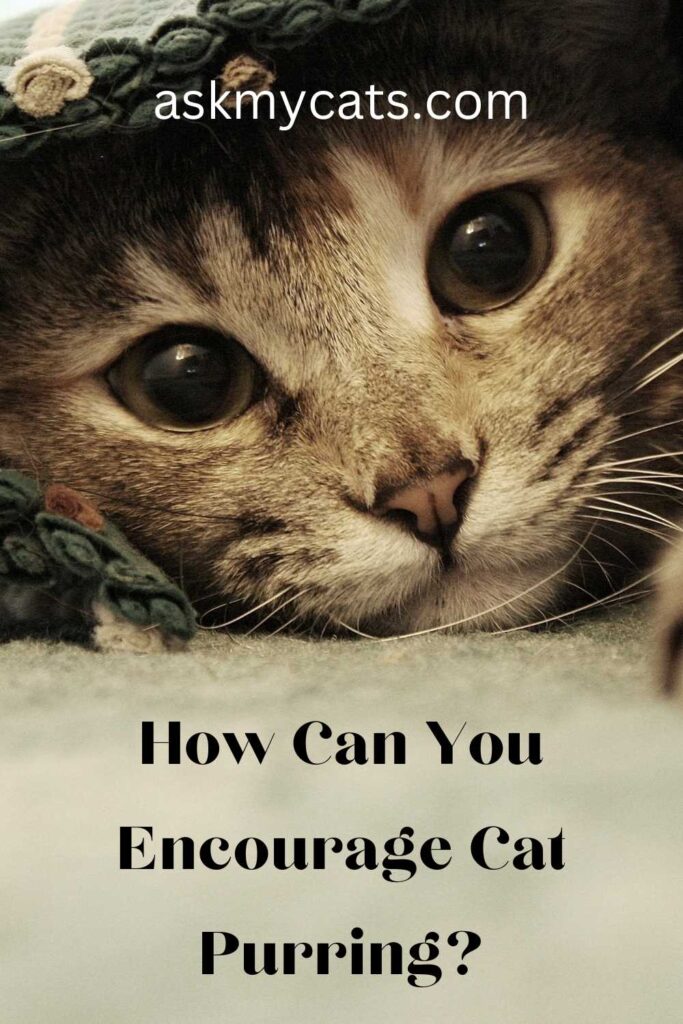 3. Talk Gently
Speak to your kitten using gentle, soothing tones. You can even try imitating the purring sound yourself. Avoid staring at your kitten for too long, as it is a sign of aggression to cats.
4. Make them Comfortable
The best way to induce purring in your cat is to make them comfortable and at ease. Cats love warm, cozy spaces, so prepare your cat's bed accordingly. You can wrap her in soft blankets and fuzzy towels to generate warmth and comfort.
5. Provide Stimulation
Keep your cat busy and entertained. Encourage them to play with their toys. Physical activity is an important aspect of a cat's mental and physical well-being.
According to WikiHow " Try to provide an environment that lets it perform natural cat behaviors, like hunting, climbing, and hiding"

WikiHow
Thus, you should give your cat plenty of opportunities to perch or climb. You can do this by fixing climbing obstacles around your house. Cats also need to make use of their claws so set up a scratching post. You can also play fetch with your cat.
6. Give your cat space
This might seem counterproductive, but if your cat enjoys her freedom and sense of privacy, then you must give her that.
Allow your cat plenty of space to roam around the house and explore her environment. Do not try to pet your cat if she is resisting your hold.
According to Instructables " Allow them to go and do as they want, never force your animal to stay with you, or accept rubbing and scratching that they do not want at that moment. They need to be free to do things just like you like to."

Instructables
7. Keep them fed
Feed your cat at regular periods. You can even surprise them with treats to keep things interesting. Remember, a fed cat is at its happiest.
| Method | Description |
| --- | --- |
| Spend time with them | Cats need love and attention from their owners |
| Be affectionate | Pet and stroke your cat in a gentle, soothing manner |
| Talk gently | Use gentle, soothing tones when speaking to your cat |
| Make them comfortable | Provide warm, cozy bedding for your cat |
| Provide stimulation | Encourage your cat to play and engage in physical activity |
| Offer treats | Some cats may purr in response to receiving treats or food |
| Play soothing music | Playing soothing music may encourage your cat to purr |
Encouraging Cat Purring
Must Read: Cat Purring Effect On Humans: The Power of Cat Purring
How Do I Make My Cat Purr Louder?
Cats purr very loudly when they are extremely happy or even if they are feeling particularly stressed. Every cat is a unique creature and has its own idiosyncratic qualities.
All cats have different tones and voice modulations. Some cats purr loudly while others have soft, gentle purrs.
Usually, older cats make more deep and loud purrs.
If you want to make your cat purr more loudly, then you can try the methods listed above. The trick to making a cat purr is to keep her happy and stress-free.
Ensure that your cat is not under any undue duress or anxiety. Shower your cat with love and affection to get her to purr a content rasp.
Interesting Read: Why Does My Cat Lay On Me And Purr?
Potential Risks And Drawbacks Of Encouraging Your Cat To Purr
Before conditioning your cat to purr, there are certain caveats that you should be aware of.
As we have already established in this article, purring is not an inherent characteristic of all cats. For some cats, purring does not come naturally and it is perfectly conventional for them to not purr.
Therefore, training such cats to purr could lead to unnecessary mental, emotional and physical problems.
1. Overstimulation
Spending too much time and effort on your kitten's purr training might cause her to overexert herself leading to exhaustion and emotional saturation.
2. Overgrooming
Overgrooming is when a cat spends excessive amounts of time grooming herself which can result in hair loss or skin sores.
Training your cat to purr might cause her to grow anxious. Grooming is an activity that releases endorphins (happy hormones) in cats, therefore they are likely to indulge in this activity to calm themselves down.
Interesting Read: Why Does My Cat Purr And Bite Me?
The Importance Of Respecting Your Cat's Preferences And Boundaries
Just like us, cats and other animals have their own boundaries, interests, and preferred way of doing things.
It is extremely crucial that you respect and maintain this boundary and do not try to force or compel your cat to do something that she does not like.
All animals should be able to live and exist as they want to. We would not like to be trained to live life a certain way, and similarly, we should not expect our pets to succumb to our wishes.
Thus, you must not force her cat to purr against her will. Be mindful that you always respect her wishes and boundaries.
Interesting Read: Do Feral Cats Purr?
Some of the Interesting reads regarding cat purring:
Frequently Asked Questions
Do all cats purr?
No, all cats do not purr. It is generally considered to be a feature of domestic cats. In the 19th century, cats were divided into 2 groups: those that purr, and those that roar. 
According to Wired " Early 19th century taxonomists thought cats could either purr or roar, and split the family Felidae along these lines—"purrers' (subfamily Felinae) and 'roarers' (subfamily Pantherinae)." This distinction is also followed today. 
Why do cats purr?
The most widely accepted reason behind cat purring is an expression of happiness, contentment, and joy. However, cat experts today assert that purring is also a way for cats to show feelings of stress, fear, duress, or anxiety. 
Final Thoughts
The bottom line is that you can't train your cat to purr if she belongs to a non-cat purring family. However, if your cat used to be a regular purrer but stopped suddenly, then you can encourage her to purr once again.
You can do this by increasing your cat's comfort and making her as happy and healthy as possible.
You should try being affectionate with your cat and showing her love and attention. These methods are guaranteed to make your cat feel happy and get her on the path of purring.
Interesting Read: Why Does My Cat Drool When He Purrs?
References