For decades, the act of a cat purring has been considered somewhat of an enigma. There is a lot of ambiguity regarding why and how cats purr. While we have answered the 'why's' and 'hows' in our previous posts, in this article we will unravel the effect that cat purring can have on humans.
Scientists believe that the benefits of loving a cat may even extend to our health. Studies have shown that people are less likely to die of a heart attack if they own a cat (Adnan I Qureshi, 2009)
Curious to know more about the benefits of your cat's purring? Dive into the rest of the article.
Key Takeaways

Studies have found that cat purring can reduce stress and anxiety, improve sleep, and ease pain and discomfort.
Cat purring may also boost immune system function and promote healing and recovery.
In addition to physical benefits, cat purring can also have positive effects on mental health and emotional well-being, helping to improve mood and reduce feelings of loneliness or isolation.
The physical contact of petting a purring cat can also release oxytocin in the human brain, further enhancing feelings of relaxation and well-being.
The vibrations of a cat purring are thought to have a number of physiological effects on the human body, including increasing blood flow, reducing inflammation, and promoting relaxation.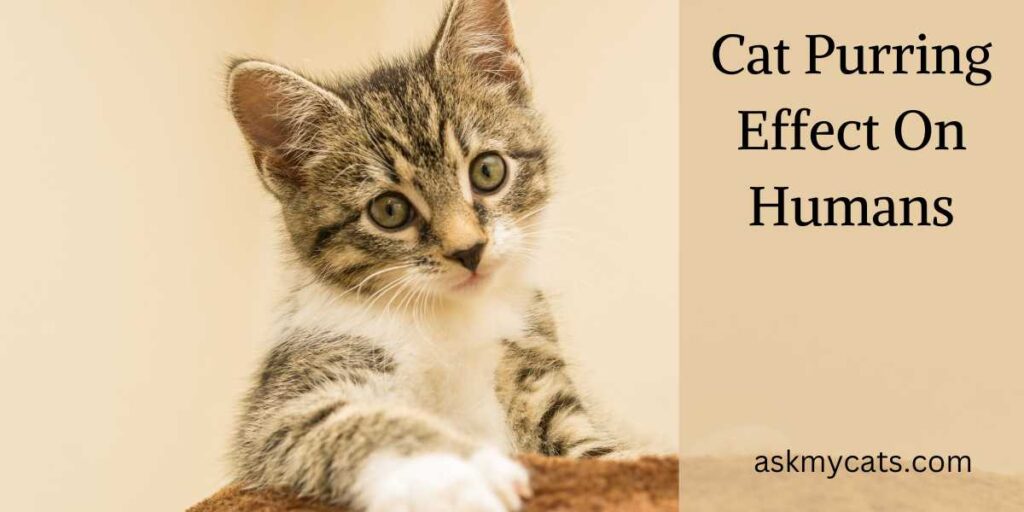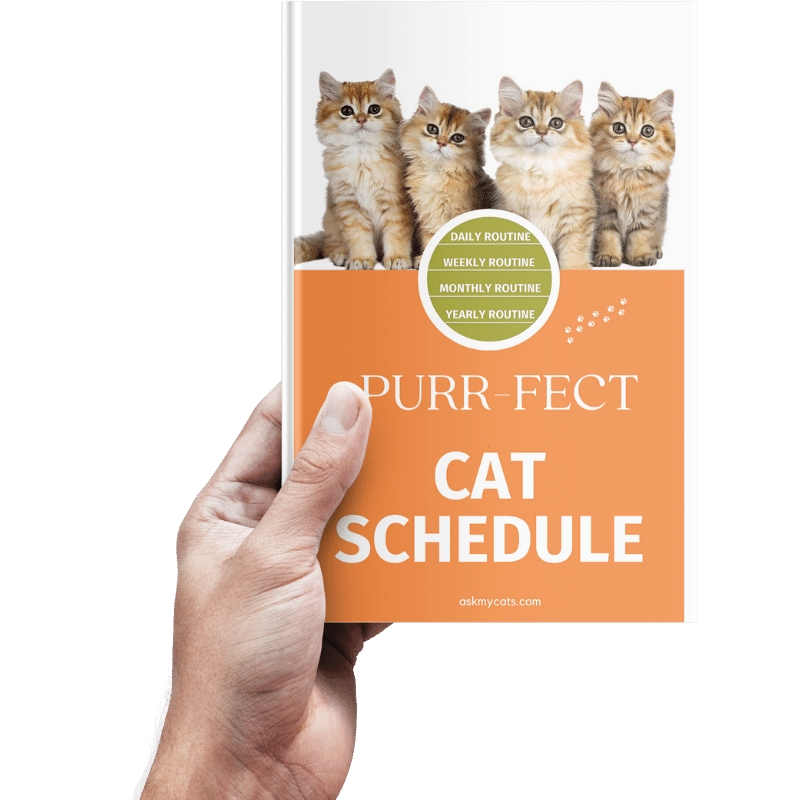 Discover the Secrets to a Happy Cat!
Discover the secrets to creating a happy and healthy daily routine for your feline friend. From playtime to mealtime, sleep to grooming, our expert guide will show you how to make every day a purrfect day for your cat.
Give Your Cat the Perfect Day – Get the Ebook!
Does Cat Purring Heal Humans?
Yes, there is strong evidence that suggests that cat purring can, in fact, heal some human ailments.
Purring is not a characteristic that is inherent in cats, although most felid species exhibit sounds akin to purring.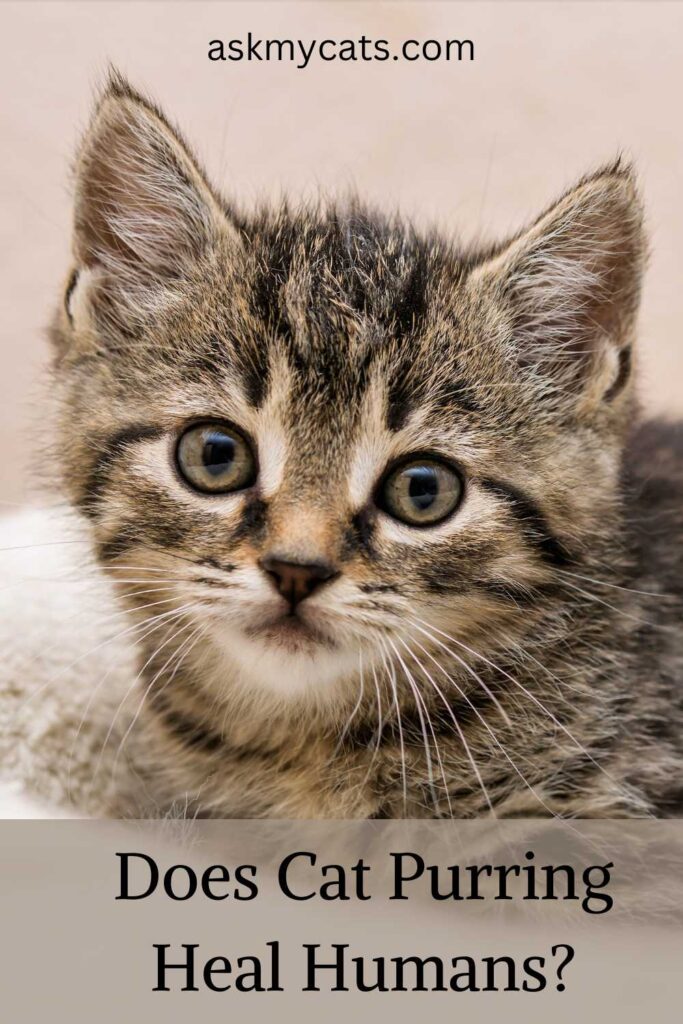 Purring is most common in domestic cats and they can be found purring while nursing their younger ones or when receiving physical affection such as petting or stroking from their human parents.
It is believed that cats generally purr when they are joyous or exhibiting pleasant feelings, however, research shows that they also purr when they are stressed or under duress. They purr when they are in pain, such as during labor, or when ill.
The longevity of a cat's life has been often related to the fact that cats have adapted to an energy-conservation lifestyle wherein they preserve and generate their energy through extended periods of rest and sleep. Purring, therefore, is a low-energy mechanism that also actively stimulates their bones and muscles.
"Purring is therapeutic for the cats themselves," says Lee Zasloff, a zoologist who studies the relationships between people and animals. "It's believed that the purr helps them to retain their muscle tone and bone density."
Researcher Elizabeth von Muggenthaler, a specialist in the field of bioacoustics, was the first to draw links between cat purring and its effect on humans. She proposed that it might be an evolutionary trait that is essential for survival.
According to Mom.com, "Recent research has shown that the soothing sounds of a kitty can aid your body in a number of ways, greatly counteracting any heartache that comes from your cat ignoring you.

Cats are able to heal because their purrs fluctuate between 20 to 140 Hz, a frequency range which has been proven to be medically therapeutic."

mom.com
Interesting Read: Why Do Cats Purr When You Stroke/Pet Them?
What Frequencies Do Cats Purr At?
Purring is a vocal feature that kittens use to communicate with their mothers and siblings and to express their emotions.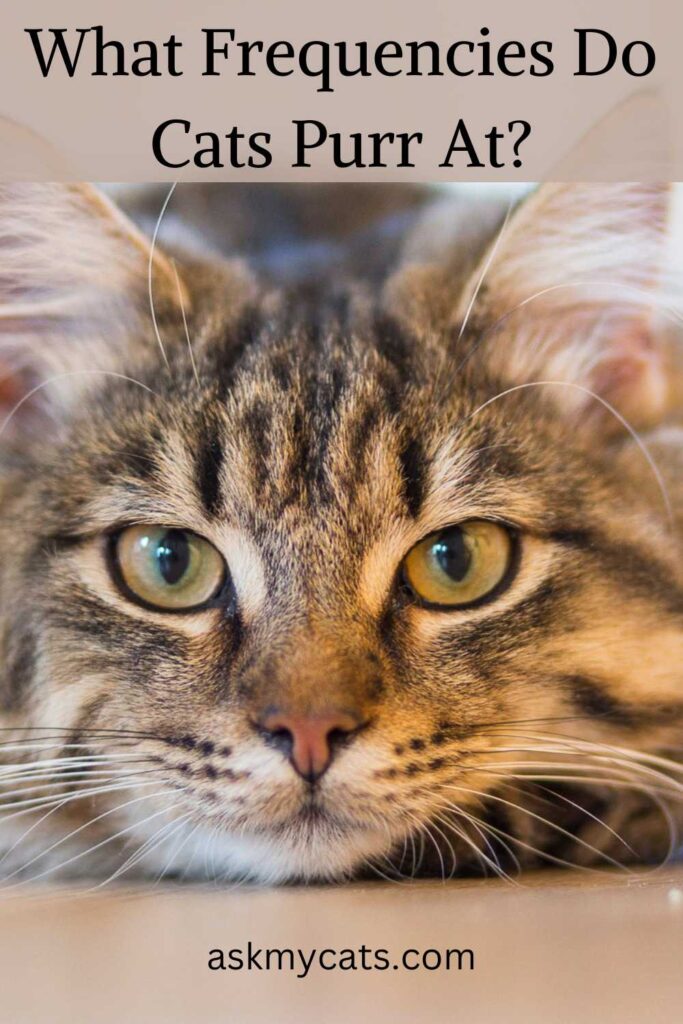 While kittens are born deaf and blind, they start purring just a few days after birth. When they are young, kittens use purring to attract their mother's attention during feeding time.
This purring behavior of cats continues well into adulthood. Cats also purr when they are cuddling with their human parent or while being stroked or petted. This led to the formation of an association between a happy cat and purring.
Hence, for the longest time, it was believed that cats only purr when they are pleased.
However, a 2009 study discovered that domestic cats suppress a cry within their purrs, which ignites an inherent instinct in owners for protection, much like human babies. Since then, a consensus has arrived that cats also purr to reflect unhappiness, fear, or anxiety.
The purring mechanism of cats is predominantly driven by the laryngeal modulation of respiratory. The diaphragm is essentially unnecessary for purring other than to ensure respiration.
As explained by Newscientist "When cats breathe, they dilate and constrict the glottis, the area around their vocal cords, in a rapid, rhythmic fashion. As the air vibrates over the laryngeal muscles of their larynx, the purring sound occurs."

Newscientist
Cats purr between the frequencies of 25 and 150 Hertz and maintain the pattern during inhalation and exhalation.
These are some of the frequencies that are also used for muscle healing and tissue regeneration.
Interesting Read: Do Cats Purr When Stressed?
What Are The Benefits Of Cat Purring?
It's a known fact that these days lots of pets are used for therapy and therapy animals have slowly become popular culture.
Let us explore some of the many benefits that cat purring elicits:
1. Bone & Joint Growth
The research behind this relates to using sounds and vibrations for treating human injuries. It has been found that rhythms between 25 and 50 Hertz are ideal for bone healing and growth.
Cats also purr between the same frequencies i.e 20 – 140 Hz. These vibrations can assist with muscle swelling, muscle growth, pain, and bone repair.
2. Heart-related ailments
As various studies have concluded, cat purring lowers stress and anxiety. This has a domino effect on heart-related ailments as well.
According to Goodnet " Owning a cat can actually lower one's risk of various heart diseases, including stroke, by around 30 percent."
3. Respiration
Cats with upper respiratory maladies such as dyspnea showed significant improvements upon purring. This can have the same effect on individuals with respiratory diseases and can help them breathe easier. Perhaps this is why cats are not nearly as prone to respiratory issues as dogs are.
4. Blood Pressure
The physical act of petting your cat and snuggling with her can have enormous benefits on your blood pressure levels.
The frequencies at which cats purr correspond with the vibrations used to promote human health. A cat's purring is capable of regulating and lowering your blood pressure levels.
| Health Benefit | Explanation |
| --- | --- |
| Reduces stress and anxiety | Cat purring has a soothing, calming effect on humans, which can help to reduce stress and anxiety levels. |
| Improves sleep | The rhythmic vibrations of cat purring can help to relax the body and mind, making it easier to fall asleep. |
| Eases pain and discomfort | Cat purring has been shown to have pain-relieving effects, which can help to ease discomfort and improve overall well-being. |
| Boosts immune system function | Cat purring may help to boost immune system function, which can help to protect against illness and disease. |
| Promotes healing and recovery | The vibrations of cat purring may help to stimulate blood flow, which can aid in the healing process and promote recovery. |
Health Benefits of Cat Purring
You might also like to read: Why Does My Cat Purr When He Sees Me?
How Could Purrs Help Humans Heal?
When cats purr, they release a hormone called endorphin in their blood vessels. This chemical is a happy hormone that makes one feel social, joyous, and excited.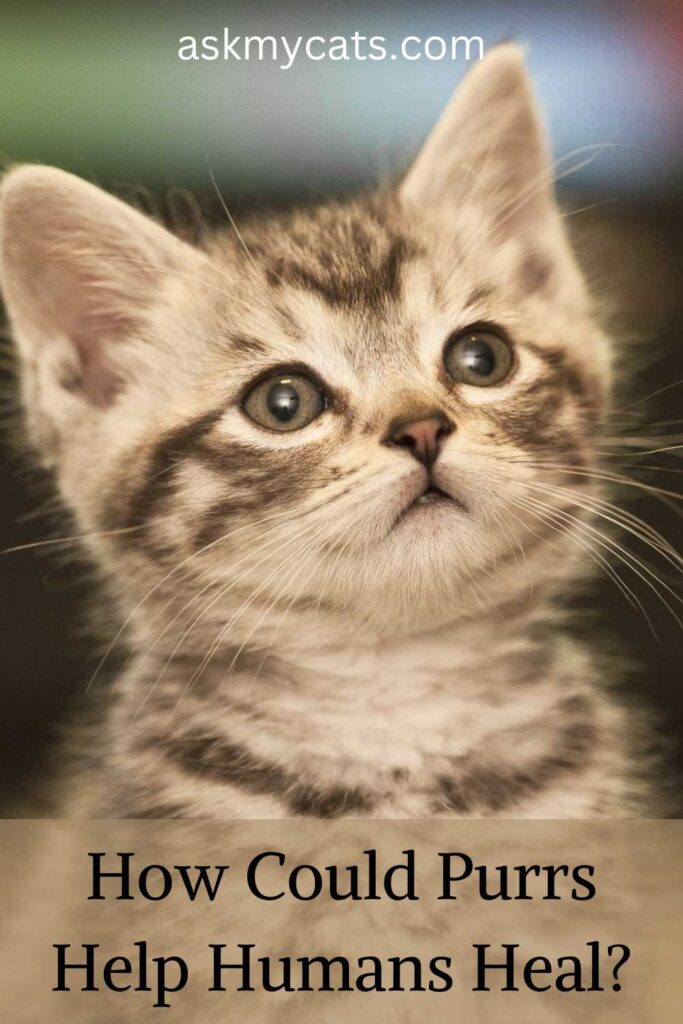 Endorphin is also the hormone that is released within us after physical exercise.
Research has found out that cats do not only release endorphins in their own body, but it also permeates humans.
The catch here is the purring sound. For decades healers have believed that certain vibrational sounds promote mental and physical healing in humans.
Studies have depicted that a cat also purrs at the same frequencies that the healers have been using.
Hence, purring not only heals the cat's body but also its owners. It helps in lowering blood pressure, alleviating cardiovascular diseases, resolving respiratory conditions like dyspnea, lowering stress and anxiety, and reducing the healing time of infections.
Isn't it amazing how a simple sound like a cat purring can have such marvelous healing abilities? You undoubtedly have a lot to thank your cat for!
Interesting Read: Why Does My Cat Purr So Loudly?
Do Cat Purrs Help With Pain?
Yes, cat purring can help alleviate pain. When one cat is ill or suffering from an ailment, then other cats surround the ill cat and purr to help mollify the pain. In this way, cats also help aid their human parents when they are ill or in pain.
Research conducted by The Journal Of The Acoustic Society Of America advocates that the vibrational frequencies of a cat's purring can improve and enhance bone density.
"Purr frequencies correspond to vibrational/electrical frequencies used in treatment for bone growth/fractures, pain, edema, muscle growth/strain, joint flexibility, dyspnea, and wounds.

Domestic cats, servals, ocelots, and pumas produce fundamental, dominant, or strong frequencies at exactly 25 Hz and 50 Hz, the two low frequencies that best promote bone growth/fracture healing"

The Journal Of The Acoustic Society Of America
Hence, cat purring does help with the pain.
Interesting Read: Why Does My Cat Drool When He Purrs?
Factors That Can Affect Cat Purring
| Factor | Explanation |
| --- | --- |
| Age | Kittens and older cats may be more prone to purring than cats in their prime. |
| Breed | Some cat breeds, such as Siamese and Persian cats, may be more prone to purring than others. |
| Health status | Cats that are feeling unwell or in pain may be more likely to purr. |
| Level of comfort and relaxation | Cats are more likely to purr when they are feeling comfortable and relaxed. |
| Interactions with humans and other cats | Cats may purr more often when they are interacting with their owners or other cats. |
Factors That Can Affect Cat Purring
Some of the Interesting reads regarding cat purring:
Frequently Asked Questions
Do cats purr all the time?
No, cats don't purr constantly. They purr to communicate and express their feelings such as happiness, joy, satisfaction, or even negative emotions like sadness or anxiety. Purring is a form of vocal communication like meowing. Cats learn to purr when they are a few days old to attract their mother's attention. Cat purring has proven to be beneficial for healing human ailments.
Do all cats purr?
No, purring is only found in domestic and some species of wild cats. Cats that don't purr, roar, and those that can't roar purr. This is because, in roaring cats, there is a small bone inside the vocal cords that is a flexible ligament. This stretchable ligament allows big cats to make a deep sound but in domestic cats, the flexibility of the ligament is replaced with a hardened bone. Therefore, all cats cannot purr.
Final Thoughts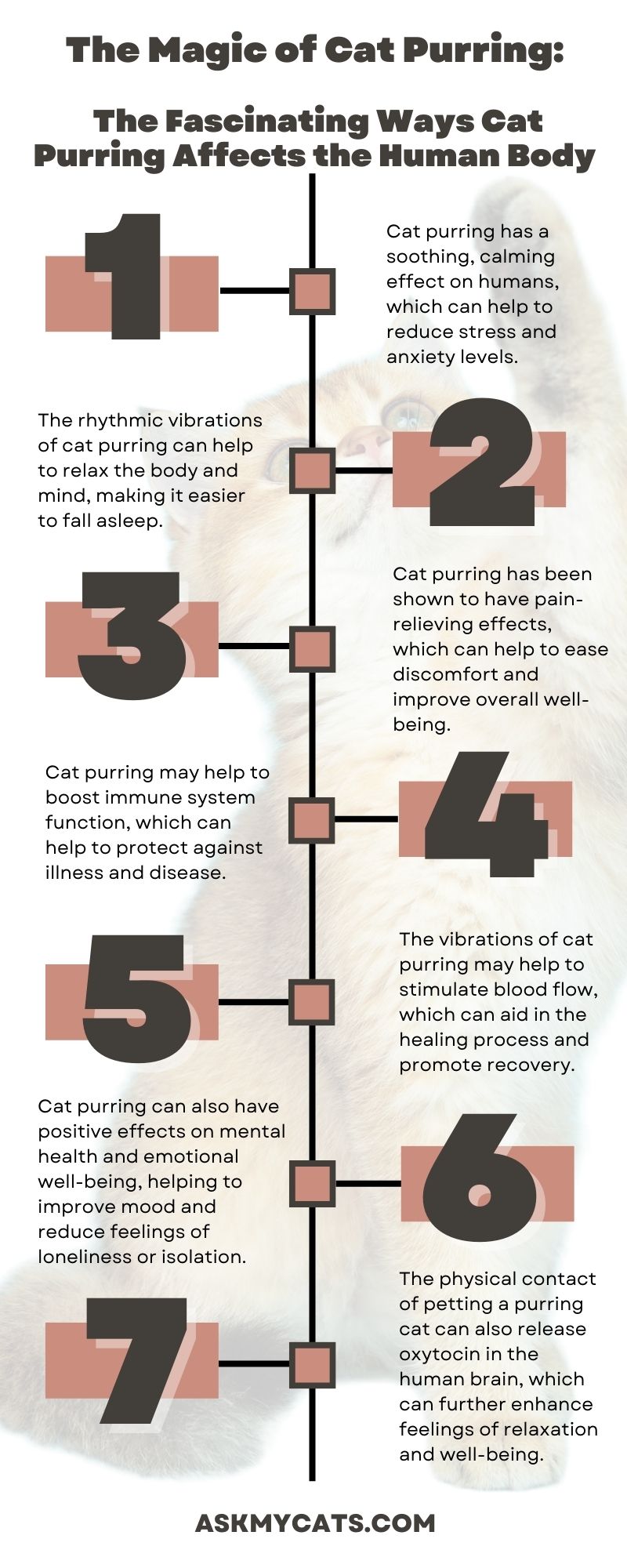 In a nutshell, cat purring has numerous benefits and health advantages for humans. This includes both mental and physical stimulations. Cat purrs at frequencies ranging from 20 – 140 Hertz.
These are the same frequencies that sound healers have been using for decades to mitigate various joint and bone-related ailments, along with mental issues like stress and anxiety.
The simple act of sitting close to your cat, or even petting and stroking her, can prove to be wondrously effective. However, if you are asthmatic or suffer from allergies, then you shouldn't come too close to cats, as it can have adverse consequences on your health.
Interesting Read: Why Does My Cat Purr And Bite Me?
Interesting Read: Do Older Cats Purr More or Less?
References