A cat's purring is a sound that has been enveloped in mystery and enigma for decades. We usually associate the vibrational rasp of a cat's purrs with pleasure and contentment.
However, is it actually so?
Research suggests that the hum represents a multitude of other emotions such as anxiety, fatigue, and duress, rather than just happiness.
In this article, we will delve deep into how a cat purrs and what could be the possible reasons behind it.
Key Takeaways

A cat's purring has long been thought to indicate contentment, but research suggests that the sound may also indicate a range of emotions, such as anxiety, fatigue or stress.
Cats purr to communicate with others and to soothe themselves.
The purring sound is made when a cat's laryngeal muscles vibrate as the animal inhales and exhales.
The frequencies of a cat's purr can improve and enhance bone density, and promote tissue regeneration.
Cats may purr for a variety of reasons, including hunger, pleasure, pain or fear.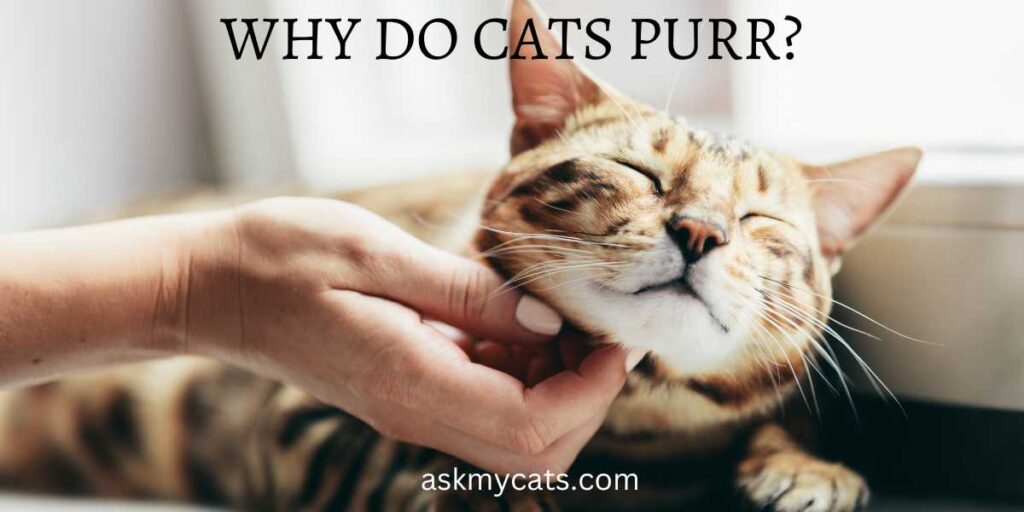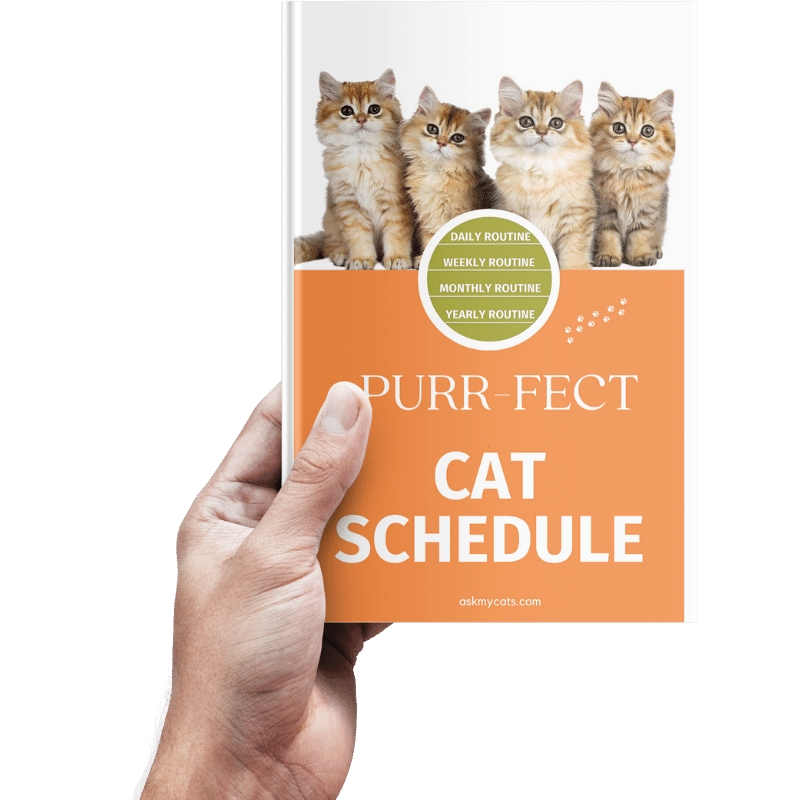 Discover the Secrets to a Happy Cat!
Discover the secrets to creating a happy and healthy daily routine for your feline friend. From playtime to mealtime, sleep to grooming, our expert guide will show you how to make every day a purrfect day for your cat.
Give Your Cat the Perfect Day – Get the Ebook!
What Does It Mean When A Cat Purrs?
A cat's purring is most noticeable when she is being petted or stroked by her owner or even when nursing her younger one.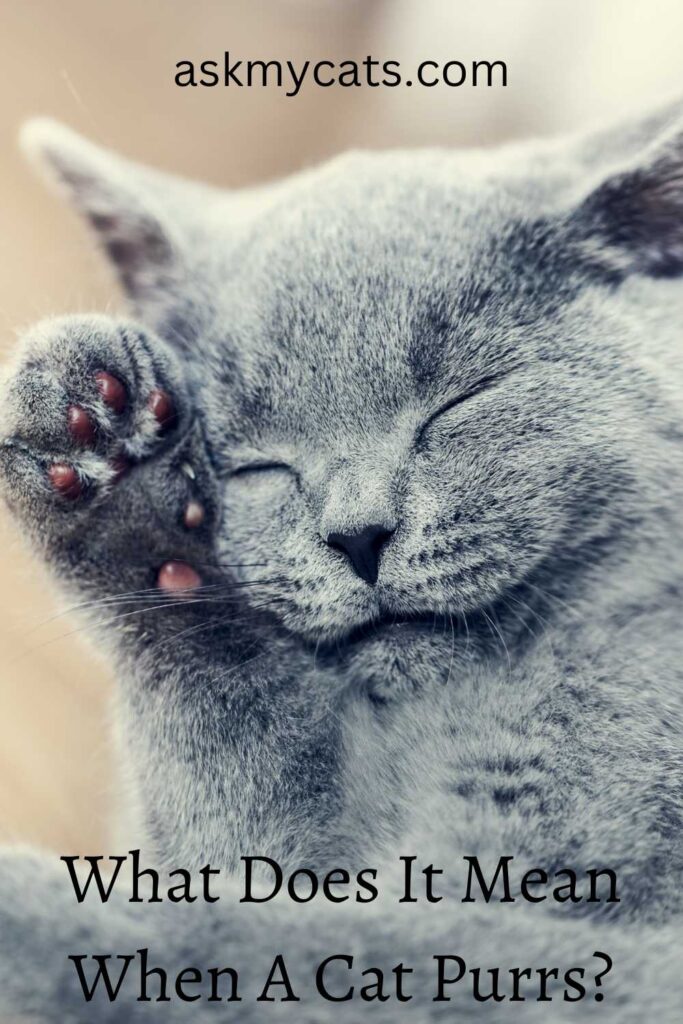 Thus, naturally, it is assumed that a cat's purring is an expression of her joy and satisfaction. But, in actuality, a cat also purrs in times of stress or trepidation such as during an injury or a visit to the vet.
In ancient times, it was believed that a distinction could be made between two types of cats – those who purr and those who don't.
According to Wired " Early 19th century taxonomists thought cats could either purr or roar, and split the family Felidae along these lines—"purrers' (subfamily Felinae) and 'roarers' (subfamily Pantherinae)."

Wired
A cat purrs to communicate with her close ones and it is generally a sign of positive social situations: grooming, nursing, petting, etc. It is also a reflection of self-soothing behaviors. A cat's purr is said to have healing properties.
Research conducted by ' The Journal Of The Acoustic Society Of America' advocates that the vibrational frequencies of a cat's purring can improve and enhance bone density.

" Purr frequencies correspond to vibrational/electrical frequencies used in treatment for bone growth/fractures, pain, edema, muscle growth/strain, joint flexibility, dyspnea, and wounds. Domestic cats, servals, ocelots, and pumas produce fundamental, dominant, or strong frequencies at exactly 25 Hz and 50 Hz, the two low frequencies that best promote bone growth/fracture healing"

The Journal Of The Acoustic Society Of America
Cats purr at rhythmic frequencies between 25Hz and 150Hz. They do this during both inhalation and exhalation.
Frequencies ranging from 20Hz – 150Hz are believed to promote bone growth and those between 25-100Hz correspond with healing frequencies used in therapies for humans.
Domestic cats purr at 26 Hz which promotes tissue regeneration.
Some vets and cat owners have observed cats lying next to each other and purring at the injured one. This phenomenon is called pet therapy.
Thus, a cat's purring has a plethora of different connotations and cannot be associated with a single emotion. As Tony Buffington, a cat expert and veterinarian at Ohio University rightly says
Interesting Read: Why Does My Cat Lay On Me And Purr?
How Do Cats Purr?
Purring is a unique feature exclusive to domestic cats. It is seen in a few species of the Felidae family, however, the Patherinae subfamily members do not demonstrate this vocal characteristic.
Kittens begin to purr when they are a few weeks old. Vets suggest that it acts as a mechanism for them to interact with their mothers.
Earlier, it was believed that purring was a result of the blood surging through the inferior vena cava or produced by a separate voice box.
However, recent research advocates that the internal laryngeal muscles are the probable source. This is proven by the fact that there is an absence of purring in cats with laryngeal paralysis.
Research suggests that the vocal cords in a cat's throat vibrate due to the muscles present and as the cat inhales and exhales, the air hit these vibrating muscles, emanating the purring sound.
The Library Of Congress explains it as follows "The laryngeal muscles are responsible for the opening and closing of the glottis (space between the vocal cords), which results in a separation of the vocal cords, and thus the purring sound."

The Library of Congress
Must Read: Cat Purring Effect On Humans: The Power of Cat Purring
Various Possible Reasons Behind Cat Purring
As we have already established in this article, cats purr for many different reasons. Here we have prepared a list of some of them:
1. Your Cat is happy
The most common reason behind your cat's purring could be that she is happy.
A cat can be seen purring when she is being petted or stroked by her owner. Cats also associate it with positive interactions and experiences.
2. As a means of communication
Kittens start communicating with their mothers and siblings through purring when they are only a couple of days old.
Kittens are born deaf and blind, therefore purring guides them through their nursing.
3. Stress
In addition to happiness, a cat also purrs when she is feeling stressed or anxious like on a visit to the veterinarian. If your cat is indeed stressed, then the healing frequencies of her purrs can be an effective way to self-soothe and calm down.
You will usually be able to make out if your cat is exhibiting stressful purrs because those are higher in pitch and will be accompanied by the blaring of her canines.
4. Healing
The low-frequency purrs can help to relieve pain and ease stress, especially when a cat is in labor. A cat's purr also stimulates bone growth and tissue regeneration in humans.
5. As a Greeting
Your cat might greet another cat with a purr to let it be known that she is approachable and friendly and not a threat.
Interesting Read: Why Does My Cat Purr And Bite Me?
6. To Communicate with you
Purring can be a way for cats to communicate with their caregivers, like if they want food. This attention-craving purring tends to be more high-pitched and urgent than the others.
"According to researchers, humans are more likely to react to this type of urgent, solicitation purr.

A 2009 study conducted playbacks of purrs from 10 cats recorded in both solicitation contexts with cries accompanying the purrs and in non-solicitation contexts. The 50 human participants regarded the solicitation purrs as more urgent and less pleasant."

Elsevier
Some of the Interesting reads regarding cat purring:
Frequently Asked Questions
Do all cats purr?
No, purring is only found in domestic and some species of wild cats. Cats that don't purr, roar, and those that can't roar, purr.
This is because, in roaring cats, there is a small bone inside the vocal cords that is a flexible ligament.
This stretchable ligament allows big cats to make a deep sound but in domestic cats, the flexibility of the ligament is replaced with a hardened bone. Therefore, all cats cannot purr.
Can cat purring heal humans?
There are several studies that suggest that the frequencies of a cat's purr are similar to the low vibrations that are used for human healing meditations. They are believed to facilitate tissue regeneration, bone stimulation, and the alleviation of stress.
Final Thoughts
A kitten's purring is a wonderful, healing rasp that is more often than not, associated with feelings of joy and satisfaction.
However, I encourage you to be mindful of the kind of context in which your kitten purrs, as it can have different connotations.
If you're ever feeling down, you can let yourself be comforted by the soothing aura of your cat's purrs.
Interesting Read: Why Does My Cat Drool When He Purrs?
References