Imagine yourself cuddling with your lovely kitten. You are petting her, she purrs softly, and everything is warm and bright. But then your kitty turns around and bites you ferociously, shattering the fuzzy dream.
Do you feel betrayed by your kitten's bite or perhaps puzzled as to what you did wrong?
Well, you can rest easy, as this is completely normal kitten behavior.
Cat veterans call this phenomenon an overstimulation of sorts. The incessant stroking can, at times, make cats uncomfortable. An alternate hypothesis is that stroking produces electric static to which cats react adversely.
To know more about cat bites, continue with the rest of this article.
Key Takeaways

Cats may purr and bite at the same time due to overstimulation, pain, a warning, or love
Cats may purr as a warning or to establish territory, and they may bite due to petting aggression, overstimulation, pain, or love
To determine the reason for a cat's purring or biting behavior, observe the context, consider the cat's body language, reflect on your own actions, and consult with a professional if necessary
Tips for managing a cat's purring and biting behavior include providing stimulation, avoiding rough play, using positive reinforcement, training the cat to accept handling, and consulting with a professional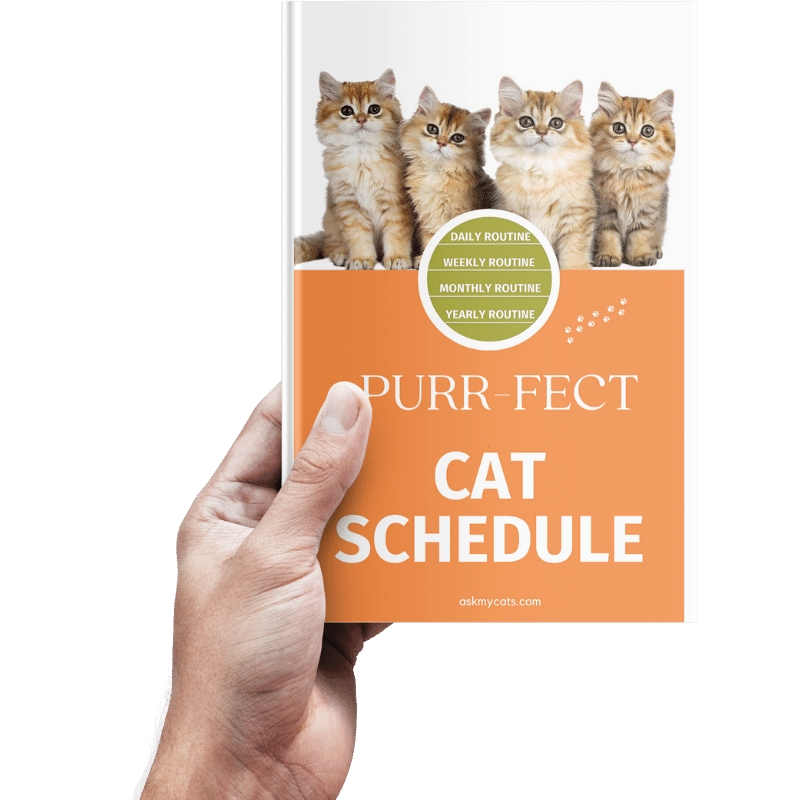 Discover the Secrets to a Happy Cat!
Discover the secrets to creating a happy and healthy daily routine for your feline friend. From playtime to mealtime, sleep to grooming, our expert guide will show you how to make every day a purrfect day for your cat.
Give Your Cat the Perfect Day – Get the Ebook!
Why Does My Cat Bite Me While Purring?
Cats are somewhat unpredictable creatures, there's no telling why they do certain things.
Purring is typically seen as a happy gesture through which cats express their affection towards their owners. However, if your cat spontaneously bites you in the middle of purring, you'll definitely be confused about why your cat is giving off mixed signals.
Let's explore some of the reasons why your cat bites you while purring: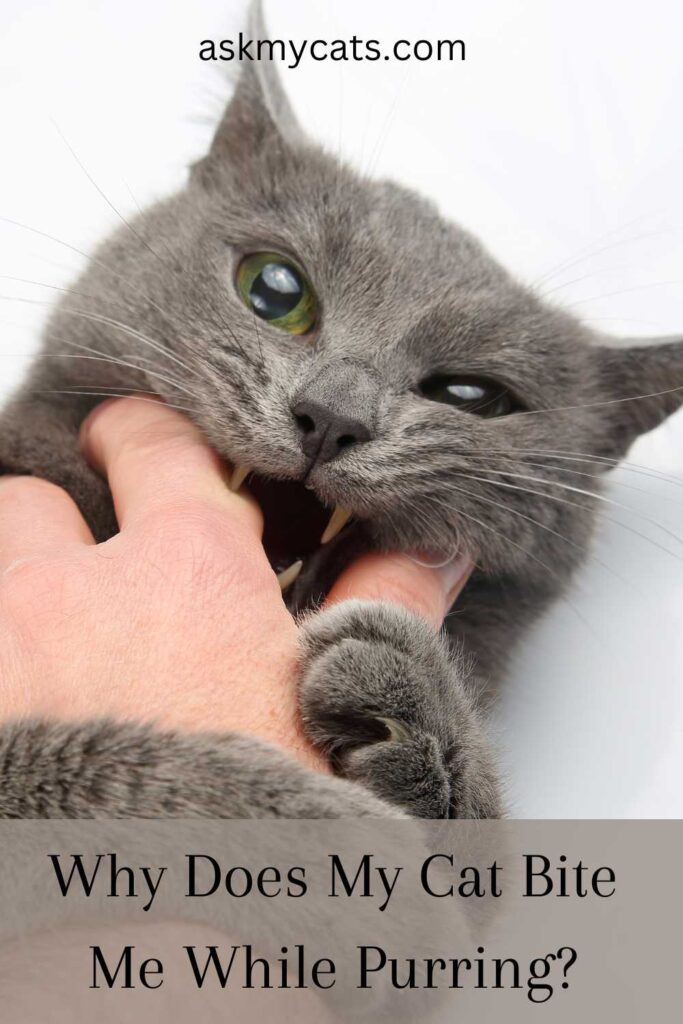 1. Purring as a warning
Although more often than not, purring is a joyous rasp, it is not always the case. Purring can also be used to communicate feelings of sadness, stress, fear, or even a warning.
Cats purr when they want to define their territory. Just like dogs growl when someone new comes to visit, cats also purr as a warning and to establish claim over their possessions.
As a cat owner, it is vital that you learn to tune into the different kinds of purrs that your furball exhibits.
2. Petting Aggression
The most widespread theory on why cats bite while purring is petting aggression. Essentially, cats can get overstimulated from the constant stroking and petting and turn on you suddenly. Cats do enjoy the affection you shower on them, but only to an extent.
All cats will get overstimulated, but neurotic cats have a lower threshold of tolerance.
Certain signs that will tell you your cat's limit for petting are whether her ears are turning flat, if she is swinging her tail ,or if her skin is tingling.
According to the DiscerningCat, you should pet your kitten for short spans of time, and you can use calming products to aid your cat in feeling less stressed.
3. Pain
Cat furs can entrap electric energy. When you stroke them for too long, it generates a static current which of course startles them and causes pain.
This is especially true for elder cats, you could very easily rub on a sore joint or a tender place. This will result in them lashing out and biting at you to stop.
4. Love Bite
Cats often give each other small bites to show their love and if your cat loves you, then you will receive the same treatment. They aren't particularly hard bites, but just gentle nips.
This will happen a lot during playtime. It is your kitten's way of expressing her adoration. Cat toys are a great way of distracting her from biting you.
You should train your cat from a young age to discourage this biting behavior.
Interesting Read: Why Does My Cat Purr When He Sees Me?
How to Determine the Reason for Your Cat's Purring or Biting
| Action | Description |
| --- | --- |
| Observe the context | Pay attention to the circumstances in which your cat is purring or biting. |
| Consider your cat's body language | Look for cues in your cat's body language, such as whether they are relaxed or tense. |
| Reflect on your own behavior | Think about whether your own actions may be influencing your cat's behavior. |
| Consult with a veterinarian or cat behaviorist | If you are unsure of the reason for your cat's behavior, it may be helpful to seek the advice of a professional. |
How to Determine the Reason for Your Cat's Purring or Biting
Is It Normal For A Cat To Bite While Purring
Yes, it is not unconventional for cats to bite while they are purring. Albeit unusual, biting is a way for cats to communicate with their human parents. As they can't talk, this is how they express their feelings to you.
A happy cat will bite her siblings or mother to show her affection, and she will also bite you to do the same.
Your cat might also be biting you to catch your attention. If your cat is unwell, she will do this to communicate to you that something is wrong.
It is best that you start training your furry friend against biting from a young age, Otherwise, this behavior will exacerbate as they grow older and you will end up with scarlet wounds all over your skin.
However, if your cat is biting excessively to an extent that seems aberrant, you should immediately take her to a vet for medical consultation. It is possible that your cat might be suffering from a dental malady.
Must Read: Why Does My Cat Bite Me When I Sleep?
What Should You Do If Your Cat Bites While Purring?
If your cat bites you really hard, then you should immediately head over to the sink and wash the wound with water and soap. Afterward, get some healing ointment for the pain and bandage the inflicted area.
You should also call the doctor so that the injury doesn't get infected, as cat bites are a bit similar to bacterial infections.
"Cats have especially small teeth and that causes an injection of bacteria deep into the skin," explains Dr. Kate KuKanich, an associate professor of small-animal internal medicine at the College of Veterinary Medicine at Kansas State University in Kansas

Dr. Kate KuKanich
If the bite stings extremely hard, then you should seek medical care as soon as possible.
Gentle nips don't require much attention.
Check out this video for more practical information
Interesting Read: Why Does My Cat Bite My Face?
How To Stop Your Cat From Biting You While Purring?
Cat bites can sometimes be brutal and result in chronic pain and infections. It is necessary that you teach your furry friend not to bite you, even if it is out of affection.
According to Dr. Cutler, Ph.D., Cat Behaviorist, "Watching your cats' behavior is the best way to avoid a bite. Cats often show signs before biting such as: twitching tails, becoming tense or fidgeting, flattening their ears, and leaning away. Watching your cat carefully and learning their signs is very helpful."
If you observe these signs in your kitten, halt whatever you are doing right away. For example, if you are stroking your cat and see her tensing up, then immediately stop touching her.
1. Counter Conditioning
Through this mechanism, you reward your cat every time she exhibits a behavior that you want to inculcate in her and avoids biting you. You should do this only for short time periods and 2-3 times a day. Bring up the capacity over time.
2. Increase Playtime
If you notice your cat is acting increasingly aggressive, then that could be traced back to stress. You can relieve your cat's anxiety by increasing her playtime.
Physical activity is a great way for releasing some endorphins and increasing happy hormones. This will mellow down your cat's aggressive tendencies and make her more peaceful.
Also check out: Why Does My Cat Bite My Ear?
Tips for Managing a Cat's Purring and Biting Behavior
| Tip | Description |
| --- | --- |
| Provide plenty of stimulation | Make sure your cat has plenty of toys and opportunities for play and exercise. |
| Avoid rough play | Be mindful of how you play with your cat and avoid rough or aggressive play. |
| Use positive reinforcement | Reward your cat with treats or praise for good behavior and ignore or redirect undesirable behavior. |
| Train your cat to accept handling | Gradually acclimate your cat to being handled, especially if they are prone to biting when being touched. |
| Consult with a professional | If your cat's purring and biting behavior is persistent or concerning, consider seeking the advice of a veterinarian or cat behaviorist. |
Tips for Managing a Cat's Purring and Biting Behavior
Benefits Of Seeking Professional Behavior Training
As we are all aware, cats are independent creatures and don't appreciate others telling them what to do. However, professional training can inculcate more adaptive and healthy behaviors in your kitten.
If your kitten only bites you occasionally and that too, only in the form of gentle nips, then you don't necessarily have to invest in professional training.
After all, the primary reason behind a cat biting and purring at the same time is that she is happy. You wouldn't want to curb her joy, right?
However, if you feel that her biting is getting out of hand and is blending into dysfunctional behaviors, then training can be a great help.
Professional aid teaches your kitten the adaptive and healthy way to express her needs and to communicate in a more friendly manner with her cat parent. If you think that this something that will ease your life, then you should definitely invest in it.
Frequently Asked Questions
How do you calm an aggressive cat?
If you have an aggressive cat on your hands, then the most ineffective way to deal with it would be to punish or lash out at them. Instead, you should try giving her some space and disengaging as gently and quietly as possible. Avoid making eye contact with your cat, as that might act as a trigger. Move to some other part of the house, and let your cat follow you. Change your cat's behavior by rewarding positive actions
Is a cat bite very harmful?
No, assuming that your cat is up to date with all her vaccination shots, cat bites are not very harmful. They can be a bit painful at times, and if it draws blood, then you need to wash the wound and apply some healing ointment. But apart from that, they are not too problematic.
Final Thoughts
The bottom line is that cat purring while biting is completely normal behavior and cats often do it when they are happy and to express their love. The gentle nips that they give their owners are also called 'love bites'.
However, overstimulation could also induce your cat to lash at you. These bites are generally harmless and can be treated with a bandage or some healing ointment.
You should start training your cat against biting in its early years.
Some of the Interesting reads regarding cat purring:
References