Are the sweetly raspy sounds of your cat's purrs seeming to be uncannily breathy, throaty, and congested?
You might be gravely puzzled and worried as to why your furry friend does not sound like her usual ferocious self. It is difficult to not be alarmed when your kitten sounds congested.
However, before jumping to conclusions, it is important to accurately identify the reasons behind your cat's congested purrs. Only then can you seek the appropriate treatment.
In this article, we will guide you through the various possible causes of congestion and how might you treat the same in your little furballs.
Key Takeaways

Purring in cats is generally soft, deep, and smooth, and a congested or raspy purr is not normal.
Possible causes of congested purring in cats include:

Laryngeal infections
Respiratory infections
Bacterial infections
Allergies

Most of these causes are not severe and can be treated quickly.
If a cat's purring becomes congested, it is important to take the cat to a vet promptly.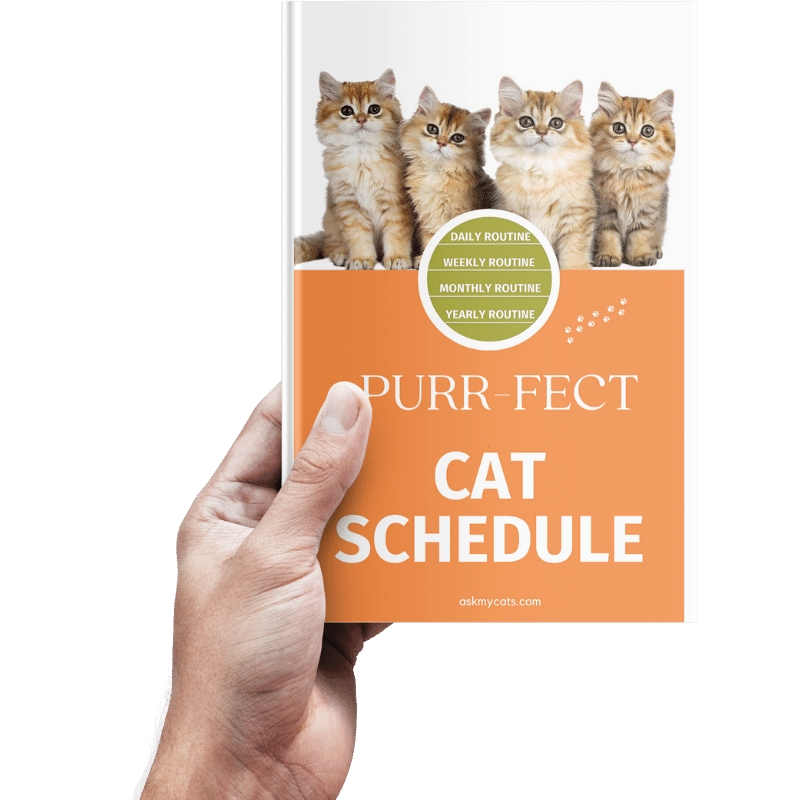 Discover the Secrets to a Happy Cat!
Discover the secrets to creating a happy and healthy daily routine for your feline friend. From playtime to mealtime, sleep to grooming, our expert guide will show you how to make every day a purrfect day for your cat.
Give Your Cat the Perfect Day – Get the Ebook!
Is It Normal For A Cat To Sound Congested?
No, it is not normal for a cat to sound congested. Purring in cats is generally a very soft, deep, and smooth sound. It is not conventional for a purr to be oddly congested or raspy. Although, it is true that different cat breeds purr in different manners.
Big cats like lions and tigers, in fact, hardly purr at all. They roar instead. Others like jaguars and cheetahs are known for their chuffs, a sound often compared to the purrs elicited by domestic cats.
Different cats have their own frequencies, pitches, and modulations of purring. This is similar to how every one of us humans has a uniquely idiosyncratic voice.
Hence, purrs also sound different in different cats. Some purr loudly and at a high pitch, while others do so softly and deeply.
However, in all these different purrs, a congested and gravelly sound is not particularly common or ordinary.
Hence, if your cat is purring in a throaty, hoarse voice then you should promptly take her to a vet before ruling out any medical reasons.
Interesting Read: Differences In Purring Between Cat Breeds
Why Does My Cat Sound Congested While Purring?
There is a multitude of reasons that could cause your kitten's purrs to become congested. Let's explore some of the most probable of them:
1. Laryngeal Infections
The anatomical structure that assists or supplements a cat's purrs is known as the larynx.
According to the Spruce Pets," It appears that the internal laryngeal muscles, which control the opening and closing of the space between the vocal cords (glottis), create the purring sound. Studies have shown that this laryngeal muscle movement is controlled by a unique "neural oscillator" in the cat's brain
The laryngeal muscles determine the clarity and wellness of a cat's purring. Hence, if your cat is sounding congested, then the larynx probably has a big role to play, such as larynx infections caused due to air pollution or more complex disorders.
2. Respiratory Infections
Respiratory infections are common occurrences amongst some cats, especially during the fall. They are caught faster by cats who have a low immune system.
However, most types of colds or infections last for utmost a week and are quick to heal. Respiratory infections are majorly caused by viruses and pathogens.
3. Bacterial Infections
Fungal or bacterial infections are less common relative to respiratory ones, but cannot be ruled out entirely.
They can be distinguished from the incidence of common colds as fungal ailments are also accompanied by a bilateral discharge, similar to puss.
According to Raise a Cat, "Fungal infections, like environmental cryptococcus, are often asymmetric. The discharge typically comes from one side of the nose, and it could be pus-like or bloody."
4. Allergy
Cat allergies could be triggered off by an 'n' number of items or stimuli in the environment. This could be a new plant, fresh paint, perfume, shampoo, etc.
These allergies can induce symptoms like cough, fever, itching, and the like. A chronic cough can affect the larynx muscles and vocal cords, resulting in your cat sounding congested.
Interesting Read: Why Do Cat's Noses Get Wet When They Purr?
Should I Worry If My Cat Sounds Congested?
Since congested purring isn't a common occurrence and does not happen too often, it could be a cause for concern.
Cat purring is habitually a very smooth, soft, and deep sound. It rarely ever is throaty or hoarse.
As explained in detail above, a congested throat occurs due to reasons of respiratory, fungal, and bacterial infections or allergies and the induction of foreign bodies.
However, most of these maladies are not severe in nature and can be treated easily and quickly. Hence, you do not need to worry excessively if your cat's purring is congested.
You must ensure that you take your fur baby to a vet as soon as you suspect any medical ailment. The veterinarian will be able to guide you through proper treatment procedures.
Must Read: Why Do Cats Purr? The Science of Cat Purring
Symptoms to Look for in Your Cat
| Symptom | Description |
| --- | --- |
| Sneezing | Uncontrolled outbursts of air through the nose |
| Nasal discharge | Mucus or other substances coming from the nose |
| Coughing | A sudden expulsion of air from the lungs |
| Wheezing | A high-pitched whistling sound when breathing |
| Loss of appetite | Refusal to eat or decreased food intake |
Symptoms to Look for in Your Cat
How To Treat A Kitten With Congested Purring?
With this article, it must be clear that congested purring doesn't occur normally and can be caused by various reasons such as the obstruction of a foreign object in the trachea, asthma, or other respiratory ailments.
Loud breathing in cats is also related to cancer, COPD, etc.
It is pivotal that you take your cat to a vet for treatment of congested purring. The vet will first conduct a physical examination which can also include blood, and urine tests.
Upon the identification of the malady, the treatment will be carried out. This could include surgery for the ejection of the foreign object stuck in the trachea, medication, or a combination of the two.
In the convalescing period, you will have to take care of your cat at home to augment her recovery. You can also take certain steps to prevent congested purring in the future:
Keep the air in your home warm and humid. This dilates the air so that the air pathways do not have any undue resistance. You can also try purchasing a humidifier or an air purifier.
Avoid any strenuous or rigorous exercises that can affect your cat's health adversely or do have any untreatable implications.
Ensure that your home does not have any undue dust particles or pathogens. Such irritants can cause allergies or even trigger asthmatic attacks.
Be vigilant about your cat's health. Be on the lookout for early signs and symptoms of the disease. When a cat is unwell, one of the first indications are her sleeping and feeding patterns.
Monitor your cat's respiratory rates regularly to ensure that they are normal and stable.
Interesting Read: Why Does My Cat Purr So Loudly?
When to Consult Your Veterinarian
| Situation | Description |
| --- | --- |
| Persistent congested purring | If your cat's purring sounds congested for more than a few days |
| Other symptoms present | If your cat is also showing other symptoms such as those listed above |
| Difficulty breathing | If your cat is struggling to breathe or seems to be in distress |
| Weakness or lethargy | If your cat is more inactive or weaker than usual |
When to Consult Your Veterinarian
Interesting Read: Do Cats Purr When Stressed?
Frequently Asked Questions
Does congested purring result out of severe diseases?
Most often, congested purring is caused by ailments like the common cold, fungal infections, etc. which have fairly easy and smooth treatments. However, sometimes, it can also be caused by severe diseases like cancer, COPD, fluid in the lungs, etc. You must take your cat to a vet to determine the root of the issue.
How can congested breathing be treated at home?
It is highly recommended that the cat be treated by a vet. However, you can use some tricks at home to supplement the process of healing. You can use a humidifier at home to keep the air pure and warm. You can also use a saline nasal spray to dissolve or eliminate any mucus that might be stuck in your cat's nostrils. 
Final Thoughts
In a nutshell, congestion is not normal in cats. It's an indication that your cat is not feeling her best and is ill.
Congested purring usually occurs due to respiratory, fungal, or laryngeal infections. It could also result due to allergies, asthma, or the obstruction of foreign objects in the trachea. You should take your cat to a vet immediately for determining the true cause.
Most of these ailments can be treated without difficulty, but at times, heavy breathing is also indicative of more severe maladies like cancer. You must be vigilant about any signs or symptoms indicating that your cat is not feeling well.
Some of the Interesting reads regarding cat purring:
References