Olding isn't kind to anyone, least of all cats. The inevitable decadence and deterioration are relentless in their pursuit and sooner or later, the palpable pantomime of aging will catch up to your furry friend and sink in its claws.
As it is with us, getting older can be a challenging transition for cats. They might experience disorientation, confusion, lethargy, and a number of other cognitive deficits.
In the face of all these trials and tribulations, you might find yourself wondering about your cat's purring. Will this sweet, silvery rasp turn brittle and hoarse? Will your senior cat purr more or less as she enters her golden years?
Prepare for all your questions to be answered!
In this article, we will delve deep into how olding affects a cat's purrs and what you can do to promote healthy purring behavior in your fur baby. 
Key Takeaways

Senior cats tend to purr more than younger ones, as purring helps them self-soothe and alleviate pain or uneasiness.
However, not all senior cats purr more with age, as lethargy and fatigue might reduce their emotional intensity.
Purring behavior also changes with respect to the environment and causal factors, and every cat is different in terms of how and why it purrs.
The intensity of a cat's purr can tend to reduce with age due to the energy required to produce it.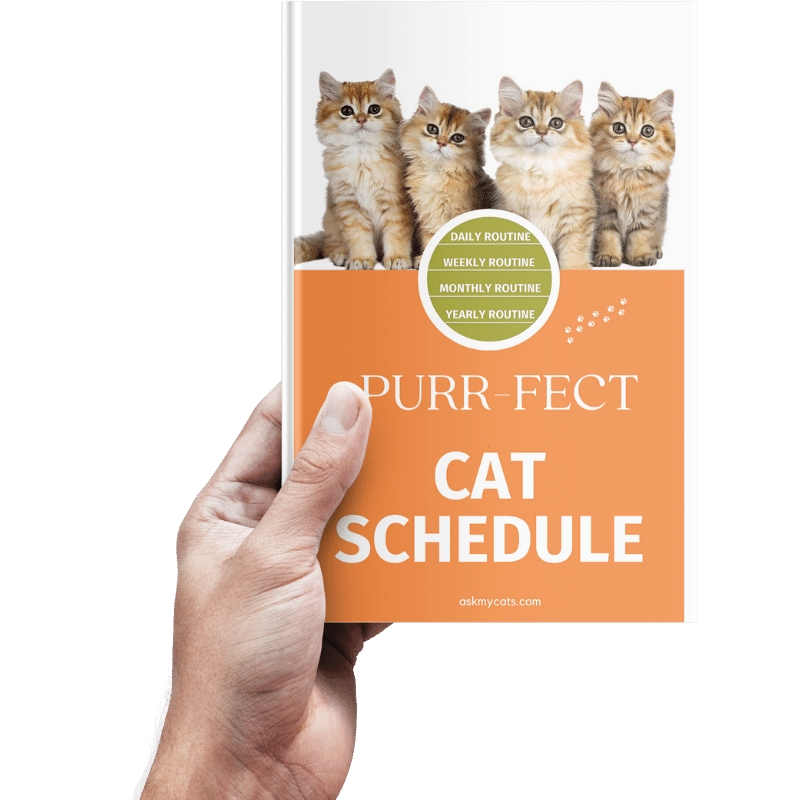 Discover the Secrets to a Happy Cat!
Discover the secrets to creating a happy and healthy daily routine for your feline friend. From playtime to mealtime, sleep to grooming, our expert guide will show you how to make every day a purrfect day for your cat.
Give Your Cat the Perfect Day – Get the Ebook!
Do Cats Purr More As They Get Older?
Purring is a usually high-pitched rasp elicited by cats as a means of expressing their feelings. A cat purrs to communicate with her close ones and it is generally a sign of positive social situations: grooming, nursing, petting, etc.
Earlier, it was believed that purring was a result of the blood surging through the inferior vena cava or produced by a separate voice box.
However, recent research advocates that the internal laryngeal muscles are the probable source. 
This is proven by the fact that there is an absence of purring in cats with laryngeal paralysis.
Research suggests that the vocal cords in a cat's throat vibrate due to the muscles present and as the cat inhales and exhales, the air hit these vibrating muscles, emanating the purring sound.
Kittens learn to purr when they are just a mere few days old to catch their mother's attention for feeding purposes and to communicate with their siblings. This vocal feature is then carried well into adulthood.
Each cat has its own idiosyncratic way of purring. Some purr constantly, while others purr with rarity. Some are high-pitched, some low and guttural, while others are just a rumble. Purring can also change with age.
Generally, cats tend to purr more as they grow older. This is because purring is believed to help with self-soothing behavior and can help cats to calm themselves down or alleviate the pain or uneasiness in their bodies.
However, not all senior cats purr more with age.
Cats purr to express all spectrums of emotions, both positive and negative such as joy, excitement, satisfaction or anger, frustration, fear, and even anxiety. The most common emotions behind purring are those of satisfaction and happiness. 
As cats grow older, they will naturally experience lethargy and fatigue. This might reduce the emotional intensity required for purring.
Hence, even though, most senior cats tend to purr more, some of them might start purring less. 
Interesting Read: Why Do Cats Purr When They Are Dying?
Does A Cat's Purr Change With Age?
Yes, a cat's purr does change with age. Purring is a mechanism for adult cats to express their emotions and communicate with their human caregivers.
Purring is an idiosyncratic vocal feature. Not all cats purr in exactly the same way for the exact same reasons. Every cat is different in terms of how and why it purrs. 
Purring also changes with respect to the environment and physiology of the cat. According to CatFriendly,
Hence, purring behavior changes with respect to the environment and causal factors.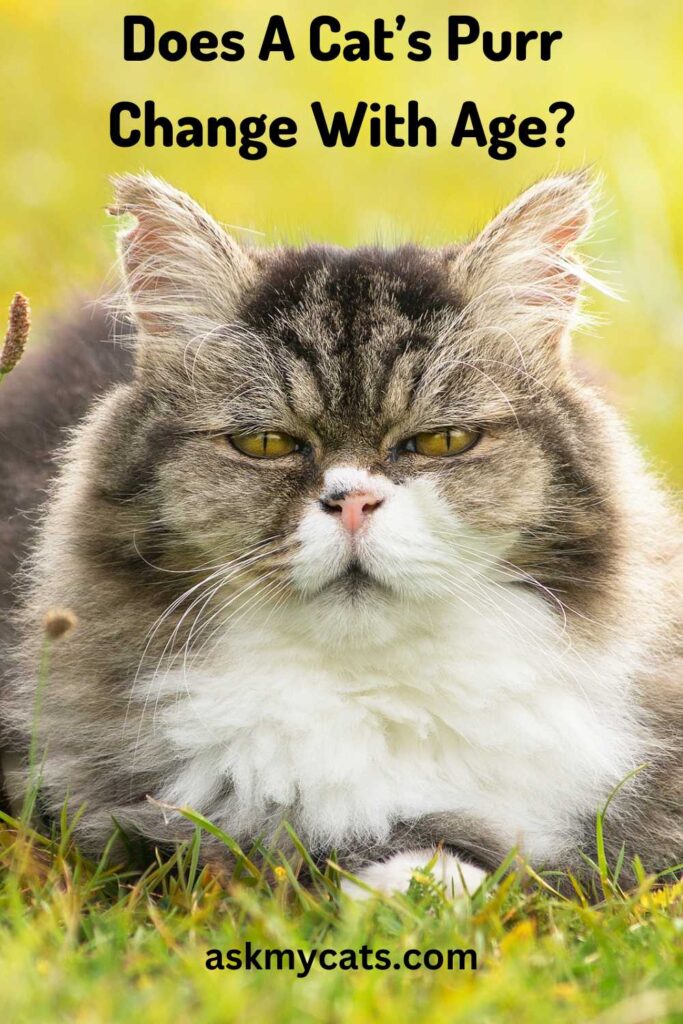 Purring also changes with the changing physiology of the cat. This anatomy often changes due to a cat's age. Senior cats can purr with more frequency than those younger kittens or even adult cats.
This is because purring helps with self-soothing behavior and also helps the senior cat communicate with their human parent that they are in pain or not feeling well.
Purring has healing properties and it helps the cat alleviate any malady or disorientation that it might be feeling. 
The intensity of a cat's purr can tend to reduce with age. Loud purring requires strength and energy.
Older cats often feel lethargic and fatigued, their purrs tend to be less zestful and of low intensity. 
Thus, a cat's purr does tend to change with age.
Must Read: Do Cats Purr When They Are Sick Or In Pain?
Reasons For Changes In Purring Behavior
Age hardly ever hits everyone the same way. Every cat responds to the tirade of olding in a different manner than the other.
Some might take it in stride and adjust easily to the challenges of their dwindling health, while other will face difficulties in adapting to the various predicaments.
While age influences a lot of aspects of a cat's behavior and her health, let's discuss why it affects purring behavior in particular:
1. Self-soothing
As cats age, their joints and bones tend to become stiff and unyielding. They might experience some ligament or joint pain every now and then. Now, purring is believed to be a great source of alleviating muscle pain and stress.
Research conducted by ' The Journal Of The Acoustic Society Of America' advocates that the vibrational frequencies of a cat's purring can improve and enhance bone density.
2. Low hearing
Hearing impairments might cause your senior cat to hear less than she normally would. In such cases, cats purr more and with louder intensity than usual in order to hear themselves better.
Interesting Read: Why Is My Cat Purring So Much Constantly?
3. Disorientation
As per All About Purr's article 'Elderly cats suffering from mental confusion, or cognitive dysfunction, may meow if they become disoriented—a frequent symptom of this feline version of Alzheimer's Disease'.
It is the same with purring. Mental confusion causes cats to purr more than usual.
Senior Cat Purring: Pros and Cons
| Pros | Cons |
| --- | --- |
| Sign of contentment | Can mask signs of pain |
| Can help lower stress levels | Can be a sign of illness |
| Can help with healing | Can be annoying to owners |
| Provides a soothing presence | Can keep owners up at night |
Interesting Read: Do Cats Purr When Stressed?
Tips For Maintaining and Promoting Healthy Purring Behavior
Now, if you have a senior cat on your hands, you might be noticing some never-seen-before peculiarities in her. These could be disorientation, confusion, fatigue, and strange purring behavior.
Your cat might be purring more or less depending on her health and inherent disposition. Both, temperate and excessive vocalization can pose certain problems. 
Hence, here are some tips to maintain healthy purring in your senior cat:
1. Bed
By the time your cat creeps up to her golden years, she will be an Olympic napper, easily dozing off for 20 hours a day. In such scenarios, comfy and soft beds are a must.
You can either purchase cat beds from a pet store or DIY with fuzzy blankets and cardboard boxes. Cats prefer being warm so ensure that your cat's bed is in a sunny space with plenty of natural light.
2. Nightlight
Older cats often experience some deterioration in vision and can find it tricky to maneuver around at night.
You can switch on a small nightlight in the dark so that your cat can move around easily without bumping into hard, pointy furniture.
3. Playtime
Though your fur baby will likely not feel so high-strung and perky in her latter years, it is still pivotal to include playtime and light exercise in her daily routine.
Absolute inertia will cause her muscles to become stiff and unyielding. Regular playtime will help keep your cat active and energetic and will also alleviate her mental health.
This will undeniably contribute to healthy purring and vocalization. 
4. Veterinary Care
Keeping up with regular health check-ups and veterinary visits is very important for your cat's health.
A lot of maladies go undetected for a very long time and reach a stage where even the most expert advice cannot undo the damage.
5. Ramps
Your senior cat might be facing some trouble reaching her favorite high spots and perches. Get her some ramps so she can sit up on top of her most preferred seats. That will get her purrin'!
6. Love & Affection
Cats have a reputation for being stoic and snobbish. But, at the end of the day, they have tender feelings and need care and affection just as much as the rest of us do. Don't be stingy with your fur baby!
Shower some sweet nothings, gentle pettings, and warm snuggles. 
Must Read: Cat Purring Effect On Humans
Frequently Asked Questions
Do all cats purr?
No, purring is only found in domestic and some species of wild cats. Cats that don't purr, roar, and those that can't roar, purr. This is because, in roaring cats, there is a small bone inside the vocal cords that is a flexible ligament. This stretchable ligament allows big cats to make a deep sound but in domestic cats, the flexibility of the ligament is replaced with a hardened bone. Therefore, all cats cannot purr.
Can Cat purring heal humans?
There are several studies that suggest that the frequencies of a cat's purr are similar to the low vibrations that are used for human healing meditations. They are believed to facilitate tissue regeneration, bone stimulation, and the alleviation of stress.
Final Thoughts
Age is an inexorable force and can be the harbinger of various challenges and dilemmas for some. A lot of things change when a cat reaches her golden years. One of them being her purring behavior.
In general, older cats tend to purr more to enhance self-soothing, or due to the onset of cognitive deficits and mental disorientation.
However, not all cats will experience changes in their purring behavior. You should try your best to promote healthy purring in your senior cat by ensuring a comfy, warm bed, quality playtime, and plenty of love and affection.
Interesting Read: Is Purring Involuntary In Cats?
References