No cat parent imagines that one day they may have to decide to end their own cat's life. But sadly, it is a reality for many cat parents.
One of the most common grievances that add to the feelings of guilt and grief is the regret that comes with putting your cat to sleep too soon or too late.
Euthanasia is the biggest decision you may have to make in your cat's lifetime. So, it is important to know whether euthanasia is the only remaining option, or if is there something else you could do to ease the suffering of your cat.
In this article, we will go through a checklist of factors to consider before jumping to the conclusion of euthanizing your cat.
Key Takeaways

Euthanasia is the decision to end a cat's life when its quality of life has deteriorated so much that staying alive is a daily painful struggle
Two major reasons why the quality of life of a cat may get affected are terminal or incurable illness and aging
Before making a decision to euthanize a cat, consult a veterinarian and experienced friends and family members
Use a quality of life chart to determine if euthanasia is the best option for your cat
Factors to consider when using a quality-of-life chart include hunger, hydration, hygiene, happiness, and mobility.
Other factors to consider when deciding to euthanize a cat include the cat's response to treatment, its ability to engage in enjoyable activities, and its overall demeanor.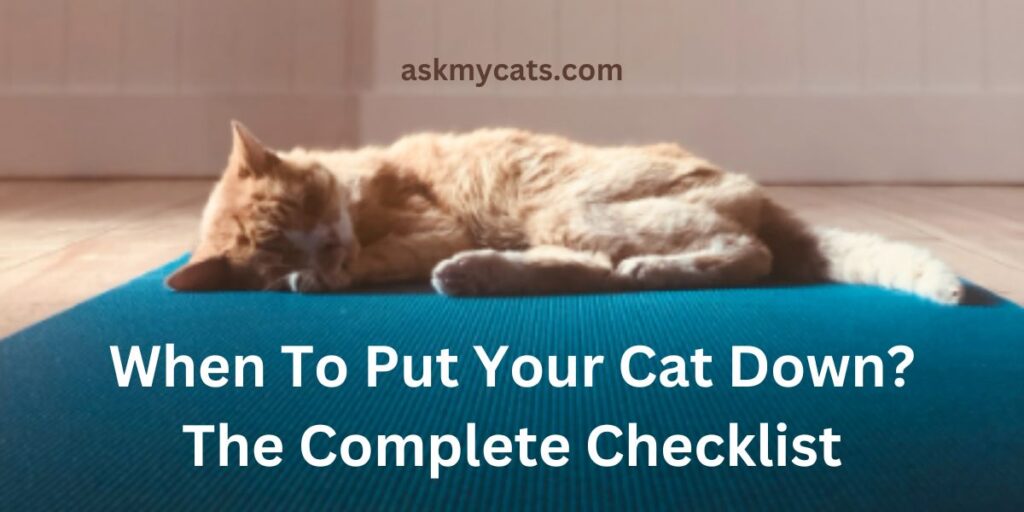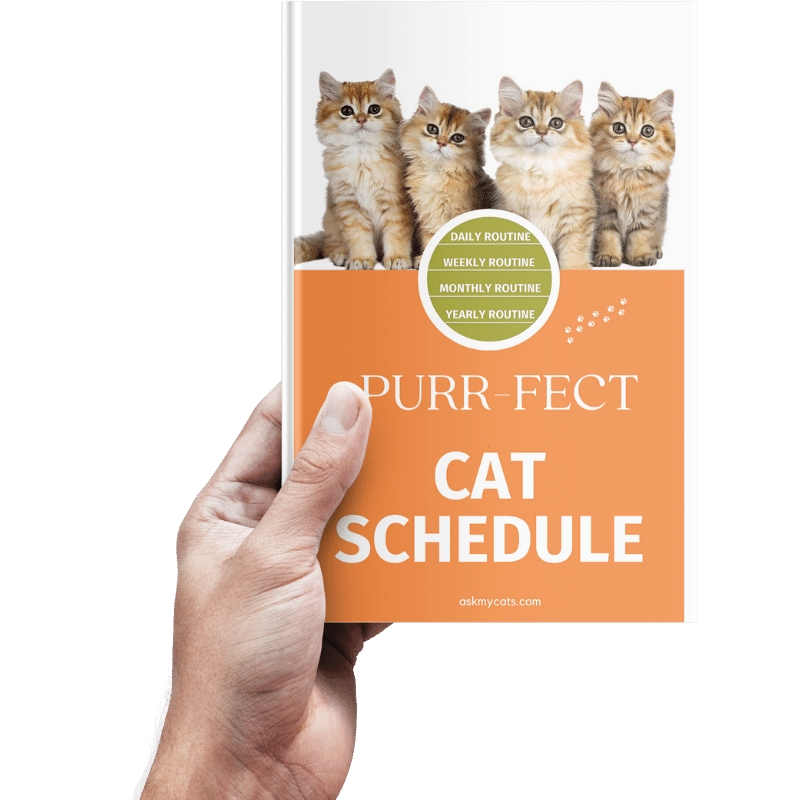 Discover the Secrets to a Happy Cat!
Discover the secrets to creating a happy and healthy daily routine for your feline friend. From playtime to mealtime, sleep to grooming, our expert guide will show you how to make every day a purrfect day for your cat.
Give Your Cat the Perfect Day – Get the Ebook!
How Do I Know When It's Time To Euthanize My Cat?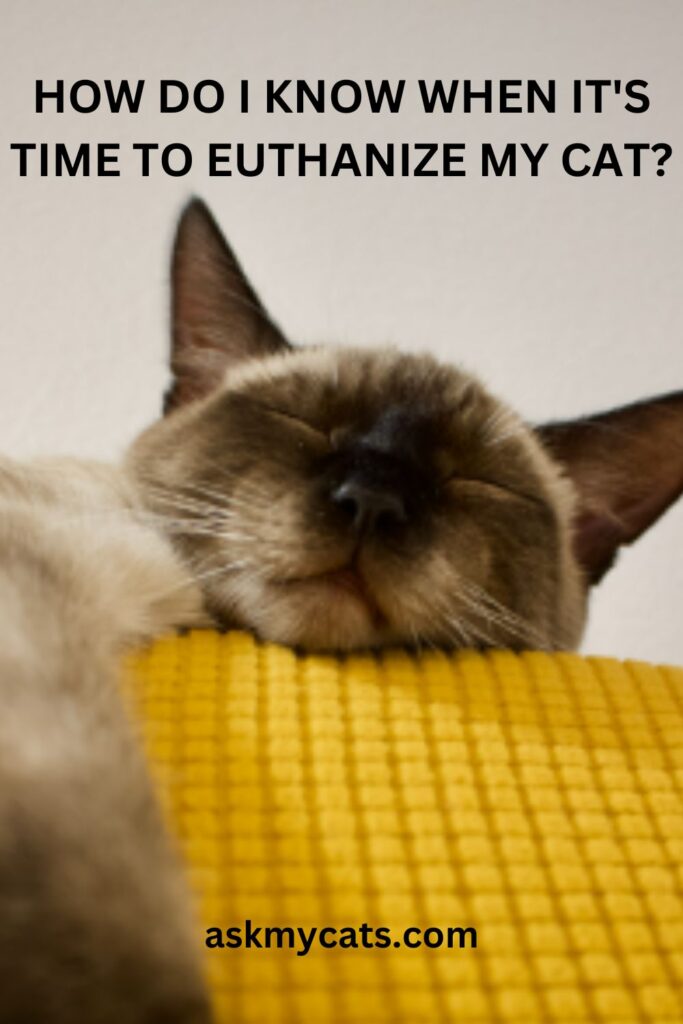 You will know that it is time to euthanize your cat when its quality of life has deteriorated so much that staying alive is a daily painful struggle for it.
There are two major reasons why the quality of life of a cat may get affected so drastically:
1 – Terminal Or Incurable Illness
If your cat is suffering from a terminal illness such as aggressive cancer that has progressed to a stage where it is now incurable, you may have to consider euthanizing your cat.
If there is no treatment or cure available, then making your cat live through the suffering of the illness until it finally succumbs to it, will be inhumane and irresponsible.
As the pet owner of your cat, it becomes a part of your pet care responsibilities to make end-of-life decisions for your cat in such cases where the pain your cat suffers while living is immense.
2 – Aging
Aging may be kind to some cats, but not so much to others. Some cats face no other problems apart from common aging signs such as lethargy, slow movements, and fatigue.
Some cats, however, experience aggressive and painful signs of aging. This may include gastrointestinal issues and sensitivity to foods and surroundings that may cause problems in internal organs.
In such a case as well, you may have to take a call to euthanize your cat.
However, be very careful when making the decision to euthanasia for a cat based on its age. Consult a vet and a couple of experienced friends and family members before taking a call.
This is because several aging-related problems like arthritis or feline diabetes can be managed effectively with timely treatment and lifestyle changes.
Must Read: How To Do Cat Euthanasia Yourself At Home?
Cat Quality Of Life Chart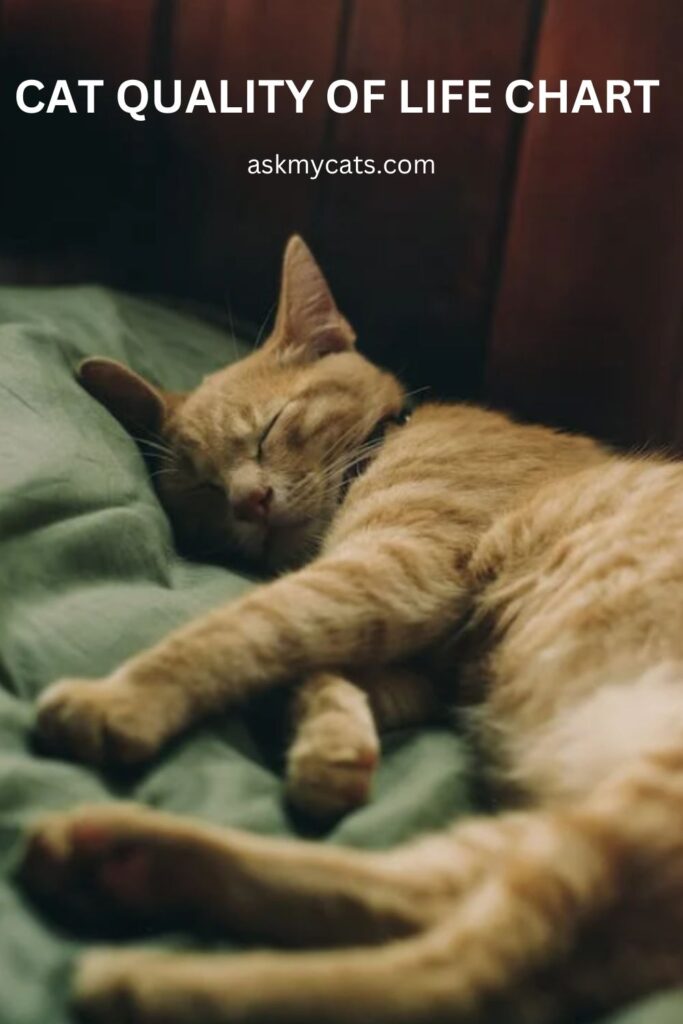 If you are very unsure about whether or not the quality of life of your cat demands an extreme step such as euthanasia, you can refer to a quality-of-life chart that asks important questions and allows you to have a clearer picture of what decision has to be made.
A sample set of questions to ask yourself before deciding on the euthanasia of your cat is given below:
1 – Hunger
Is your cat eating enough nutritious food?
Does coaxing and feeding by hand help?
Are you able to maintain a feeding tube if needed?
2 – Hydration
Is your cat severely dehydrated?
Is your cat getting enough water (10 mL per pound per day) through its beverage and food?
If your cat is unable to drink or eat anything, are you willing to provide subcutaneous fluids if needed?
Interesting Read: Did I Put My Cat To Sleep Too Soon?
3 – Hygiene
Can you keep your cat clean, hygienic, and free from parasites?
Is your cat free from oral cancer?
Is your cat able to pass urine and defecate?
Are you able to check your cat for soiling after elimination and keep it clean?
Can you provide comfortable and soft bedding and keep all wounds clean?
4 – Happiness
Is your cat responsive to stimuli? (family members, toys, littermates, etc.)
Does your cat show any behavioral issues such as anxiety, depression, fears, or phobias?
Does your cat seem joyous and content in its surroundings?
5 – Mobility
Is your cat paralyzed completely or partially?
Is your cat physically disabled in any way?
Are you able to provide the required care and treatment to the cat despite its paralysis and/or other physical disabilities?
When you analyze your answers to the aforementioned questions, you will be able to make a more informed decision regarding the euthanasia of your pet.
Must Read: How To Euthanize A Cat With Over-The-Counter Drugs?
Reasons To Put Down A Cat
Some reasons why you would want to put down a cat include:
Terminal and/or incurable disease
Drastic deterioration in the quality of life
Uncontrollable physical pain due to an injury
Find Solution: My Cat Is Dying And I Have No Money!
Frequently Asked Questions
Is there a right time to euthanize your cat?
There may never be a "right" time to euthanize your cat, but when the quality of life of your cat has drastically decreased, and your cat is suffering too much incurable pain, euthanasia will help it pass away peacefully.
Interesting Read: Did My Cat Know He Was Being Put To Sleep?
Final Words
It is never easy to determine when you should put down your cat. But when you start seeing that the quality of your cat's life has deteriorated beyond repair and staying alive has become more painful and exhausting for your cat, you may need to start considering euthanasia.
Don't let it be an individual decision. Consult a vet, friends, and family members who have experience with pets. If you don't have access to any of these, then contact rescue shelters in your city.
Interesting Read: Is It Legal To Euthanize A Healthy Cat?
Talk to people, get a better idea of whether alternatives can be accessed, and if after all this, there is no option remaining, take the hard call.
Euthanizing your pet when its life has become insufferable and painful is a part of pet care that you will need to handle as a responsible pet owner.
Interesting Read: Choosing the Right Euthanasia Option: At-Home Vs. Vet Clinic
Interesting Read: Should I Stay With My Cat When It Is Euthanized?
Must Read: How To Deal With Regret And Grief After Putting Cat To Sleep?
A Cat Owner's Final Guide: What To Do After Cat Euthanasia?
Interesting Read: Role of Veterinary Doctor In Euthanasia
You Might Also Like To Read:
References