IBD stands for inflammatory bowel disease and a cat suffering from IBD experiences severe symptoms such as diarrhea, blood in stool, lethargy, etc.
When your cat's quality of life gets very severely affected due to IBD, you may start wondering if euthanasia is the only way out.
In this article, we will navigate the various nuances of IBD in cats and finally answer the burning question – should you consider euthanizing your cat with IBD?
Key Takeaways

IBD, or inflammatory bowel disease, is a medical condition in which the lining of the gastrointestinal tract of cats becomes chronically inflamed and irritated.
Symptoms of IBD in cats include vomiting, decreased appetite, dehydration, lethargy, increased thirst, and blood in the stool or vomit.
It is worth treating a cat for IBD, as the condition can be managed. Treatment options include dietary management and medical treatment, such as metronidazole and dietary modification.
If a cat's quality of life is severely affected by IBD, and treatment is not working, euthanasia may be considered.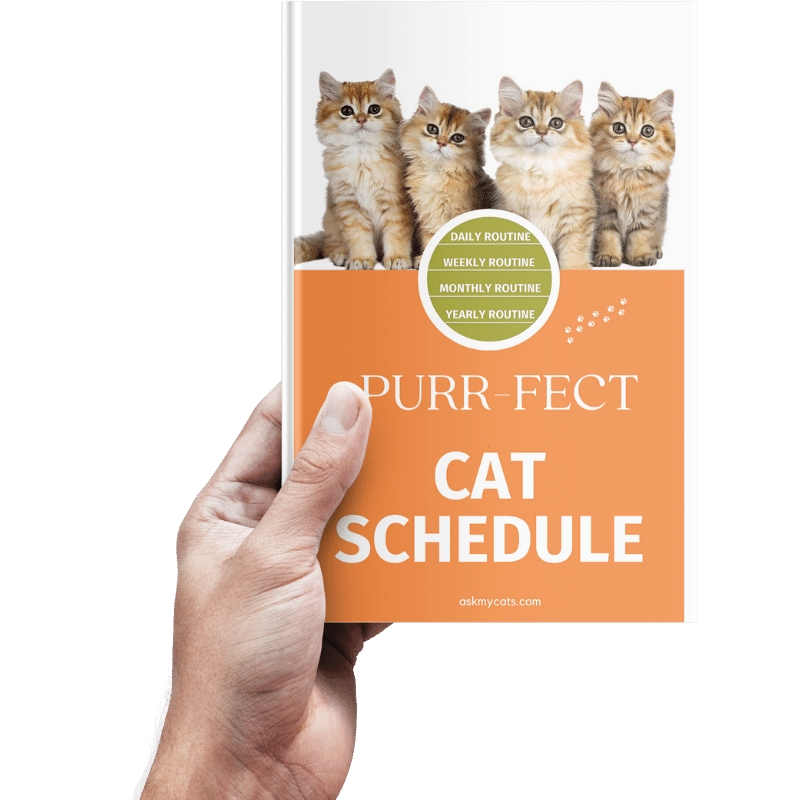 Discover the Secrets to a Happy Cat!
Discover the secrets to creating a happy and healthy daily routine for your feline friend. From playtime to mealtime, sleep to grooming, our expert guide will show you how to make every day a purrfect day for your cat.
Give Your Cat the Perfect Day – Get the Ebook!
What Is IBD In Cats?
IBD, or inflammatory bowel disease, is a medical condition in which the lining of the gastrointestinal tract of cats becomes chronically inflamed and irritated.
When the GI tract gets inflamed, what is essentially happening is that the inflammatory cells are infiltrating the lining of the intestines and making them thicker. This makes it difficult for the GI tract to digest food and absorb nutrients.
Causes of IBD in Cats
The saddest part about IBD in cats is that the causes of this chronic and painful condition remain unknown. The implication of having unknown causes is that there is no cure for this condition.
Hear what the Cornell Feline Health Center has to say about IBD in cats:
"While the cause of IBD is unknown, current evidence suggests that it arises from a complex abnormal interaction between the immune system, diet, bacterial populations in the intestines, and other environmental factors.

Based upon similarities to IBD in people and dogs, genetic abnormalities of the immune system are also thought to play a role in feline IBD."

Cornell Feline Health Center
What Are The Clinical Signs Of IBD In Cats?
The clinical signs of IBD can be said to include diarrhea, vomiting, blood in stool, etc. but in reality, the way IBD manifests itself depends heavily on the region of the GI tract that has been affected.
The most common clinical signs of IBD in cats include:
Sudden vomiting
Decreased appetite (anorexia)
Dehydration
Lethargy or depression
Increased thirst
Blood in stool or vomit
Abdominal pain
Intermittent episodes of vomiting and diarrhea
Foamy, yellowish bile in the vomit
Dry heaving or gagging after the cat eats or drinks
Tenderness and pain around the abdomen
Low-grade fever
Interesting Read: Should I Stay With My Cat When It Is Euthanized?
Is It Worth Treating A Cat For IBD?
Yes, it is absolutely worth treating a cat for IBD.
Despite the seemingly scary symptoms of different forms of IBD such as blood in stool or vomit, IBD is a condition that can be managed well.
It usually affects older cats, for whom the treatment and management of symptoms can get tricky. But IBD also affects younger cats – and usually at a younger age, the cat's IBD symptoms can be managed with relative ease.
Unless you see no treatment working and a constant deterioration of the quality of life of your cat due to IBD, you should not consider any drastic steps such as switching to hospice care or euthanasia.
Must Read: When To Put Your Cat Down Checklist
What Are The Different Treatments For IBD?
There is no known specific cause of IBD, and consequently, there is no cure for IBD. In fact, even the form in which IBD manifests itself in a cat differs depending on the region of the GI tract and may cause different symptoms in different cats.
Thus, the checkups and prescriptions for IBD symptoms for your cat may change with time, especially as your cat ages.
However, on a broad spectrum, the treatment for IBD can be categorized into two classes:
1 – Dietary Management
Your veterinarian can advise a feeding trial involving hypoallergenic diets since dietary allergies might contribute to inflammatory bowel disease (IBD).
These diets include previously unconsumed protein or carbohydrate sources for the cats.
2 – Medical Treatment
As the initial medical treatment, metronidazole and dietary modification may be suggested. Generally well tolerated, metronidazole contains antibacterial, anti-inflammatory, and antiprotozoal characteristics.
However, some cats may experience appetite loss when given this medication.
Corticosteroids, which are strong anti-inflammatory and immune-suppressing medications, may be suggested if dietary adjustments or metronidazole do not work. They may be used alone or in conjunction with metronidazole.
While using corticosteroids, cats should be properly watched since they may cause immunological suppression and diabetes.
Interesting Read: Did My Cat Know He Was Being Put To Sleep?
What Is The Life Expectancy Of A Cat With IBD?
A cat diagnosed with IBD can live for many years with symptomatic treatment.
However, the life expectancy of a cat does depend on several factors as listed below:
1 – Severity of IBD
For very severe cases of IBD which require your cat to take very strong immunosuppressants, the quality of life will soon start to deteriorate.
Strong immunosuppressants will start affecting the number of platelets, red blood cells, and white blood cells in cats.
This will make them more susceptible to other diseases and grave injuries that take too long to recover from. In such a case, you will not be able to leave your cat outdoors unattended even for a moment.
Interesting Read: How To Euthanize A Cat With Over The Counter Drugs?
2 – Age of Cats
Older cats being dosed with immunosuppressants will naturally become more susceptible to serious illnesses and even diabetes.
As the age of your cat with IBD increases, the management of symptoms will become trickier. When symptoms get too difficult to manage, the quality of life of your elder cat will reduce.
In such a case, euthanasia may become a more viable option.
3 – Medical History of Cats
Cats with existing medical conditions – illnesses or disabilities – will find it tougher to cope with even moderate symptoms of IBD.
If a terminally ill or physically disabled cat experience IBD symptoms, it may lose its appetite, stop eating altogether, and become unhealthier and more unhygienic.
This will create a vicious cycle of health issues in the cat.
Interesting Read: Cat Euthanasia Do It Yourself: Is It Advisable?
Should I Euthanize My Cat With IBD?
In the simplest terms, when IBD symptoms get so difficult to manage that your cat's quality of life deteriorates drastically, euthanasia may be a more viable option.
In order to make a more informed decision, you should ask yourself (and your vet) some important questions, like:
How severe is the IBD in your cat?
If the symptoms are being managed with relative ease using different treatments, then you should not take such a drastic step of euthanasia.

If, however, the symptoms get too difficult to manage and your cat experiences so much pain that it stops eating and using the litter box, it may be time to consider euthanizing your pet.

Otherwise, you will just be prolonging its suffering.

Have you tried switching to a different treatment?
If a certain treatment stops working, you should talk to your vet and switch to an alternative way.

The symptoms of IBD are dynamic and can change as your cat grows or experiences changes in its lifestyle. Owing to that, you may need to change the treatment of your cat multiple times.

If different alternatives are also showing no effect, you may have no option but to switch to hospice care. And if your cat is in too much pain to even bear hospice treatment, then euthanizing your cat may be the best form of pet care.


Is your cat too old to bear the physical and emotional toil of treatments?
As necessary as they are, medical treatments are also physically and emotionally taxing for cats. Especially if your cat is an elder cat, it may not be able to deal with the toil of treatments.

If being alive becomes an insufferable and extremely painful experience for your elder cat, euthanizing it may be a better decision – you should not prolong the suffering of your cat, especially not at that age.
Interesting Read: Did I Put My Cat To Sleep Too Soon?
Frequently Asked Questions
Can IBD in cats come suddenly?
Yes, IBD can develop suddenly in a cat due to an abnormal combination of allergies, infections, and/or stress.
Is IBD in cats contagious?
In contrast to many other illnesses, IBD is not contagious. Inflammatory bowel disease in cats is treatable, and when treated effectively, it can have a favorable prognosis.
How many times a day should a cat with IBD be fed?
The minimum optimum is three meals every day. As many tiny meals as you can manage during the day are much healthier for IBD cats. It's not necessary to space meals out equally. Although young kittens do require more frequent feedings, most people find that feeding them before work, after work, and before night works just well.
Interesting Read: Is It Legal To Euthanize A Healthy Cat?
Final Words
Inflammatory bowel disease, or IBD, is a chronic condition in which the GI tract of a cat develops inflammation. It can lead to painful and scary symptoms such as diarrhea, vomiting, and blood in stool and vomit.
However, it is a manageable condition and in most cases, the symptomatic treatments are good enough to allow a cat with IBD to live for many years.
In some cases, though, IBD can become very severe and the quality of life of the cat may deteriorate drastically. In such cases, you may need to consider hospice care or euthanasia.
Must Read: How To Deal With Regret And Grief After Putting Cat To Sleep?
A Cat Owner's Final Guide: What To Do After Cat Euthanasia?
You Might Also Like To Read:
References