If your cat has been showing any known symptoms of hyperthyroidism, such as an unusual decrease in weight and an increase in appetite and thirst, you should consult your vet to possibly rule out hyperthyroidism.
It is very important to diagnose it early on because if left untreated it can even lead to the death of the affected cat.
If, however, you are one of those unfortunate cat owners whose cat has been living with hyperthyroidism, you may be wondering if it's time to euthanize your cat and put it out of its misery.
Euthanasia is never an easy decision. That's why, in this article, we look at a complete picture of what end-stage hyperthyroidism looks like and when it may be time to consider euthanasia.
Key Takeaways

Euthanasia is not always the answer for a cat with hyperthyroidism.
The final stages of hyperthyroidism may be indicated by drastic weight loss, diarrhea and vomiting, muscle tremors, heart issues, and discomfort or pain.
The decision to euthanize a cat with hyperthyroidism should be based on the cat's quality of life, its response to treatment, and whether its symptoms are manageable.
Euthanasia may be considered as a last resort when all other options have been exhausted and the cat is suffering from unmanageable symptoms.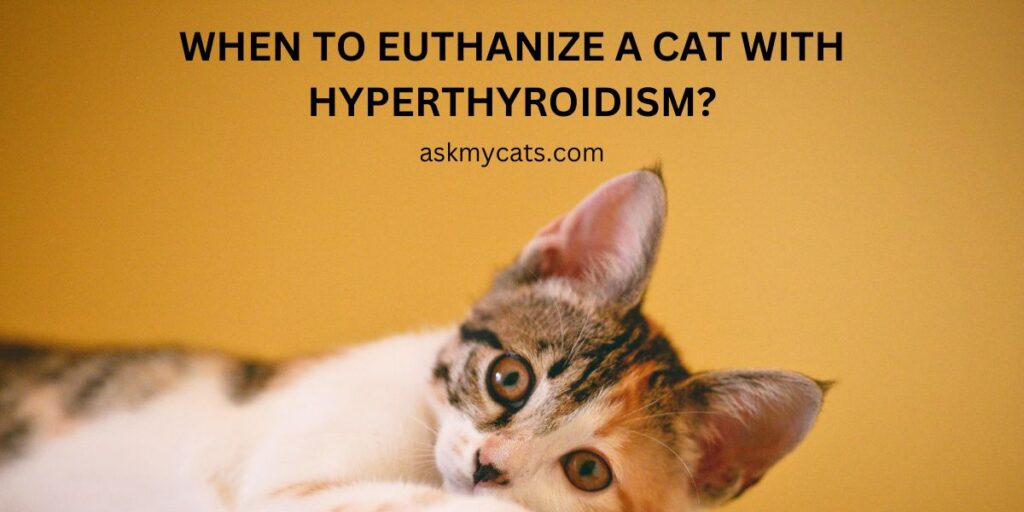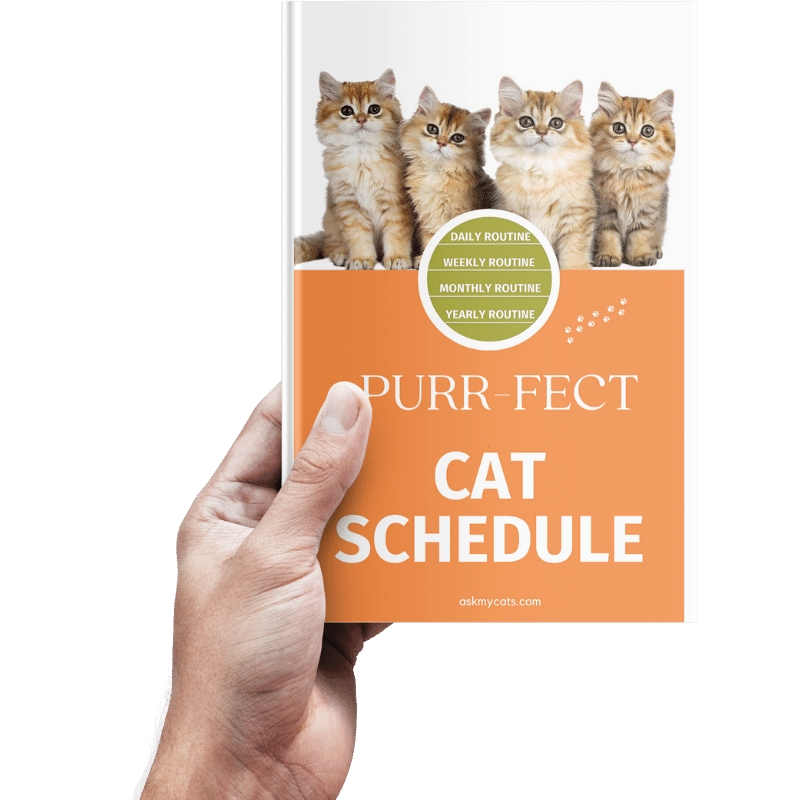 Discover the Secrets to a Happy Cat!
Discover the secrets to creating a happy and healthy daily routine for your feline friend. From playtime to mealtime, sleep to grooming, our expert guide will show you how to make every day a purrfect day for your cat.
Give Your Cat the Perfect Day – Get the Ebook!
Is Euthanasia Always The Answer To Hyperthyroidism?
Before we move any further, one thing that should be cleared right away is that euthanasia is not always the answer – and it certainly isn't the only way out for your cat.
Hyperthyroidism is painful, but when diagnosed and treated in time, it can be managed just as easily.
Your cat can live a long life of good quality even after being diagnosed with hyperthyroidism.
The key is to ensure the following three things:
Timely diagnosis
Timely treatment
Lots of patience and love as your cat navigates through this unfortunate and painful experience
Check out the in-depth guide: When To Put Your Cat Down? The Complete Checklist
What Does End-Stage Hyperthyroidism Look Like?
The final stages of hyperthyroidism are when the symptoms get so aggressive that the body of the affected cat stops responding to treatments.
When that happens, your vet may suggest that you switch to palliative or hospice care.
Some common signs that show your cat is suffering from end-stage hyperthyroidism include:
1 – Drastic Weight Loss
Weight loss is a symptom of hyperthyroidism. But when this weight loss is drastic and unusually rapid, it could indicate that the cat's body is no longer responding to the treatment.
2 – Diarrhea And Vomiting Even If The Cat Isn't Eating Much
Another sign that could be indicative of the final stage of hyperthyroidism is a rapid increase in the frequency of diarrhea and vomiting that your cat experiences.
Any kind of illness leads to a loss of appetite in cats due to stress on the body. What happens in hyperthyroidism is that even if your cat hasn't eaten much, it may vomit or experience diarrhea.
When this starts happening on an almost regular basis, it could indicate that the medicines and treatment are no longer working.
Interesting Read: Did I Put My Cat To Sleep Too Soon?
3 – Onset Of Muscle Tremors Or Spasms
Hyperactivity, restlessness, and nervousness are common symptoms of hyperthyroidism. In the early stages, however, these are quite manageable.
But when these symptoms get more aggressive, they may start manifesting as muscle tremors or spasms. And as the frequency of occurrence of tremors and spasms increases, it becomes clearer that your cat is in the final stage of hyperthyroidism.
4 – Heart Issues
This is perhaps the scariest of all symptoms or consequences of hyperthyroidism. Your cat may experience pain in the chest area. This may make it all the more restless, scared, and disoriented.
If your cat with hyperthyroidism starts meowing a lot suddenly, you should immediately consult a vet. Sometimes, when heart issues go untreated, they become the cause of death of the affected cat.
Quite a lot of cats with hyperthyroidism often succumb not to the disease but to the heart failure that happens as a consequence of the disease.
Interesting Read: How To Euthanize A Cat With Over-The-Counter Drugs?
When Should You Consider Euthanizing Your Cat With Hyperthyroidism?
When any of the aforementioned symptoms start surfacing frequently, it could indicate that your cat is experiencing the final stage of hyperthyroidism.
However, if treatments are able to cause improvements in your cat's health, your vet will not suggest euthanizing. That's when you may want to wait a little longer and try out different alternatives.
When treatments and hospice care show no improvement, and when your cat is constantly in pain from all the tremors, spasms, or even heart pain, it may be kinder to euthanize your cat.
Interesting Read: How To Euthanize A Cat At Home?
Frequently Asked Questions
How long can a cat live with hyperthyroidism?
Cats with hyperthyroidism that are properly treated can have long, happy, and rewarding lives with no loss in lifespan.
Can hyperthyroidism kill a cat?
Cats with hyperthyroidism can survive for many years with a high quality of life if handled correctly. If left untreated, this condition will result in uncontrollable weight loss, serious heart disease, and death.
Interesting Read: Did My Cat Know He Was Being Put To Sleep?
Final Words
Hyperthyroidism is a disease that can be effectively managed when diagnosed in a timely manner and can lead to death, on the other hand, if it remains untreated.
If your cat has been diagnosed with hyperthyroidism, you should not directly jump to the conclusion of euthanasia.
Also Read: Where To Euthanize A Cat For Free Or Cheap?
There are ways to effectively manage the symptoms and ensure a high quality of life for your cat.
But if neither treatments nor hospice care seems to work, euthanasia may be the kinder option.
Interesting Read: Should I Stay With My Cat When It Is Euthanized?
Must Read: How To Deal With Regret And Grief After Putting Cat To Sleep?
A Cat Owner's Final Guide: What To Do After Cat Euthanasia?
Interesting Read: Is It Legal To Euthanize A Healthy Cat?
You Might Also Like To Read:
References