Kidney failure is a heart-breaking diagnosis in cats. You can treat kidney failure in a cat just to extend its life span. But it cannot be completely cured.
There will come a time when you finally have to take the decision to say goodbye to your cat.
In this article, we look at the final stage of kidney failure and understand its signs and symptoms so that we can better judge when it is time to say goodbye to our suffering pets.
Key Takeaways

The final stage of kidney failure is very painful for cats, with symptoms including lethargy, weight loss or gain, decreased responsiveness to treatment, seizures, and difficulty moving or grooming.
When a cat with kidney failure stops responding to treatment or medication, it may be time to consider hospice care or euthanasia.
The decision to euthanize a cat with kidney failure should be based on the cat's quality of life and ability to tolerate pain.
If hospice care is not providing relief from symptoms and the cat is suffering, euthanasia may be the kindest option.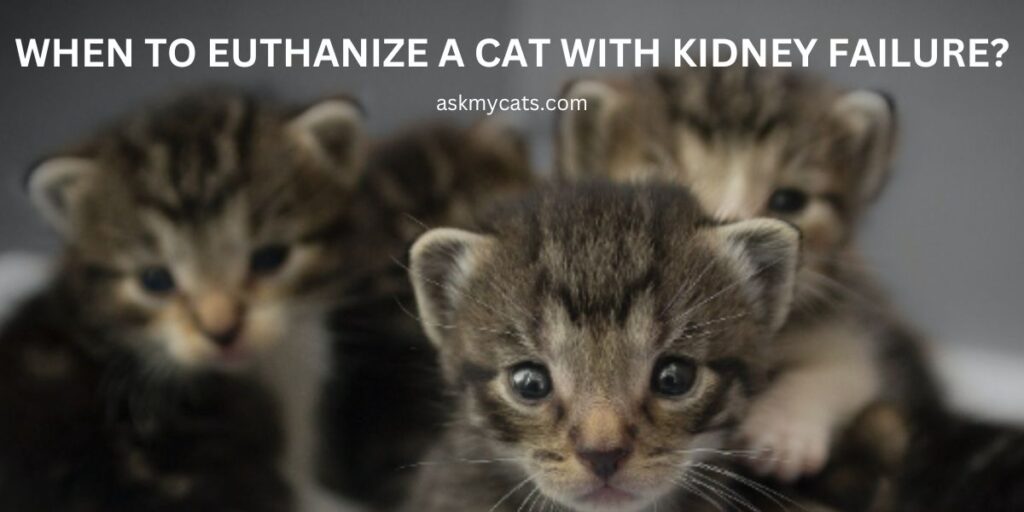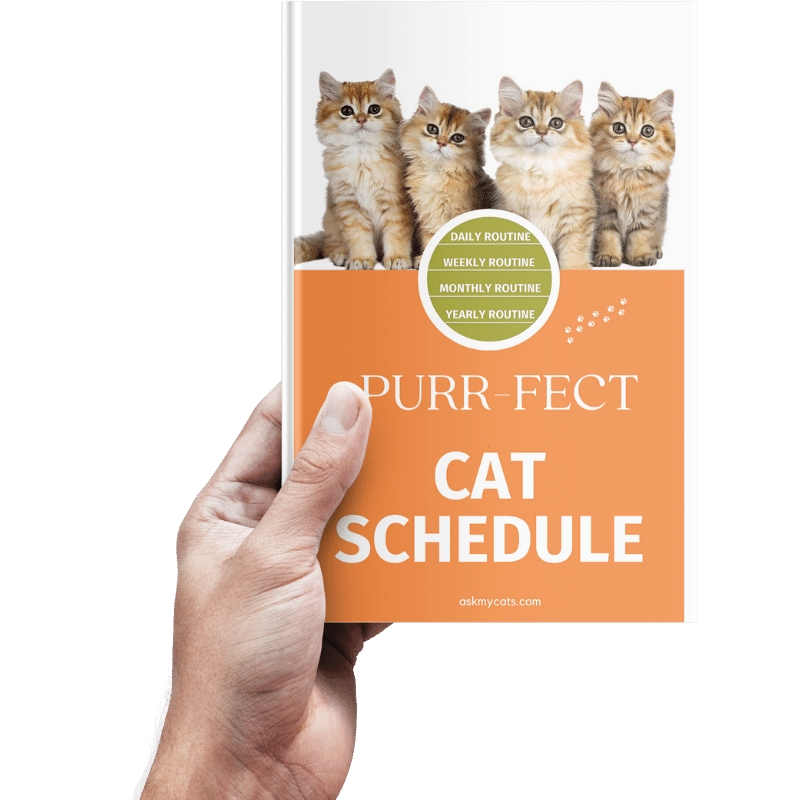 Discover the Secrets to a Happy Cat!
Discover the secrets to creating a happy and healthy daily routine for your feline friend. From playtime to mealtime, sleep to grooming, our expert guide will show you how to make every day a purrfect day for your cat.
Give Your Cat the Perfect Day – Get the Ebook!
What Are The Symptoms Of Final Stage Kidney Failure In Cats?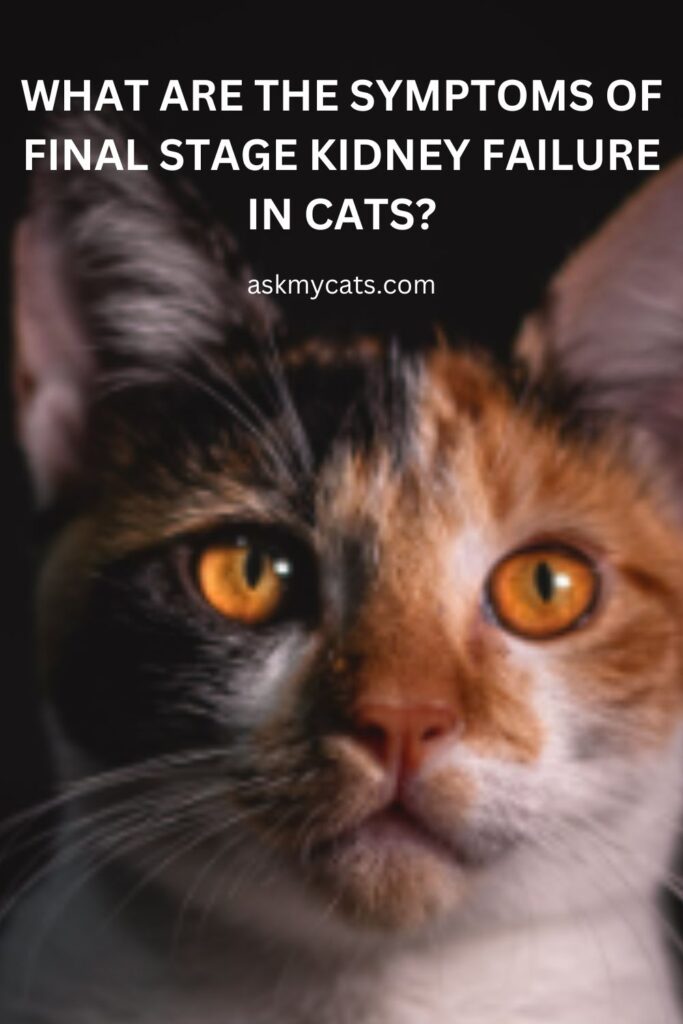 When your cat gets diagnosed with kidney failure, you should start preparing yourself mentally to sooner or later put down your cat. This is because the symptoms of kidney failure will progressively get more and more aggressive.
Eventually, it will reach a point where the symptoms become too painful and insufferable for your cat to bear.
Some of the most common symptoms that indicate that your cat has reached the final stage of kidney failure are listed below:
Being lethargic, hiding away
Severe anemia
Drastic weight gain or loss
Decreased responsiveness to treatments
Seizures
Inability to walk or move around
Body odor due to the inability to groom itself
Refusal to eat or drink anything
Twitching even when resting or sleeping
If your cat has started showing these symptoms and has reduced or stopped responding to the treatment or medication being provided, you should get the levels of potassium, phosphorus, urea, and creatinine checked for the cat.
Very low potassium levels, high phosphorus levels, and very high urea and creatinine levels may indicate that your cat has final-stage kidney failure.
Must Read: When To Put Your Cat Down Checklist
When Should You Consider Euthanizing Your Cat With Kidney Failure?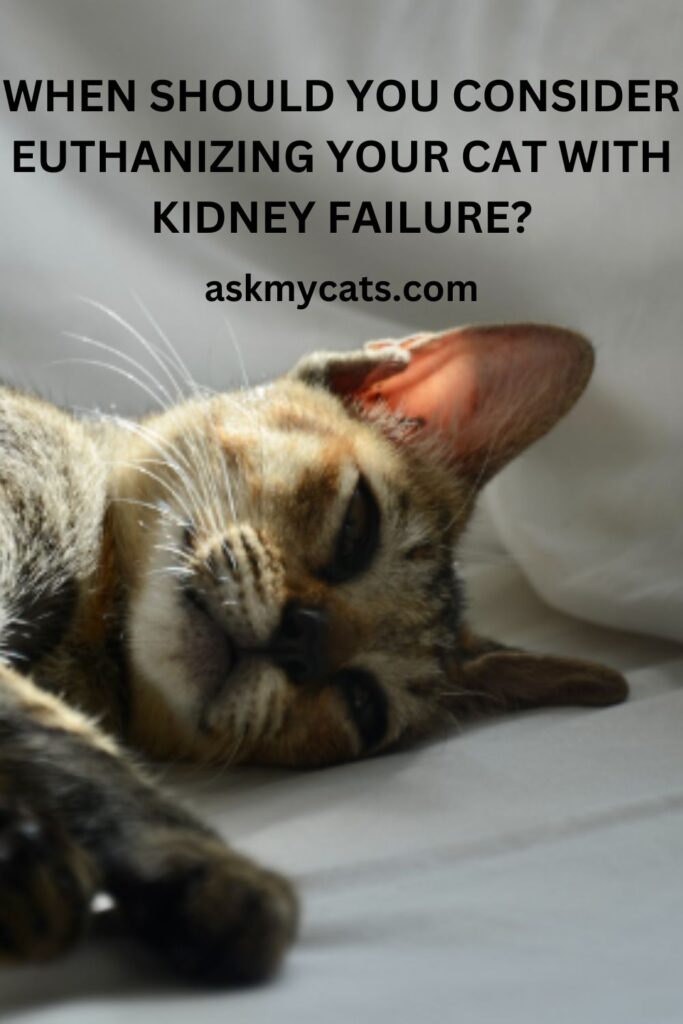 The final stage of kidney failure is very painful for cats. The symptoms become more aggressive and the cat's body either reduces or completely stops responding to the treatment and medications.
When your cat has stopped responding positively to any alternative treatment or medication, that should be your first indication that you may have to consider hospice care or euthanasia.
Other indicators that may nudge you towards considering euthanasia include:
Your cat's complete refusal to eat anything
The inability of your cat to pass urine or defecate without your aid
Excess lethargy to the point that your cat stops grooming itself or even walking to the litterbox to urinate or defecate
Bad body odor and bad breath due to refusal to groom itself or drink water
Severe dehydration
Dull, sunken eyes and partial or total blindness
Interesting Read: How To Euthanize A Cat With Over The Counter Drugs?
Hospice Care Versus Euthanasia For Cat With Kidney Failure
When you start observing that your cat has stopped responding to the existing treatment, the first thing your vet will suggest is an alternative, mostly a higher dose of treatment and medication.
If you can afford to do so, you should first try out every possible alternative treatment available for your cat.
If, however, you have exhausted all options, and nothing seems to be working, you should switch to hospice care.
In hospice care, also known as palliative care, your vet will prescribe medicines that reduce pain and discomfort from the symptoms of final-stage kidney failure.
This prescription of medicines will not work towards curing or making the condition better. It will simply focus on keeping your cat as painless as possible.
If hospice care is working, then you can continue with it until your cat passes away peacefully.
However, the sad truth is that it rarely happens that a cat with final-stage kidney failure passes away peacefully. Most times, hospice care also stops working after a while.
When the painkillers and numbing medications stop working, your cat will start feeling the pain and discomfort of all the symptoms again.
When this experience starts becoming too insufferable for your cat, that's when it is better to opt for euthanasia.
While it may be a hard decision to take, euthanasia allows your cat to finally be at rest – and puts an end to the insufferable, and often intolerable experience of final-stage kidney failure.
Interesting Read: Cat Euthanasia Do It Yourself: Is It Advisable?
Frequently Asked Questions
How do you comfort a cat with kidney failure?
Palliative treatment will be necessary for cats with advanced renal failure in their final days. This will entail providing them with food, drink, a nearby litter box, warmth, and lots of devoted human company.
What is the life expectancy of a cat with kidney failure or chronic kidney disease?
Chronic Kidney Disease is a condition that steadily becomes worse over time, although the pace of progression varies greatly. The average lifespan of cats with early illness is three years. The average lifespan of those with mild illness is 2 years. Most cats with severe illness pass away from Chronic Kidney Disease and end-stage kidney failure within a few months.
Interesting Read: Did My Cat Know He Was Being Put To Sleep?
Final Words
Kidney failure, especially in the final stage of chronic kidney disease, becomes incurable. Cats diagnosed with final-stage kidney failure are eventually going to succumb to the illness.
All that can be done for these cats is to provide them with symptomatic treatment. But even that starts failing after some time.
Once your cat stops responding to treatments, your only option is to switch to hospice or palliative care. And when that stops working too, you may need to take the hard call and euthanize your cat.
Interesting Read: Did I Put My Cat To Sleep Too Soon?
Must Read: How To Deal With Regret And Grief After Putting Cat To Sleep?
A Cat Owner's Final Guide: What To Do After Cat Euthanasia?
Interesting Read: Is It Legal To Euthanize A Healthy Cat?
You Might Also Like To Read:
References