It is never a piece of easy news to deal with – knowing that your beloved cat has been diagnosed with cancer.
And when you look at your little cat suffering from the painful symptoms of cancer, you may be confused about whether to continue with the treatments or to put an end to your cat's misery and suffering, and euthanize it.
In this article, we navigate the various nuances of having a cat who has been diagnosed with cancer.
We deal with the difficult questions and see if it is worth it to continue the treatment, or should a cat's owner put it down to sleep peacefully.
Key Takeaways

It is worth treating your cat for cancer if the likelihood of success is high, your cat is not too old, cancer has not progressed too far, and your cat does not have any pre-existing health issues.
Always seek multiple opinions from veterinarians before making a decision on treatment.
If treatment is not a good option, hospice care or euthanasia may be the best way to help your cat.
It is important to consider your cat's quality of life, financial constraints, and emotional well-being when deciding on treatment.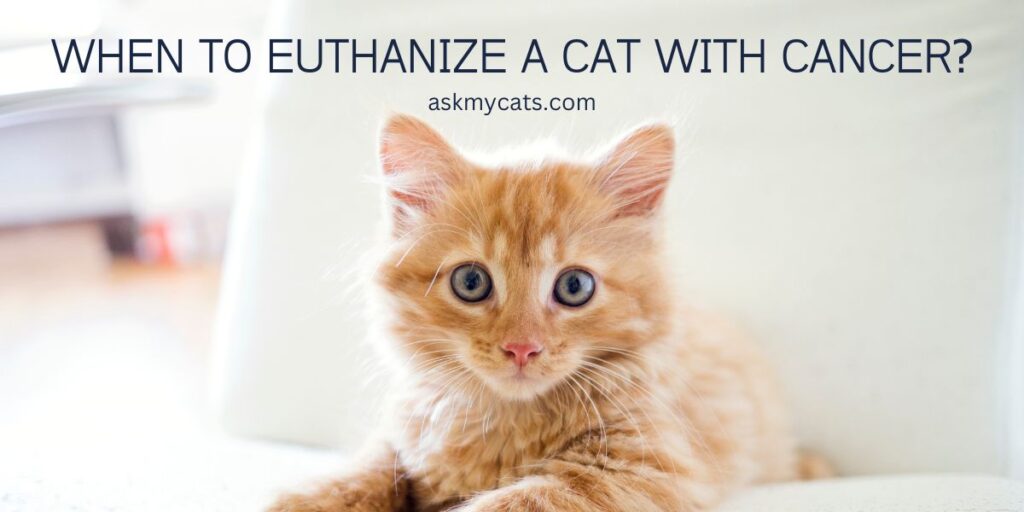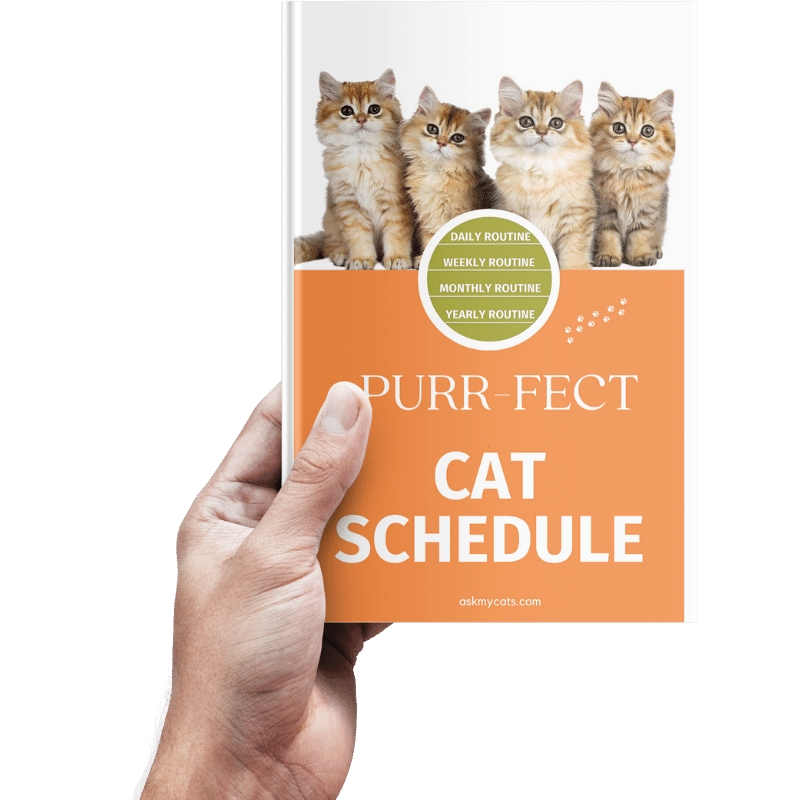 Discover the Secrets to a Happy Cat!
Discover the secrets to creating a happy and healthy daily routine for your feline friend. From playtime to mealtime, sleep to grooming, our expert guide will show you how to make every day a purrfect day for your cat.
Give Your Cat the Perfect Day – Get the Ebook!
Is It Worth It To Treat A Cat For Cancer?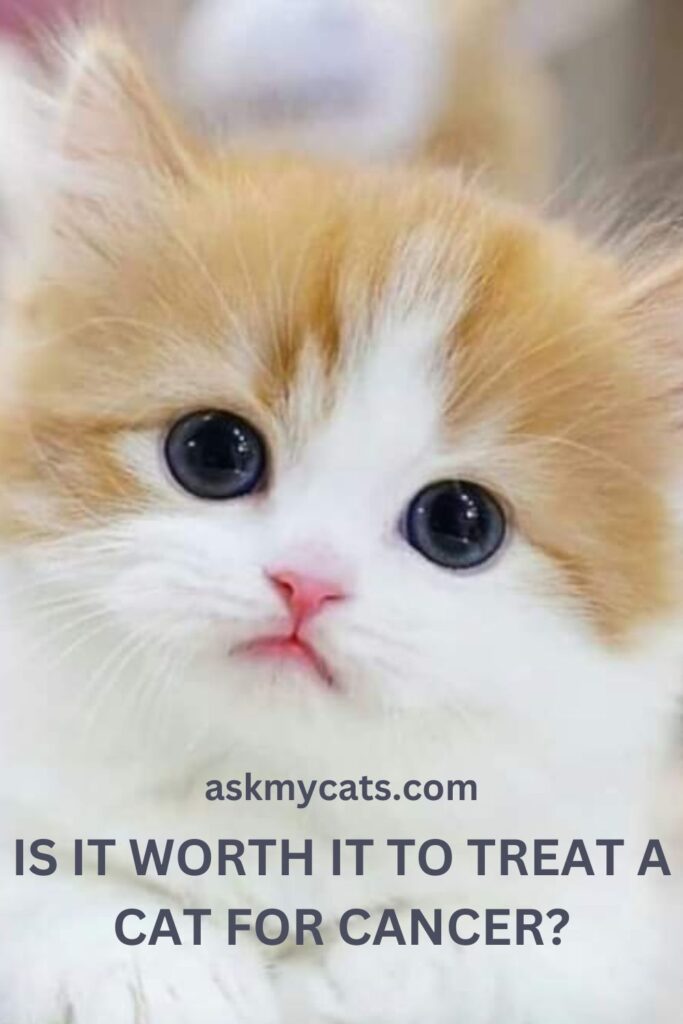 It takes time to accept the diagnosis, and there are frequent emotions of confusion and even guilt ("how could I have stopped this?").
Although the underlying cause of the majority of tumors is simply unknown, for many (though not all), there may be a remedy that can greatly enhance the cat's quality of life and length of life.
Whether it is worth treating your cat for cancer or opting for hospice care instead is a very complicated question with no one-size-fits-all kind of answer.
Some factors that you may need to consider when making this decision are listed below.
1 – Likelihood of Success of the Treatment
How likely is it that treatment will heal your cat? Your vet may be able to give you a better idea about all possible alternatives of treatments that you can opt for – and the percent chance of success of each.
Based on that, and your financial and other constraints, you may have to opt for one or multiple options.
Always take at least a second opinion – and preferably more if you can – from multiple vets before settling for a single treatment. Multiple opinions are especially important when you're pushed into a corner and are being told that hospice care is the only way out.
But, if you get similar feedback of low chances of success in treatments from multiple sources, then hospice care could be your only option.
2 – Age of Your Cat
If your cat is already very old, and you know that even without being afflicted by cancer, your cat would have been suffering from poor quality of life, then continuing treatments may not be the best choice.
It is completely understandable why you would want to try every possible treatment that exists but look at it from the point of view of your old cat.
Now that your cat is old, it is already in a lot of pain due to aging. Walking and eating and defecating – routine things like these may have already become difficult for your cat.
Add to that the insufferable symptoms of cancer, the stress of visits to the vet, and the pain of IV injections, and you will see why the treatment may actually be prolonging your cat's suffering.
3 – How Far the Cancer Has Progressed
If your cat is suffering from an aggressive form of cancer that has progressed too far beyond curing, you may have no other choice but to opt for hospice care only.
This is when your vet will also be helpless because, in the later stages, cancer becomes incurable and all the more insufferable.
Hospice care or euthanasia will be the best kind of pet care that you will be able to give your cat in this situation.
4 – The Medical History of Your Cat
This is especially for people whose cats have some severe health or physical disabilities prior to being afflicted by cancer.
If your cat has been physically disabled, such as with complete or partial paralysis of its limbs, arthritis, vision impairment, hearing impairment, etc., you will have to be very cautious when going for treatments for cancer.
Cats with physical disabilities already have a reduced quality of life. More often than not, they are also already on certain prescriptions of medicines and/or injections constantly.
If your cat also suffers from cancer, you need to observe the quality of life of your cat very keenly.
While some cats have a lower level of physical disability, there are some who may already be in insufferable pain due to that. And cancer just becomes another painful addition. So, if the quality of life of your cat deteriorates drastically, you may need to opt for euthanasia.
However, this is where you need to exercise a little patience as well. Cats are very resilient. And quite often, cats are able to bounce back from the worst conditions.
A little patience and observation on your part may help you decide which one is the kinder decision for your cat – hospice care, euthanasia, or treatment.
Check out the in-depth guide: When To Put Your Cat Down? The Complete Checklist
What Is The Life Expectancy Of A Cat With Cancer?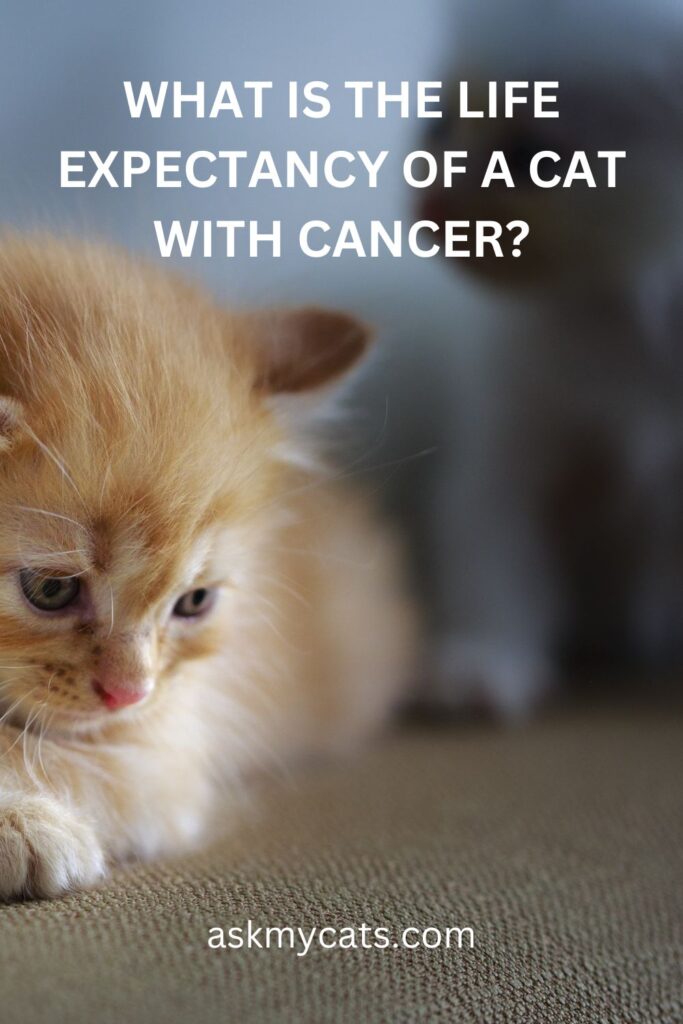 This cannot be generalized. The life expectancy of a cat with cancer depends on a lot of things, especially, the type of cancer.
Some types of feline neoplasia, for example, such as mammary cancer or certain skin cancers, are not only manageable but also reversible.
However, there are other forms of cancer that do not paint such an optimistic picture.
So, there is no single answer to what will the life expectancy of a cat with cancer is.
You need to factor in a lot of aspects, such as the medical history, the stage at which the cancer was detected, the overall physical and emotional health and well-being of the cat, the cat's age, and most importantly, the type of cancer that has been diagnosed.
Interesting Read: Should I Stay With My Cat When It Is Euthanized?
How Long Can A Cat Live With Cancer On Steroids?
How long a cat with cancer will live on steroids depends on two factors:
The grade of cancer (low or high)
The other treatment options being pursued along with the use of steroids
When we look at steroids alone, a cat with a low grade of cancer will have a relatively longer survival time.
Cats with low-grade lymphoma, for instance, can survive for 2 to 3 years with oral chemotherapy at home using steroids.
The prognosis, however, is not so optimistic for high-grade lymphoma-afflicted cats.
In the case of high-grade lymphoma, a cat is likely to succumb to cancer in the first year itself. In the worst case, a cat may only be able to survive 1 to 2 months on steroids alone.
Interesting Read: Did I Put My Cat To Sleep Too Soon?
How Long Should I Let My Cat Live With Cancer?
Whether you should carry on with the treatments, and for how long, is a question that requires deep thinking on your part.
Keep the treatments and attempts at curing your cat going on for as long as your cat is able to tolerate the physical and emotional toll of the treatments and living with cancer.
If the quality of life of your cat starts getting bad by the day, and no treatment is showing any results, you should try switching to hospice care.
Hospice care is where you only treat the symptoms to ensure your cat is able to live as pain-free a life as possible until it finally succumbs to cancer.
But, if hospice care is also not working, and nothing is reducing the pain of your cat, you may have to start considering euthanasia as an option.
Don't directly jump to this conclusion, but do start discussing the possibility of euthanasia with your vet and family, and friends who have relevant experiences. This way, you will be able to take a more informed decision.
Interesting Read: My Cat Is Dying And I Have No Money!
How Can You Tell If A Cat With Cancer Is In Pain?
Some signs that show your cat with cancer may be in pain are listed below:
Behavioral issues such as excess fear, aggression, or other antisocial behaviors
Loss of appetite
Excess lethargy and unwillingness to indulge in physical activities like play or walk
Too much discomfort and inability to rest; excessive restlessness
Change in body language – tensed or stressed form, even at home
If your cat is in pain and nothing seems to help, you should give your cat painkillers. But only ever give your cat the painkillers that have been prescribed by the vet.
Interesting Read: How To Euthanize A Cat With Over-The-Counter Drugs?
When To Put Your Cat Down With Cancer?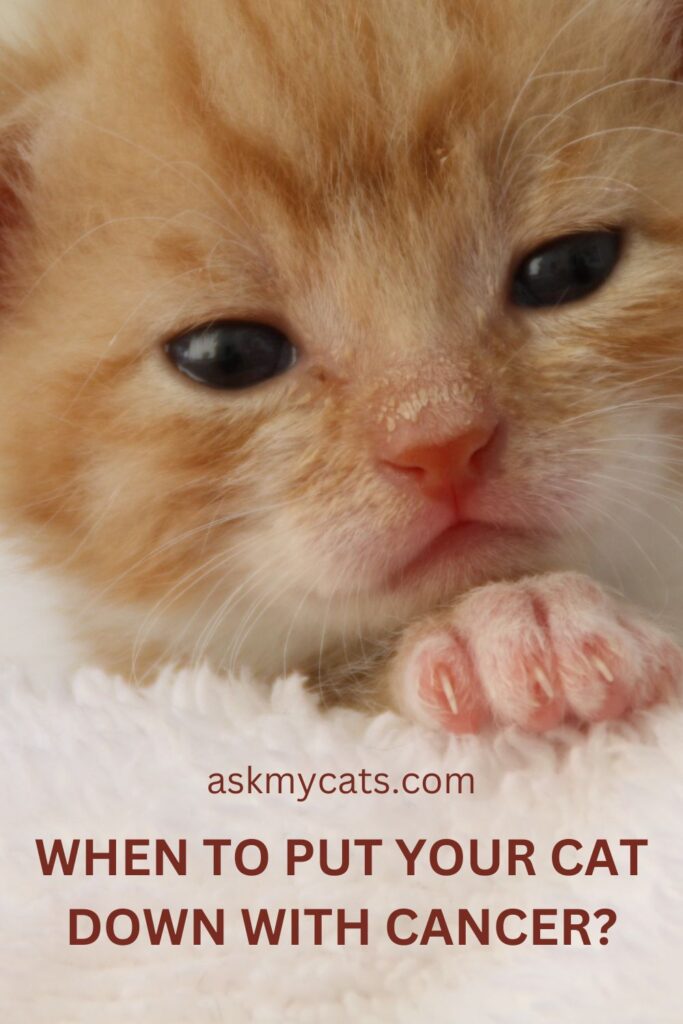 This is a difficult decision to make – when to put your cat down when it is suffering from cancer. And this is one decision that requires you to talk to a lot of people, including your vet, family, and friends.
Such discussions will help you make a much more informed and on-time decision.
If you are confused about whether or not you should look into euthanasia for your cat with cancer, it may help to ask yourself the following questions:
Is your cat in pain every day despite the regular use of painkillers?
Are there no improvements despite multiple treatments?
Has your cat lost its appetite and has completely stopped eating?
Has your cat started facing painful problems while defecating and urinating?
Has the quality of life of your cat deteriorated drastically despite ongoing treatments?
If such is the case with your cat, then you may need to consider euthanasia.
Remember that putting your cat down when it cannot sustain being alive in a painless manner is also a part of pet care and your responsibility as a pet owner.
Interesting Read: How To Euthanize A Cat At Home?
Frequently Asked Questions
How do I know if my cat is suffering from cancer?
Cats are skilled at hiding illnesses, and cat cancer signs might be mild. "Lumps and bumps" are among the signs of cat cancer that appear most frequently. Unusual lumps that vary in size may be cancerous growths. Your veterinarian's easy test will reveal the recommended course of action.
What kind of cancer is common in cats?
The most typical kind of cancer in cats is lymphoma. Lymphocytes that multiply uncontrolled give rise to lymphoma, a kind of blood cancer. White blood cells called lymphocytes guard the body against infection.
What do cancer lumps look like on cats?
The skin or underlying soft tissues will often develop one or more red lumps as a symptom. They can manifest as an ill-defined bruise. These tumors spread quickly and tend to target the liver and lungs in particular. The most common form of therapy is surgical removal.
Interesting Read: Did My Cat Know He Was Being Put To Sleep?
Final Words
Putting your cat down when it suffers from cancer and no treatment helps may be a form of pet care that allows your cat to have the kind of peaceful and respectful death that it deserves.
When the symptoms of cancer start taking a toll on the quality of life of your cat, and when no treatment or hospice care is helping, you may need to start considering euthanasia.
Some signs of deteriorating quality of life include a complete loss of appetite, inability to pass urine or defecate, lethargy, constant pain, and discomfort.
When cancer gets incurable, you may be better off switching to hospice care for your cat. And when even hospice care fails your cat, euthanasia may allow it to have the peaceful death it deserves.
Must Read: How To Deal With Regret And Grief After Putting Cat To Sleep?
A Cat Owner's Final Guide: What To Do After Cat Euthanasia?
Interesting Read: Is It Legal To Euthanize A Healthy Cat?
You Might Also Like To Read:
References