The decision to euthanize is never an easy one – even when the signs are crystal clear. Things become trickier when the illness is not the "usual terminal kind". Arthritis, for example, feels nothing when compared to cancer.
But do you have to wait until something terrible happens to consider euthanasia? And is arthritis a condition that could lead to euthanasia being the better option?
Those are the questions we will answer in this article.
Key Takeaways

Arthritis is a common but difficult to diagnose condition in cats.
There is no cure for arthritis in cats, but symptoms are manageable.
Arthritis does not affect the lifespan of cats, and proper care can help them lead healthy and comfortable life.
Arthritis does affect the quality of life of affected cats, and euthanasia may be considered in some cases.
The decision to euthanize a cat with arthritis should be based on the cat's quality of life and whether it is manageable with treatment.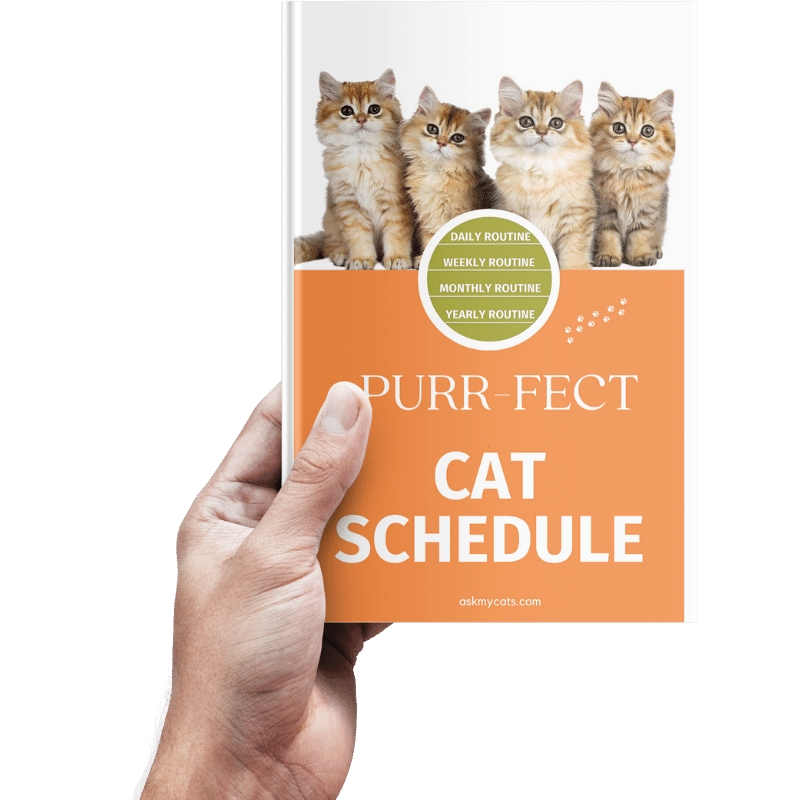 Discover the Secrets to a Happy Cat!
Discover the secrets to creating a happy and healthy daily routine for your feline friend. From playtime to mealtime, sleep to grooming, our expert guide will show you how to make every day a purrfect day for your cat.
Give Your Cat the Perfect Day – Get the Ebook!
Noticing The Signs Of Arthritis
Ironically, while arthritis is common in cats, it is difficult to diagnose it sooner. Cats are great at hiding discomfort.
They will isolate, sleep more, and interact less when they are trying to hide any discomfort. The same holds true with arthritis.
You will need to be a keen observer to look out for signs such as:
Limping
Favoring one leg over the other while walking
Reduced jumping heights
Less playfulness
Increased isolated behavior
Sleeping more and feeling lethargic
All these could be indicative of a possible case of arthritis. Especially if your cat seems to have difficulty walking, it may help to consult a vet and possibly rule out arthritis or at least have it diagnosed and start the treatment.
Check out the in-depth guide: When To Put Your Cat Down? The Complete Checklist
Can You Cure Arthritis In Cats?
Currently, there is no cure for arthritis in cats. However, the symptoms are manageable. You need to take extra care if your cat has arthritis.
Some tips may include:
Keeping the litterbox, food bowl, water bowl, etc. on the same floor;
Helping your cat maintain a healthy weight to reduce pressure on legs;
Physiotherapy sessions;
Cat-proofing the house to reduce instances of injuries, etc.
The good news is that arthritis does not exactly affect the lifespan of your cat.
So, even with arthritis, if proper care is taken, your cat can lead its full expected life in a healthy and comfortable way.
Interesting Read: Should I Stay With My Cat When It Is Euthanized?
Does Arthritis Affect The Quality Of Life Of Affected Cats?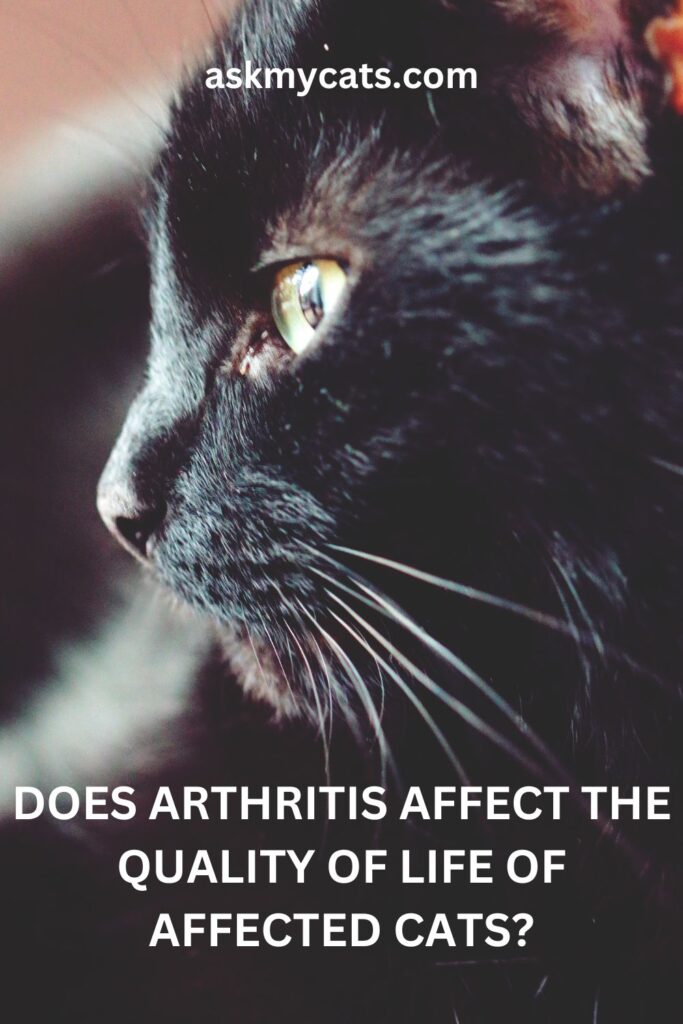 Yes, arthritis does affect the quality of life of affected cats. How severely the quality of life gets affected depends on how bad the damage is and how quickly the treatment starts.
Some changes in the quality of life of your cat that you can expect after arthritis are:
Dependency on you to be able to move around;
Reduced motivation to use the litterbox because walking gets painful;
Reduced playfulness;
Fluctuations in appetite – on the more painful days, your cat may refuse to eat;
Increased solitary behavior;
Increased lethargy;
Weight gain due to reduced physical activity, etc.
Note that the intensity and presence of these signs and symptoms are not common for all. It will vary from cat to cat.
Interesting Read: Did I Put My Cat To Sleep Too Soon?
Should Euthanasia Be Considered?
In most cases of arthritis, you don't need to consider euthanasia. The condition is pretty manageable and the medicines are also easily accessible. The treatment is quite simple – so, even though there is no cure, the cat will still have enough resources to manage the pain.
In some unfortunate cases, when arthritis makes the quality of life very poor, euthanasia becomes a more favorable choice.
But this is usually common in older cats who have already lived 10+ years of their lives. It is then that the health and overall physical fitness of the cat reduce so much due to aging that the effects of arthritis are felt in a much more aggressive manner.
Interesting Read: How To Euthanize A Cat With Over-The-Counter Drugs?
When Should You Euthanize Your Cat With Arthritis?
The effect of arthritis on the quality of life of cats is pretty clear. As the cat ages, these symptoms and effects become progressively difficult to manage.
When you start seeing one or more of the signs listed below, it may be time to consider euthanizing your cat:
Complete refusal to eat for several days because of chronic pain and stress
Complete inability to use the litterbox without your aid
Lethargy to a point that grooming and hygiene get affected
Weakness due to loss of appetite and resulting weight loss
The body stops to respond to the medicines in the expected fashion
When these signs start to appear, you may need to observe if your cat is having more bad days than good days.
And if that is the case, allowing your cat to pass away peacefully may be a kinder option than letting it suffer until the very end.
Interesting Read: How To Euthanize A Cat At Home?
Frequently Asked Questions
At what age do cats start showing arthritis symptoms?
More often, cats above the age of 10 years start to show signs of arthritis. It is uncommon in kittens and younger cats unless because of an injury.
What cat breeds are more prone to arthritis?
Certain cat breeds are more prone to arthritis and movement issues. Himalayan, Persian, and Siamese are among these cat breeds.
Interesting Read: Did My Cat Know He Was Being Put To Sleep?
Final Words
Arthritis in cats is not easily diagnosed, but it is very painful and can adversely affect the mobility and quality of life of cats if not managed properly.
If managed properly, however, cats with arthritis can live full, healthy lives. It does not directly impact the lifespan of cats.
So, you will only need to think about euthanasia if the quality of life of the cat reduces irreparably and drastically – and this will more likely only happen if your cat is 10+ years old.
Must Read: How To Deal With Regret And Grief After Putting Cat To Sleep?
A Cat Owner's Final Guide: What To Do After Cat Euthanasia?
Interesting Read: Is It Legal To Euthanize A Healthy Cat?
Also Read: Where To Euthanize A Cat For Free Or Cheap?
You Might Also Like To Read:
References