As a cat owner, one of the hardest decisions you may ever have to take is that of euthanasia. Deciding that you need to put an end to the life of a pet you love so much is never easy – not even when euthanasia is literally the only way out.
Euthanasia comes with a lot of guilt for cat owners. One of the questions that they can't stop asking themselves is if they euthanized their cat too soon.
Maybe they could have had one more month or week or day with their cat. Maybe there could have been some other alternative.
In this article, we navigate through the heavy process of deciding to euthanize a pet.
Key Takeaways

Euthanasia is a difficult decision for cat owners.
There are several stages to follow before considering euthanasia for your cat.
These stages include getting a thorough diagnosis, trying all possible alternative treatments, and switching to hospice care.
There are certain signs to look out for to know when the right time is to put down a cat. These signs include refusal to eat, refusal to use the litter box, and loss of interest in activities.
It is important to consult with a veterinarian and get a second opinion before making a decision.
Euthanasia should always be the last resort and considered only when there are no other options.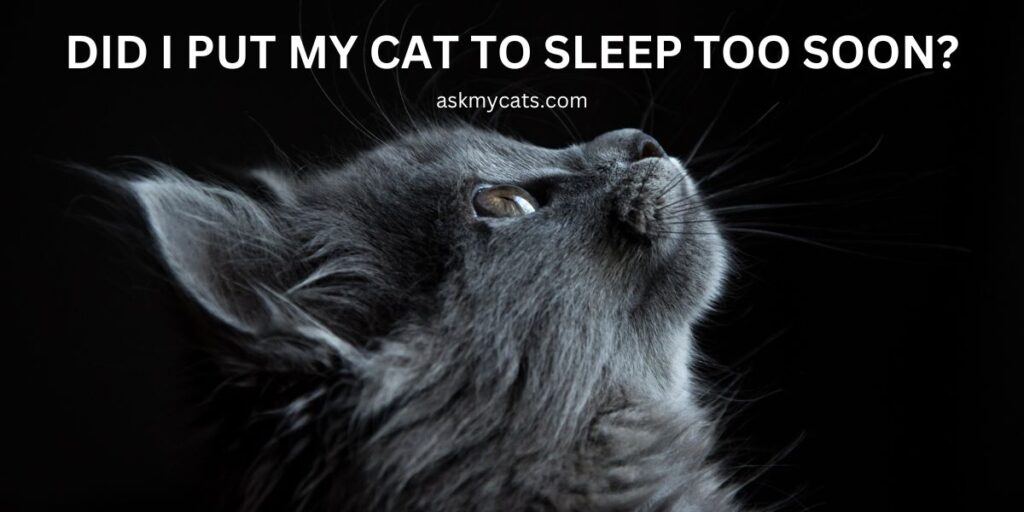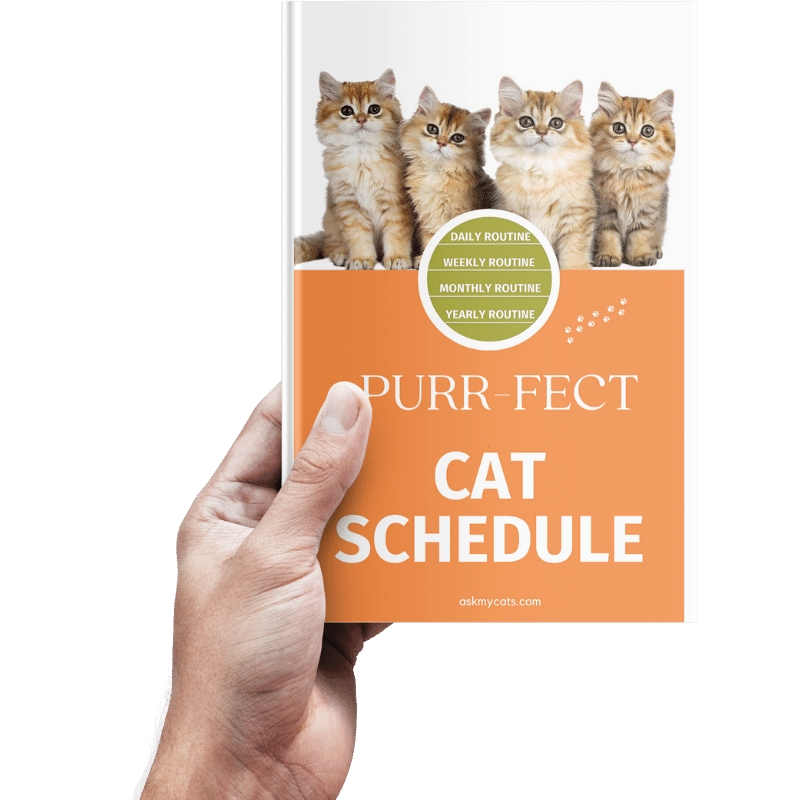 Discover the Secrets to a Happy Cat!
Discover the secrets to creating a happy and healthy daily routine for your feline friend. From playtime to mealtime, sleep to grooming, our expert guide will show you how to make every day a purrfect day for your cat.
Give Your Cat the Perfect Day – Get the Ebook!
Is Immediate Euthanasia A Solution To Terminal Illnesses?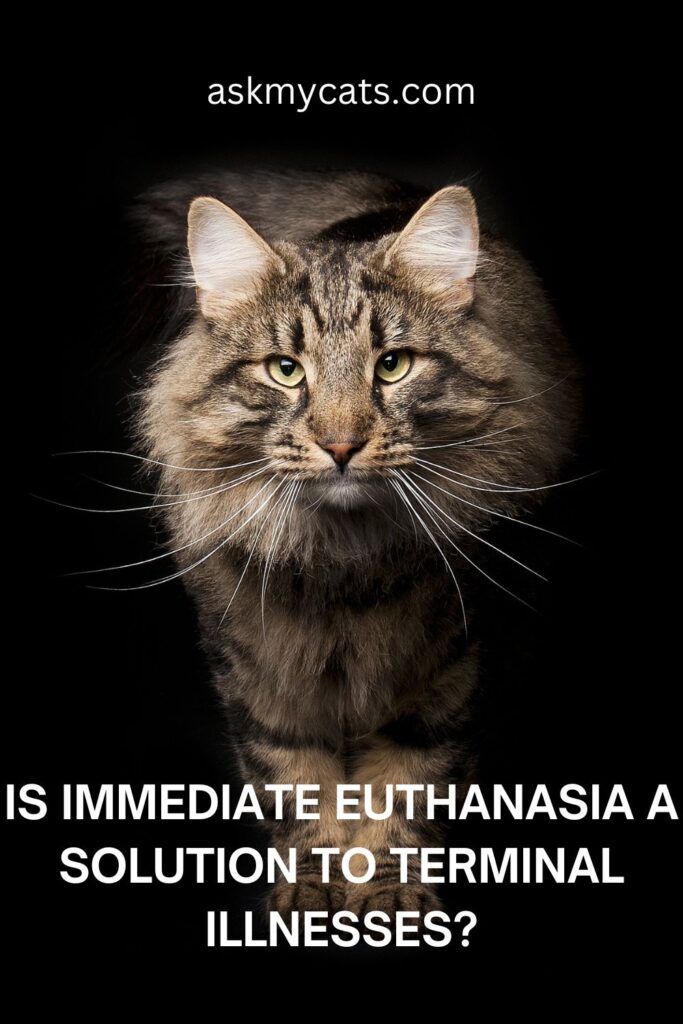 Many vets are of the opinion that euthanizing a terminally ill cat a week sooner is better than euthanizing it an hour too late.
The opinion, of course, is objected to by many – especially cat owners – who believe that euthanizing should never be a hasty decision.
There are merits to both sides, and in most cases, there is no right or wrong decision. Terminally ill cats in the final stage of their illnesses are going to succumb sooner than later.
And for most end-stage diseases, the symptoms become so aggressive that it becomes painful for even cat owners to witness their cats struggling in such insufferable pain.
But one thing is for sure – immediate euthanasia is never the answer unless in case of emergency.
Even FIV-positive cats should not be immediately euthanized. There are always treatments and hospice care resources available. Euthanasia should always be the last resort.
Check out the in-depth guide: When To Put Your Cat Down? The Complete Checklist
Stages To Follow Before Considering Euthanasia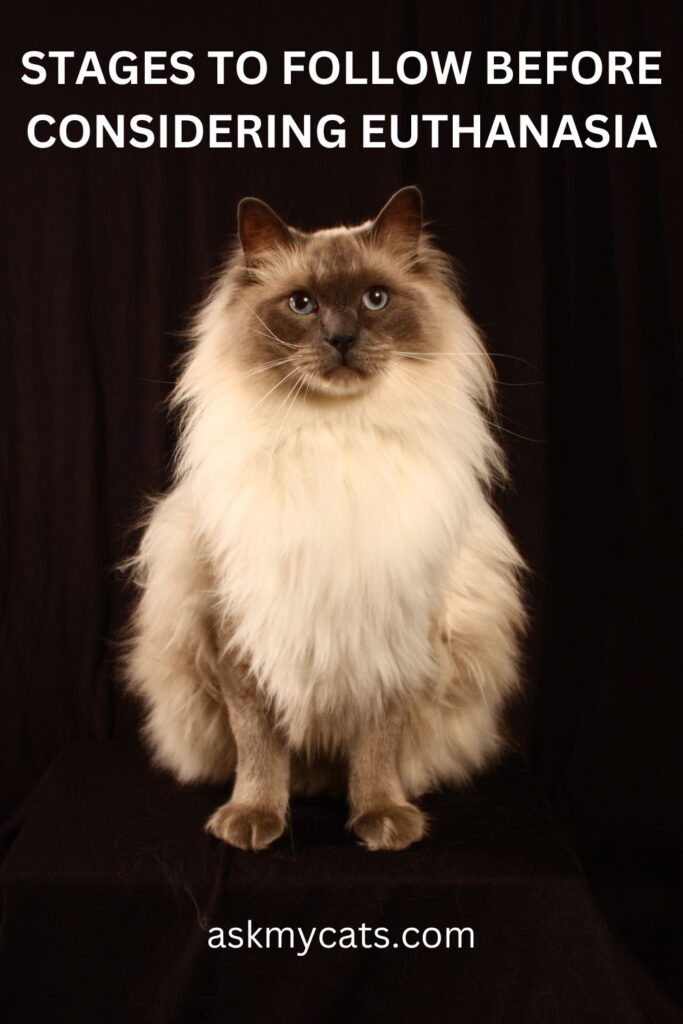 As a general thumb rule, you need to go through the following stages before you decide to euthanize your cat:
1 – Getting A Thorough Diagnosis
This may seem obvious, but it often isn't. Sometimes, especially for cats in shelters, misdiagnosis leads to an error in judgment.
So, if you are getting a prognosis of something very serious that demands euthanasia, you should always take a second opinion from another vet.
If the prognosis matches, then you could start planning out the future roadmap.
Never make a hasty decision to euthanize your cat without consulting another vet for a second opinion.
2 – Trying All Possible Alternative Treatments
When one treatment stops working, more often than not, there is an alternative treatment available. You should exhaust all alternative options before you think about euthanizing.
3 – Switching To Hospice Care
When your cat is not responding well to any alternative treatment, you should switch to hospice care. Many cat owners, sadly, skip this step and jump to consider euthanasia.
Hospice or palliative care is when the symptoms of a cat's illness are treated so that it can spend its last few days as painlessly and as peacefully as possible.
Interesting Read: How To Euthanize A Cat With Over-The-Counter Drugs?
How To Know When Is The Right Time To Put Down A Cat?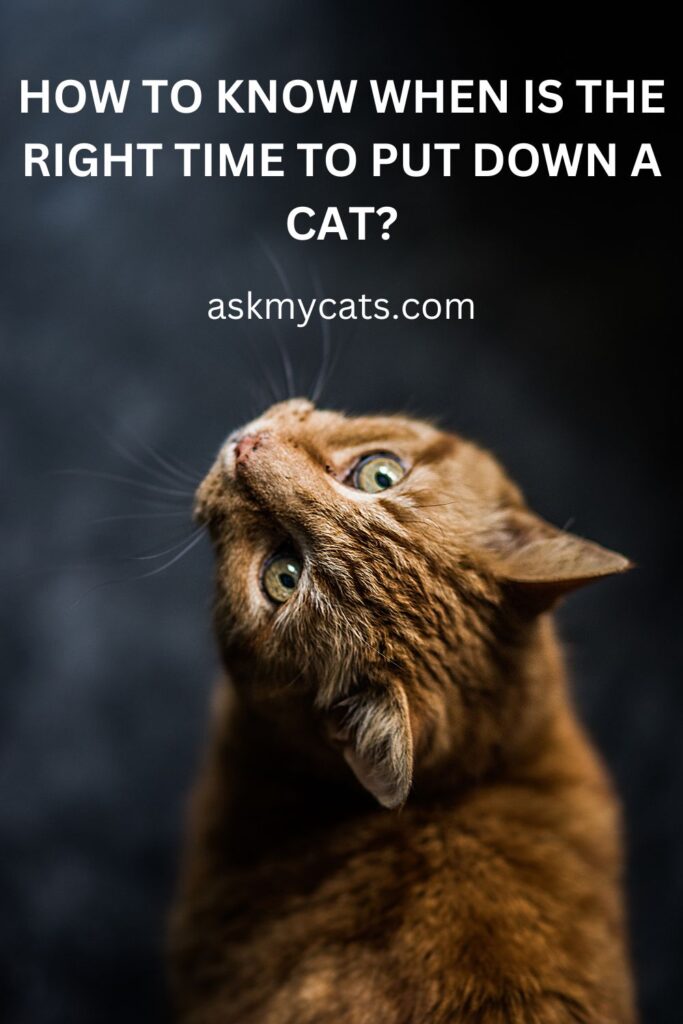 Euthanizing your cat is always going to remain a personal decision. Everyone else, including your vet, can only suggest euthanasia.
In the end, the decision lies with you. But you don't have to feel so overwhelmed about making the right choice.
The pointers given below will help you make an informed decision:
Check if your cat has completely refused to eat for several days. This is the very first sign indicating that euthanasia may be the only option remaining. If your cat has not been eating anything for over a week, it is slowly wasting itself and starving to death. That is a tremendously painful way to go. So, if your cat is not able to eat anything at all, and even IV and liquid diet aren't working, it may be a sign that it's time to say goodbye.
Has your cat stopped using the litterbox? Or worse, has it become physically incapable of using the litterbox? And has it stopped grooming itself? The inability to perform necessary daily tasks to maintain hygiene is also indicative that your cat's quality of life has fallen dramatically.
Is your cat falling or staying sick too often and for long durations? This is a sign that the immune system of your cat has been compromised. Frequently falling sick and staying sick for prolonged durations is a very painful way to live. Your cat is in extreme discomfort. Saying goodbye will be the kinder thing to do.
Has your cat become physically completely disabled? Note that this refers to extreme cases of disability such as complete paralysis and damage of the spine. Cats are usually very resilient. They can lead normal and functional lives despite a certain level of disability. But complete paralysis or irreparable damage to the spinal cord is painful.
If your cat is suffering to this extent, euthanasia may be the kinder option for your cat.
Interesting Read: How To Euthanize A Cat At Home?
What To Do If You Put Down A Cat Too Soon?
Euthanasia is permanent. You cannot change this decision once it is implemented. You cannot bring a cat back to life. All that is left for you to do is learn how to cope with the heavy feelings that follow such a decision.
You are likely to feel very guilty. Some people have also reported going into depression over making a hasty decision of euthanizing their pet. And here's the thing – all these feelings are very valid! It is completely understandable that you will feel this way.
For starters, what you should do is never beat yourself up for feeling your negative emotions. It's okay. You're only human. Don't feel guilty for feeling.
Interesting Read: Is It Legal To Euthanize A Healthy Cat?
Some things that could help you cope with the loss of your cat to premature euthanasia are:
Talking to a friend or family member who has had a similar experience.
Consulting a therapist and seeking professional help to deal with the heavy emotions.
Finding an online or offline community of people who have had similar experiences.
Sharing your experience on online forums.
Allowing yourself to feel the way you do without shaming yourself.
Spending more time with your other pets, if you have any.
Spending time caring for animals at a local shelter.
Every person is different and there is no one-size-fits-all solution. But you need to remind yourself that you are not alone in this experience. There are people who have dealt with such incidents, and they are there to validate and comfort you.
Find Solution: My Cat Is Dying And I Have No Money!
Pet Loss Support Help Lines
Cornell Vet Pet Loss Support Hotline
607-218-7457
https://www.vet.cornell.edu/impact/community-impact/pet-loss-support-hotline
Arizona
520-304-3909
New York
(607) 253-3932
Cornell University Pet Loss Support Hotline
Illinois
(630) 325-1600
Chicago Veterinary Medical Association (CVMA)
For a complete list of pet loss support helplines, visit https://www.pet-loss.net/hotlines.shtml and check out the numbers, websites, and online forums.
Must Read: How To Deal With Regret And Grief After Putting Cat To Sleep?
Interesting Read: Choosing the Right Euthanasia Option: At-Home Vs. Vet Clinic
Frequently Asked Questions
Can the death of a pet cause mental health issues?
Yes, losing a pet can lead to depression, PTSD, and other mental health issues. It is best to seek professional help and lean into your family, friends, and community for support.
Interesting Read: Should I Stay With My Cat When It Is Euthanized?
Final Words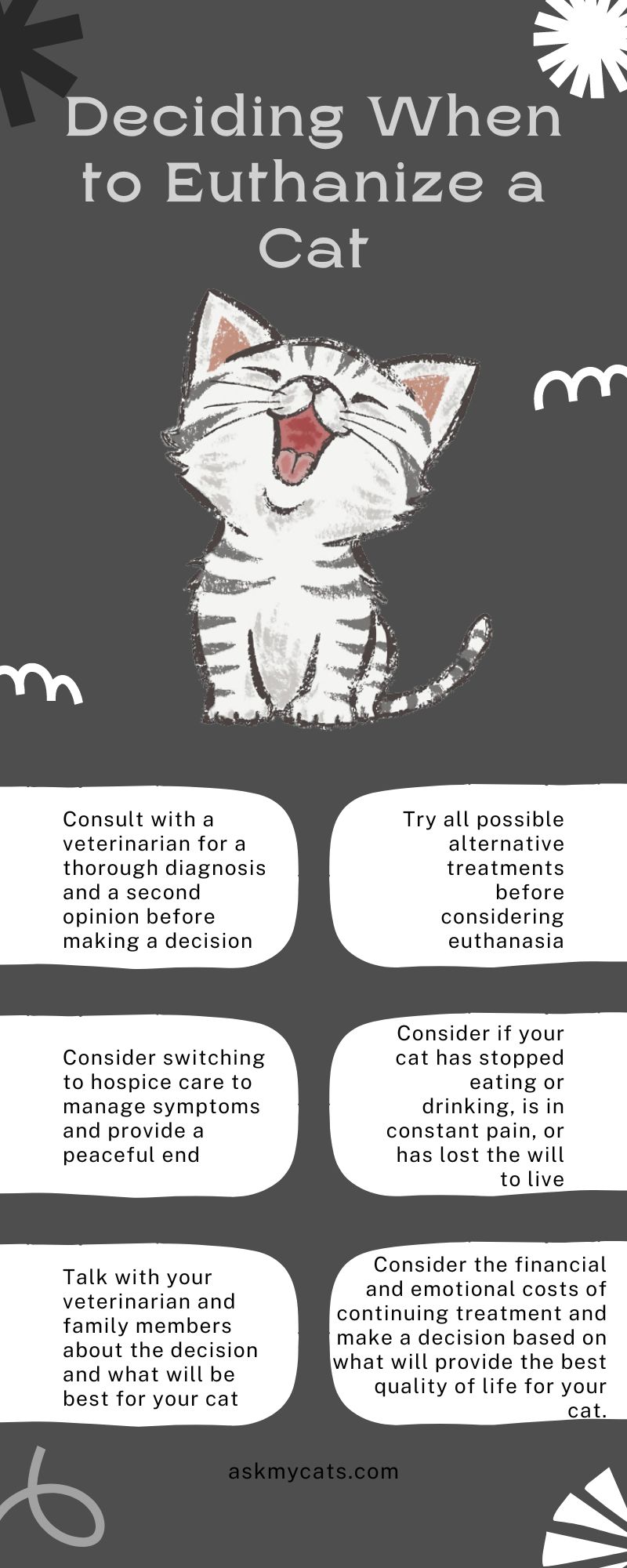 Interesting Read: Did My Cat Know He Was Being Put To Sleep?
Losing a pet to premature euthanasia can have a greater impact on your mental health than any other pet-related incident. This is because you may feel responsible for the "untimely" death of your pet.
It is important here that you don't isolate yourself. Instead, allow your loved ones to support you.
Must Read: Alternatives To Euthanasia For Terminally Ill Cats
A Cat Owner's Final Guide: What To Do After Cat Euthanasia?
Also Read: Where To Euthanize A Cat For Free Or Cheap?
You might also like to read: How Much Does It Cost To Euthanize A Cat?
You Might Also Like To Read:
References