Feline immunodeficiency virus, or FIV, is a retrovirus that affects the immune system of a cat – much like the HIV retrovirus in the case of humans. FIV, however, is not completely the same as HIV.
A common confusion among cat owners and shelters alike is about whether or not a cat with FIV should be euthanized. Owing to this confusion, sadly, a lot of cats with FIV are euthanized too soon.
In this article, we look at what the end stage of FIV looks like and what is the right time to euthanize a cat with FIV.
Key Takeaways

Cats with FIV should not be euthanized immediately, but rather when their quality of life has significantly decreased.
There are three stages of FIV: acute, subclinical, and chronic.
End-stage FIV is when the symptoms become aggressive and start to impact the cat's quality of life.
The most common signs of end-stage FIV include refusal to eat, high fever, and frequent secondary illnesses.
Euthanasia should be considered for a cat with end-stage FIV when their quality of life has significantly decreased and they are suffering.
Hospice care can also be considered as an option for cats with end-stage FIV.
It is important to discuss all treatment options with a veterinarian before making a decision.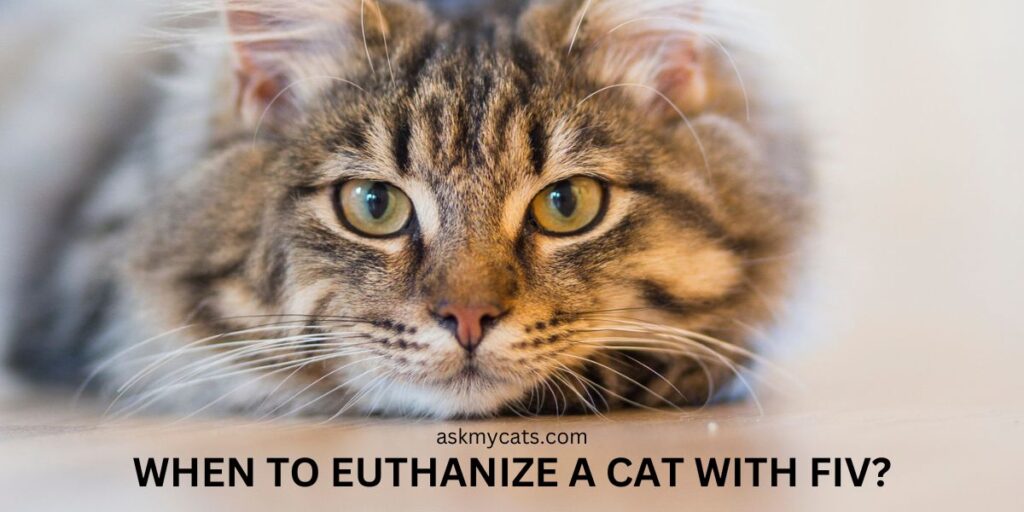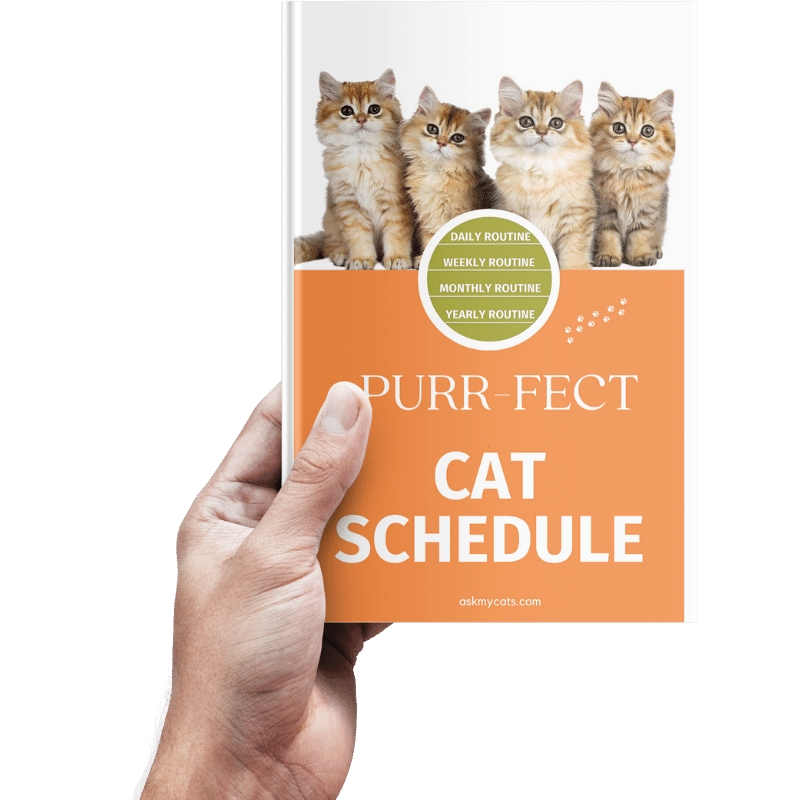 Discover the Secrets to a Happy Cat!
Discover the secrets to creating a happy and healthy daily routine for your feline friend. From playtime to mealtime, sleep to grooming, our expert guide will show you how to make every day a purrfect day for your cat.
Give Your Cat the Perfect Day – Get the Ebook!
Should A Cat With FIV Be Euthanized Immediately?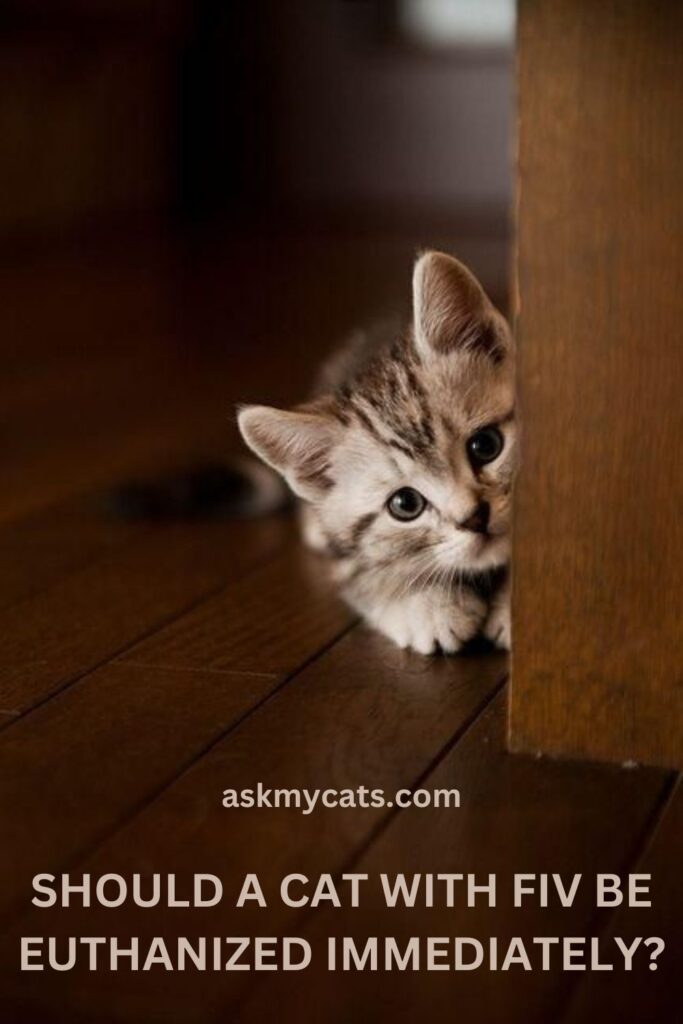 Never euthanize a cat with FIV unless the quality of life has decreased irreparably and drastically.
One of the mistakes that a lot of cat owners and shelters make is that they immediately think of euthanizing. But the truth is that even with a diagnosis of FIV, most cats can lead long and happy life. You will need extra care, but more often than not, it is very manageable.
In fact, many cat owners have had their FIV-positive cats live a full and healthy life of 10 or more years!
So, to answer this question, no, you should not immediately euthanize a cat diagnosed with FIV unless the health and quality of life of the cat deteriorate drastically.
Check out the in-depth guide: When To Put Your Cat Down? The Complete Checklist
What Are The Stages Of FIV?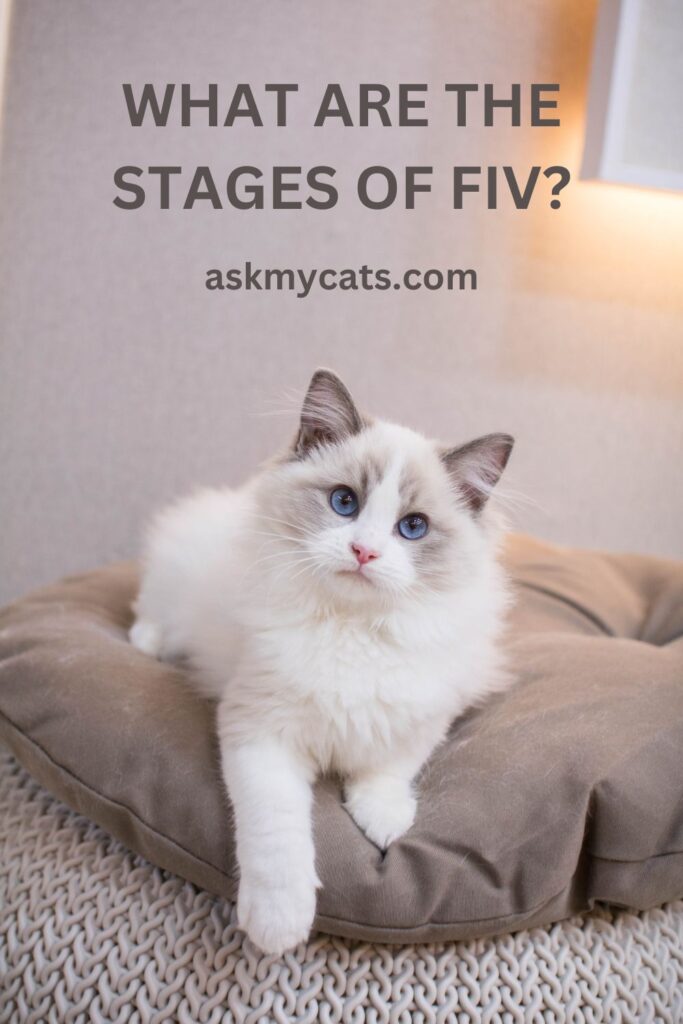 Now that it is seen that euthanasia is not the only way out of FIV diagnosis, it becomes important to understand the different stages of FIV.
This will help you make a more informed choice regarding your cat's treatment, hospice care, and euthanasia-related decisions.
Acute FIV – Initial Stage
This is in the first 6 months of being infected by the FIV retrovirus. This is a tricky stage of the infection. Your cat may experience fever and lethargy that usually gets treated with OTC medicines.
But that creates more problems than it solves. Because most symptoms of acute FIV are cured easily, it makes it difficult to diagnose the presence of the infection in the cat's body.
This leads to a late diagnosis, often in the subclinical or final stage, when the symptoms become more aggressive.
Subclinical Stage FIV
Now, in this stage, the symptoms start to get a little more persistent. But they are still not noticeable enough for a rigid diagnosis.
This stage can last for years. Gradually, the immune system of the infected cat becomes weaker.
You may observe periods of illness followed by periods of health in a repetitive pattern – but it may still not seem regular enough for you to detect something wrong.
Chronic FIV – Final Stage
This is when the symptoms become so aggressive that it starts impacting the quality of life of your cat. The immune system of the affected cat starts to deteriorate rapidly.
Often, this is when you may need to take hospice or end-of-life decisions.
Interesting Read: How To Euthanize A Cat With Over-The-Counter Drugs?
What Are The Signs Of End-Stage FIV?
Knowing what end-stage FIV looks like will help you make a more informed choice about either switching to hospice care or considering euthanasia.
The most common signs of end-stage FIV are listed below:
Complete refusal to eat.
High fever for prolonged durations.
Severe and frequent occurrence of secondary illnesses because of the compromised immune system.
More often than not, it isn't FIV itself that makes the cat's symptoms and suffering so aggressive.
It is the frequent onset of secondary diseases that happens because of a completely compromised immune system as a result of end-stage or chronic FIV.
That's what slowly starts making life more insufferable for your cat with each passing day.
Interesting Read: Did I Put My Cat To Sleep Too Soon?
When Should You Euthanize A Cat With End-Stage FIV?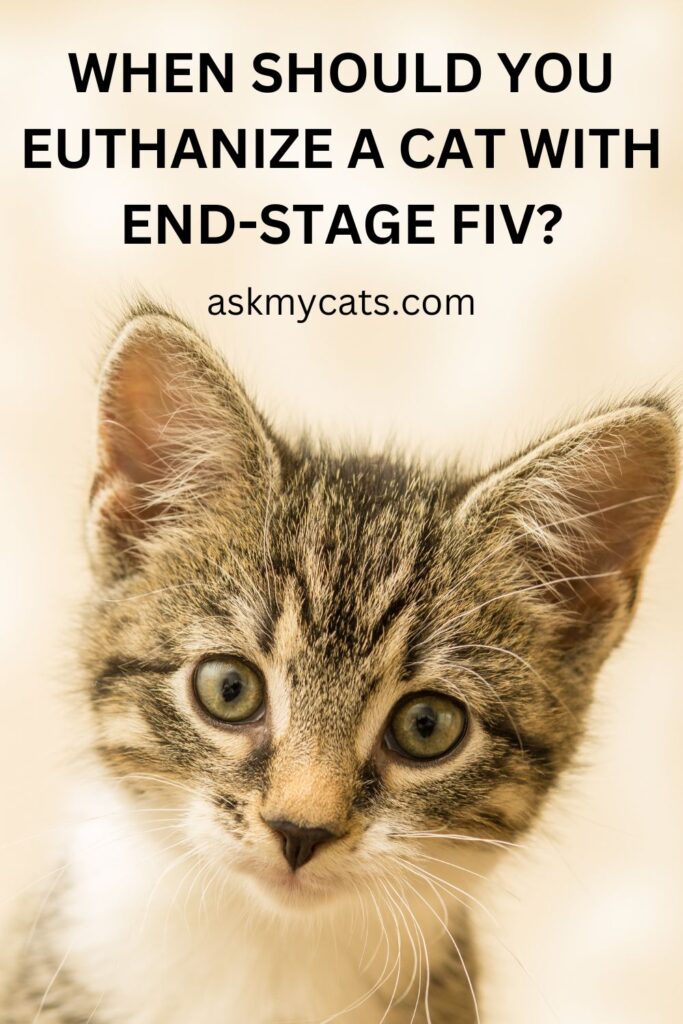 Many cats with end-stage FIV have anywhere between a couple of months to a little over a year of healthy life remaining.
During this period, depending on how aggressively the virus is impacting the immune system of the infected cat, the health of the cat starts deteriorating at a relatively faster rate.
When you start noticing that your cat is ill more often than it's healthy, it may be a sign that you need to start considering a different treatment.
And when no alternative treatment seems to work, when your cat stops responding to all different treatments, that's when you need to consider switching to hospice care instead.
Also Read: Where To Euthanize A Cat For Free Or Cheap?
Hospice care is when the treatment in itself becomes a stress for the cat's body, and there are no visible improvements, so only the painful symptoms are taken care of – it is done to ensure that the last few days of the ill cat are as painless and peaceful as possible.
But sometimes, the case is so bad that even hospice care seems to fail. That is when euthanasia could be a kinder solution.
When no treatment works and no painkillers are able to give relief to your cat, the kinder option may be to take an end-of-life decision and help your cat pass away peacefully.
Interesting Read: How To Euthanize A Cat At Home?
Frequently Asked Questions
Can FIV pass between cats?
FIV does not spread easily between cats. Apart from avoiding fighting and biting, most FIV-positive cats may live peacefully with one or two other cats and never transfer their illness.
Should I give parasite control to my FIV-positive cat even if it stays indoors?
Cats afflicted with FIV should get monthly parasite control, regardless of whether they are indoor cats or not. This involves parasite control for intestinal worms as well as fleas, mites, and ticks.
Interesting Read: Did My Cat Know He Was Being Put To Sleep?
Final Words
Cats that are afflicted with FIV can lead a long and healthy life. Euthanasia is never recommended or prescribed as the first solution.
There are many cats who have reportedly lived for 10 years or more with FIV. You need to go that extra mile and take a little extra care of your cat as it battles such a gradual and lifelong disease.
Only opt for euthanasia if the condition of your cat is so bad that passing away is the kinder solution.
Interesting Read: Should I Stay With My Cat When It Is Euthanized?
Must Read: How To Deal With Regret And Grief After Putting Cat To Sleep?
A Cat Owner's Final Guide: What To Do After Cat Euthanasia?
Interesting Read: Is It Legal To Euthanize A Healthy Cat?
You Might Also Like To Read:
References