Black cats are popular for their relationship with witchcraft, black magic, Halloween, and bad luck.
But anyway, black cats are more than just a symbol of Halloween and bad luck.
In history, they were killed and unacceptable because of dominating superstition, and at present, they are not providing extra likes to Instagram posts (not so photogenic)- basically not too trendy.
So yes, black felines are tolerating partiality from ancient times to till today.
But do you know black cats are the most common feline and dominating color coat in the cats' population? Black cats are common as they are – 25% to 30% of all cats.
Interesting right? Are you interested to know more about the black cats' population and adoption reality? Then this is the best place to explore black felines! Are you ready to be amazed?
Let's dive together into the black Feline's mysterious world!!
Key Takeaways

Black cats have a reputation for being associated with Halloween, witchcraft, and bad luck.
Despite this reputation, black cats are actually the most common color coat in the feline population, accounting for 25-30% of all cats.
Pure black cats are rare, as the black coat is a recessive genetic factor and both parents need to carry the gene for the kittens to have solid black fur.
In the US, the percentage of black cats in the feline population has increased over the years, from 22% in 2012 to 27% in 2021.
Black cats are still biasedly stereotyped, and the mythology surrounding black cats is causing needless harm and misery to them.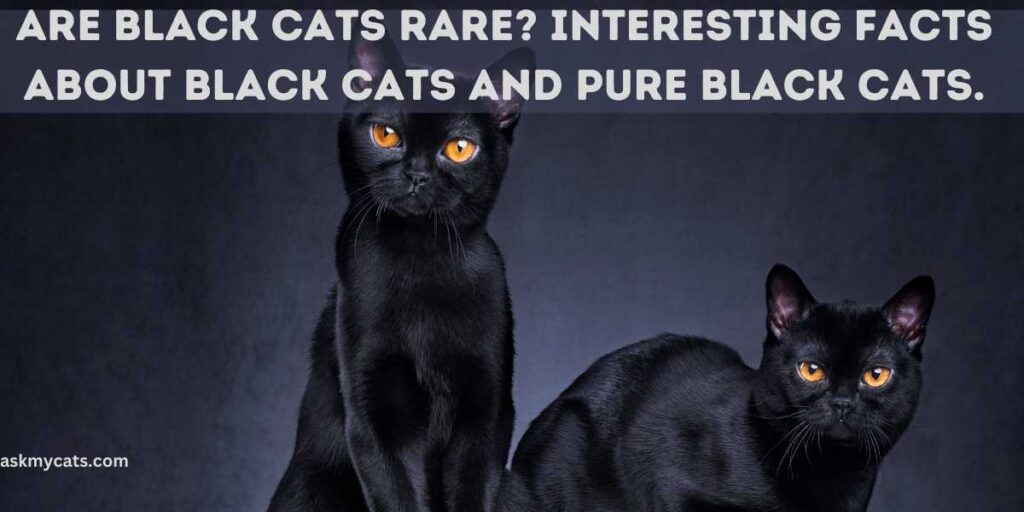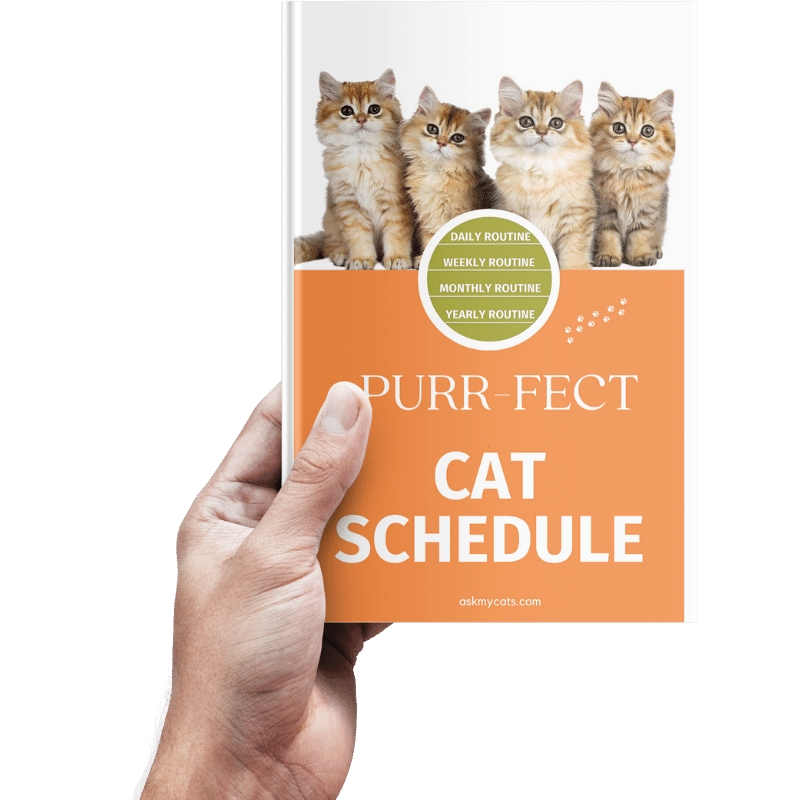 Discover the Secrets to a Happy Cat!
Discover the secrets to creating a happy and healthy daily routine for your feline friend. From playtime to mealtime, sleep to grooming, our expert guide will show you how to make every day a purrfect day for your cat.
Give Your Cat the Perfect Day – Get the Ebook!
Is There Such A Thing As A Pure Black Cat?
The term Pure black cats initially stand for cats with solid black color without any mix and match with other color coats.
Although black cats are the most common and more easily found than all other cats. But guess what, not every dark-colored feline you see is really a pure black cat.
In cats – the color gene is known as an allele and in the case of black cats, this allele is B. Allele- B is one of the dominating genes to other variations of the gene, such as b and b', which produce cinnamon and chocolate colors.
While the eventually dominant cat fur color pattern is tabby. The genetic factor for the black coat has the influence to suppress the inheritable factor for the tabby fur pattern, but it doesn't remove it. In felines that only have one black coat gene, the tabby form might still be there.
In short pure black color cat has dominating black color coat gene and a solid black appearance as well.
You would also like to read what it mean when black cat crossing your path while driving
Are Pure Black Cats Rare?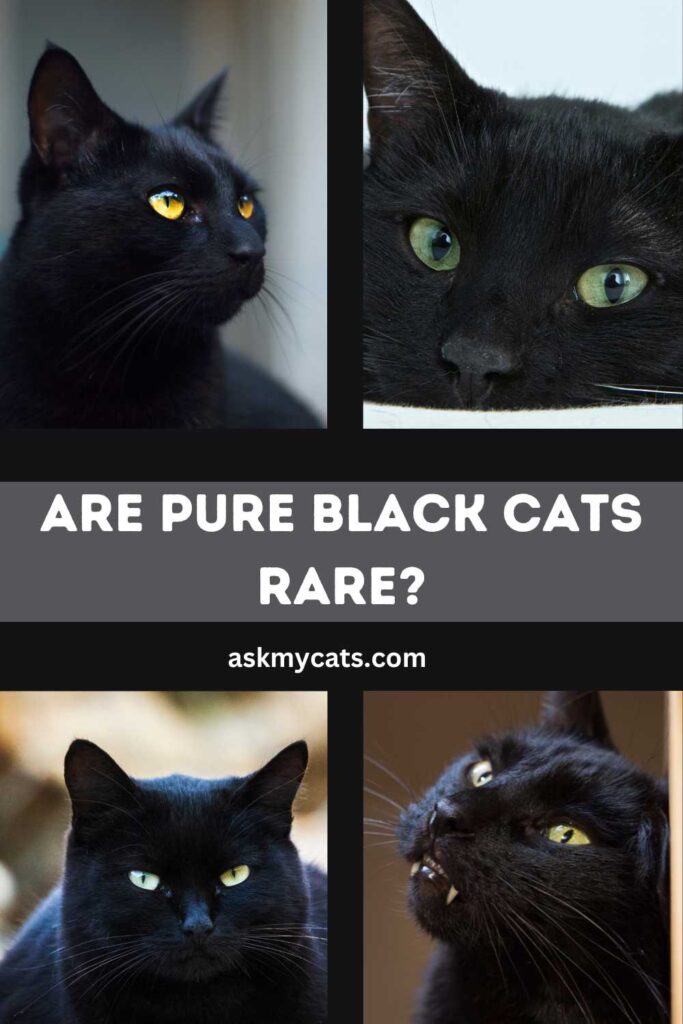 Black cats are the most common cats – we all know that! But pure black cats are too rare to be found. I'm talking about the cats who are black from top to toe without any other color fur.
Most of the blacks are the grid pattern or spotted cats which are not uncommon to be seen. In most cases, we see solid black cats but if you'll examine them closely there is a high chance that you'll find small spots on the chest or neck or paw pads or anywhere hidden that eliminate them from actual black cats.
So, most black cats we see are hybrid black and not pure black cats.
An added reason why pure black cats are so infrequent is because of the genes involved.
Contrasting some other fur colors, the black coat is a recessive genetic factor. This clarifies that both parents need should have the gene for the kittens to have solid black fur.
Interesting Read: Why Do All Black Cats Look The Same?
The Prevalence Of Black Cats In The Pet Population
In the history of cats, black cats are most misunderstood for being witch workers and messengers of the devil.
They are blessed with glamorous silk fur, classy behavior, and friendly gesture yet they are one of the rarely adopted cats.
Being in 2023 we are still struggling between science and superstition- you can see the outcome in the case of black cats' lower adoption rate.
Isn't it discrimination??
Most cat owners deny adopting black cat just for their color factor and blindly ignores the actual quality of the cat which should indeed matter.
But slowly scenario is changing in favor of black kitties. People are stepping ahead to adopt black cats without any discrimination but they still, need more effort.
Black cats are admitted to animal shelters and rescue facilities more than any other color. But they're also adopted more. Using the Comprehensive Animal Risk Database (CARDS), which pulls numbers from 14 communities that work with nearly 300,000 dogs and cats, Dr. Weiss discovered black cats and dogs make up the majority of incoming animals, roughly 30 percent.

According to Dr. Emily Weiss, ASPCA Vice President,
In the UK, RSPCA rehoming stats show that black and black and white cats are more frequently seen in their centers than any other color2 and they also take up to twice as long to find their 'furever' home3.
The data confirms that more black cats are joining shelters and rescue facilities than other cats, and an equally enormous number of them are being taken on. But the end impact is that while more are taken up, more are also euthanized.
The reality is, black cats are biasedly stereotyped, and the mythology surrounding black cats directly impacting to needless harm and misery to them.
Interesting Read: Do Black Cats Live Longer?
Percentage of Black Cats in the US Feline Population
| Year | Percentage of Black Cats |
| --- | --- |
| 2012 | 22% |
| 2015 | 23% |
| 2018 | 25% |
| 2021 | 27% |
Note: These data are based on studies and surveys conducted on feline populations and adoption rates in the US and may vary in different regions or countries.
Must Check Out: National Black Cat Day: When And How To Celebrate?
Statistics On The Number Of Black Cats In Shelters And Homes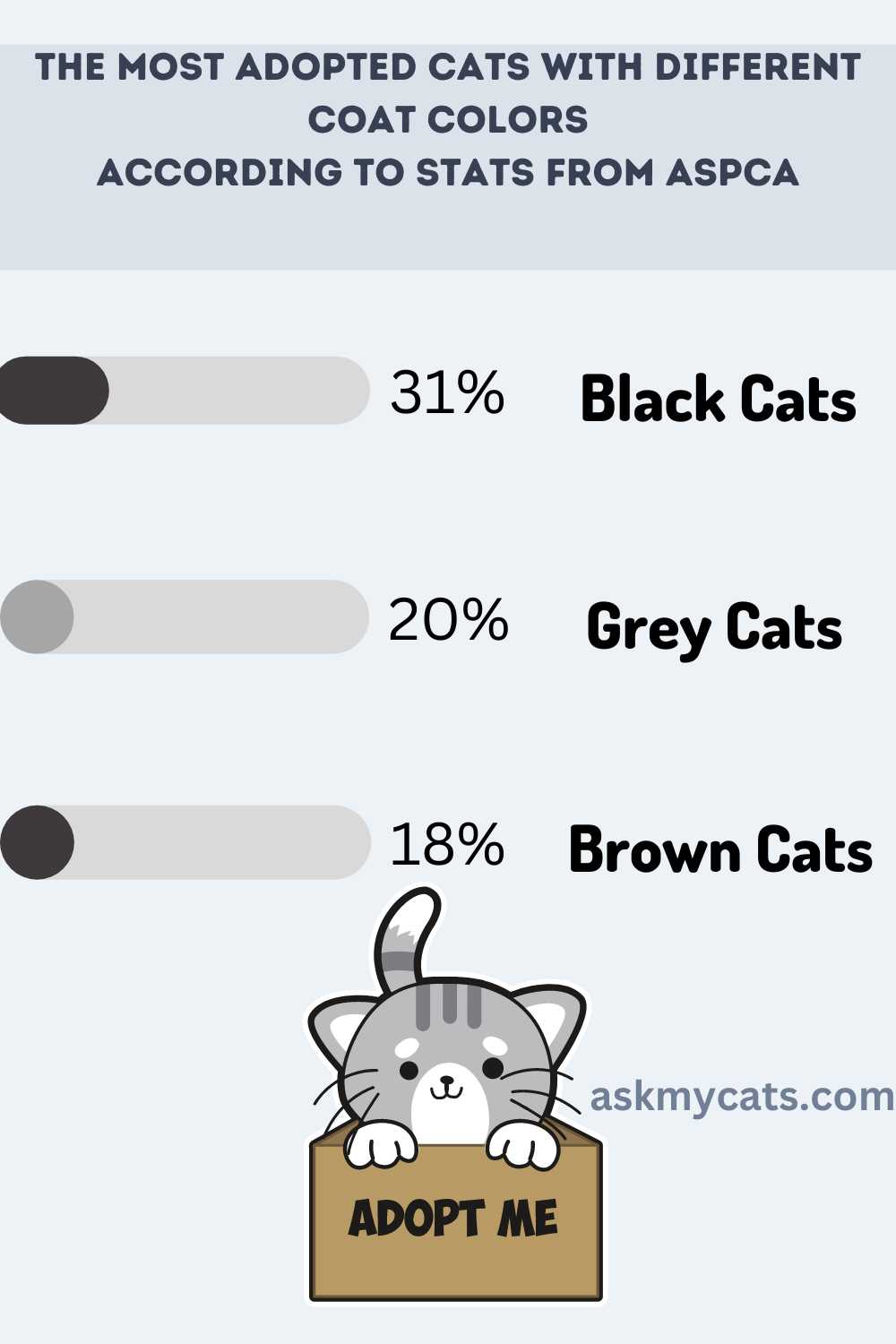 The relationship between humans and pets is beyond any explanation and when we are talking about pets how can we forget about cats- the cuddling furry friend who always amazed us with their unique behavior!!
And when it comes to black felines then they are a step ahead in terms of amazement so are their statistical analyses.
Do you know what percentage of black cats gets enter animal shelters every year? How common or rare is black cats' adoption?
Keep reading ahead to get your answer!
In a world with 400 million cats, black cats cover a larger portion of 30% which makes it one of the most commonly found cats.
As black cats are famous for bad luck; they are the leading cats entering animal shelters every year. 33% of black cat enters animal shelter every year, followed by 30% of grey cats and 28% of white cats.
Every year thousands of cats enter animal shelters, but black cats face the hardest to be adopted.
But you'll be amazed to know that out of total adopted cats – 31% of cats are black cats, this shows the fading of traditional beliefs about black cats.
According to animal charity Blue Cross data, from 2007 to 2013, there was a rise of 65% more black cats that were taken for adoption. Because the number of black cats is reduced throughout the year, it also reduces the number of euthanizations.
Interesting Read: What Does It Mean When A Black Cat Stares At You?
Percentage of Black Cats Adopted from Shelters in the US
| Year | Percentage of Black Cats Adopted |
| --- | --- |
| 2012 | 15% |
| 2015 | 16% |
| 2018 | 18% |
| 2021 | 21% |
Note: These data are based on studies and surveys conducted on feline populations and adoption rates in the US and may vary in different regions or countries.
Interesting Read: Can Bobcats Be Black? Myth or Reality?
What Breed Of Cat Is Pure Black?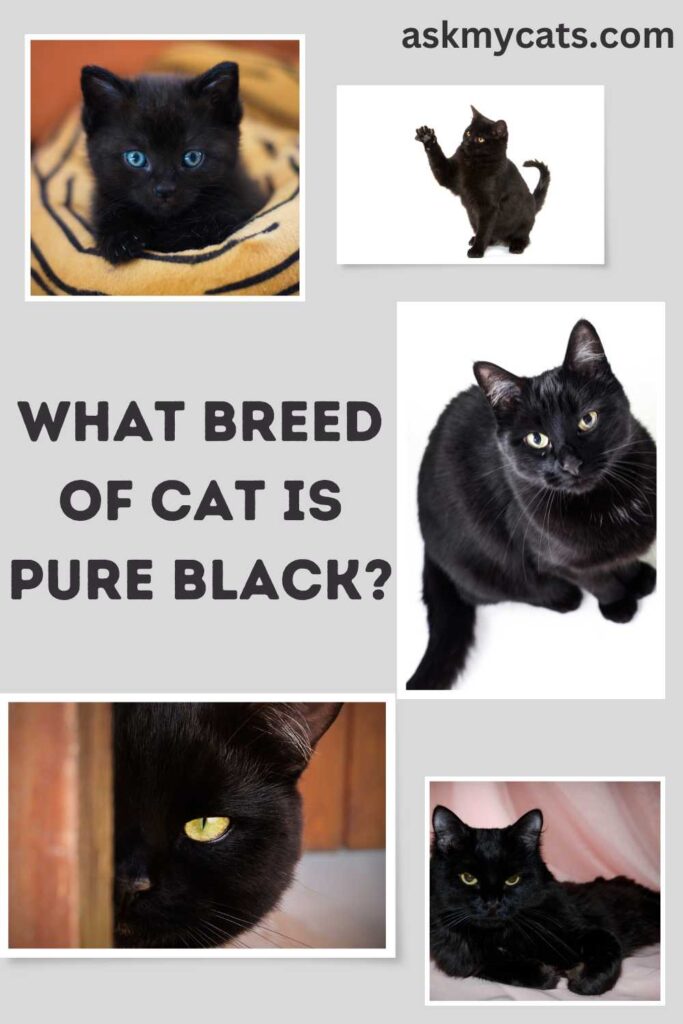 You can get cats in all sizes and colors. Few cats are single-colored, some have a mixture of colors, and others have almost-no fur. Though, several people are typically rapt with black-furred felines.
Why black cats – because they are one of the most beautiful and attractive cats with the safeguard against disease and health issues. Black cats are a classy choice for ages, especially in Egypt, Germany, and Japan.
But if we are talking about pure black cats then it is – Bombay cats.
Stunning Bombay cats appear like baby panthers, and this is not a coincidence or beauty of nature. In 1953, breeder Nikki Horner purposely crisscrossed an American Shorthair cat with a Burmese cat to generate the well-known and exclusive cat breed now known as the Bombay.
Bombay cats are short-haired cats with, silky, shiny hair and social and friendly personalities who love to express themselves. They are clever and outgoing and are a prodigious choice for cat owners of all eternities.
Must Read – Are Black Cats More Aggressive? Myth – Explained With Scientific Logic
Difference Between Bombay Cats And Other Black Cats
| Factor of differentiation | Bombay Cat | Other Black Cats |
| --- | --- | --- |
| Eye – color | Copper or gold only | Green, blue, gold, brown |
| Weight | 10-15 pounds | 8-12 pounds, on average |
| Nature | Talkative, curious, can be trained. | Friendly and playful. |
| Facial structure | Large eyes, shorter muzzle. | Average eyes and muzzle length. |
You would also like to read about Eye Color Of Black Cats
Factors That May Contribute To The Perceived Rarity Of Black Cats
1. Black Cats And Superstition
Black cats have a long past of being related to bad luck and evil forces. From primitive times, black cats have been tangled in with all creatures that have very shadowy skin.
During the 16th century, it was believed in Italy that black cats are related to death, which means if a person sees a black cat coincidentally then he will die soon or some of his close ones will die.
And it's not only about history even in modern times many north American thinks black cats are related to dark energies.
Who is unknown to the most prevailing myth about black cats- If a black cat passes your route, then you are close to bad luck. Even there are popular beliefs that if someone sees a black cat near a funeral – it means someone will die in the family.
In short, almost every country and culture have its own superstition about black cats. With all these mythological spots black cat becomes the less popular feline pets.
You might be interested to know what it means when a black cat comes to your house
2. People Say Black Cats Are Less Expressive
As we know black cats for their mysterious behavior makes them unique and calm pets. But some simply says they cannot understand the expression of black or say they found black cat to be less expressive.
Those who found black cats less expressive even believe that black felines are less friendly than colored cats.
But is it so? No, just like traditional myths about black cats, this is the modern bias for black cats – as black cats are not good at giving photogenic expressions like other celeb cats (e.g., Grumpy Cat, Lil Bub).
Are we all photogenic? But do we discriminate among humans for not being photogenic or expressive? Then why black cats are facing this discrimination?
In a nutshell not being blessed with insta-holic expression or insta star- doesn't prove black cats to be less friendly or less expressive.
And this modern demand for photogenic expression in black cats makes them less adopted and infamous pets.
Also, check out are black cats hypoallergenic
3. Halloween – A Curse For Black Cats
During the Middle Ages, people believed that black cats are witches or devils in disguise, and this belief is still there in our society as a curse for black cats.
Halloween and black cats have a well-known relationship. We all know about the Sacrifices of black cats on October 31st stretched back around 2,000 years.
So basically, people still think black cats are symbols or disguises of witches. Witches were scorched to the pale in many parts of Europe and black felines were frequently burnt at a similar time.
This is the leading reason in Europe especially- for the denial of the adoption of black cats.
You must be interested to know about black cat spiritual meaning
Frequently Asked Questions
Why Black Cats Make Exceptional Pets?
Yes, black cats are exceptional pets as they have unique features and nature. Black cats are smart, friendly, and sociable as well. Thus, they have decent tempers and great cleverness. Their lively nature makes them entertaining to own and around children. Their calm nature varieties them an excellent choice for pets and other cats as well.
Do Black Cats Have Any Advantages?
As a matter of fact, yes. Tabby designs or spots are commonly assumed better for disguise in the wild, black felines are ideally fitted for hunting in the darkness.
Additionally, the same genes that make black felines create an abundance of melanin are also correlated to stronger immune systems and illness resistance, particularly to FIV. Scientists are saying that, once they get the entire feline genome mapped, black cats and panthers may be instrumental in helping us cure HIV.
Black cats are super classy and friendly cats. If you want a hugging feline best friend, then black cats are the first on the list to be considered.
Interesting Read: Why Is My Black Cat Turning Brown?
Final Words
If you're looking for beautiful, outgoing, social felines then black cats are the best option. It's the Bombay cat, a kitten truly dedicated to the color black – their shiny furs come in this tint only.
It's high time to forget about the past and superstition about black cats.
These incredible black cats dream of an abundance of attention and will offer plenty of love in return. Additionally, these felines like to say what they feel too, so be prepared for all those adorable purrs about to reach your way.
Which black cat breed is your favorite? What do love most about black felines? – Tell us in the comment box.
Must Read: What To Do If A Black Cat Crosses Your Path?
Interesting Read: Are Black Cats More Vocal?
Reference