Hey, feline fam there! We all love when our cat meows at us, but for a certain period of time, after a while, it becomes irritating when the repetition of meowing becomes too often and normal – in other words, your cat becomes more vocal than other cats.
You must have heard that black cats are more vocal than any other color cat – but is it so?
No, black cats are not more vocal than other colored felines, in fact, any color cat's vocalization cannot be estimated or pre-judged on the basis of her color coat.
Black cats are always a hot matter in superstition in almost every culture, some believe they are a bad omen whereas others see them as symbols of prosperity.
Beyond these superstitions, another well-known superstition about black is that they are more vocal.
Now you must be wondering how this concept came. What science says about it? Is coat color enough to judge a cat's vocalization basis?
Don't worry we are here to answer all your question with scientific explanations!
Keep reading ahead!!
Key Takeaways

There is a stereotype that black cats are more vocal than other colored cats, but this is baseless and studies have shown that vocalization has nothing to do with coat color.
Cats' behavior is determined by genetics, with kittens inheriting their parents' behavioral traits.
Environmental and social factors can also influence a cat's vocalization, as cats adapt their behavior to their environment.
It is unfair to judge cats based on superstitions and stereotypes, and they deserve love and attention regardless of their coat color or behavior.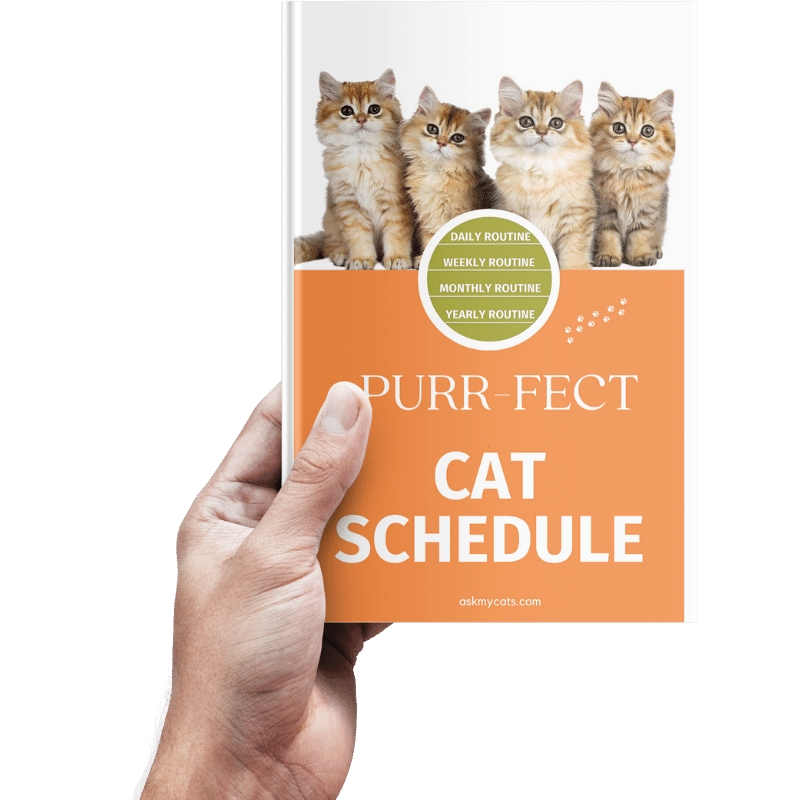 Discover the Secrets to a Happy Cat!
Discover the secrets to creating a happy and healthy daily routine for your feline friend. From playtime to mealtime, sleep to grooming, our expert guide will show you how to make every day a purrfect day for your cat.
Give Your Cat the Perfect Day – Get the Ebook!
Stereotype That Black Cats Are More Vocal Or Talkative
Black cats are always ill-treated by our society, be it past or present – they are famous for being more vocal, but this stereotype is baseless, and several studies proved that being vocal has nothing to do with the fur color of the cat.
First try to understand that all precious is precious, beyond any color and size, when it comes to our pets, they give us unconditional love and attention. Don't you think they deserve it too? Is it fair to pre-judge them based on superstitions and stereotypes?
The fact is that some felines are very talkative, and some are better at being the vital silent kind.
If a cat is making too much sound or loves to shout, then instead of blaming her color, you should blame her born and brought-up environment and breed.
You must have seen many black cats like to be more vocal and many of them like to be silent and aloof. Similarly, you can see this variation in all other colored cats – all colored cats can be vocal or less talkative, based on individual behavior and environment.
In short, we cannot say if a cat is vocal or not, based on her coat color.
"Poor black cat – still surviving stereotype from the medieval age to today."
Interesting Read: Why Do All Black Cats Look The Same?
What does Science Say About The Stereotype Of Black Cats' Vocalization?
In the case of dogs, we do crossbreed according to our requirement of the quality of the dog, for example, if we need a dog for the border or police force, we will definitely want an active dog whereas for domestication we need friendly but calm dogs, that means their behavior is based on their genetics similarly in cats' genetics plays the most significant role in determining their behavior.
Though most cat breeding is done for getting the preferred color coat (not focused on behavior), yet many breeders and vets believe that cats' behavior is the result of genetics, and it has nothing to do with their color.
Dr. Valarie V. Tynes discusses how a great deal of research over the years has clearly demonstrated that many behavioral traits have a genetic basis in both dogs and cats.

Dr. Valarie V. Tynes
That means the genetics of the cat becomes one of deciding factors of her behavior, as they carry their behavioral trait from their parents.
In most cases, kittens in the first two weeks behave quite similarly to their parents, because of the gene they are carrying them.
This genetically transferred behavior is inherited and permanent and can be influenced by training and proper guidance.
But one thing should be considered this behavior can be influenced but cannot be totally erased, it will be shown by your cat from time to time and there is a high chance that this behavior will be transferred to the next generation of your cat.
This inherited behavior explains that your cat's behavior is based on her genes, and there is nothing to do with her color.
Must Read: Are Black Cats Bad Luck? Debunking the Myth
What Are The Roles Of Genetics In Determining A Cat's Personality And Behavior?
If you have a talkative kitty and you are linking her talkative nature to her color then hold on… You are wrong my friend.
As we already discussed, genetics is the most important factor in deciding the cat's behavior.
Though one coincidence can be possible that you know most the black cat who belongs from a gene that carries vocal behavior.
In short whatever the coincidence of this pre-judging mindset of deciding the talkative behavior of a black cat by her color is absolutely baseless. Why I'm saying so?
Because your cat's vocal nature is gifted by her parents in her genes.
So instead of believing any stereotype, start considering science for understanding the vocal behavior of your cat.
Interesting Read: Do Black Cats Live Longer?
What Are The Environmental And Social Factors That Influence A Cat's Vocalization?
We cannot mark the exact date or year when cats started living with humans, but we can say without any doubt that cats are one of the oldest constant companions of human beings.
Earlier they use to live in the forest, at that time they use to be furious and even larger in size, but they kept on evolving to be perfect to be domesticated, these evolutions were both behavioral and physical.
Their behavior changed according to the environment they started living in which means human colony.
Once a kitten is born then for two initial weeks it behaves according to its genes but after that period of time, they start behaving according to the environment they are being brought up in.
Different cats experience different environments, for example, some belong to a shelter, some are brought from a breeder, and some are born in the nuclear human family, – this is a never-ending list!
A cat who lives in a family with many interacting members tends to be more vocal than another cat, be it a black cat or any other color cat.
Lighting in which cats live is another important environmental factor that influences the vocalization level of your cat.
If your cat lives in a darker room or spends more time in the dark then there is a high chance that she will be less friendly and less talkative but if she loves to be in light or say sunlight, they tend to be more vocal and expressive.
Another environmental factor is odor, cats get stressed by some odors and this stress becomes responsible for their weird behaviors like being highly vocal those smells can be of cleaning liquid, alcohol, citrus sprays, etc.
If your cat lives with any other pet like dogs or other cats, they must be more talkative or vocal in nature, and if a cat stays alone as a pet in your home, then doesn't matter which color coat, she belongs from she will be comparatively less vocal.
You may like to read, Are Black Cats More Aggressive?
What Is The Role Of Breed In A Cat's Vocalization?
Cat breeds, such as the Siamese, are comprehended to be very vocal. If your feline has a sharped facial structure and a lengthy, and inclined body, possibilities are she has some oriental ancestry, so "being very vocal or talkative" may be a component of her personality.
If you want her to be less vocal, then try to avoid giving her any engagement when she is voiced because this will only motivate the vocal conduct.
Rather, give her more love and attention when she is modest.
The logistic regression analysis detected differences between breeds in social behavior (Table 1, Fig. 1, Supplementary Tables S2–S5, S7).

British Shorthairs had the highest probability for decreased contact with people whereas Korats had the lowest probability.

Turkish Vans were the most likely to display aggression towards people. In contrast, British Shorthairs (as well as Persians and Cornish Rex cats with the trait 'aggression to strangers') had the lowest probability for aggression.

Turkish Vans also had the highest probability for aggression towards other cats whereas Persian and 'other' cats (consisting of cats belonging to any other breed than shown in Fig. 1) were unlikely aggressive.

Russian Blue cats had the highest probability of shyness toward strangers whereas Burmese cats had the lowest probability.

Nature.com
You would also like to read about Eye Color Of Black Cats
What Are The Other Factors Possible For Your Cats' Vocalization?
| Factors | Explanation |
| --- | --- |
| She wants your attention | Cats are attention, your cat loves your attention. When she doesn't get proper attention, she becomes more vocal to convey to you that you are ignoring her. |
| Your cat might be in heat | In the heat-cycle cats tend to be more vocal. |
| Maybe she is in pain | If your cat is becoming excessively vocal out of blue then she might be trying to tell you that she is in pain or ill. |
What is The Cultural Significance Of Black Cats' Vocalization?
"A black cat crossed your road, now you will be followed by bad luck," you heard it right?
"You have seen a black cat from behind that means it's a bad omen."
"Black cats help single women to get married soon."
These are some known cultural significance related to black cats because of their fur color, but do you know not only their color but even their vocalization is part of cultural significance?
In India, it is believed that if a black cat becomes too vocal that means she is giving a warning for upcoming danger in your life.
If you see a black cat crying in front of your door it signifies that someone will suffer from serious health issues.
There are many more cultural significances related to the talkative nature of black cats, but the fact is that black cats are not always talkative or vocal, it is just in our mind that we relate all their activities with stereotypes.
Interesting Read: Are Black Cats Really Rare?
What Is The Spiritual Meaning Of Black Cat Vocalization?
Though black cats are mostly linked with bad fortune and undesired warnings your black cats' voice is even appreciated in much spiritual symbolism.
There are people who strongly believe that if a black cat is becoming vocal or talking too much then see is conveying some good message to you.
From ancient times' black cats are being worshipped as goddesses in Egypt, they were seen as symbols of goddesses Bastet and Mafdet. Mafdet was portrayed with a cat's head and black felines were assumed to be the Earthly ideals of her soul.
Even though it is believed they can sense everything before us, they have the power to feel the future through their sixth sense.
Some say that they can feel positive spiritual energy when they are near black cats or when they hear the voice of black cats.
Interesting Read: Are Black Cats Friendly?
What Does Superstition Say About The Black Cats' Vocalization?
Black cats are the issue of many misconceptions so it's no wonder that black felines are more vocal and they especially cry at night is measured as a bad forecast.
Black cats have been related to necromancy and sinful spirits which makes clear how black cats' vocalization came to be known as an alarm of a bad happening. Is it an ancient companions' story or is there any base for such an acceptance?
There are numerous different opinions about the black cat vocalization superstition. One is that the black feline must be on the rooftop whilst crying. In other circumstances, the ill individual must be in bed for a while.
But one can notice that all differences have two belongings in mutual: a black feline that's crying and somebody who's not in decent health.
How all these superstitions might have come? One possibility can be that a black cat might have been vocal before the demise of any ill person (which can be purely a coincidence) – and people are still believing that the voice of a cat can be the reason for someone's death.
What Are The Role Of Superstitions And Prejudices In Shaping Attitudes Toward Black Cats' Vocalization?
We are in the 21st century but still superstitions and cultural significance are more dominating than science and facts in your mindset.
The same goes for the case of black cats, rumors about their excess vocal nature are one of them why people tend to believe that they are talkative because they talk with devils and convey to them our life secrets.
These thought processes are the major reason for less adoption of black cats in most countries, black cats spend more time in shelters than any other colored cats.
We have to understand that we cannot judge any creature just by superstitions and religious assumptions, and how can we be so racist in the modern world that we are judging a cat by her black color, in fact, we won't think twice to be too judgmental about her talkative nature.
You must be interested to know about black cat spiritual meaning
The Lack Of Scientific Evidence For The Stereotype That Black Cats Are More Vocal
Now you know every culture and country has its own belief that why black cats are more vocal and chaotic.
But in actuality black cats cannot be vocal just because they are black in color, they can be vocal because of their genes and breed or any environmental or health issues can be responsible for their vocal behavior.
There were many research and studies took place to understand the behavior of cats on the basis of their coat color, but it has never been proven that color can be a factor in deciding the vocalization of a cat of any color.
Frequently Asked Question
Which Cat Is The Most Talkative?
Numerous black feline owners might assume that they have the chattiest feline in the globe, but chances are that isn't absolutely true.
Maximum professionals approve that the extensively vocal cat breed has a structure of albinism: Siamese cats!!
This breed is known for its vocal nature, and they love humans because it's believed that they are one of the oldest breeds of cat that stays with humans, and they evolved to be comfortable in human society.
Why Do Black Cats Cry At Night?
Your black cat might cry at night because they sense stress, are bored, unstimulated, lonesome, or just desire to go outdoors.
If your black feline won't stop being vocal at night even when they get plenty of play and sports time, other reasons to contemplate are thyroid or kidney disease.
Another reason can be possible is that cats become more active at the night.
Final Words
All black feline is slightly distinct in why and how much they be vocal.
It's significant to pay keen concentration to your feline's vocalizations, particularly as you are foremost getting to understand one another or as your feline moves into new stages of life, to bring an understanding of what they desire and require when they vocalize.
There can be different possible reasons for her vocalization. Relating it to any superstition or blaming her color will never help you. You are the one who can help your cat by understanding her instead of judging her.
Though excess vocal behavior can be a symptom of internal suffering, pain, stress, and anxiety in cats, so as a responsible pet parent it becomes your duty to take her to the vet for a proper check-up.
Is your black cat vocal or calm? What do you think about the cat's vocalization reason?
Also, check out are black cats hypoallergenic
Reference