"Ahaa…wait, a black cat crossed your path, don't go ahead – now you'll be followed by bad luck!!" You must have heard this. But don't you wonder how a cat can decide your luck?
From ancient times to today in the 21st century or the so-called modern era, we humans are surrounded by numerous superstitions and orthodox. "Black cats are bad luck" – one of those world-famous superstitions.
Now you must wonder "Are black cats really bad luck?"
No, black cats are neither bad luck nor witches in disguise, but they are cats just like other colored cats.
But why are black cats linked with bad luck? What is the past behind it? Where it came from? Why is it still prevailing in society? All these are your questions too, right? Then you're at the right place to get your answer.
Keep reading ahead to know everything about black cats and their black history!!
Key Takeaways

The idea that black cats are bad luck has been around for centuries.
The reputation of black cats as symbols of misfortune started during the Middle Ages.
People started to believe that black cats were witches in disguise or messengers of the devil, leading to a negative image of the animals.
The reputation of black cats was shaped by myths and folklore, which spread from country to country.
Black cats were seen as nocturnal creatures and were common pets of witches, leading to the idea that they were associated with the devil.
During the Black Death pandemic, many black cats were murdered because they were seen as linked to the devil.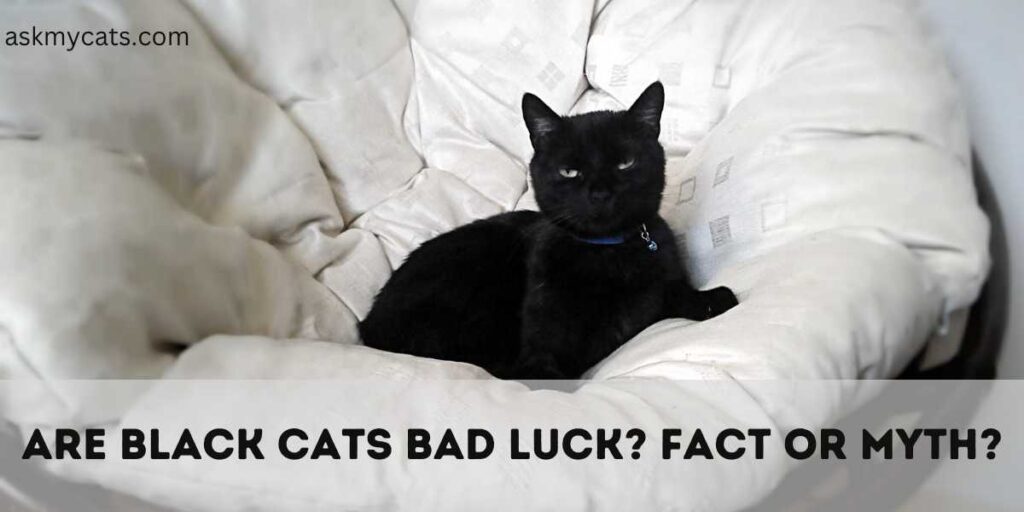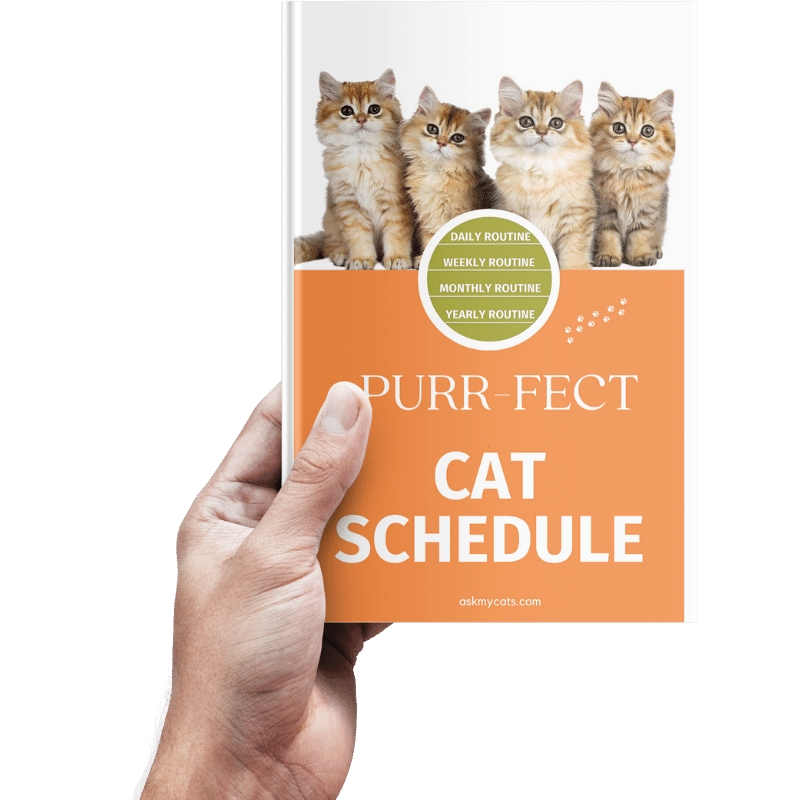 Discover the Secrets to a Happy Cat!
Discover the secrets to creating a happy and healthy daily routine for your feline friend. From playtime to mealtime, sleep to grooming, our expert guide will show you how to make every day a purrfect day for your cat.
Give Your Cat the Perfect Day – Get the Ebook!
The History Of Black Cats And Superstition
Black cats and their horror-thrilling stories are always a hot topic to debate. Nobody can say how it started and from where, as every country and time period have its own type of saying for black cats.
Ancient Egyptians worshipped cats including black ones Not only Egyptians but even many more civilizations use to see black cats as a good look, but this perception started diminishing slowly during the Middle Ages.
The reputation of black cats kept being polluted and became famous as a symbol of misfortune. People started believing that black cats are not just black by fur but even their soul is darker black too.
Superstitions and rumors became a constant companion of black felines for ages to till today. Witches in disguise, messengers of the devil, and an omen of ill luck are the well-known names of black cats throughout the world.
Especially in Europe black cats were a subject to be terrified of, in fact, some countries started seeing black cats as ravens. If someone is ill and a black comes closer to them then that means they will die soon.
You might also like to know about Black Cat Spiritual Meaning
The Role Of Black Cats In Mythology And Folklore
In past, people had stories and legends to share for the purpose of entertainment. Today we have phones and tv to be engaged and whatever we see on social media and tv we kinda believe it. Similarly, in early times, people use to believe everything they hear in stories and folklore.
In the case of black cats' people started believing the stories and rumors and they kept spreading from country to country and from time to time.
Imagine you are continuously hearing something from different people, and you start believing that yes if everyone is saying then it might be true, and this is how myths and folklore shaped the reputation of black cats as bad luck.
Must Check Out: National Black Cat Day: When And How To Celebrate?
Here are a few famous examples of such myths about black cats from different regions of the world:
| Regions | Myth |
| --- | --- |
| Italy | During the period of the sixteenth century, people believed in Italy that if a black jump on the bed of a patient, then he will die soon. |
| Colonial America | In Colonial America, Scottish migrants believed that a black feline entering a wake was a bad break, and could direct the demise of a household member. |
| North America | In recent days, negative implications last to haunt black cats: It's considered bad luck if a black cat crosses your path, and good luck if a white cat crosses your path. |
| Rome | 1486, Pope Innocent VII announced that the black cat was "the devil's favorite animal and the idol of all witches." |
These are the few well-known myths about black cats which made them emerge as a negative soul and energy in the prevailing society of different parts of the world.
Interesting Read: Why Do All Black Cats Look The Same?
What Are The Relation Of Black Cats With Witchcraft And The Occult?
We know that black cats don't have a good repo, they got hatred even still getting because their name was always linked with witches and the occult.
You must wonder sometimes how it all started, what made black cats so worst that they have to face continuous disliking.
So, it all started after the 14th century when black cats repo started being polluted before people use to worship black cats. But the link of superstition changed the scenario. Black cats are nocturnal and that is one of the reasons that they are seen as witches.
Link with the occult and witchcraft played a big part in the black cat's evil image. As witchcraft use to live in nature and woods, it was common for them to pet cats especially black cats as they are good hunters.
When the black cat was related to the devil, it led to many of them being murdered during the Black Death pandemic (though the felines were really helping to put to death the rats that spread the plague).
Ironically word witchcraft has a negative image, but do you know what it actually means – the craft of the wise!! As witches have the power of doing magic, some of them used this magic to cure disease.
But a few of those witches used their power for their own wrong benefits that are when the Christian Church spread information that their magic powers came from The Devil.
Whereas there were other thoughts prevailing that black cats were actually human beings that did wrong deeds and were forced to come back to the world and while it's tough to imagine that anyone ever measured these attractive creatures to be evil, these opinions eventually lead to the fallacies people have of black cats, even today.
Must Read: Black Cats And Halloween: History, Facts & Myths
The Role Of Cultural Beliefs And Prejudices In Shaping Attitudes Towards Black Cats
The innocent, pretty, attractive black cat is one of the most misunderstood being on earth. Not only in Europe but throughout the world many countries have their cultural belief related to black cats.
Some see black cats as a red flag of misfortune and death whereas few countries see them as a green flag of good luck and property. But when we will see them as cats… just cats; nothing less nothing more.
Who doesn't know about the mass killing of black cats during Halloween and less adoption of black cats from shelters during the month of October? Not only on Halloween but still few countries believe in hunting black cats as witchcraft throughout the year.
The cultural beliefs from the ancient world to today are harming the harmless black cats and they are facing all the way difficulties for society.
These traditional beliefs have grown-up minds who cannot risk owning a black cat and that is the reason that black cats are the less adopted and accepted cats.
Now we should leave the past beliefs in history. Without considering black cats as curses of the past we should accept them as normal as other felines.
You would love to check are black cats friendly
The Influence Of European Folklore On Perceptions Of Black Cats In The Western World
The misconception connecting black cats with bad luck is engrained in the European terror of the dark.
Throughout the Middle Ages, Devil-fearing Christians murdered black felines because of their supposed nearness to the underworld. This anxiety even spread to the Salem Witch Trials, when the adoption of a black cat could be quoted in the custody of witchery.
Whereas pop philosophy still conserves this concerned heritage, secretive performers have rejuvenated another ritual that dates back thousands of years.
The contemporary holiday of Halloween times back to the early pagan leave of the Celtic people named Samhain.
Through a lot of chaotic pasts, variations in ceremonies, and the change of pagan representations, we have what we get as Halloween today.
But the root of the festival of Halloween is its linking with life after death.
As soon as the undead, spirit world, and black magic came to the fore, black cats were suddenly linked to Halloween as well.
In the red to the same delusions of witchery, black magic, and demise, that are shared by both – black cats and Halloween – it did not take a lot of stretch of time for individuals to make acquaintances amongst black cats and Halloween.
All these prevailing beliefs in Europe are the reason for prejudice in the case of black cats till today.
Interesting Read: Are Black Cats Hypoallergenic?
The Influence Of Societal Biases On The Treatment Of Black Cats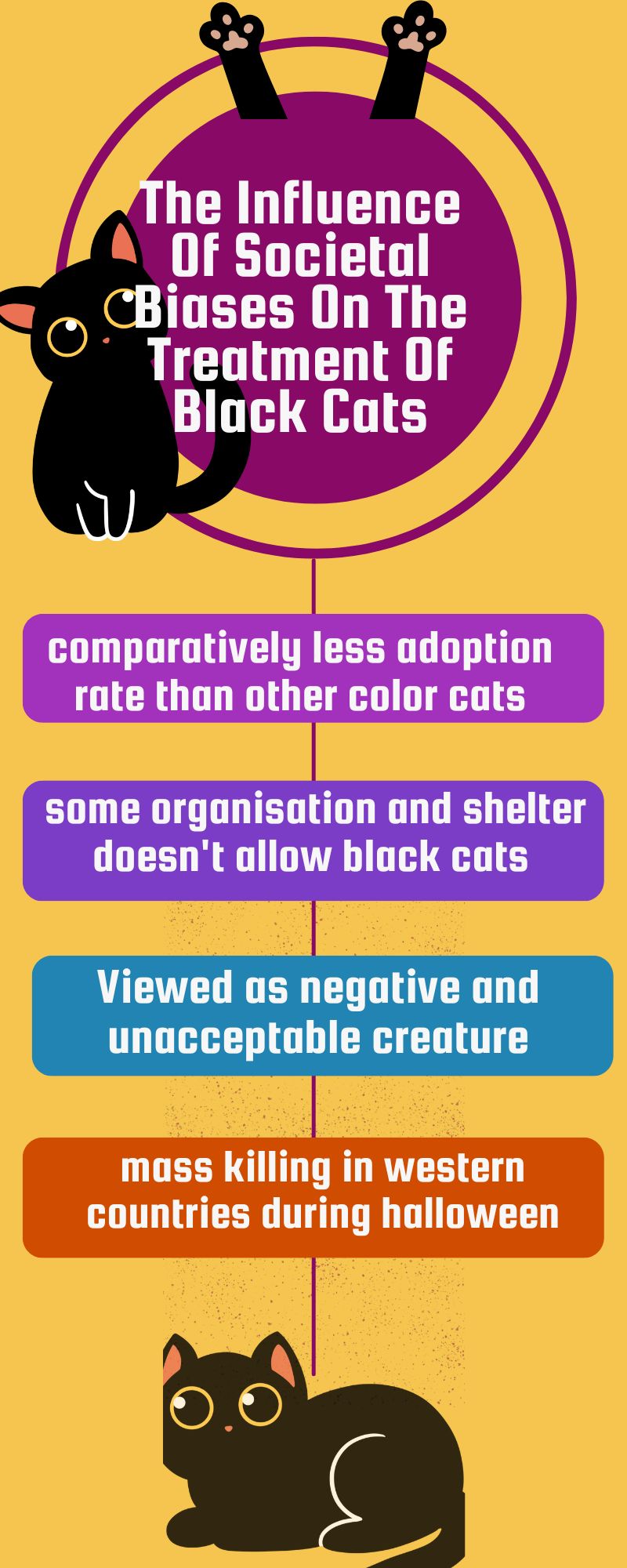 The coat color of a cat plays an important part in its destiny. Statistics show that black cats take more extensive to be adopted than felines of other color furs.
For example, in a study of shelters in Colorado, black cats took a normal of 26.55 days (SD = 25.09) to be adopted related to 20.64 days (SD = 21.02) for their other color cats. While an alteration of 6 days may appear trivial, this extra stay can intensify a cat's risk of numerous infections.
A study found that each day in an animal shelter was related to a 5% improved risk of gaining an upper respirational tract infection. Cats may also experience anxiety-related outbreaks of ailments with lengthy stays in the shelter.
These are a few examples of the influence of societal bias on the treatment of black – and it is a mirror to the so-called modern society of the 21st century.
Must Read: What Does It Mean When A Black Cat Stares At You?
What Are The Scientific Evidence Against The Belief That Black Cats Are Bad Luck?
There is no scientific evidence that confirms or approximates the prevailing belief of bad luck in the case of black cats. Instead, scientists found that black cats are more resistant to diseases and infections than other color cats as they have a high concentration of melanin.
Black cats are facing discrimination in adoption and that is the reason that science came forward to bring out the truth about the misfortune of black cats.
Research and studies confirmed that it is not the black cats who are bad luck for humans but it is the traditional beliefs of humans which are causing bad luck to black cats and their survival.
Unhappily, black cats are also more possible to be killed at shelters. A recent study of nearly 8,000 cats in Kentucky shelters established that linked to cats of other colors, black cats are both somewhat less likely to be adopted and a little more likely to be euthanized.
Interesting Read: What Does It Mean When A Black Cat Comes To Your House? Spiritual Meaning
What Are the Role Of Confirmation Bias In Perpetuating The Superstition In the Case Of Black Cats?
One common confirmation bias example is superstition: One tends to recall the one time he had an accident after he saw a black cat, and suitably overlook the untold thousands he didn't have an accident after seeing a black cat.
Anecdotal reports indicate various possible reasons for prejudice against black cats, termed the "black cat bias."

It has been recommended that black animals may be more difficult to snap, leading to less good-looking listings. More recently, people speculate that adopters may be seeking more photogenic cats.

Other potential barriers against adopting black cats include superstition (i.e., black cats symbolize bad luck) and negative associations of black cats with witchcraft or evil.

Black cats may also be seen as both less friendly and less playful, which could potentially be due to difficulties in reading their facial expressions.

Finally, researchers speculate that racial prejudice may also underlie the black cat bias.
These confirmation biases are giving unrequired and harmful support to cultural beliefs and superstitions about black cats.
Confirmation bias is people's tendency to process information by looking for, or interpreting, information that is consistent with their existing beliefs.

This biased approach to decision-making is largely unintentional, and it results in a person ignoring information that is inconsistent with their beliefs. These beliefs can include a person's expectations in a given situation and their predictions about a particular outcome.

People are especially likely to process information to support their own beliefs when an issue is highly important or self-relevant.

Brittanica.com
Interesting Read: Are Black Cats More Aggressive?
Frequently Asked Question
Why Black Cats Are Popular In Japan?
You will be amazed to know that in Japanese culture – passing a path by the black cut is considered good fortune, it means good luck is coming your way.
Black cats are also seen as very hygienic creatures, and Japanese society places a high value on hygiene. Moreover, black cats are known for being friendly and faithful mates, which appeals to many individuals in Japan who live tiring, urban lifestyles.
Even it is believed in Japan that if a single woman pets a black cat, her chances of getting married increase.
What Is The Condition Of Black Cats In Present Time?
We all are known to the pretty bomb TV shows in the 90s. The Teenage Witch and Hocus Pocus were two displays that portrayed black cats as sociable witch companions who gave us lots of giggles and entertainment.
Meanwhile, science succeeded and religion faded down, individuals started to appreciate that—superstitions and metaphysics aside, black felines are nothing to terror. But what can we say? Ancient traditions die hard. There is still to some degree we might not even understand that is intensely deep-seated in culture's fabric that makes some a little cautious of black cats.
Interesting Read: Are Black Cats Smarter Than Other Cats?
Final Words
Supporting these wonderful creatures doesn't have to be a problematic task. If you want to change the humiliation of nearby black cats, you can positively do your part.
Share acceptance posts via social media platforms, and tell your groups and families, to try to adopt black cats as it can save a life.
Even if few of us will try raising our voices against the myths and wrong practices against black cats as individuals, then it can bring a change. As these mini panthers deserve all the care and love any living being could ask for. After all, as frightening as they might look during Halloween, these felines are adorable and want chin rubs and cuddles.
Did you know any other misconceptions about black felines? Do you think it's high time to raise voices against the practice of superstition about black cats? – Tell us in the comment box.
Interesting Read: Do Black Cats Live Longer? Myth or Fact?
Interesting Read: Are Black Cats Really Rare?
Interesting Read: Are Black Cats More Vocal?
Reference