Hey, feline lovers!! Black cats are the cuddle best friend, they are pretty from inside and out.
These black furry felines always faced illogical discrimination from society in terms of superstitions and cultural beliefs.
In some cultures, they are seen as witches in disguise or bringers of bad luck – and that is the reason they are the least adopted cats (though they are most commonly found felines).
For celebrating these adorable black cats – Cats Protection, an animal charity in the United Kingdom, founded National Black Cat Day to raise awareness concerning the lower rates of adoption for black cats.
Every year on October 27th we should try to help these black felines by adopting them.
If you are still reading this, then chances are that you are a black cat lover – then keep reading this article to know more about black cats and national black cat day.
Let's dive together into the world of a mysterious black cat
Key Takeaways

Cats Protection, an animal charity in the United Kingdom, founded National Black Cat Day to raise awareness about the lower rates of adoption for black cats.
Every year on October 27th, people can try to help black felines by adopting them and celebrating them.
National Black Cat Day is the perfect time to do away with senseless superstitions and start seeing black cats as the graceful and loving little beings that they are.
Superstitions and humans have coexisted for ages, and both affect each other equally, which has led to the "black cat bias" and made it difficult for black cats to be adopted.
People can promote the adoption and well-being of black cats by spreading positivity about them and denying myths about their hypothetical luck-altering capabilities.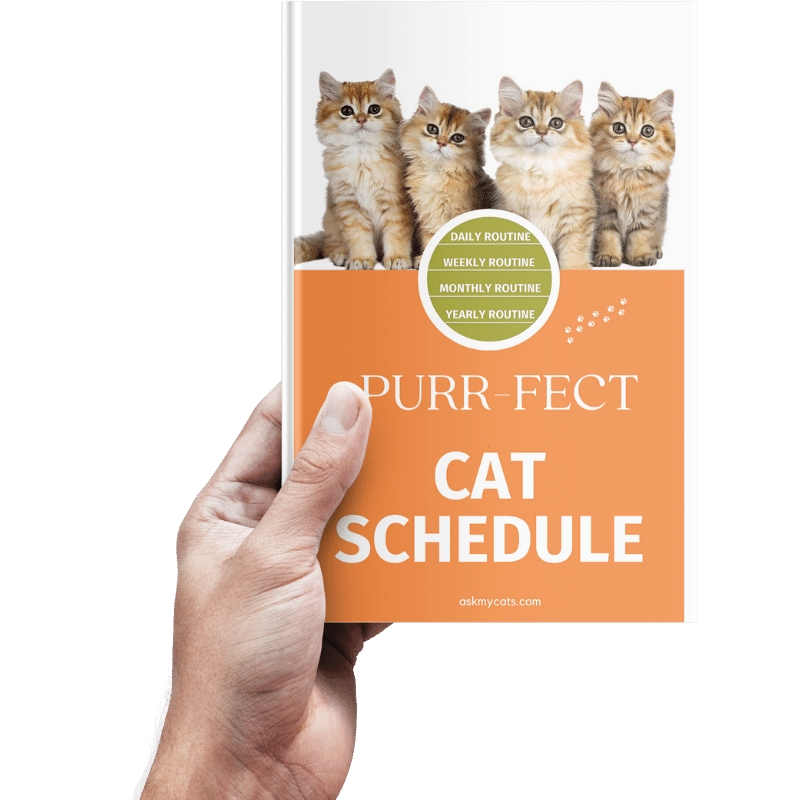 Discover the Secrets to a Happy Cat!
Discover the secrets to creating a happy and healthy daily routine for your feline friend. From playtime to mealtime, sleep to grooming, our expert guide will show you how to make every day a purrfect day for your cat.
Give Your Cat the Perfect Day – Get the Ebook!
The Importance Of Celebrating Black Cats
It is very important to celebrate the underprivileged black cat to make people aware of the suffering of black cats in getting forever home and encourage them to save the life of black cats.
National Black Cat Day is the purr-fect time to do away with all those senseless superstitions that these cats are signs of witchery or bad luck and start seeing them as the graceful and loving little beings that they are.
Although it's correct that black felines are frequently viewed as being a symbol of imminent fate, in some parts of the globe, they're really considered to be good luck.
In Scotland for example, individuals admit as true that a black feline that's treated well and appreciated will give good fortune to whoever keeps it.
It's an alike story in England, where seafarers have long thought that keeping black felines joyful ensures fair weather conditions when they're out at sea.
The wives of English fishermen also trust that a black feline kept back inside the household will make certain their partners return home securely.
So, though they frequently have to pay over life with the stereotype that they're symbols of misfortune, appreciatively some beliefs have known them for the affectionate and lively kitties that they are.
With National Black Cat Day here again, there's at no time been a better time to celebrate these little beauties in all of their glory, as they may be as dark as coal, but they have characters that are as sweet as sugar.
The statistic shows the results of a 2013 survey among registered voters in the United States on whether they believe that black cats are harbingers of good luck or of bad luck. 10 percent of respondents stated they believe black cats are bad luck.

nypost.com
Check out more details about Black Cat Spiritual Meaning
The Role Of Superstitions And Prejudices In Shaping Attitudes Toward Black Cats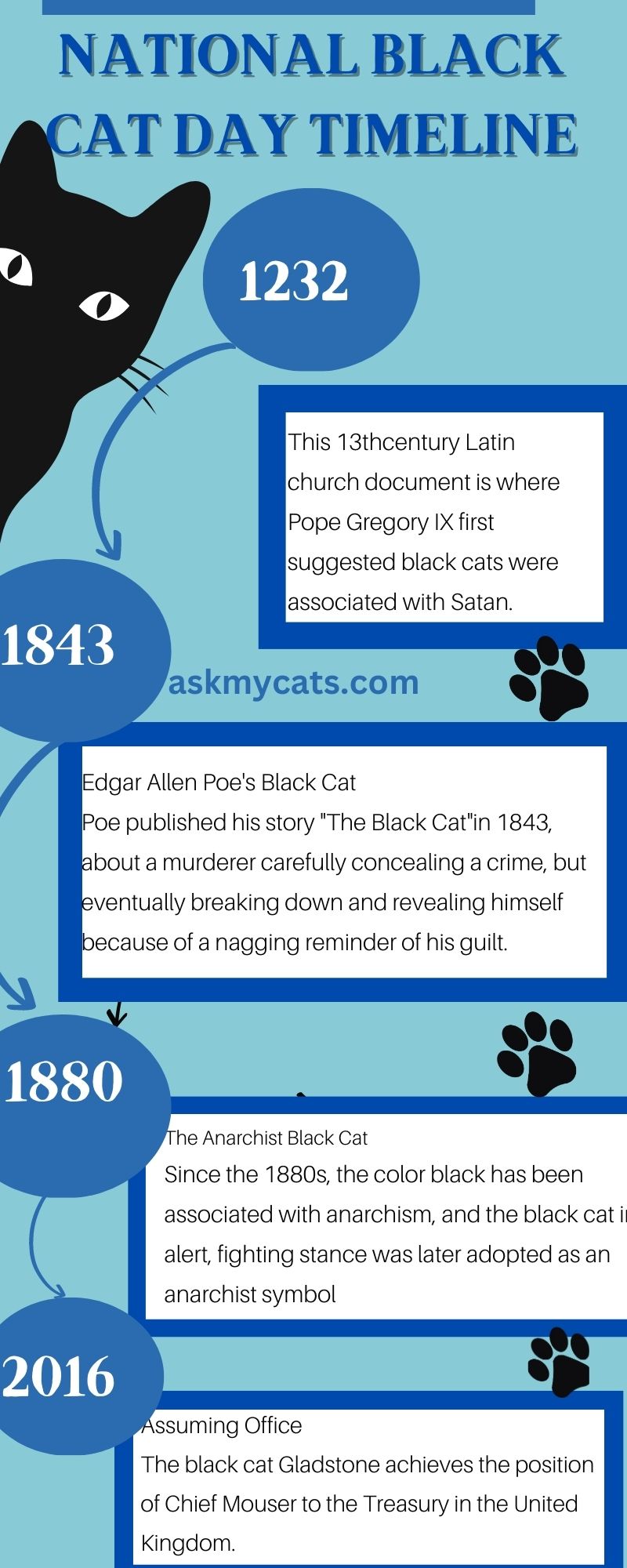 Isn't it a slap on modernity that we still judge cats by their fur color and texture and rely on superstition and cultural belief instead of relying on the trait and behavior of the feline?
Superstition and humans are coexisting for ages, and both affect each other equally. Sometimes superstition dominates the human mind whereas in some cases human open mentality ignores superstition like it never existed there.
Black cats are the most common felines, but they are still the least adopted felines. Many shelters say that black cats have more days to be adopted than other colored cats because of cultural and superstitious beliefs.
Black felines are closely related to occultists, bewitchment, and demonic rituals. Some accept truly that black cats are either companions of magicians, demons shaped as felines snooping on humans, or even witches in masks.
These superstitions are harming the black cats as social turmoil does, they are becoming the victim of racial discrimination and unacceptance from society.
Anecdotal reports indicate various possible reasons for prejudice against black cats, termed the "black cat bias." It has been recommended that black animals may be more difficult to snap, leading to less good-looking listings.

More recently, people speculate that adopters may be seeking more photogenic cats. Other potential barriers against adopting black cats include superstition (i.e., black cats symbolize bad luck) and negative associations of black cats with witchcraft or evil.

Black cats may also be seen as both less friendly and less playful, which could potentially be due to difficulties in reading their facial expressions.

Finally, researchers speculate that racial prejudice may also underlie the black cat bias.
Interesting Read: Black Cats And Halloween: History, Facts & Myths
What Can Be Efforts To Promote The Adoption And Well-Being Of Black Cats?
Contemplate these concepts for celebrating National Black Cat Day on your own or with an assemblage of black cat fans:
1. Try To Spread Positivity About Black Cats
The primary and best way is to do your part in denying the myths close to black cats and their hypothetical luck-altering capabilities.
In circumstance, one thought-provoking positive story to share is that in early Egyptian times, black cats were often observed as godly beings in whom the gods lived.
Even, the Irish supposed that finding a black cat in the doorway was a good blessing, and the Japanese also incline to embrace black cats in high regard–as symbols of richness!
But really, any cat enthusiast recognizes that black cats are not occultists in disguise or evil in any way. In fact, they're unconditionally no different than any other color cat. They're delightful, adorable beings that need love and care from kind individuals!
In our world, there is no evidence that any type of cat gives people bad luck. If anything, research shows that cats promote positive mental health! But the attitudes that people have can often lead to negative behavioral, emotional, and social consequences.

Psychologists refer to this as a self-fulfilling prophecy, much like the placebo effect, that stems from the power of suggestion, which can influence pain or happiness.

Dylan Selterman Ph.D.
2. Adopt Don't Shop
If you are looking for a cat for you then adopting them from a shelter is the best option because it was found that black cats are the highly entering cats in the shelter and they spend long days in the shelter than other colored cats.
(Special needs cats get adopted at rates below that of even healthy black kittens, so special needs black kittens are especially in need of love!)
Taking the love of a new black fleece baby in your life, or helping an additional one get adopted, is the best festivity they could hope for during National Black Cat.
Interesting Read: What Does It Mean When You See A Black Cat?
3. Volunteer At An Animal Shelter
Not just for this month but for all the year-round, get started volunteering to help out at a local animal shelter. Many shelters take in cats and dogs and need help with cleaning cages, taking care of the animals, and giving them the love and attention, they so deserve.
They might also need office staff or help with arranging to adopt the animals to new homes. Check with a local pet shelter to see what kind of volunteer help they might need.
4. Raise Awareness For National Black Cat Day
Share the plight of black cats with friends and family members who might be interested in adopting a black cat or kitten of their own.
In fact, one of the reasons that many people like to adopt black cats is the fact that black cat shedding is less obvious than cat hair of other colors. Plus, it's a great way to be sure that black cats are kept safe during the Halloween season!
Get excited about National Black Cat Day and help out these creatures that are otherwise helpless–but completely loveable!
Interesting Read: What To Do If Black Cat Crossing Your Path While Driving!
The Activities You Should Do To Get Involved In National Black Cat Day
Whether you own a black feline or just love them to bits, there are numerous ways you can do it on all the National Black Cat Day essence.
Here are a few of them-
| Activities | Explanation |
| --- | --- |
| Watch A Black Cat TV Show | From Bagheera in the Jungle Book and Salem in Sabrina the Teenage Witch to Snowball in the Simpsons and Lucifer in Cinderella, there are more than enough TV shows and movies featuring black cats to keep you entertained for the day. |
| Flaunt Your Black Cat On Social Media | Your black feline is beautiful enough to be flaunted on social media, making others feel that adopting black cats is normal. |
| Get baking | Try to bake something for your innocent black furry friend to spoil him a little more, and if possible, try to distribute it in shelters as well. |
| Adopt a black cat | Black cats are the least adopted cats, if you want to help them then the national black cat is a great date to take her home. |
| Donate to a shelter | You can also support black cats (and other animals) by making a donation to a shelter or rescue organization. |
| Make a black cat-themed craft | Get creative and make some black cat crafts, like a paper cutout, drawing, or a black cat-themed mug. |
Must myth to debunk: Are Black Cats Bad Luck?
The Celebration Of Black Cats By Cat Lovers And Cat-Related Organizations
| Celebration | Explanation |
| --- | --- |
| International Black Cat Awareness Month | The formation of International Black Cat Awareness Month came about after its maker, Layla Morgan Wilde, noticed that while there are two days devoted to black cats in the world (one in the UK, one in the US) there wasn't whatsoever dedicated to them on a national level. |
| National Black Cat Appreciation Day. | On National Black Cat Appreciation Day, August 17, black cats could use a decent spin doctor. They're so sleek and seductive with their all-knowing yellow and green eyes, but black cats seldom get positive press even though they're just as adorable as other cats |
| Café Nekobiyaka | Café Nekobiyaka in the Japanese city of Himeji is devoted exclusively to black cats. Black cats attract potential suitors (some people say in Japan). It is apparently quite common for single Japanese women to own a black cat because they believe it may bring them a suitor. They help sailors. |
| Black Friday | The retail frenzy of Black Friday has come and gone, but Black Cat Friday is still going, on a mission to save the darkest of kittens. |
Interesting Read: Why Do All Black Cats Look The Same?
The Use Of Social Media To Raise Awareness And Support For Black Cats
Social media is the best and cheapest communication platform we have today, if you want change in society – use social media to bring people on your side for helping you in change.
You can not only communicate with your friend or family, but you can send your message to the whole world with help of social media in one click.
Similarly, you can help black cats for getting rid of superstition by posting positively about them on social media.
celebrating these black furry felines is a great way to connect with your mark audience. You might be amazed how many of your followers own and love black felines.
There's nothing more reasonable than a meme featuring a cat. You can ask your followers on Instagram and Twitter to create their own National Black Cat Day Meme. Your followers can vote on their favorite meme, or you can randomly pick the victor.
Then keep a prize for the winner and that prize should be something related to cats, say some cat food or toy or litterbox, it can be anything and everything which can treat their cat.
Uncover the truth: Are Black Cats Really Rare?
Your prior concern should be to connect more people by meme contest so you can keep a guideline for your contest members – To enter the contest, you can ask your followers to do the following:
Tell them to tag cat association and related companies in their black cat's meme post
Tell them to follow black cat supporting pages
Request them to share the contest with their networks
Create your hashtag which should be used by every contestant
You can ask people to use specific hashtags you created for the contest in addition to using National Black Cat Day.
The second option is to spread the facts and good qualities of black cats. Our society is overwhelmed with superstitions about black cats such as they are bad luck bringers or devil spirits or witches in disguise etc. But now we have social media to replace these thought processes by feeding actual facts about black cats.
Write a post related to black cats that talks in favor of black cats. Inform people that black cats are one of friendly felines and they are calm than other cats. Spread those cultural stories that say black cats are symbols of prosperity and good luck.
You can even ask your followers to share snapshots of their black cats. You can follow the same rule system summarized in the meme contest above.
One way to make the contest unique is to ask your followers to write three facts about their cat in the caption of their entry. They can also include information on how and where they adopted their cat.
Interesting Read: What Does It Mean When A Black Cat Comes To Your House?
Frequently Asked Question
What's the difference between National Black Cat Day and National Black Cat Appreciation Day?
There is not much difference between both! National Black Cat Appreciation Day is held on August 17th and is fundamentally just another day where we get to celebrate our furry black friends. Because, let's face it, these little guys need all the love they can get.
What Can You Do On National Black Cat Day In the US?
Flaunt your black feline if you have it! If not, adopt one if you're looking for attractive hairy pets! Also, you can pay respect to iconic black cats, such as Sabrina the Teenage Witch's Salem or the Simpsons' Snowball.
Final Words
Don't forget to save the date! While it's a myth that black cats are less adoptable than their lighter-colored corresponding because of bad luck, you'll find that many are still unfortunate sufficient to be in shelters.
The most significant thing we can do is contribute to their adoption or spread consciousness about their beauty to fight the undesirable stigmas.
Celebrating National Black Cat Day can be a brilliant part of that determination: whether it's pampering your own black cat at home or serving out at a shelter dispersal consciousness, there are many ways to help our black hairy friends!
What do you love most about black cats? How do you celebrate national black cat day? – tell us in the comment box.
Interesting Read: What Does It Mean When A Black Cat Stares At You?
Fun Fact to Know: Do Black Cats Live Longer? Myth or Fact?
Fun Fact to Know: Are Black Cats Aggressive?
Must Know: Are Black Cats Hypoallergenic?
Reference