We all know that black cats are one of the most iconic signs of superstition, but did you know that their eye color can differ and even their eye color have cultural significance?
If you own a black cat, you must wonder what the reason behind her pigmented eyes is. What's its cultural significance? Then this article is for you – keep reading ahead!
The eye color of black cats is a topic that has been widely discussed by cat owners and breeders alike. While some believe that all black cats have green eyes, others argue that their eye color can range from yellow to blue.
It is important to note that the eye color of your black cat can be affected by many factors such as genetics, diet, and environment.
Are you ready to explore the various eye colors of black cats and how they are determined?
Then let's dive together into the colorful world of black cat's eye color!!
Key Takeaways

The genetics behind the coat color and eye color in cats is complex and not yet fully understood.
The pigment melanin is responsible for the black coats of many cats and their eye color.
Genetic mutations can affect coat color and eye color in cats.
Some cats may have an orange hue to their eyes due to a recessive gene mutation that affects the production of melanin.
Some cats may have blue eyes due to another genetic mutation that affects the production of pigments in the iris.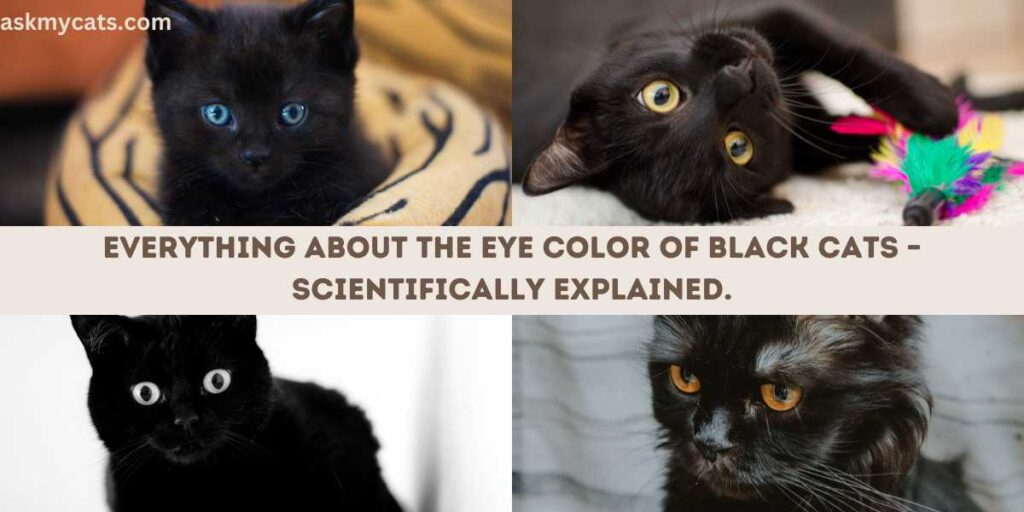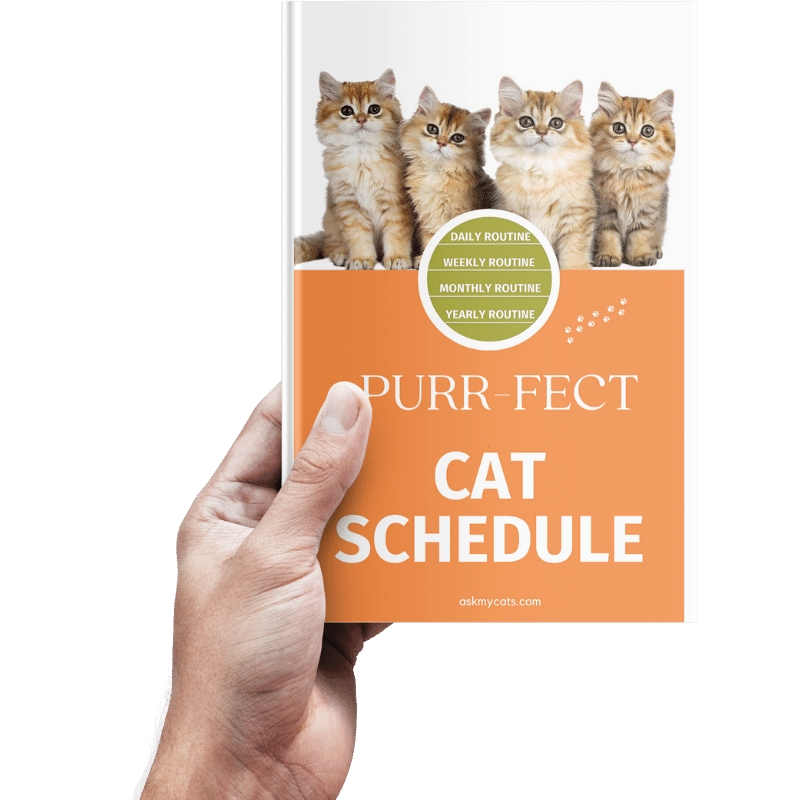 Discover the Secrets to a Happy Cat!
Discover the secrets to creating a happy and healthy daily routine for your feline friend. From playtime to mealtime, sleep to grooming, our expert guide will show you how to make every day a purrfect day for your cat.
Give Your Cat the Perfect Day – Get the Ebook!
What Are The Genetics Of Coat Color And Eye Color In Cats?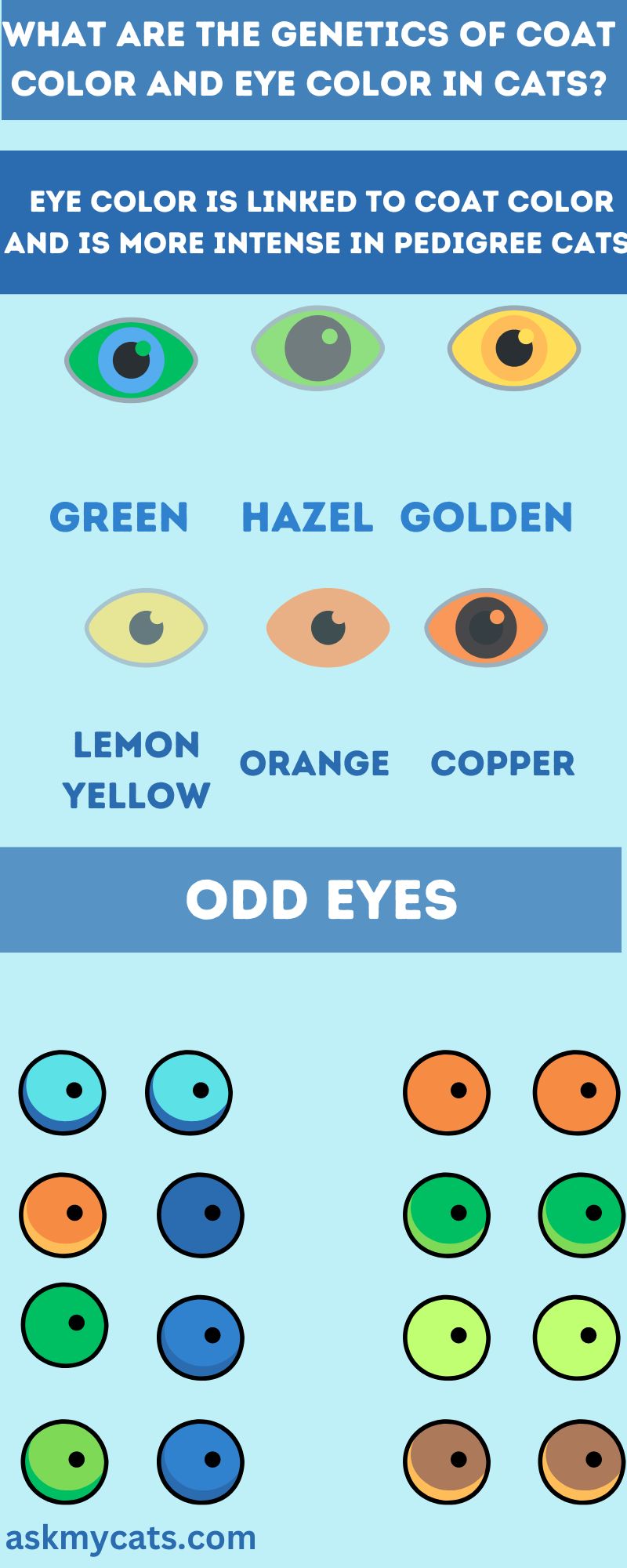 Did you ever wonder why some cats have black fur and some have yellow eyes? The answer is in the genetic makeup of cats. Different coat colors and eye colors are determined by the combination of genes that cats inherit from their parents.
Cats come in a variety of colors and patterns, from tabby to tortoiseshell. But why do cats have different coat colors? The answer lies in their genes.
The genetic basis of coat color and eye color in cats is complex and not yet fully understood.
However, research has shown that the pigment melanin is responsible for the black coats of many cats and their eye color. The amount of melanin present determines whether a cat will be black, gray, or white, and what shade its eyes will be.
Genetic mutations can also affect coat color and eye color in cats. For example, some cats may have an orange hue to their fur due to a recessive gene mutation that affects the production of melanin.
Similarly, some cats may have blue eyes due to another genetic mutation that affects the production of pigments in the iris.
Understanding the genetics behind coat color and eye color can help us better understand our feline.
In short, The feline fur, eye, and skin color result from present pigments. Two main pigments accountable for the fur color and eumelanin, which is seen as a black or intense brown pigmentation, and phaeomelanin, recognized as a red-yellow pigmentation.
Kittens are born with blue peepers because their melanocytes haven't started working yet. As they grow, their melanocytes start to function, and the true color of their eyes begins to appear. The adult eye color starts to appear between 4 and 6 weeks of age, and a kitten's true color is usually apparent by the time he or she is 4 months old.

clinic@fullcirclevetcare.com
Interesting Read: Why Do All Black Cats Look The Same?
What Are The Role Of Pigment Genes In Determining Cat Coat Color And Eye Color In Cats?
Pigment genes are responsible for the color of cats' coats and eyes. They are responsible for producing two types of melanin, eumelanin, and pheomelanin, which give cats their unique range of coat colors and eye colors.
Eumelanin is responsible for black, gray, brown, and blue fur colors while pheomelanin is responsible for red and cream fur colors. The combination of these two pigments determines the exact color of a cat's coat.
Similarly, pigment genes also determine the color of a cat's eyes by controlling the amount of melanin produced in them.
What Is The Genetic Basis Of Black Coat Color And Different Eye Color In Cats?
Cats come in a variety of shapes, sizes, and colors. One of the most common color combinations seen in cats is a black coat with different eye colors.
This phenomenon is caused by a genetic basis that is responsible for the black coat color and different eye colors in cats.
The genetics behind this phenomenon are complex but can be understood with some basic knowledge of genetics.
In this article, we will discuss how the genetic basis affects the coat color and eye color of cats, as well as the potential implications for breeders and pet owners.
The black coat color in cats is determined by a gene called melanocortin 1 receptor (MC1R). This gene produces an enzyme called tyrosinase which helps to create black pigment. Different variants of this gene can lead to different shades of black, from jet black to dark gray.
Eye color in cats is also determined by genetics. Most cats have yellow-green eyes, but some may have blue eyes or even odd-colored eyes like copper or gold.
The genes that control eye color are still under investigation, but it is believed that multiple genes may be involved in determining the eye color of cats.
You won't see brown or raven eyes on cats compared to those you find in humans. The darkest color you might notice in a cat's eyes is a vivid, drastic copper color.
Melanocytes are cells that create melanin, which is the colorant that gives color to the skin, fur, and eyes. In cats, melanocytes are found in the external coating of the fur and the iris of the eye. Melanin grades are passed on from their parents. Your cat's fur will be darker the more melanin they inherit.
It is much more possible that black felines will have yellow eyes. And in white felines, blue eyes are statistically more familiar. This is because the epistatic white gene is dominant and masks other colors.
Regardless, genetically inherited melanin can influence cats' eyes differently than their furs. That implies it is completely probable for the melanocytes in the fur to have various levels of activity than the ones in the eyes.
Therefore, while it is not as likely, a black cat can have green or even odd-colored eyes.
Interesting Read: Are Black Cats Smarter Than Other Cats?
What Are The Factors Responsible For Influencing The Eye Color Of Black Cats?
Black cats are one of the most common domestic cats, and they come in a variety of eye colors. While some black cats may have bright blue eyes, others may have yellow or green eyes. So, what factors influence the appearance of a black cat's eye color?
The answer lies in genetics. A black cat's eye color is determined by its genetic makeup and is passed on from its parents.
Other factors such as diet, environment, and health can also play a role in influencing the eye color of a black cat. In this article, we will explore the various factors that influence the appearance of a black cat's eye color.
Here are a few factors which influence the appearance of your black cat's eye color.
| Factors | Explained |
| --- | --- |
| Lighting And Environment | Lighting and environment change the reflection criteria of cats' eye color. A cat with an orange eye reflection might have yellow eyes in the sunlight. |
| Breed | Though we talk mostly about genes when it comes to the color of a kitten's eyes, the fact is that it highly depends on the breed of a black cat. For example, every Bombay cat has yellow eyes. |
| Nutrition And Health | Eyes are not only the window of the soul of cats but even say a lot about cats' health and nutrition. Cats with bright and shiny eyes are healthier whereas if your cat is suddenly changing her eye then might be possible that she is symbolizing her inner illness. |
| Age | Kittens change their eye color we all know that but cats even change their eye color when old age hit them. |
You may like to read, Are Black Cats More Aggressive?
Do Black Cats Have Blue Eyes? What Is The Prevalence Of Black Cats With Blue Eyes?
Black cats with blue eyes are arguably some of the great attractive cats on the globe. Their silky fur tint and drastic blue eyes are differing yet look breathtaking.
Black cats rarely have blue eyes. Though cats with black patches of blue eyes are more common than solid black cats. A black cat without a touch of other color and with blue eyes is one of the rarest treasures in the feline world.
In fact, many breeds can have blue eyes and black coats. However, most of these cats are not completely black. Some of these so-called "blue-eyed black cats" carry fur colors like fog or indicated dark coloration.
Yet, there is one feline breed known to keep a solid black color and blue eyes — Ojos Azules. The Ojos Azules is a tamed breed discovered in 1984. In Spanish, the words "Ojos Azules" means Blue Eyes.
When it comes to the availability of black cats with blue eyes, they are rarely found as ojos azules are not easily available. Ojos azules breed is an extremely infrequent species to the fact that there is inconsequentially known about them.
It is believed that their population is even fewer than a hundred, now you can imagine how rare they are.
Interesting Read: Do Black Cats Live Longer?
Do Black Cats Have Yellow Eyes? Are Yellow Eyes Common In Black Cats?
There is a well-known myth about black cats' eyes color that almost all black cats have yellow or golden eyes. But is it so?
No, though yellow eyes are common in black cats because of excess melanin but not all black cat has yellow eyes.
Melanism is when a creature has very increased grades of melanin generating their fur to be very dark, and this also influences the colorant in the iris.
As an outcome of their high melanin range, most black felines carry golden irises. While yellow, hazel, and verdant eyes are the most typical among black felines in known, other colors like copper and even various colored eyes are not unheard of. So, it is not true that all black cats have yellow eyes.
One factor that can be possible for many people may think all black cats contain yellow eyes could be because some black-haired cat species are outlying more likely to have yellow eyes than others. For example, Bombay cats and the Korn Ja.
Another possible reason can be the dominance of famous black cats with yellow eyes in cinemas.
Most of the known black cat characters on screen have yellow eyes ex- black panther, Salem, and Binx.
Know everything about Black Cat With Pink Nose
Are Black Cats With Green Eyes Common To Be Found?
Yes, black cats have green eyes, but the question comes are they common? No, they are not too common, but they are neither impossible to be found.
Black felines with green eyes are usually Bombay cat breeds. They have silk, black coats, and green eyes.
Black cats with green eyes are just as sociable, affectionate, and lively as their black feline friends. These have prodigious intelligence, particularly if their owners have given them much attention.
They can be very affectionate, especially when they feel loved. These cats will give caresses your expression and purr when they are pleased. This type also enjoys sleeping on your lap, under the covers, or near your feet at night.
Black cats with green eyes come in two types: domestic and wild. Domestic cats have green eyes due to a genetic mutation that allows them to see better in low-light conditions.
Feral cats have blue-gray or hazel eyes because they do not need to see well in low-light conditions, so they do not have this mutation.
Do you know about National Black Cat Day: When And How To Celebrate?
Can Black Cats Have Orange Eyes?
Yes, black cats with orange eyes are widespread. The reason is genetics. The color of your black feline eye is specified by "melanocytes," which are the identical "melanin" that influences our skin color and capacity to tan.
Felines with more melanocytes contain eyes that emerge to be orangey in color. When they carry fewer melanocytes, their eyes seem bluer in color.
Except for the number of melanocytes, how involved the melanocytes recreate a part in pigmentation, generally, the more functional the melanocytes, the darker pigments.
Kitties with numerous melanocytes can retain eye shades varying from amber to robust copper.
Black kitties with orange eyes are not different species but pigment variety that can arise in any household cat species.
Their traits depend on the breed they belong to. For instance, a black Bombay cat with orange eyes will have distinct physical characteristics and natural qualities from a black Persian cat with orange eyes.
As orange eyes are not uncommon in black cats so you can see many black cats breeds with orange eyes, some of them are – Bombay, British short hair, Persian, Japanese bobtail, oriental, etc.
You may like to read, Why Do All Black Cats Look The Same? A Scientific Explanation
What Is The Cultural Significance Of Black Cats' Eye Colors?
Black cats are mostly famous in all cultures for different know unknown superstitions. But do you know, even their eyes have cultural significance?
Isn't It effortless to become enthralled by a cat's eyes and locate yourself staring into them? Someplace in the back of your remembrance, you might remember being advised gazing at a cat is something to sidestep at all costs. There are several justifications and cultural theories behind this.
A kitty's visions are windows to the underworld. Peeking into them grants you a glance of untold evil, discharging it to confer bad luck upon you.
At one period in past, people would not glance into a kitty's eyes because they worried, they would be condemned forevermore.
In fact, it is believed that cats with golden eyes are evil, or witches and they can bring negativity with them.
Whereas at alternate to this, there is a popular saying that black cats with green eyes are symbols of happiness and prosperity.
Today we have generously insights into a cat's mentality and are conscious there are accurate reasons not to hold their stare for any distance of time.
The spiritual meaning of a black cat with yellow eyes symbolizes the presence of a spiritual being and gives a message of hope. It is thought to be the harbinger of good luck, and a sign of prosperity and abundance.

Spiritual desk
Also, Check out are black cats hypoallergenic
What Is Portrayal Of Black Cats' Eyes In Folklore And Mythology?
Black cats have a special place in folklore and superstition. They are often associated with bad luck, mystery, and magic.
But one thing that many people don't know about black cats is their eye color. While most cats have eyes that range from yellow to green to blue, black cats tend to have eyes of a different color – copper or golden.
This unique eye color has been linked to the folklore surrounding these animals for centuries.
Ancient Egyptians believed that the gods favored black cats and gave them special powers, while in some parts of Europe, they were believed to be witches familiars.
Even today, many people believe that having a black cat around can bring good luck or ward off bad luck.
There is a powerful spiritual importance and message behind the raven cat with green, yellow, and iridescence colors. They are believed to have the ability to see into the future and are frequently used as a sign of prediction.
There are several different cultures in which people believe that black cats represent death and the underworld. In some other cultures, the black cat is revered as a holy animal that possesses the ability to cure illness and bestow good fortune onto its owners.
The blue color of the black cat's eye can be a powerful emblem of spiritual growth and defensive energy. It symbolizes a profound relationship to the divine, the energy of instinct, and increased levels of awareness that come from attaining inner proficiency.
Even though a black feline with green eyes is believed to have an adverse purpose of demise and ill luck in many cultures, it is not a sign of bad luck.
Considering folklore and symbolism, black felines are identical to any other creature. Everyone has their viewpoint on black kittens, and some people don't believe there's anything especially remarkable about them at all.
You must be interested to know about black cat spiritual meaning
Frequently Asked Question
Can Black Cats See Farther Away Than Humans?
This is not factual! Typical, humans can clearly see things that are about 100 feet away while cats can only obviously see things that are about 20 feet away.
Cats lack the muscle in their eyes that humans have which would change the shape of their lenses and give them the ability to have sharper vision.
 Although cats are unable to see things farther away than humans can, felines are experts at seeing and reacting to fast-moving objects like their prey.
Will Blue-Eyed Kitten Grow Up To Have Blue Eyes?
A kitten may have beautiful, lively blue eyes, but as they raise adults the eye color may change. This can be due to the augmented construction of melanin as the kitten grows between 4 and 10 weeks old.
 Melanin can activate the eye color change in your feline, which is usually seen when they are about 8 weeks old. Highly, color change in adult cats nearly always means an illness like uveitis or melanoma.
Final Words
Now you know that your black kitty's eye color is rare or common, and why is it so!!
But the fact is that it's all about the game of genes and breeds. In short, specifying a feline's eye pigment is questioning. You can't look at your feline's parents and indicate the eye color. Rather, you'll have to pay concentration to the colorant in the iris (the colored area around the pupil).
There is nothing related to any parameter of luck, and above all – each feline is unique in her own way- doesn't matter what is the color of her eyes or fur.
Which eye color black feline is your favorite? And which eye color feline you have never seen but want to see? – tell us in the section.
You would also like to read what it means when black cat crosses your path while driving
Reference