Hey, feline lovers!!
Most people use the terms Bombay cats and black cats as a synonym, but these words actually mean different.
Bombay cats and black cats look so similar that it becomes tough to distinguish between both but there are a few major differences between both that can help you to distinguish.
Bombay cats are a specific crossbreed between black American short hair and Burmese, which was intentionally bred to get a healthy and muscular black cat.
So, are you ready to know more that why all black cats are not Bombay cats?
In this article, we will discuss each point that can distinguish black cats and Bombay cats.
Let's explore the mysterious world of black cats together!
Key Takeaways

Bombay cats and black cats are not synonyms, although they look similar.
Bombay cats are a specific crossbreed between black American shorthair and Burmese cats, whereas black cats can be of any breed or hybrid.
Bombay cats have special gene mutations, with one dominant and one recessive gene, giving them unique features to other black cats.
Bombay cats are rare compared to other black cat breeds but are not uncommon.
The Burmese cat breed is often confused with Bombay cats because of their similarities.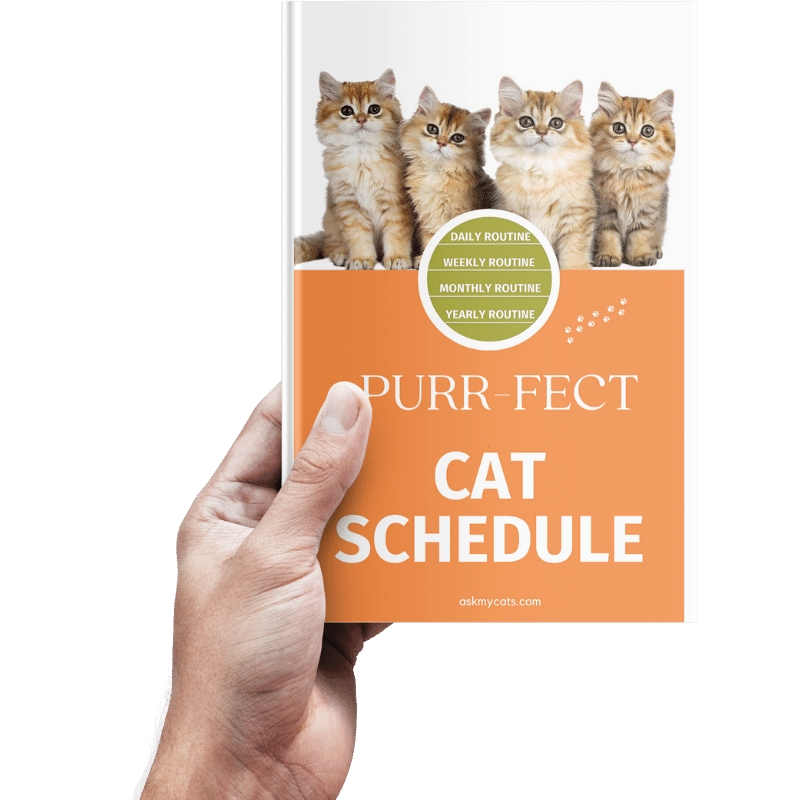 Discover the Secrets to a Happy Cat!
Discover the secrets to creating a happy and healthy daily routine for your feline friend. From playtime to mealtime, sleep to grooming, our expert guide will show you how to make every day a purrfect day for your cat.
Give Your Cat the Perfect Day – Get the Ebook!
What Is The History Of Bombay Cats?
A cat lover, Nikki horner was too dedicated to cats. She lived in Louisville, Kentucky. Her love for furry cats motivated her to pay her interest in cat breeding
She started experimenting with different cat breeding.
One day she watched a movie about an Indian black panther, and she loved the character so much that she planned to get those features of a black panther in a cat.
She bred short hair American and Sable Burmese females to get a majestic cat breed in the year 1953.
Her attempt was successful and it resulted in a black cat who was identical to a black panther but in small size, that's why Bombay cats are also famous as mini panthers.
The breed she got in her experiment was a cat with shiny and silky small fur, glossy eyes which can attract anyone easily, and a muscular body that helps these cats to stand out of the crowd, this lovely breed is now known as Bombay cats.
Cat Fancier's association also recognized this black cat breed in 1970 and after that, this breed became more popular among cat lovers.
This black cat breed is an achievement in the world of black cats.
Interesting Read: Black Cats And Halloween: History, Facts & Myths
Interesting Read: What Does It Mean When A Black Cat Comes To Your House?
What Is The Reason Behind The Black Fur Of Black Cats?
As the world of the feline is full of mysteries, similarly their study of the gene is also complex.
We see different cats with different colors, how do they get different fur colors? That is the result of pigment genes.
We won't go there; our focus is black cat fur color. How do black cats get their dark coloration? Black cats get black fur from melanin.
Melanin is a component that is responsible for providing black color to skin, fur, hair, and eyes. This component is the color variation in humans as well.
If you want a solid black cat then you need both cats' parents to have the black color gene. If any parent lacks a black gene, it will be problematic to get a black cat.
B is the name of an Alele, a color gene for black cats. There are two different genes – b and b', which is another dark color gene but is responsible for producing cinnamon and chocolate colors. B is the most dominant gene in black cats.
But one thing needs to be considered tabby is the dominant cat that's why we need at least one recessive gene that is nonagouti (a) if we want a proper solid black cat without any other color patches.
Interesting Read: Do Black Cats Live Longer?
You would also like to read about Eye Color Of Black Cats
Are All Black Cats Bombay Cats?
No, all black cats are not Bombay cats. Bombay cats are solid black cats with muscular bodies. They are found in breeding experiments between American short-hair and Burmese.
Basically, Bombay cats are purebred where as black cats can be of any breed or hybrid breed.
In terms of genes black cats have any gene pattern but Bombay cats have special gene mutations, they have one dominant and one recessive which gives them unique features to other black cats.
Interesting Read: Why Do All Black Cats Look The Same?
How Rare Are Bombay Cats In The World Of Black Cats?
There are varieties of black cats, and they are easily found. But Bombay cats are a special breed that came into existence in the 1950s.
But cats were there from ancient times, in fact, there are many myths and legends available today which prices that how old these black cats can be.
That is one of the reasons that they are more common and they have lots of different varieties but Bombay cats are newly found and still struggling in terms of population.
Most people believe to buy Bombay cats from a reputed breeder as they cannot trust any random breeder to provide them with the pure breed of Bombay cats, as they are rarely found.
In short Bombay, cats are rare than other black cats breed but it's not that uncommon that you can't find them if you want to adopt a classy Bombay kitty.
Interesting Read: Are Black Cats Really Rare?
Which Black Cat Breed Is Mostly Get Misunderstood As Bombay Cats?
As any solid Black cat can confuse you that they are Bombay cat but there is common some unique features in Bombay cats that can help you to distinguish them from other black cats.
But there is one breed that is too similar to Bombay cats that even experts get confused about- the Burmese cat breed which is one of the ancestors or you can say mother of the Bombay cat breed.
Now as they are mothers, they definitely share most of the features of Bombay cats.
But still, there are a few features that can help you to understand the difference between both.
Bombay cats will always have solid black fur without any mix of other shades whereas Burmese cats have brownish fur which is also known as sable and that's why they are also called sable Burmese cats.
If you'll keep these points in point you will possibly never get confused between the sable Burmese cats and Bombay cats.
Interesting Read: Are Black Cats Friendly?
You might also like to more about black cat with pink nose
What Are The Major Difference Between Bombay Cats And Other Black Cat Breeds?
Color Of Eyes
Bombay cats are well known for their attractive and shiny eyes and that is the most common difference between black cats' other ordinary breeds and Bombay cats. They have golden-colored majestic eyes, which can easily distinguish them from any other black cat breed.
Bombay cats must have only golden or copper-colored eyes, you won't see any Bombay cat with any other colored eyes.
Though some other black cats can also have golden eyes. But other black cats can have brown, black, blue, green, golden, etc different colors of eyes but in the case of Bombay cats, it's just golden or copper eyes.
One more thing that is too interesting and different about black cats' eyes is that they have larger eyes than any other black cat breed. Their larger eyes were pre-planned in their breeding experiment.
In short, if you see a black cat with golden and larger eyes then that is nothing but the Bombay cat breed.
Now you can distinguish other black cat breeds and Bombay cats in their first appearance by their eyes color and size.
Interesting read: Eye Color Of Black Cats: The Science Behind the Shade
Facial Features
So, we all know Bombay cats specially breed to bred to have special features than any other cat breeds. So, when you differentiate a black cat and Bombay then never forget to notice their facial structure.
Bombay cats have smaller nose and larger eyes that makes them look similar to a facial feature of a black panther. Whereas there is no other black cat breed that has this kind of special facial feature, they typically have a larger nose and smaller eyes like any common cat.
But make sure while comparing the facial feature of a Bombay cat and a black cat, observe them side by side or you will get confused.
Though this feature looks stunning and unique at the same time it is responsible for a few diseases in black cats. Especially eyes make Bombay cats tend more toward unwanted ailments.
Some people claim Bombay have special fangs or different teeth than other cats, but this isn't true. Bombays have the same teeth as other cats, and there's nothing about their teeth listed in the breed standard.

Lauren Baker, DVM, PhD
Body Shape And Size
Bombay cats are bred to have a body like a black panther that's why they have a muscular and compact body with big-boned. Whereas it's not easy to specify the shape of other black cat breeds as there are many black cat breeds and all breeds have their own unique shape and size.
But in general, we can say that other black cats breed has lean and longer bodies in comparison to Bombay cats.
Another big difference is the shape of their head, Bombay cats have round head shape but other black cat breeds mostly have triangular, and squarish, and in some rare cases they can be round but Bombay cats only have round heads.
Also, Bombay cats have tails as long as their torso.
While Bombays are medium-sized cats, they're all muscle—this means they're typically heavier than you think they'll be when you pick one up. Adult males range from 8 to 10 pounds (3.6 to 4.5 kg), while females reach 6 to 8 pounds (2.7 to 3.6 kg).[7]

If you're comparing a Bombay cat to a regular black cat, the black cat will typically look leaner and longer than the Bombay.

Jennifer Mueller, JD, Doctor of Law, Indiana University
Color And Quality Of Fur
Bombay cats always have solid black color fur without any mix and match. They are the most famous breed in the black cat family for having solid black color. Other black cats have some spots of other colors or they can look black but they are actually dark brown.
Some black cats of other breeds can also have solid black fur then how do differentiate in this case?
Don't worry we have a solution for this also, if the cat is solid black then check the quality and length of the fur. Bombay cats always have short hair and their fur is always silky and shiny.
Whereas black cats can have longer or shorter hair and their quality of fur also differ.
How To Take Care Of Bombay Cats?
| Care Tip | Explained |
| --- | --- |
| Grooming | Bombay cats have shorter and healthier hair and that's the reason they need less grooming than other cat breeds. Combing their fur once a week is more than enough and take them to bathe only if you see they are visibly dirty. |
| Attention | Bombay cats are social cats and they just love your attention. Keeping them alone for a long time can be dangerous for their health. Always try to give them extra love and at least spend 20-30 minutes with them on daily basis. Play with them, take them for walks, and introduce them to other cats as well. |
| Diet | Bombay cats tend to have diabetes and obesity so always keep them away from that food that has high carbs and high-fat consistency. Try avoiding dry foods as it has more carbohydrates which can be harmful to your Bombay cat. Wet food helps Bombay cats to stay fit. |
| Vet visit | Visiting the vet at regular intervals will help your cat to stay away from ailments. At least visit your vet once a year. |
Must Read: How Long Does It Take For A Cat To Die If It Stops Eating?
How Does Bombay Cats' Temperament Differ From Other Black Cat Breeds?
| Behavior | Explained |
| --- | --- |
| Too Active | Bombay cats are too jolly and active cat breed. They love playing, jumping, running, etc. and this is for their health. If your cat is a Bombay cat then don't forget to play every day with your classy Bombay kit to keep him stress-free. |
| Social | Bombay cats are one of the favorite cats in the world of cat lovers because of their social involvement. They love being around humans and other pets. In contrast to the common belief that black cats love staying lonely, these cats will always roam around you. |
| Affectionate | Bombay cats get attached emotionally to their owners. They will always be your mood booster and they are always there for you to give a warm hug as support whenever you need it. |
| Vocal | If you will own a Bombay cat then you will keep hearing meow-meow the whole day because these cats are too vocal than other black cats. |
Frequently Asked Questions
Can Bombay Cats Have Patches Like Other Black Cats?
Bombay black cats are bred to get a cat with solid black fur without any mixing of other shades. Bombay black cats don't have any patches on their body.
One thing that needs to be considered is that Bombay cats can have some kittens with small white spots on their body because of the presence of the recessive gene of sable Burmese cats but unfortunately these cats don't get recognition as pure Bombay cat breed.
Are Bombay cats more intelligent than other black cat breeds?
As Bombay cats are popular for their intelligence and cleverness, they are too smart to learn anything easily. In fact, they are good at understanding human emotion.
Other black cats are found less smart than Bombay cats in general. Though that doesn't mean other black cat breeds are not smart, it means that Bombay cats are lil' more intelligent.
Final Words
So, now you know everything about the Bombay cat and you can easily distinguish between the Bombay cat and other black cat breeds.
If you're looking for a solid black cat and an active as well smart companion then Bombay cats are the best option for you, though, at the same time, you have to be ready for being habitual of hearing your all day.
What do you love most about the Bombay cat breed? Which black cat breed is your favorite? – tell us in the comment section.
Interesting Read: What Does It Mean When You See A Black Cat?
Know the History, Facts & Mysteries related to Black Cats & Halloween
Interesting Read: Are Black Cats More Aggressive?
Must Check Out: National Black Cat Day: When And How To Celebrate?
Reference