Hey, curious explorer…!!
Bobcats are fluffy and shy cats, who highly believe in marking their territory and they try to avoid humans. These cats are rarely seen by us even in wild, because they are perfect at hiding themselves away from us. But what about a black bobcat?
Now you must be thinking why these black bobcats are rare. What is the genetic behind it? Where to find them?
Chill… we got your curiosity; we will cover everything about black bobcats in this article.
Black bobcats are the rarest variety of bobcats, they, are fewer than 20 in the whole world. Mostly been seen in Florida, but they can survive in any habitat.
Black bobcats can be better described as melanistic, which has a similar shade to dark charcoal rather than jet black or solid black.
Keep reading further!!
Key Takeaways

Black bobcats are a rare type of bobcat, with fewer than 20 in the world.
Black bobcats are melanistic, with fur that has shades of reddish to brownish color, rather than being jet black or solid black.
They belong to the family of bobcats, but they were earlier misunderstood as a different species of wild cat.
Black bobcats have long legs, are active, and are double the size of domestic cats, with ear tufts and shiny green eyes.
They have a similar genetic structure to other bobcats, but their black fur is the result of a genetic mutation called melanism, which is responsible for darker pigmentation.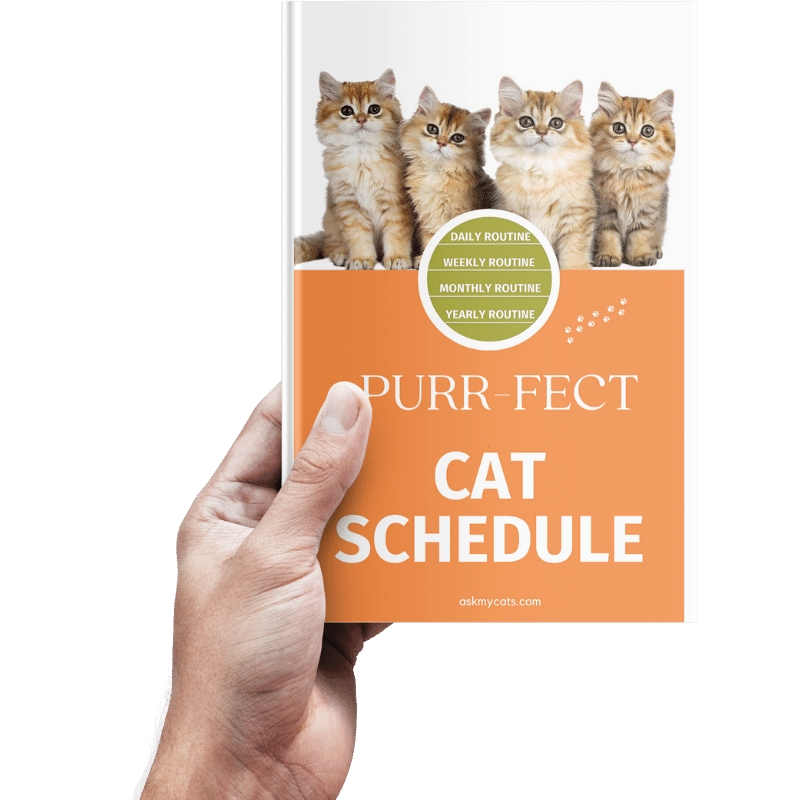 Discover the Secrets to a Happy Cat!
Discover the secrets to creating a happy and healthy daily routine for your feline friend. From playtime to mealtime, sleep to grooming, our expert guide will show you how to make every day a purrfect day for your cat.
Give Your Cat the Perfect Day – Get the Ebook!
Can Bobcats Be Black?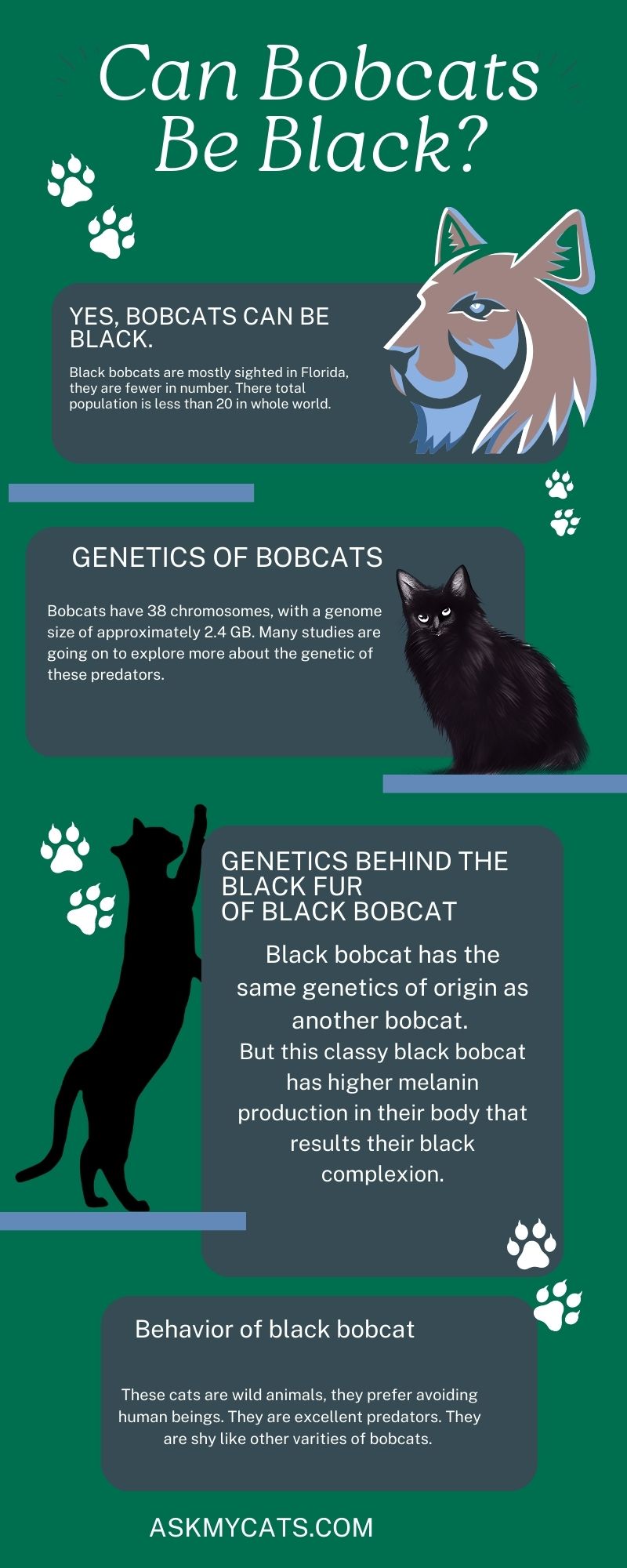 Yes, bobcats can be black, though they are uncommon to be found because of their less population. Black bobcats are oversized cats with shy behavior. These melanistic cats are excellent predators and they don't want any interference in their own space.
Bobcats can have a variety of colors such as light grey to darker grey shades, yellowish golden effect to dark brown, one of these color varieties is the black colored bobcat, sometimes it can look like solid black but as sources say black bobcats are not jet black, they are actually in shades of reddish to brownish color.
Black bobcats were misunderstood earlier as a different species of wild cat. One more thing is that these cats are even called a family of black panthers.
But the fact is that these black bobcats totally belong to the family of bobcats, just the fur color is different from typical bobcats.
Interesting Read: Are Black Cats Really Rare?
What Is The History Of Black Bobcats?
Be it a black bobcat or any black cat, they are always surrounded by superstition and myth. Native Americans use to believe that these wild black cats are the special soul who has the power to communicate with spirits.
They even believe that black bobcats have supernatural power to disguise them in other color bobcats during the daytime.
Earlier people were not sure if these cats even exist or if they are just famous in myths and legends. Some even say that they are nothing but just a rumor.
In 1800, the black bobcat was seen by a hunter (according to written records) for the first time. Though this species was never overpopulated, they were always occasionally seen.
Some people still debate about black bobcats' existence, they argue that these are a type of lynx.
But studies have proven them wrong about their opinion of black bobcats, as these cats have the same genes of the bobcat family.
Interesting Read: Spiritual Meaning Of Cat Staring At You
What Is The Genetic Behind The Black Color Fur In Black Bobcats?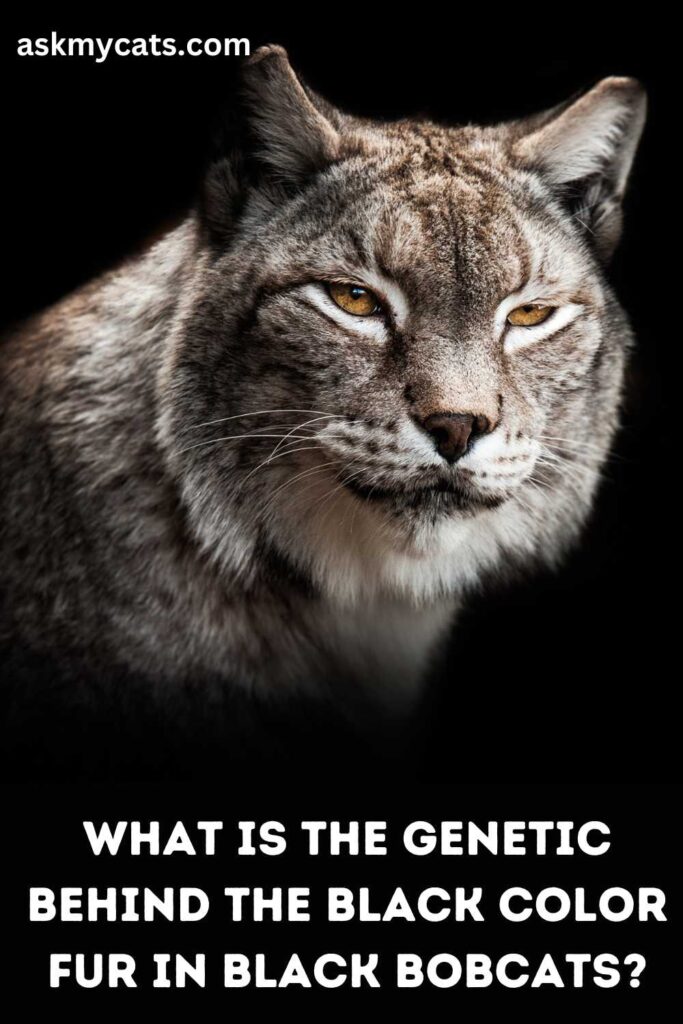 Black Bobcats are glamorous creatures, they have too many similarities with traditional bobcats. Their genetics and structure are also identical to other bobcats. But if everything is similar then why these cats are different?
So, basically, it's not different but it just looks different because of the black fur it has.
Black bobcats are the result of genetic mutation, that is melanism.
Melanin mutation is common in many wild cats, which becomes the most important factor for deciding their fur color and even the color of their eye.
Melanin is responsible for providing darker pigmentation to the organism. These black cats have a higher amount of melanin secretion in their body which causes the evolution of their fur color from brown to black.
Though research and studies are still prevailing on the fascinating science behind the mysterious fur color of black bobcats and many more genetic facts about them are still on their way.
Bobcats have 38 chromosomes.
The Canada Lynx also has 38 chromosomes, as do the American Lynx and the Eurasian Lynx.

The majority of modern scientific research concerning the Bobcat is tied to the issue of stabilizing and even decreasing the population of the organism.

Because Bobcats are highly mobile and can disperse long distances, the genetic research compiled about the Bobcat is largely focused on Population Genetics.

Some scientists suggest that hybridization between the Canada Lynx and the Bobcat would be a helpful mechanism for limiting the species' geographic ranges.

Some evidence suggests that the natural hybridization of the two organisms has already occurred, as shown through a genetic analysis first reported in Minnesota.

Genetics: Bobcat
Also, read: Bobcat vs House Cat – What Are The Differences?
Black Bobcat: Physical Appearance
Black bobcats are rarely found as medium-sized wild cats which are mostly seen in the areas of northern America, these rare found cats look quite similar to bobcats in terms of their physical structure.
Black bobcats have long legs which help them to hunt more efficiently, shiny green eyes which bring charming their looks and they have medium size skulls covered under shiny black to brown fur.
They are almost double the size of any domestic cats with ear tufts. These cats are active, and they are perfectionists in their work. They are 30-50 inches long.
People mostly get confused between black bobcats and lynxes but there is a big difference between their tails, black bobcats have a similar long tail to other bobcats.
In Which Environment Black Bobcats Can Be Found?
Black bobcat doesn't like human interaction and that is the reason they like to stay away from human societies.
These nocturnal animals are rare and that is the reason there is no such proof that defines specifically their habitat.
But like other bobcats these are also independent wild cats who believe in hunting other animals, they can even hunt animals like deer, which is too heavier and larger than them.
In case bobcats' population is higher and that's why they can be seen in woods, roads, or even in deserted areas but black bobcats are mostly found in Florida.
They prefer staying hidden in the dark and thicker forest, to keep themselves away from human beings and other predators.
According to the 1995 paper, A Melanistic Bobcat from Outside Florida, written by Jay Tischendorf and Donald McAlpine, the only other case of melanism found in a Canadian bobcat was dated November 1983. The black male bobcat was trapped near Henry Lake and is now mounted at the New Brunswick Museum.

The article says only 10 other melanistic bobcats have ever been recorded — all found in Florida.

CBC NEWS
Can Black Bobcats Be Pets?
Few people argue that bobcats can make great pets, they can adapt very easily. But these cats are not domestic genetically and there are many differences between wild cats and domestic cats.
Though it might be possible if you train them from very early childhood and they follow your orders, at the end of the day they are wild and they can show their actual behavior anytime.
Especially in the case of black bobcats, it is impossible to make them your pet, as they are too rare to be seen and you're definitely not allowed to keep them in your house.
Lastly, we should not disturb the natural habitats of wild animals. They don't need our help for their survival.
Interesting Read: Are All Black Cats Bombay Cats?
Behavior Of Black Bobcat – Explained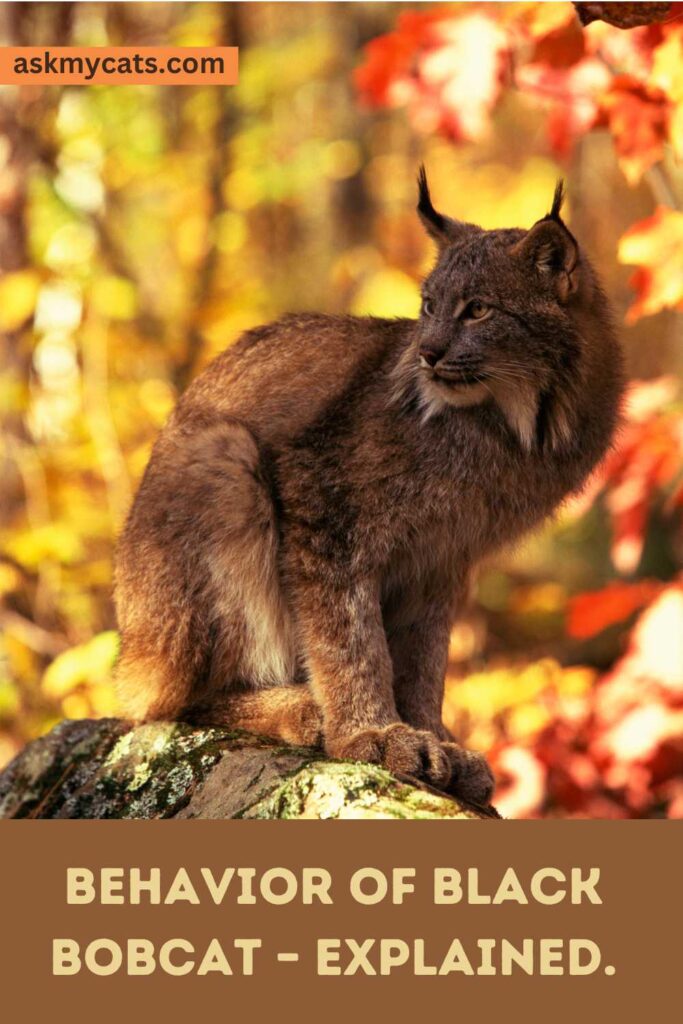 Black bobcats are believed to have temperaments and behavior similar to other bobcats. A shy, wild, and active black cat can be the perfect adjective for black bobcats.
Though there are no such studies or research which claims about the actual behavior of black bobcats, expert says these cats are solitary cats like wild cats like other bobcats and they primarily hunt during the night as they are nocturnal animal, and their black fur can easily be hidden during the night as compared to daylight.
They focus mainly on hunting rabbits, mice, and other small animals but at the same time, they are furious enough to hunt bigger animals than them.
Interesting Read: Are Black Cats More Aggressive?
Also, check out Are Female Cats Better Hunters Than Male Cats?
Can Black Bobcats Be Dangerous For Human Beings?
As we already discussed black bobcats are shy and they love staying from human existence, so they intentionally don't want to hurt human beings. In fact, if they accidentally see any human around them, they chose to avoid it by hiding in darker or denser places.
But at the same time, we know that bobcats are really strong, and they have a stronger bite than our imagination, they can generate a bite force of around 548 newtons. And these bite forces are sometimes stronger than cheetahs.
So, it's safe for us to keep a mile distance from black bobcats as it can be harmful to us on some odd days, as we can't say when these shy cats will become angry and dangerous for humans.
What Else I Should Know About The Black Bobcats' Characteristics?
| Characteristic | Explained |
| --- | --- |
| Communication | Black bobcats communicate like any other cat through the help of scent, vocalization, and visual signals. They rarely meow like domestic cats instead they can chortle and make bird-like sounds. |
| Food habit | These black bobcats are predators, and they hunt smaller animals available in the region like mice, snakes, and rabbits. Smaller animals are their priority food, but they can even hunt bigger animals as they are strong enough to do so. |
| Social structure | They are solitary wild cats who don't believe in living with family like a few other wild cats. These cats are believed to be territorial animals. |
| Life span | There is no such proof about the life span of black bobcats, but we can approximate on the basis of the life span of other bobcats that they might live somewhere between 15-20 years. |
Frequently Asked Question
Which is the rarest bobcat?
Blue bobcats are the rarest bobcats, these are also known as "Maltese". These cats are believed to be the result of two copies of a gene that causes melanism and at the same time two copies of a dilution gene.
That means they are a rare combination of a gene that helps in darkening the fur where as another gene helps in lightening the fur.
These cats were famous for their fur in the year 1700-1900. These cats hadn't been recorded for over a century. Unfortunately, it was killed by a trophy hunter.
What is the difference between a black bobcat and a bobcat?
Black bobcats and bobcats are similar in terms of genetics. These cats belong to the same family and that's why they don't have much difference.
They have an almost similar body structure and size and their ear and tail are significant proof that they are the same species.
The only common difference one can mark in these both cats is their fur color. Black bobcats have a higher level of melanin that's why their fur color differs from typical bobcats.
Final Words
Black bobcats are a fascinating topic in the world of wild cats and big black cats. Some believe that these cats totally belong to the species, and they have no relation with bobcats, whereas another group highly advocates that these are just melanistic bobcats.
Many sightings of these cats prove that they are still existing, and they are not only part of legends and myths.
What do you think about these black bobcats– Tell us in the comment section.
Fun Fact to Know: Do Black Cats Live Longer? Myth or Fact?
Fun Fact to Know: Are Black Cats Friendly?
Reference