Hey, black feline fam!! Whenever we hear the word black cat, our mind automatically starts relating it to the mystery – why? Is it the outcome of her suspicious past? Not always, sometimes it can be her mysterious behavior too.
One of those mysterious things is the color changing of her coat – But why it happens?
The black cat sometimes changes their fur color to a reddish or brownish shade. Though coat color is the result of genetics in cats, still factors can affect the intensity or variation, such as diet, environment, illness, etc.
If you are reading this article, then there is a high chance that you have a black cat who is changing her fur color. Don't worry we got your pain!
Keep reading this article to understand all factors and solutions!!
Key Takeaways

The color of a black cat is mainly determined by the melanocortin 1 receptor (MC1R) gene, which produces melanin, the pigment that gives color to the skin, fur, and eyes of cats. The non-agouti allele is the allele for the black color in cats.
The factors that may cause a black cat's coat to turn brown include sun exposure, lack of nutrition, age, genetics, environmental factors, or illness.
A diet that is high in amino acids, vitamins, and minerals is important to maintain a healthy coat color in black cats.
Pet owners should protect their black cats from sun exposure, provide adequate nutrition, and take them to a veterinarian if they notice other symptoms of illness or deficiency in their cat's body.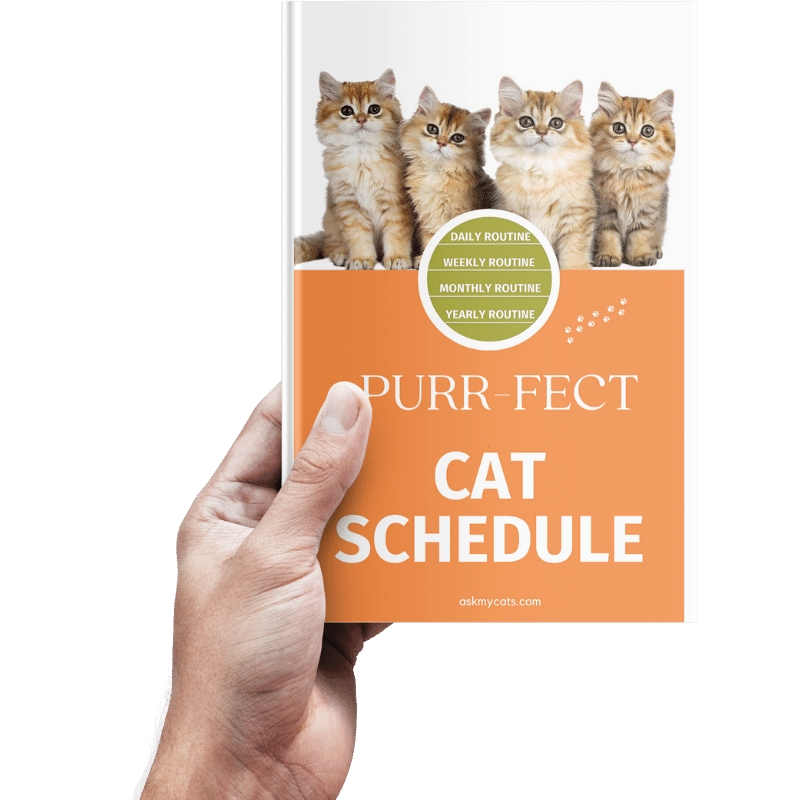 Discover the Secrets to a Happy Cat!
Discover the secrets to creating a happy and healthy daily routine for your feline friend. From playtime to mealtime, sleep to grooming, our expert guide will show you how to make every day a purrfect day for your cat.
Give Your Cat the Perfect Day – Get the Ebook!
What Is The Genetics Of Coat Color In Cats?
We see different colors of cats on daily basis even with different patterns. In fact, just in black cats, you can see the uncountable alteration in fur color. But why is it so? Is it because of their parents?
But we can see black parent cats are getting grey or brown kittens. So basically, yes, the parental gene is responsible for providing fur color, but not identically, there are different processes and situations.
The most significant reason for black felines' color is the melanocortin 1 receptor (MC1R) gene – this is also known as the black color gene in black felines. This gene is responsible for fur color and even affects the eye color of cats.
This gene has many alleles that directly help in the color alteration of your kitty.
Non-agouti allele is the allele for the black color in cats. On a major basis there are two types of melanin in cats – phaeomelanin, which gives black or brown color, another is eumelanin, which is responsible for providing red shade in cats.
Interesting Read: Why Do All Black Cats Look The Same?
What Is The Role Of Pigment Genes In Determining Coat Color?
Now you know that black cats consist of melanin which makes them look darker than other colored cats.
If you see a solid black cat that means her both parents were black, and this is because of the color gene- known as an allele for black – 'B'.
There is another pigment allele 'b' which is responsible to produce cinnamon and chocolate colors that are lighter than black.
We know that the tabby is the most dominating fur in the black cat range, so if you want a solid black then there should be a recessive gene known as non-agouti(a), that will make sure the tabby pattern won't appear.
But the interesting part is that some black cats are tabby in disguise which means their gene carry tabby pigments.
And that is the reason we see some black cats with ghostly and messy appearance of fur that is not clearly black neither grey nor brown. It happens because the recessive gene doesn't compress fully, and it impacts the appearance of the fur color of black cats.
These tabby pigmentations in black cats can be seen in lighter stripes in an M pattern or you can even notice this ghostly appearance on the leg tail or near the neck area.
The production of the pigment is dependent on the action of a particular enzyme and the action of that enzyme is temperature dependent. It only works below a certain temperature.

Dr. Mike Paul, DVM
Interesting Read: Do Black Cats Live Longer?
What Are The Potential Causes Of A Black Cat's Coat Turning Brown?
Black cats are elegant and have dusky beauty, they attract us with their shiny, lustrous, and silky hair. But what if they start morphing into some lighter shade, be it brown or darker red? It's painful for you, right? You must wonder what is happening with your black delight and why it is happening.
But this is very common in black cats, as melanin is the reason for their pigmentation so a reduction in the level of melanin can be one factor, but this is an internal factor. There are some external factors too that can directly harm your cats' fur color.
First of all, take a deep breath of ease!! because any of these factors is not too serious to be anxious about your black kitty. But if you notice other symptoms with color fading then it can be an alarm for a veterinary visit as it shows some serious deficiency in your cat's body.
Here are some major possible factors which can be the reason for the color fading of the fur of your black feline-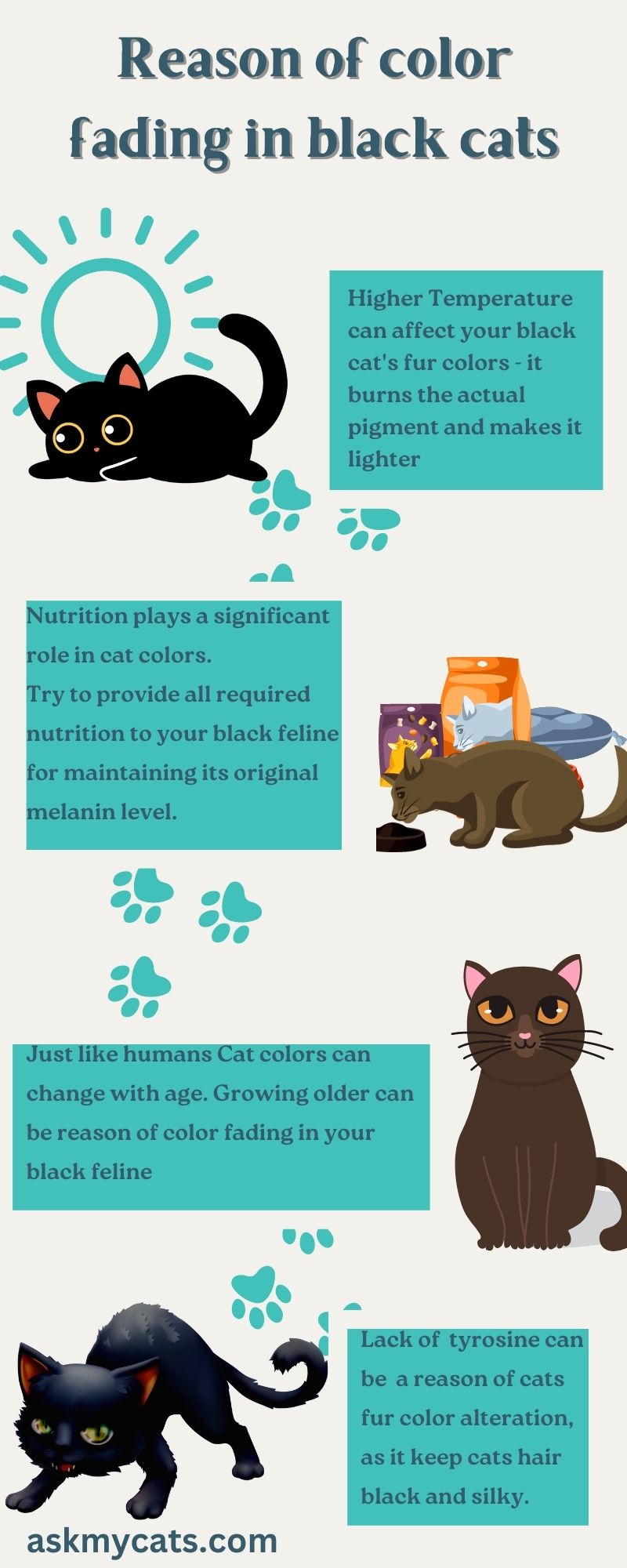 1. Sun Exposure
Aren't we see sunscreens as lifesavers? Because it helps our skin to be protected from sun glimmers, so we know how harmful and affecting sunlight can be. Not only skin, but if we stay in sun for long it even affects our hair color and it gets faded in a lighter shade.
The same happens with black cats, actually, sunlight affects all color cats, but it becomes pronounced in black cats because they have the darkest shade and little fading is also easily visible.
The fact is that cats are heat-loving creatures, be it fire our rays of the sun from your windows, or choking heat on the terrace- cats just love it.
So, if your kitty loves to stay out in sun or she plays in an open area then sunlight can be the primary reason for her fur fading.
2. Lack Of Nutrition
An expected justification for your black feline's coat to change is associated with their dietary and nutritional intake.
Black cats need sufficient about of amino 22 amino acids. 11 of these are important, which means they should be consumed in their diet to maintain proper health and even hair.
The additional 11 are there but not as important as the prior one, which means they can be synthesized and are not required in their dietary.
One of those nonessential amino acids is Tyrosine and which is synthesized from the necessary amino acid phenylalanine. Tyrosine is also needed to create melanin, which is accountable for the tint of your feline's skin and fur color.
But tyrosine can be supplemented directly by increasing the amount of protein in the diet.
Copper is another important mineral required for pigmentation in black cats, though it rarely happens.
It can be found in the liver and fish and most fish food consists sufficient amount of copper.
The next required mineral is zinc, it helps hair to be pigmented and shiny, but a higher amount of zinc can be toxic for your cat, and it creates copper deficiency as well.
If you suspect that your cat is having excess zinc or zinc toxicity, then immediately meet your vet because it can be fatal. Other symptoms of zinc toxicity are vomiting, diarrhea, and lack of appetite.
Experiments were conducted to investigate the basis for the change in the hair color of black cats to reddish-brown. Black hair color was maintained or restored by diets containing a high concentration of tyrosine or phenylalanine.

Current dietary recommendations for dietary tyrosine and phenylalanine for cats are below those required to support maximal melanin synthesis in black cats.

The requirement appears to be greater than a combination of 4.5 g tyrosine plus 12 g phenylalanine/kg diet but less than 24 g phenylalanine alone/kg diet.

National Center for Biotechnology Information
Interesting Read: Why Does My Black Cat Have White Hairs?
3. Illness
In some circumstances, diseases such as liver, kidney, or thyroid issues can be the primary cause of discoloration of cats' fur. These causes are way more serious than the above-mentioned reasons.
Cats' liver and kidneys are interconnected so if the liver starts producing tyrosine it can cause the lighting of fur shade of your cat.
As both organs are interconnected so issues with any or both organs can be diagnosed by hair discoloration.
If you notice dizziness, lack of appetite, or any other sudden changes in your cat's behavior with the color change, then be alarmed it can be a doorbell knock of danger. Take her to the vet immediately.
4. Age
As we humans start having grey hair after reaching a particular age or say old age, it happens that almost all mammals also get grey hair after that age. The same goes for your black kitty.
If your kitty is becoming old and her hair are changing from black to brown, then there is nothing to be worried about it is absolutely natural and there is nothing uncommon with your cat.
5. Genetics
Similarly, like the red hair gene in humans, the black hair gene in felines is precise, though maybe not as infrequent. There is a complete range of chances for divagation to the pure raven fur with shades of copper, burgundy, orange, and red.
It may be that these gene utterances indicate that one of the feline's parents was a minor tabby or brown-colored.
6. Skin Allergies Or Fleas Problems
If your cat suddenly started turning brown from black even after a proper diet then skin allergy can be the possible reason for it, though skin allergy won't make her hair brown continuous licking and washing of fur can lead to discoloration.
Now you wonder how? Your cat's saliva has old red blood cells which result in discoloration of the actual color of her hair and the same goes for the fleas.
You may like to read, Are Black Cats More Aggressive?
Medical Conditions that can cause Black Cats to Turn Brown
| Medical Condition | Description |
| --- | --- |
| Hyperthyroidism | Hyperthyroidism is a condition in which the thyroid gland produces too much thyroid hormone. This can cause the fur to become patchy and discolored. |
| Cushing's Disease | Cushing's disease is a condition in which the adrenal glands produce too much cortisol. This can cause the fur to become thin and discolored. |
| Malnutrition | Malnutrition can cause a variety of health issues in cats, including fur discoloration. A lack of certain nutrients, such as copper or tyrosine, can lead to a brownish discoloration of the fur. |
| Fungal Infections | Fungal infections, such as ringworm, can cause patches of fur to turn brown or gray. These infections can also cause the fur to fall out or become brittle. |
| Parasites | Parasites, such as fleas or mites, can cause the fur to become discolored and brittle. These parasites can also cause itching and other skin irritations. |
| Skin Allergies | Allergies to food, pollen, or other environmental factors can cause the fur to become discolored and patchy. These allergies can also cause itching and other skin irritations. |
Medical Conditions that can cause Black Cats to Turn Brown
Solution – Steps To Take If A Black Cat's Coat Is Turning Brown
1. Consulting With A Veterinarian To Rule Out Any Underlying Health Issues
If you are worried about your cat's fur discoloration then it's time to take her to the vet, especially if you notice some other symptoms like vomiting or lack of appetite.
Your vet will suggest required testing and proper diet which will help in sufficient production of melanin in your black cat's body.
2. Seeking The Advice Of A Professional Groomer Or Breeder
You can meet the groomer or any professional breeder who can suggest the required changes in your cat's product because some products can be allergic or toxic to your cat's fur.
They can prescribe some therapy or lotions or grooming for restricting further browning of hair.
3. Hormone Therapies
Sometimes hormonal imbalance can be the reason for hair discoloration so if you feel that it is any hormonal issues in your black feline, so in these cases mostly oral thyroid supplementation is used to treat the ailment.
4. Surgical Removal
In some special cases, the discoloration can be cancer which needs to be removed immediately without any further delay.
If it is not removed at the correct time, it can cause serious infection in other parts of your furry friend's body too.
Most probably required surgery will be suggested by your vet in the initial stages.
Know everything about Black Cat With Pink Nose
Frequently Asked Question
Do All Black Cats Turn Brown In The Sun?
No, it's not the case, all black cat doesn't change fur color. It might be possible that your cat doesn't go in the heat much and he has enough melanin production which helps him to restrict hair tanning and lightning.
In some cases, cats appear brown because of their recessive tabby nature, so if your cat doesn't have tanning then he might be a solid black cat.
Why Has My Kitten's Fur Changed To A Reddish Color?
If a feline is over-washing by saliva at one area of its coat it can cause variation in its color.
And, when this occurs, your feline may twitch thrashing it far-flung additional than normal grooming. This is alike to us human being rubbing recklessly on our crust of skin owing to the uneasiness.
Final Words
Now you know all the potential causes that why your black kitty turning brown, and you have a major idea that what effort should be taken from your side as a responsible cat parent.
The good news is that 9 out of 10 reasons for black cats turning brown are not so crucial to be anxious but that one reason even can be fatal. So why take risks?
It is best to take your black cat to the vet as soon as you discover that she is changing her color coat to lighter shades.
What do you suggest about the problem of the black cat turning brown? – tell us in the comment section.
You must be interested to know about black cat spiritual meaning
Reference