Aren't black cats one of the most beautiful creatures of God? They always attract us with their bright and mysterious eyes. But have you ever heard of black Siamese cats? Is it a specific breed? Are all Siamese cats black? Are black Siamese cats rare?
Yes, Siamese cats are found in black color, but the bad news for solid black cat lovers is though Siamese cats can be black they can't be solid black – they are partially black. Black Siamese cats are famous for their slim, long shape of the body, incredible blue eyes, and their special pointed fur design.
Today we will reveal all the scientific reasons and logic behind the color of black Siamese cats.
So, are you ready to explore the fascinating reality of black Siamese cats?
Tighten up your seatbelts, and let's jump into the majestic world of black Siamese cats together!!
Key Takeaways

Siamese cats can be partially black, but they cannot be solid black
Siamese kittens are born white because their genetic color is sensitive to heat, and they don't receive heat in the womb
Siamese cats have a special gene called the Himalayan gene that is responsible for partial color patterns on their body
The Himalayan gene is a mutation at the 'C' locus, which is a dormant position on a chromosome
The color of Siamese cats depends on genes, but these genes typically depend on the defect of tyrosine, which decides melanin production and is sensitive to temperature.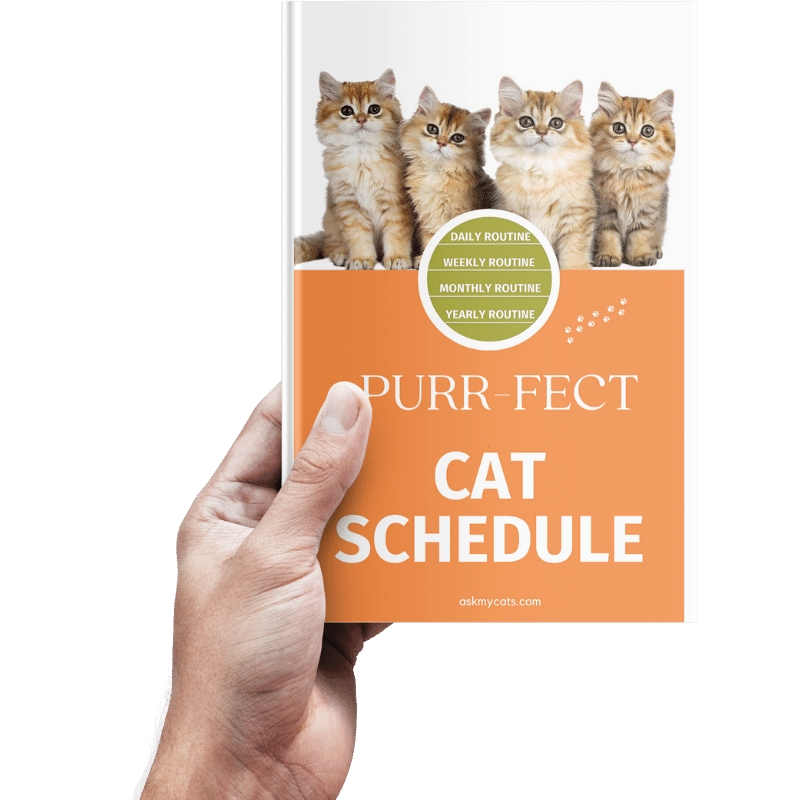 Discover the Secrets to a Happy Cat!
Discover the secrets to creating a happy and healthy daily routine for your feline friend. From playtime to mealtime, sleep to grooming, our expert guide will show you how to make every day a purrfect day for your cat.
Give Your Cat the Perfect Day – Get the Ebook!
Everything About The Genetics Of Siamese Cats
The Siamese have a modifier gene that impedes the development of pigmentation on fur above 100 – 102 F (37.7 – 38.8).
These fur color genes are active in less temperate portions of the body of the cat, for example, paws, the area near the head, a few parts of the face, and the tail, in contrast to that temperate portion remain pale due to a lack of pigmentation.
Siamese kittens can have different genes- but you must have noticed that they are all born in white color. This happens because their genetic color is sensitive to heat, which means their actual pigment arrives when they face heat.
But when the kittens remain inside the womb of the mother cat, they don't get any heat in the environment, and that's the reason they were born in white color.
For understanding the gene pattern of Siamese cats, we should know that all cats have 19 pairs of chromosomes in their body, which can be found in the nucleus of all individual cells present in their body.
All these chromosomes consist of genes and genes are found in pairs (one from the male parent and one from the female parent).
Interesting Read: Can Ragdoll Cats Be Black?
These genes give common and unique features to cats, this feature can include – size, shape, color, eyes, sex, etc.
Siamese has a special gene, the Himalayan gene. This gene is responsible for partial color patterns in Siamese cats. The Himalayan gene is a mutation at the 'C' locus – it is a dormant position on a chromosome where is particular gene is located).
This gene is recessive to complete solid color, which means it needs (homozygous) two duplicates of the gene for the Siamese color to be represented.
This mutation results in a partial color popup on the temperate part of the Siamese cat's body.
When Siamese cats are crossed with black cats, then we will get black kittens as offspring. T the C locus these offspring will carry one quantity of Siamese (cs) genes.
Now in the next case, if the black kitties will already have cs as a recessive gene then out of four, one kitten will have pointed coloration which is the feature of the Himalayan gene.
The Siamese cat has a highly recognized coat color phenotype that expresses pigment at the extremities of the body, such as the ears, tail, and paws. This temperature-sensitive coloration causes a 'mask' on the face and the phenotype is commonly referred to as 'pointed'.

According to ResearchGate
Similar article – Siamese Calico Mix Cats: Here's What You Need To Know!
What Are The Role Of Pigment Genes In Determining Coat Color In Siamese Cats?
Siamese cats are blessed with a unique color pattern which makes them stand out from the cat crowd. But how do they get such unique pigmented fur?
Cats' fur and eye color are mostly dependent on melanin, and this melanin is produced by the special enzyme called tyrosine, which is necessary for pigmentation.
But in the case of Siamese or any other pointed cats, this enzyme is present in a defective format, which means it doesn't function normally. It needs a proper specific temperature to be visible.
Today we can see black Siamese because of this defect in the tyrosine gene and in this defect darker color can only appear on the body parts which are comparatively cooler.
Siamese are white at birth but if you have a Siamese, you must have noticed that they get darker in winter months. Additionally, to that, if your cat loves to stay out in cold, then the chances become higher that she will become darker.
In short, we can say that the color of Siamese depends on genes, but these genes typically depend on the defect of tyrosine- which decides the melanin production and this pigment are sensitive to temperature.
Also, read – Are Black Cats Really Rare? Uncovering the Truth
What Is The Genetic Basis Of Black Coat Color In Siamese Cats?
The Himalayan Gene plays an important role in Siamese cats getting pretty points.
We will try to explain in simple terms rather than going into detail about the genetics of these cats that how they obtain seal point coloring.
These cats have a Himalayan gene that is responsible for albino origins, which affects the partial albinism on the warm parts of the cat's body. So, high temperatures of the body areas are light and cold areas have darker points.
As Himalayan Gene is a kind of mutation at a particular chromosome position where a concrete gene is placed is called the C Locus. This gene is recessive to the full-color C gene which means the feline requires two identical copies that allow Siamese fur color to occur.
The coloration in Siamese cats comes from the B and D gene. Seal point cats have either Dd or DD paired with Bb. For instance, these cats that have a pair of dominant D and B genes of seal brown color.
Cats with point coloration patterns have their color on their "points", meaning their extremities. These cats are therefore more colored on their extremities, such as their face, their legs, and tail, with the rest of the body being clearer. Why only the extremities, you might ask?

These point colorations are a form of albinism and the enzyme responsible for the color is only activated at low temperatures: the extremities, being the coldest parts of the body, result in being the only colored ones.

This is also the reason why color point cats are born entirely white: the temperature is uniform in the mother's womb.

Coline Doebelin, Feline Nutritionist
Interesting Read: Ragamese Cat! Know About Ragdoll Siamese Mix
Can Siamese Cats Be Black?
According to the Cat Fanciers Association, a Siamese cat comes in four colors: blue, chocolate, seal, and lilac.
All these cats have deep blue eyes. However, some associations accepted the Siamese cats with a tabby point, ginger point, and different points. So, a black Siamese doesn't exist.
But a black coloration which is quite a similar breed can be said as black Siamese.
Let's discuss in detail the black Siamese cats –
They can be black but can't be completely solid black. Their partial areas, such as around the face and nose, and sharp blue eyes.
If we talk about the genetically black Siamese or seal point Siamese cats, they are very common and ancient cats.
You can't consider them as traditional Siamese; they are the seal point Siamese cats. Their loyalty, intelligent personalities, and associations with royal families make them rare after their colors. So, seal point Siamese are not rare as black Siamese cats.
If you see from a genetic point of view, Seal point Siamese cats are black but from the virtual point of view, they don't look like your classic black cat.
The Himalayan genes' partial albinism becomes darker colors in the cooler areas. Some genes are genetically black having light fur colors at various points. Their beautiful blue eyes and long slender body with black partial color makes them very attractive to cat lovers.
It's the Himalayan gene that makes them Siamese cats! Without the presence of the gene, your Seal-point Siamese would be black. As the Himalayan gene means the black color of the fur on the body.
If you have a Seal-point Siamese, you might notice that when the temperature drops, the fur on their body becomes a little darker.
Interesting Read: Why Do All Black Cats Look The Same?
What Are The Characteristic Of Black Siamese Cats?
Brilliant Intelligence
Black Siamese cats have brilliant and investigative minds. Because of their intelligence and high energy level, it gets easy to train them with patience and persistence they learn a lot very quickly.
Best For Cuddle
Black Siamese cats can be your cuddling buddy as they love to cuddle and snuggle. You must provide them toys like ample cat to prevent them from anxiety as these are super active to stimulate and also regular exercise and walking must be in the routine.
They Love Kids
These cats love being around kids. As they get trained to be around the human- companion, so they are ideal to be with kids as well. What you have to do is train them how to behave with kids.
Interesting Read: Siamese Russian Blue Mix Cat: What's Special About Them?
Love Socializing
The black Siamese cats belong to the top cat breed, have high demand, and are known for their nature like – attention seekers, spending time with humans, social behavior, fun-loving nature, and keeping interactions.
They are very attractive because of this nature but sometimes they are also annoying and clingy. When they are kittens, their primary personality develops so, their early socialization is necessary.
Can Coexist With Other Pets
We love cats but we all know that cats are never ready to share their part of attention with any other pet.
They feel the stress and competitive vibe with other pets in the house.
But Being pets, black Siamese love to be around other pets, they behave really well with other pets at home. You will feel good to have a pet like this, who has friendly behavior with other pets as well.
Attention Seeker
If you don't have enough time to spend with your pet then think twice before owning black Siamese cats.
They can't be alone; they are attention seekers. They should be kept indoors, as they feel anxious, confused, and trapped outdoors.
About Their Health
Black Siamese cats are generally healthy and fit pets and they have a good life span of around 15-20 yrs.
But at the same time, black Siamese cats have different types of health issues, including the following: Sensitive stomach – which causes frequent vomiting, Intestine tumors, Retinal Atrophy – which causes loss of vision or partial blindness.
So, it's significant to schedule a veterinary visit for your black Siamese cat.
Interesting Read: Do Black Cats Live Longer?
How To Take Care Of Your Black Siamese Cat?
| Care – Tip | Explanation |
| --- | --- |
| Your black Siamese cat loves playing. | Black Siamese loves spending time with you and play time is their favorite part of the day. These cats are very energetic and they love climbing and jumping, so you should try to provide her perches, scratching posts, cat trees, etc. |
| Grooming. | Grooming is essential for all pets, especially cats. Your black Siamese cat needs grooming like any other cat. Brushing every week is important for your cat, though Siamese cats don't have too long fur. Don't forget about nail clipping and teeth cleaning frequently. |
| Feeding schedule. | Your black Siamese needs a particular amount of food – according to their age, body weight, and activity. If you notice your cat is gaining or losing excess weight then you should discuss it with your vet or dietitian. Because it might be possible that your cat needs a change in her diet. |
| Choose the food for your black Siamese cat carefully. | Your black Siamese needs extra care when it comes to food. Always read the ingredients list mentioned in your cat food. Always choose food rich in protein and nutrition for example that food claims to have duck breast, salmon fillet, tuna steak, etc. Try avoiding buying cat foods that don't have a detailed ingredient list. |
| Veterinary visit. | As we have already discussed black Siamese cats have a chance to be prone to a few diseases if you do not take them to the vet for regular check-ups. |
Must Read – Are Black Cats More Aggressive? Myth – Explained With Scientific Logic
Frequently Asked Questions
How Much Are Black Siamese Cats?
 If you're looking for an adorable but affordable Siamese cat, black Siamese cats are the best option. Black Siamese cats are commonly found, so they are not too costly.
Black Siamese cats, or Seal Point Siamese cats, can cost anywhere from $250 USD to $1000 USD, which won't be much heavy on your pocket. Though this cost differs more or less depending on the cat's age and what breeder you adopt them from.
Are Black Siamese Cats Rare?
Though it's clear now that there is no such breed named black Siamese cats many call seal point black cats as black Siamese cats.
These seal-point Siamese or black Siamese cats are not rare in fact they are the most common Siamese cats.
You would also like to read about Eye Color Of Black Cats
Final Words
Now you know almost everything about black Siamese cats, so are you ready to take the one?
Black Siamese cats or seal-pointed cats are beautiful cats with small fur and shiny eyes, and they are the result of genetic mutation. They are one of the most human-friendly and adorable cat breeds and that is the reason they are being loved for centuries by cat lovers.
Do you like black Siamese cats? What is the best about black Siamese cats according to you? – Tell us about your opinion in the comment section.
Must Read: Are Black Cats Hypoallergenic?
Interesting Read: Can Bobcats Be Black? Myth or Reality?
Interesting Read: Are All Black Cats Bombay Cats?
Reference