Hey, hope you are having a PURR-FECT day.
Is there any cat breed called black ragdoll cat or not? This is one of the common questions we usually hear about ragdoll cats.
Black ragdoll cats have majestically beautiful and stunning eyes, they have long and shiny fur like other black ragdolls. These cats are popular for their puppy-like behavior, they will never fail to make you feel loved and wanted.
Though black ragdoll cats didn't get recognition as a breed yet, because of the lack of pointed fur pattern features, which is the identity of the ragdoll cat breed.
In this article, we will cover every fact and explanation about the black ragdoll cat which you should know. If you are looking to adopt a black ragdoll cat or want to learn more about them, then keep reading further to know in detail about these black fur rag dolls.
Key Takeaways

Black Ragdoll cats do exist, but they are not recognized as a separate breed because they lack the pointed color patterns of traditional Ragdoll cats.
Black Ragdoll cats have dominant genes that produce solid black fur, but their offspring can still have traditional Ragdoll color patterns if bred with purebred Ragdolls.
Black Ragdoll cats are not as common as traditional Ragdoll cats because the genes responsible for solid black color are recessive, and they make up only 5% of the Ragdoll community.
Black Ragdoll cats have a similar physical appearance to traditional Ragdoll cats, but they lack a pointed color pattern, and their nose color is usually black.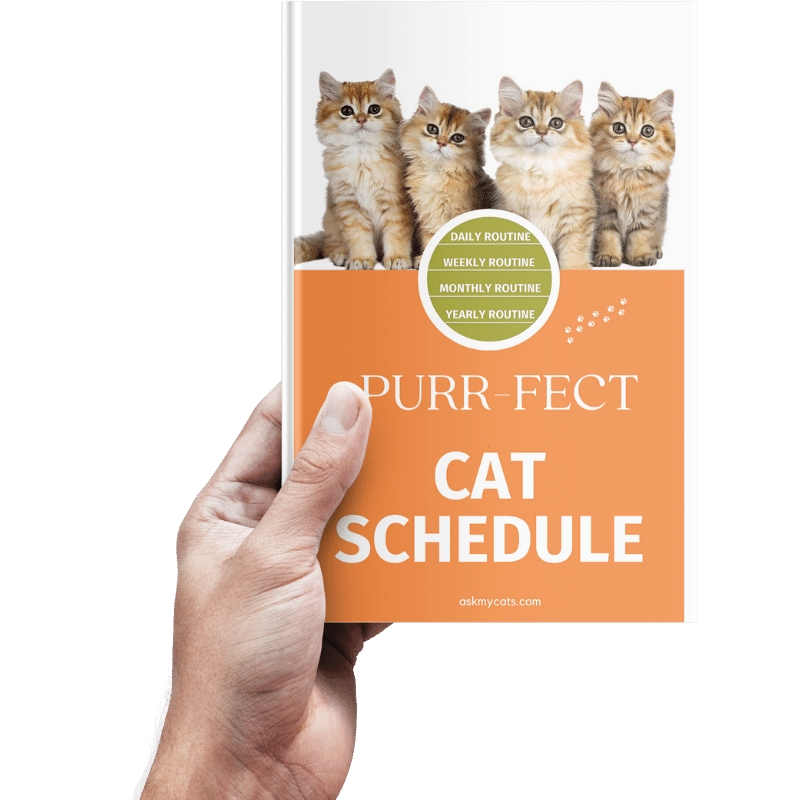 Discover the Secrets to a Happy Cat!
Discover the secrets to creating a happy and healthy daily routine for your feline friend. From playtime to mealtime, sleep to grooming, our expert guide will show you how to make every day a purrfect day for your cat.
Give Your Cat the Perfect Day – Get the Ebook!
Can Ragdoll Be Black?
Yes, ragdolls can be black but there is no particular breed that is known as a black ragdoll.
Black Ragdoll cats are oversized cats with all the characteristics of other Ragdolls, they have long fur and attractive eyes, but they do not have pointed color patterns like a ragdoll, which is one of the most important features of a ragdoll cat.
Mostly these black cats have soft and shiny hair in solid black color, which looks quite similar to black rabbits' fur.
With multiple attractive and interesting characteristics, black ragdoll cats are still suffering recognition from cat associations and breeders. These cats are not seen as purebred ragdolls as they don't possess pointed colors on their face, tail, legs, etc.
They are always in controversy and debate in the ragdoll community. At the same time, they are the love of many cat lovers too.
What Is The History Of The Black Ragdoll Cat?
If you want to peep into the history of black ragdoll cats, then first let me take you into the past of ragdoll cats.
In 1960, a Persian breeder Ann who lived in California experimented and bred a free-roaming semi-feral long-haired angora named Josephine with a cat she owned.
After breeding unfortunately Josephine faced a road accident. She got veterinary care and medication. But the best part was that her pregnancy was still safe, and she gave birth to her offspring.
Ann noticed her kittens were far different from normal kittens, they were sweet and too affectionate with humans, and they have pointed color patterns, which was then uncommon.
Ann took three offspring for the further experiment of breeding; she bred them, and the resulting offspring are today's ragdoll cats.
Out of those three initial offspring of Josephine, one was a solid black ragdoll. In short black ragdoll cats are as old as any other ragdoll cat breed.
Interesting Read: Can Siamese Cats Be Black?
What Is The Genetics Of Black Ragdoll Cats?
Black ragdoll cats are the result of dominant genes that are possessed by their parents and this dominating gene doesn't allows other genetically passed colors to appear on the fur of the cat.
The best part that you should know as a breeder about these black ragdoll cats is that their offspring can still be like traditional ragdolls if you bred them with standard purebred ragdoll cats.
We still don't have much documentation on black ragdoll cats' color genetics, but these cats do not have pointed color patterns like traditional ragdoll cats and that's because they lack the Himalayan gene.
They have shiny eyes which can be found in a variety of colors like green, and yellow but they can't have blue eyes like traditional ragdoll cats.
Interesting Read: Can Bobcats Be Black? Myth or Reality?
Are Black Ragdoll Cats Common?
Black ragdoll cats are not as common as other ragdoll cat breeds because they are still seen as mixed-breed and that is the reason they are less popular in the cat community.
But with increasing debate and changing times black ragdoll cats are getting lil' consideration in the cat community as a breed.
These ragdoll cats behave typically like ragdoll cats are rare because the genes responsible for the solid black color are recessive.
Now if you want a black ragdoll cat then you need both cat-parent with a recessive gene.
And the problem is that these cats are not easy to find as they are only 5% of the total ragdoll community.
This is one of the biggest reasons that people easily don't believe in buying black ragdolls from unknown buyers (as they might be mixed breed).
Black Ragdoll Cat: Physical Appearance
Black ragdoll cats look like giant cats with fluffy and shiny fur, they have bigger chests and medium-sized skulls on the small necks.
These cats look stunning and attractive with yellow or green eyes, blue eyes are rarely seen in black ragdoll cats because they have an excess amount of melanin which affects their eye color too.
Their body structure looks almost similar to traditional ragdoll cats, but they don't have a pointed color pattern.
The nose color of ragdoll cats mostly depends on their fur color or sometimes they have similar color as other extremist points of cat body have. But in the case of black ragdoll cats, there is no question of pointed color, so they totally depend on fur color, that's why they mostly have a black nose.
Interesting Read: Ragamese Cat! Know About Ragdoll Siamese Mix
What Are the Different Types Of Black Ragdoll Cats?
Black Ragdolls have a long coat but it's without an undercoat. The black coat can be pure black without any kind of marks or pure black with some markings on particular areas of the face and legs.
Solid Black Ragdoll Cats
They are completely black in color without having any markings on their body.
Black Smoke Ragdolls have a tip of black, but their roots are white or creamy or lighter in color, which gives a charcoal-colored texture. From the outside, it looks black but after parting the fur, the light colors get visible.
Black And Brown Ragdoll Cats
These black and brown ones have a brown Colored coat on the body and black markings on the head, eyes, legs, and tail. Some have a fully black-colored head.
Black And White Ragdoll Cats
While having a light-colored body with some dark markings on their body, can be considered black and white Ragdoll cats.
If we compare the Black and white one's with the only black ones the physical attributes are almost the same except for their coat color which shows they are not real Ragdolls, as compared to the black ones.
We see the black and white one's having a black coat on their body and some white markings on their other body parts like the chest, belly, and toes. They are considered Tuxedo cats also.
Having these color patterns makes them looks like the formal suit of men. Also, these color variations differ in these cats, some have white markings on the chin or nose while some have a white tip on the nose.
The eye color of these Black and White ones can be green, gold, and rarely blue.
Some other variations can also be seen in black and white ones are, white markings on the back, a dark pattern below the nose, and a white pattern on the face.
Short-Hair Black Ragdoll Cats
These cats are crossed with other breeds of short ones. Short ones can't be produced from two long-haired cats.
Black long hair Ragdoll Cats
These cats have a standard length of long to medium hair among other Ragdolls ones.
Grey And Black Ragdoll Cats
These cats have a black colored coat from the outside and a greyish-colored coat inside.
Interesting Read: Are All Black Cats Bombay Cats?
How To Train Black Ragdoll Cats?
Black ragdoll cats are too good with humans than other cat breeds, they love living around you. So, it becomes easy to teach the one who already admires you.
Training a black ragdoll is an easy and fun task to do. If you never trained cats before then also you can easily train your black ragdoll cat. Positive reinforcement is the best way to train your black ragdoll cat.
For example, if you notice your kitty is listening and following your instructions then give her a gift in return, this will motivate her to listen to your instructions.
You can provide some delicious treats to your kitty as treats and petting are the best way to train a cat.
You can even take help from professional trainers or experienced cat owners in your contact.
You would also like to read what it means when a black cat crosses your path while driving
What Are The Health Issues I Should Know About Black Ragdoll Cats?
Black ragdoll, a furry feline who is always ready to hug you, is seen as a healthy cat usually but yes just like humans it's very natural for all cats to be prone to a few specific diseases.
All you need is awareness from your side as a good cat parent. If you want your black ragdoll cat to stay fit and healthy then you should pay attention to know more about the diseases which can easily catch your classy black ragdoll cat.
If you'll know about them beforehand, then it will be easy for you to tackle them.
Here are five common health issues with black ragdoll cats:
Obesity
Black ragdolls cat is known for their larger body size, they are usually heavier than other cat breeds. In fact, ragdoll cats look cuter when they gain a little extra weight, but do you know how harmful it can be for your kitty in terms of health and fitness?
Black ragdoll cats prefer EAT-SLEEP-REPEAT, they don't like to jump and run all the time, that is again one of the important reasons why few people love ragdoll as they want a calm cat, but this lazy lifestyle is the biggest enemy of your black ragdoll cat.
Not indulging too much in physical activities can be the cause of obesity in your black cat.
So always try to provide enough chances to play and exercise and keep a continuous eye on the weight of your black ragdoll.
Hairballs Accumulation
Black ragdoll cats have long fur that is too voluminous, that's why in case ragdoll cat's hairball accumulation and dandruff possibilities become higher.
Lack of grooming can be the reason for hairballs. Though cats are self-sufficient to keep themselves clean by self-grooming they need little care from our side too.
Black ragdoll cats are bigger in size and that's one of the possible reasons that they find grooming themselves tougher than other cats.
When they groom themselves, they sometimes swallow these hairballs which can cause sudden vomiting and even infections. In this condition concern your vet immediately.
Polycystic Kidney Disease
Polycystic kidney disease is a hereditary disease in your black ragdoll cats. In this condition, your cat can grow a cyst in her kidney. If this cyst kept on growing without any restriction by medical care – it can cause kidney failure.
Must Read: Why Does My Cat Not Drink Water?
There is no specific treatment for PKD, as the disease causes similar clinical signs to those seen in cats with chronic kidney disease. Special diets, fluid therapy, and medications to reduce nausea and vomiting and to block the absorption of phosphorus are often used to treat the symptoms of kidney failure (for further details, see the handout "chronic kidney disease in Cats").

By Ernest Ward, DVM; Updated by Malcolm Weir, DVM, MSc, MPH
What Are The Temperament And Behavioral Traits Of Black Ragdoll Cats?
| Behavior | Explained |
| --- | --- |
| Calm and gentle | Black ragdolls are calm in nature, and they are popular for their gentle behavior. |
| Sociable | Black ragdoll cats love socializing, they prefer being around you and your family. |
| Intelligent | Black ragdoll cats are enough intelligent to quickly learn new things than any other cat breed. |
| Good with your other pets | Ragdoll cats believe in peaceful coexistence with your other pets. If you already have a pet in your house and you want a new one then a black ragdoll is a good option for you. |
Frequently Asked Question
How Much Does A Black Ragdoll Cat Cost?
Black ragdoll cats are one of the rare ragdoll cats, but this doesn't affect the cost of these cats as they are not referred to as purebred cats.
A black ragdoll cat can cost somewhere between $900 – $ 2600, this is just a researched estimated cost, it can differ in different places.
Which Is The Rarest Ragdoll Cat Color?
Lilac Ragdoll cats are tough to find, they are considered the rarest ragdoll cat breed.
They are famous for their lavender to pinkish point color on their extremist body parts. They can have color shades from white to very light beige color.
Must Check Out: National Black Cat Day: When And How To Celebrate?
Interesting Read: Why Does My Black Cat Have White Hairs?
Interesting Read: Why Do All Black Cats Look The Same?
You would also like to read about Do Black Cats Shed?
Final Word
So, now you have the answer to the question – can ragdoll cats be black?
Yes, there are black ragdoll cats, who can make a purr-fect pet, they can be your constant and loyal companion. Beyond the fact that they are not recognized breed, they possess all the qualities of traditional ragdoll cats except the pointed fur pattern.
If you want to adopt a furry black ragdoll cat, then go for it without being confused. No doubt it's a great choice!
Black ragdoll cats should be recognized as purebred or not – what's your opinion about this? Tell us in the comment section.
Reference