Do you know the intention of shedding is to subtract dead hair and this helps in producing natural oil in cats' bodies?
The dead strand that isn't cleared out by external grooming or combing will only be removed by shedding. If it's not, skin annoyance can be seen in your cat.
Black cats mostly with short and darker hair are misguided that they do not shed. But black cats shed like any other color cat, and because of their fur color and size, it becomes less visible.
As a black cat owner, you might be thinking what is the cause behind shedding in cats? How much shedding is normal shedding? Don't worry you are at the right place to understand your concern.
Tighten up your seat belt and let's dive together into the splendid world of black feline!!
Key Takeaways

Black cats with short and dark hair shed like any other color cat, but their shedding may be less visible due to their fur color and size.
The amount of shedding in cats depends on their environment and breed, not their fur color.
Cat breed is the most significant factor affecting shedding, with black cats of various breeds shedding differently.
Cats with medium-length fur generally shed less and need regular grooming to maintain skin and fur health and reduce hairballs.
Some black cat breeds that shed less include the Cornish Rex, Bengal, Ocicat, and Bombay.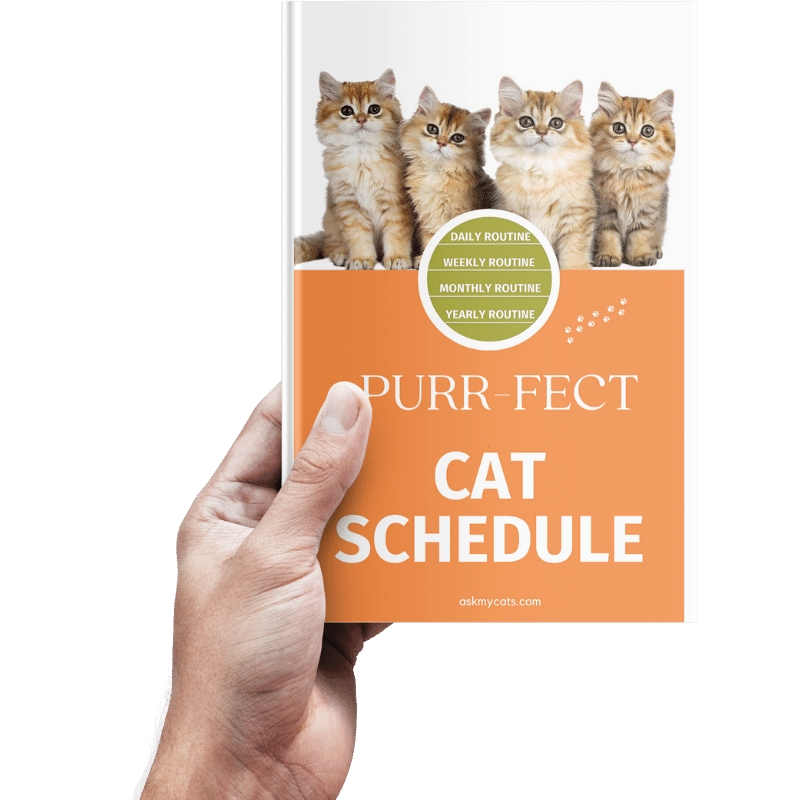 Discover the Secrets to a Happy Cat!
Discover the secrets to creating a happy and healthy daily routine for your feline friend. From playtime to mealtime, sleep to grooming, our expert guide will show you how to make every day a purrfect day for your cat.
Give Your Cat the Perfect Day – Get the Ebook!
What About The Stereotype That Black Cats Do Not Shed?
With silky and shiny fur black cats have an incredible appearance. If you are looking to put an extraordinary black feline then you have 22 different breed options with distinctive qualities, you may choose according to your desire.
But the problem is that before adopting a black cat you'll hear thousands of superstitions that will force you to think twice. One of them is that black cat doesn't shed. But is it so?
First of all, I would like to clear out one of your wrong perceptions of yours about black cats, that is – we cannot decide a cat's quality in general, just based on its color.
Similarly, the well-known stereotype, that black cats don't shed is nothing but an illogical argument. The fact is that they shed just like any other feline does.
We have to understand that shedding in cats is dependent on their environment and breed, it has no relation with black color or any color fur.
Also, check out are black cats hypoallergenic
What Is The Relation Between Black Cat Fur Color And Shedding In Cats?
We know that cats carry their coat color from their parents, which means yes, the color of a cat depends on genes.
Especially talking about black cats' color coats, they get their gorgeous color from gene B, but does it affect their shedding behavior?
Cats shed their hair as self-grooming, which is important to some extent. It can vary from cat to cat and breed to breed, but when you talk about the overall black cat family then there is no such evidence that says black cats don't shed.
But you can say that their shedding is less visible than light-colored cats, because of the darker shade and I'm the size of fur it might be possible that you can't see shedding in their case as much as you see in lightly shaded cats.
In short, we can say that there is no relation between a cat's color and shedding.
It might be possible that your black kitty sheds less, but if you say she doesn't at all then it sounds something impossible.
Interesting Read: Are Black Cats Smarter Than Other Cats?
Is There Any Relation Between Shedding And The Breed Of The Black Cats?
The cat breed is the most significant factor that affects the amount of shedding in cats, breed decides on a major basis if a cat will shed or not, and all of the other factors have a minor effect as compared to the breed.
Similarly, we have to understand that when we say black cats, we generalize black cats of all breeds in one category – and this is where confusion arrives because there are so many varieties of black cats found in different breeds.
One thing you can consider as an explanation is that most of the less shedding cats breed are found in black color, which can be a reason that black cats are known for shedding less.
Cat breeds with mild shedding generally have medium-length fur—not too small, but not excessively long and need normal grooming. This conserves their skin and fur fitness, in multiplication to underestimating shedding and lessening hairballs.
Relatively shedding felines include some of the most famous breeds, like the Bengal. Here we will discuss a few of the moderately shedding black cat breed to understand more about them –
Cornish Rex
Numerous feline owners who like the Sphynx because they shade really less (though not the black cat) they prefer buying not the bald impression turn but rather the Cornish Rex.
They are famous for shedding less hair. Though they are not as pro as sphynx.
Bengal
The Bengal is a really extraordinary, incredible-looking feline. They look like their ancestors if you know, that is Asian Leopard Cat heritage.
Bengals have maintained their big and large body size with spotted fur of their feral look.
The fur of the Bengal's spotted skin is extremely smooth. Bengals shed their hair rarely.
Just normal combing and a quick wipe-down are adequate enough to keep this incredible cat's small, soft fur – glossy.
Ocicat
Ocicat looks mostly similar to Bengal – large body with spotted fur. But yes, this feline's spots aren't too similar to the jaguar-like rosettes of a Bengal.
Ocicats are an energetic and strong breed. They are highly dedicated to their masters and make secure buddies.
Their fur is small and silky and looks quite similar to satin. Positively use a comb or brush to clear out any extra loose or dead hair and your Ocicat is adequate to go.
Bombay
Bombay is an elegant, jet-black breed with a pleasant personality. They have curious, luminous copper eyes that make them more pretty and will observe you wherever you go.
The Bombay's glossy fur requires the tiniest upkeep. This model panther only requires a not-so-heavy brush or wiping down with some soft cloth to mitigate shedding.
Now you know much about different black cat breed and their shedding behavior, above all you know they shed, though less, they do.
You would love to check are black cats friendly
What Are The Different Factors That Affect Shedding In Black Cats?
1. Cats have shed seasons and their lifestyle affects shedding too
So, all black cats have their own shedding season based on their breed and environment.
Their environment means the temperature in which they live, for example, if a cat lives outside more, then there are higher chance of shedding – she might have two shedding seasons in a year.
In contrast to that, if your cat loves to be inside, and doesn't face the sun much then she might shed lesser.
In short outside staying black cats will shed more in comparison to black cats who stays inside more.
Interesting Read: Do Cats Shed More When Stressed/Scared?
A cat can spend 25% to 30% (Benjamin 1976; Panaman 1981) of its time on grooming. Grooming time may be greater than this for cats with limited outdoor access.

Grooming behavior may serve several functions for cats including cooling by coat moistening, removal of shed fur and ectoparasites, and stress reduction (Willemse et al. 1994; Eckstein & Hart 2000a,b).

Since the cat's tongue is covered with keratinous papilla, a large amount of hair is ingested while licking.

On average, a short‐haired (SH) cat loses approximately 28 g of hair per kg of body weight per year, with two‐thirds of this loss being ingested and found in excrement (Hendriks et al. 1998).

National Library Of Medicine
Must Read: Do Cats Shed More in the Summer?
Shedding Frequency by Season
| Season | Shedding Frequency |
| --- | --- |
| Spring | High |
| Summer | Low |
| Fall | High |
| Winter | Low |
Also, check out Do Cats Shed More In Winter?
2. Overall, Hair Quality
The hair quality of your cat says about her all over health, similarly, it says a lot about her shedding behavior and skin health.
If your cat will have healthy hair then you are safe from excessive shedding, in contrast, unhealthy hair means excess shedding.
A commonly shedding feline will have neat, delicate, and uniform-looking fur. On the second side, an overly shedding feline with underlying skin issues will have rough, dry, and harsh-textured fur with damaged or munched extinction.
3. Age of your black cat
If you have a young cat then she might shed less (which you consider that your cat is not shedding or a black cat doesn't shed). But the fact is that at young age cats shed lesser especially if she has less short hair, then Shedding is very rare.
As the age of the cat grows shedding grows too, and that's quite similar to humans, as we face hair fall more in old age in common.
Must Read: Older Cat Shedding Excessively!
4. Skin Health of your kitty
Skin health is one of the essential players in shedding, if your cat has healthy and nourished skin then there is a high chance that she will shed just normally (which is required for grooming).
But skin with problems may lead to excess shedding in your feline which can be harmful to both of you – your cat will lose her fur and you will lose lots of time in the process of cleaning those fur.
Now the problem is how would you know whether your cat's skin is healthy or not, then at a basic level, you can check the skin color of your feline which should be in the shade of pink to pale white if she is healthy.
Interesting Read: Why Does My Black Cat Have White Hairs?
The skin may change in terms of reddening, flakiness and dandruff, patchy fur loss, and the existence of lumps or other lesions signifying a skin ailment.
Dr. Alison Diesel, a clinical associate professor at the Texas A&M College of Veterinary Medicine & Biomedical Sciences, says that cat owners can differentiate normal shedding from feline alopecia, or hair loss if the hair coat is noted to be thin or has the absence of hair in areas.

"The biggest difference between normal shedding and alopecia in cats is that with normal shedding, there is no appreciable hair loss on the animal," said Diesel. "While the owner may see tufts of fur and hairballs around the home, the cat looks to have a normal haircoat in regard to thickness, length, and density."

Dr. Alison Diesel, a clinical associate professor at the Texas A&M College of Veterinary Medicine & Biomedical Sciences,
Interesting Read: Why Is My Cat Hair Falling Out/Shedding In Clumps?
What Is The Benefit Of The Cats That Don't Shed Much?
| Benefit | Explanation |
| --- | --- |
| Saves your money | Less shedding cats need less grooming and that directly saves lots of your money. Most of these mainly require just brushing and combing – so kudos, that's free of any cost. |
| Saves your time too | If you have a furry pet with high-shedding behavior then you know the pain of hair clearing throughout the day, from your body and furniture even your room. Imagine a loyal feline with less shedding – you saved lots of time, right? |
| They are less allergic to you | If you have an allergy to cat hair or OCD, then less shedding feline is a blessing for you. |
Tips for Reducing Shedding in Black Cats
| Tip | Explanation |
| --- | --- |
| Regular brushing | Frequent grooming can help remove loose fur from your cat's coat |
| High-quality diet | Feeding your cat a well-balanced diet can improve coat health |
| Minimize stress | Provide a calm, comfortable environment for your cat |
| Regular veterinary check-ups | Catching medical issues early can prevent excessive shedding |
Interesting Read: Can I Shave My Cat To Stop Shedding?
Frequently Asked Questions
How Much Shedding Is Normal In Your Black Cat?
First of all, you have to understand one thing all black cats are individual, so their shedding behavior is also different than others.
Some black kitties shed more, and others shed comparatively lesser. In short, you can't rely on any one-rule-fits-all for specifying whether your kitty sheds normally or overly.
Plus, because of the feline's addiction to self-grooming, clearing problems can be difficult to locale.
But if you feel that your black kitty suddenly started shedding more than usual (and it's not her shedding season) then it's time to be alarmed.
It might be possible that this shedding behavior is showing some internal or skin issues – which require treatment.
Do All Cats Shed The Same?
So basically, if you want your answer in yes or no, then yes all cats shed the same because all shed hair and nothing else.
But if you are talking about the detailed factor then every cat differs in their shedding.
Cats shedding can be based on their breed or environment, and their hair size as well. In short, every cat is an individual and that's why their shedding and self-grooming habit is also not the same.
Final Word
The furry fact about cats is that they shed, and occasionally they shed less or a lot.
Considering or making a stereotype about black cats shedding behavior that they do not shed – is nothing but stupidity without science because according to science color coat cannot decide the cats' shedding behavior.
Instead, prioritize strengthening her fur health throughout the year. And yes, black feline mostly has short hair, and that's why they shed lesser, and that's a blessing for you.
Do you have a lesser-shedding feline? What do you do to maintain her fur health and grooming?
Interesting Read: Why Do All Black Cats Look The Same?
Interesting Read: Why Is My Black Cat Turning Brown?
Reference