Do female cats hump? Are you a female cat owner and anxious about your cat's humping behavior?
Have you ever walked in on your female cat humping a pillow or stuffed animal and thought to yourself, "Wait, what's going on here?!"
It's not uncommon for people to assume that only male cats exhibit this behavior, but the truth is, female cats can hump too! In fact, many female cats will exhibit this behavior at some point in their lives.
Female cat humping is a natural and familiar behavior in domestic and pet cats. This can be seen when a female cat is in heat, trying to establish dominance, or stressed because of sudden changes in her surroundings.
Are you wondering why your female feline humps? Is it normal for female cats to hump? Do spayed cats also hump? What humping actually indicates? How do stop female cats' humping?
I'll discuss your all concern related to cat humping here- So, take a deep breath of relief, you're at right the place for the solution!
Key Takeaways

Female cats can exhibit humping behavior and It is a natural mating display.
It can also be a sign of trying to establish dominance or marking territory
Humping can occur due to hormonal imbalances or boredom.
Humping is a normal behavior, but if it becomes aggressive or harmful, it is worth addressing.
Spayed cats may still exhibit humping behavior.
To stop a female cat from humping, it is important to determine the cause and address it, such as providing more stimulation or addressing any medical or behavioral issues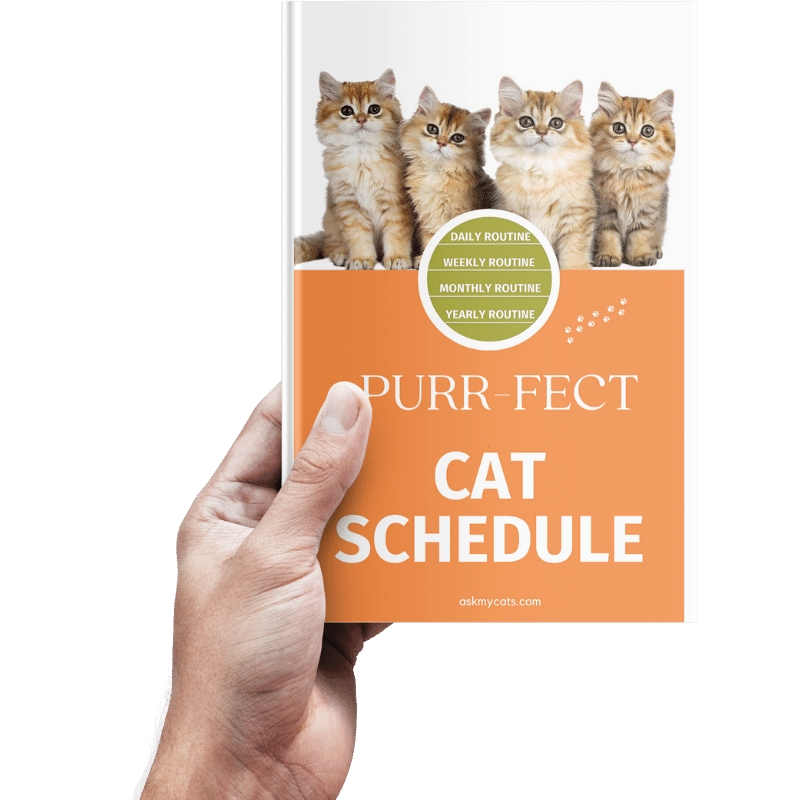 Discover the Secrets to a Happy Cat!
Discover the secrets to creating a happy and healthy daily routine for your feline friend. From playtime to mealtime, sleep to grooming, our expert guide will show you how to make every day a purrfect day for your cat.
Give Your Cat the Perfect Day – Get the Ebook!
Do Female Cats Hump?
A BIG YES.
As a female cat owner, you wonder why your cat is humping? You must be thinking it is something only male cats do but is it so?
Well, it turns out that there is a good reason for this behavior! Female cat humping is a natural mating display.
Female cats only do this on their terms and without any signs of being in heat. Take it easy on her and she won't spur you on to do the same things with her, so it's not just male cats who like to hump.
" Humping is often a sign that something isn't quite right in your cat's life, so spending the time figuring out why they may be humping and what you can do to stop it is a valuable exercise."

Dr. Joanna Woodnutt, MRCVS (Vet)
Do Female Cats Hump Each Other?
Yes, the female feline may hump each other. There can be several reasons for this strange behavior. Like showing dominance or unstable hormonal activity (mostly common in the heat cycle of cats) or they are simply bored and humping each other to kill boredom.
You don't need to concern when this happens. As most female kitties will quit humping each other on their own without exterior help.
It's still significant to maintain checking out for possible indications where this conduct is getting harmful.
These indications can be aggression and excess playtime with your other kitty.
Experts believe that when they hump objects or other animals, they're trying to mark their territory and make themselves feel more secure.

If your cat humps you specifically, it could be because they see you as another cat – albeit a very large one – and are trying to establish dominance.

Tammy Slater
Also, read – Why Do Cats Hump?
Is It Common For My Female Cats To Hump Stuff?
Yes, it is common for a female cat to hump kinds of stuff.
Cats are known for their weird and strange behaviors. One of those conduct is humping. Humping can be seen differently. Like humping stuff, other cats, or even humping your blanket. It is an uncommon behavior that usually disturbs people.
It is common for male and female cats to engage in humping.
There can be different reasons for female cats to hump
One of those reasons is that they enjoy doing it! And they have sensitive points on their backs and they feel pleasure stimulating those points.
Female cats also believe in maintaining their kingdom, they always try different ways to declare their territory, and sometimes humping is a way to declare their territory.
Doesn't matter what be the reason for your female cat's humping I can assure you that there is no reason for you to be anxious about it.
It's normal and there is nothing to be concerned about it.
Related: Neutered Male Cat Mounting: Reasons & Solutions
Why Does Your Female Cat Get Attracted To Male Humans?
Sometimes your female cat humps your leg or hand, and you may wonder why she is doing so. Is your cat attracted to male humans? Is she trying to mate?
The answer is yes, she is attracted to you but not in a sexual way, she likes you as her social partner, according to research female cats are equally attracted to both male and female human caretakers.
Sometimes she humps you to get your attention, love your kitty a little more don't throw her when she does so, she is showing her love for her human friend.
So, feel lucky that your cat loves you!
Also, read: Why Do Neuter Male Cats Try To Mate With Spayed Female Cats
Why Do Female Cats Hump Or Mount?
There are several reasons responsible for the humping of female cats. If you'll be known the reason for such behavior of your kitty, it will be easier for you to restrain owing what triggered feline humping even after sterilization will help you curb such actions.
There are several reasons-
1. Hormonal Disbalance
Female cats hump sometimes because of hormonal imbalance. They can feel like humping make them feel better, just like male cats.
Additionally, if your cat is losing weight suddenly, drinking excess water, or facing restlessness. Then you can be sure that the reason for humping is hormonal imbalance.
2. May Your Kitty Need Attention
Occasionally you may detect your female cat humping you just because she feels like she is being ignored. Or just requires more love, care, and attention from you. You can solve this easily by giving her more attention and love, and that she deserves, isn't she?
3. Stress And Anxiety
Stress can be one of the major reasons for humping, doesn't matter if she was involved in mate activities earlier or not.
A lack of attention and playtime can also give stress to a cat enough to involve in humping. Give more attention and play with your attention seeker kitty, it can help him get rid of it.
Interesting Read: Why My Cat Humps My Dog?
4. Boredom
Boredom can be the key reason for humping in female cats, she has to release a certain amount of energy over some time, sometimes the way of realizing energy can be playing, running begin the toys, or anything better than doldrums.
But when she doesn't get any way to discharge energy, she gets involved in undesirable behavior like humping.
5. Way Of Dominance
Cats see other cats as their competition, they always want to portray themselves as stronger than others.
Mostly bigger female cats hump small cats to show their dominance and that's not sexual behavior, it just seems like humping, but they just dominate the other cat in a body posture.
6. Health Issues
Sometimes humping can be a sign of urinary tract infection (UTI) which is a common problem in cats, treatment is also easy.
If your cat is tensing and facing difficulties while urinating or you have spotted blood in her urine, as an additional symptom with mounting then the chances are more that the cause of humping is UTI, it's time to take her to the vet.
Cats are sensitive souls, and they're much more prone to suffer from anxiety or stress than we might think. Any event that changes your cat's environment, such as moving to a new house, having new visitors, or bringing a baby into your house, can all trigger stress.

Dr. Joanna Woodnutt, MRCVS (Vet)
Myth Or Fact: Can A Male Cat Impregnate After Being Neutered?
Should I Be Concerned About My Female Cat Humping?
Whenever you see your cat humping you may get confused that you should ignore it or be concerned about it.
Now you know humping is normal behavior in both male and female cats both, indeed true it is normal, and you shouldn't be alarmed much about it, you can ignore little of the humping behavior of your female cat as it is natural but in case, she is humping exceedingly then it's time to react, but the reaction doesn't mean to be rude with her.
Excess humping can cause health issues and addiction for her, so instead of ignoring it, now you should concern a vet.
Interesting Read: Will Male Cats Try To Mate Hump With Other Males?
How Heat Cycle Is A Factor In Humping In Cats?
In the heat cycle, your cat becomes restless as she is in her fertile period and she is looking to mate. If she doesn't get a chance to mate, she tries to release her heat by humping.
Humping doesn't mean she trying to mate but she is trying to show that her body needs it to release heat.
How To Stop Female Cat Humping?
1. Spending More Playtime With Her
Your female Cat love playing with things just like a little child. Chasing things excites her and she loves the playtime activities.
Like, use a fishing-pole toy that can mimic the motion of birds flying in the air which she can chase. She loves this kind of activity; they learn to hunt as kittens.
Giving your cat access to windows so that she can look outside and get distracted from humping.
Generally, if you have a cat younger than the older one, try to play with her twice a day as the younger ones need more play time than older ones.
By observing you can see if your cat is feeling bored, that's might because she wants to play more. By using things like string toys, and a laser pointer you can activate her natural hunting instinct to get her up. And be sure to play with her at least once and if not then she must have toys to play with.
2. Distract Her From Humping
Teach her that humping isn't right and tell her to stop doing this. Whenever she tries to hump don't punish instead distract her, give her reasons to avoid humping, and keep her engaged in playing.
3. Increase Her Territory
As cats love to play, jump and run throughout the place they can explore the house. If she is feeling bored or packed try to utilize her space by adding shelves, and a cat tree in the home. So, she will release more energy as well as it will increase her excitement.
Her boundary also includes her litter box as having few litter boxes makes her feel annoyed and disturbed which becomes the cause of his humping so you should have at least 1 litter box per cat plus 1 more.
Interesting Read: Why My Cat Humps His Toys And How To Stop It?
4. Never Hit Her While Humping
Firstly, never throw stuff at your cat. The easiest way is to distract your cat when she is about to start humping.
When the cat is humping, she won't be able to understand why you are doing this as at that time she doesn't see anything wrong.
And this will only damage the bond between you and your pet. You will see changes in body language like breathing, dilated eyes, and eroding with excitement.
If your cat is humping with another cat, let her play and watch carefully if she tries to hump violently then just divert her attention by clapping hands or by calling her toward you.
5. Train Her Properly
Firstly, you will need something that your cat loves to play with, any kinda toy or treat.
When it looks like your female cat is going to hump just lift her up and distract her with his toy.
Good reinforcement therapy will be a brilliant solution to help the female cat end her humping cycle.
Just try to motivate your cat a bit every time you play with her for the behavior you desire than taking actions that you don't want and this will be an efficient strategy.
Interesting Read: Blanket Humping Cat? Understanding & Solving the Behavior
Additional Tips for Managing Humping Behavior in Female Cats
| Tip | Description |
| --- | --- |
| Avoid punishment or physical reprimands | Humping is a natural behavior for cats and punishment may only increase stress and anxiety. Use positive reinforcement techniques such as treats or praise for appropriate behavior instead. |
| Set boundaries and establish rules | Consistently enforcing rules and boundaries helps cats understand what is expected of them and can include providing designated play areas, establishing rules around humping, and providing alternatives. |
| Separate cats displaying dominant behavior | To prevent conflict and the escalation of aggressive behavior, consider separating cats for a period of time to allow for the establishment of a new hierarchy. |
| Gradually introduce new cats | When introducing a new cat to your household, do so gradually to prevent the development of dominant or aggressive behaviors, including humping. |
Additional Tips for Managing Humping Behavior in Female Cats
Interesting Read: Why My Cat Humps Me? Is It Normal For Cats To Hump Their Owner?
Why Is My female Cat kneading and Humping My Blanket?
Humping and kneading blankets is a very common behavior in both male and female cats, female cats hump out of boredom. Stress can be another factor in kneading blankets.
But do your cats knead and bite your blankets? Cats bite and knead even her mother's nipples to discharge milk. While most female cats outgrow these manners, others encounter it calming throughout their life.
Humping the blanket even means that she is declaring it as her territory.
Why Do My Female Cat Urge To Mate?
It's normal for female cats to try to mate, in their heat time they want to mate as it is their fertile time to reproduce. If your female cat is urging to mate, then it's normal, because it's the demand of her body to mate and reproduce just like any other animal.
Is humping behavior in female cats a sign of a medical problem?
In rare cases, humping behavior in female cats may be due to an underlying medical issue, such as a urinary tract infection or an abnormal growth in the reproductive system. If you are concerned about your cat's humping behavior, it is important to consult a veterinarian.
Will spaying my cat eliminate all humping behavior?
Spaying can help to reduce or eliminate humping behavior that is related to sexual behavior or estrus (heat). However, if your cat is exhibiting humping behavior for other reasons, such as play or dominance, spaying may not have an effect.
Final Words
If you're worried about your female cat's newly adopted habit of mounting. Then it's time to concern a veterinarian for treatment.
Follow his guidance and apply the above-mentioned tips and tricks to help your kitty to unlearn the undesirable behavior of humping.
After that, you can imply our suggestion to stop your cat from humping. Once you are complete that, high chance is there that kitty forget about her humping habit.
So, what are your opinion about this? Is your female cat addicted to humping excessively? What do you find most weird about her while humping?
Share your way of overcoming female cats' humping? Tell us in the comment section.
Interesting Read: Cat Humping While Kneading (Reason And Solution)
References