It's the cat misdeeds most likely to turn your face beet red: humping. When your cat gets that dilated pupil in his eyes and humps you, it's tempting enough to shout at him, and you feel like – "You want to pull the cat away by force or pray for the ground to open and swallow you".
But with a little patience, you try to remove him politely and try to understand why he is humping you and how to productively redirect to curb the behavior.
So, there are a number of reasons why your cat humps you. It could be a way to release excess energy, or it could be an effort to Mark his dominance.
For cats, humping their owner can also be an affection indicator. Sometimes humping can also be a sign of stress or excitement.
Now, you must be confused that which of these reasons is applicable to your kitty. Don't stress, I'm here for you to dive into this awkward topic to elaborate on all the possible factors and solutions as well.
Keep reading ahead to understand the bizarre behavior of your feline-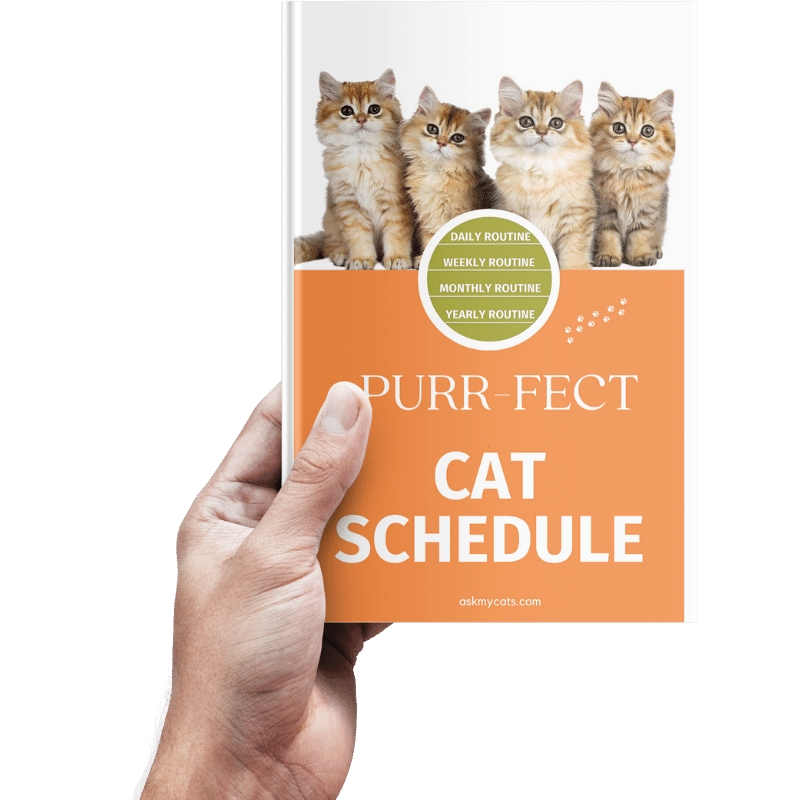 Discover the Secrets to a Happy Cat!
Discover the secrets to creating a happy and healthy daily routine for your feline friend. From playtime to mealtime, sleep to grooming, our expert guide will show you how to make every day a purrfect day for your cat.
Give Your Cat the Perfect Day – Get the Ebook!
Is It Normal For Cats To Hump People?
Cats are known for their odd and confusing behaviors. They do some things that might seem a little weird to us. For example, you must have noticed your cat humping you or your guest. But do you find this action normal behavior?
Yes, it is normal for cats to hump people. This is generally an indication of excitement or anxiety, but it can also be a way for your kitty to express their liking.
If you're not comfortable with your cat's behavior of humping people, there are many things, you can follow to discourage this behavior.
Always express "no" through your action and words (politely) when they start to hump people and offer them different options to release their energy, such as a cat toy.
Don't forget about the sterilization of your kitty- it will help him to reduce his urge to hump.
You might like to read – Why Do Cats Hump? Is It Normal For A Cat To Hump?
How Do I Know If My Cat Is Trying To Hump Me?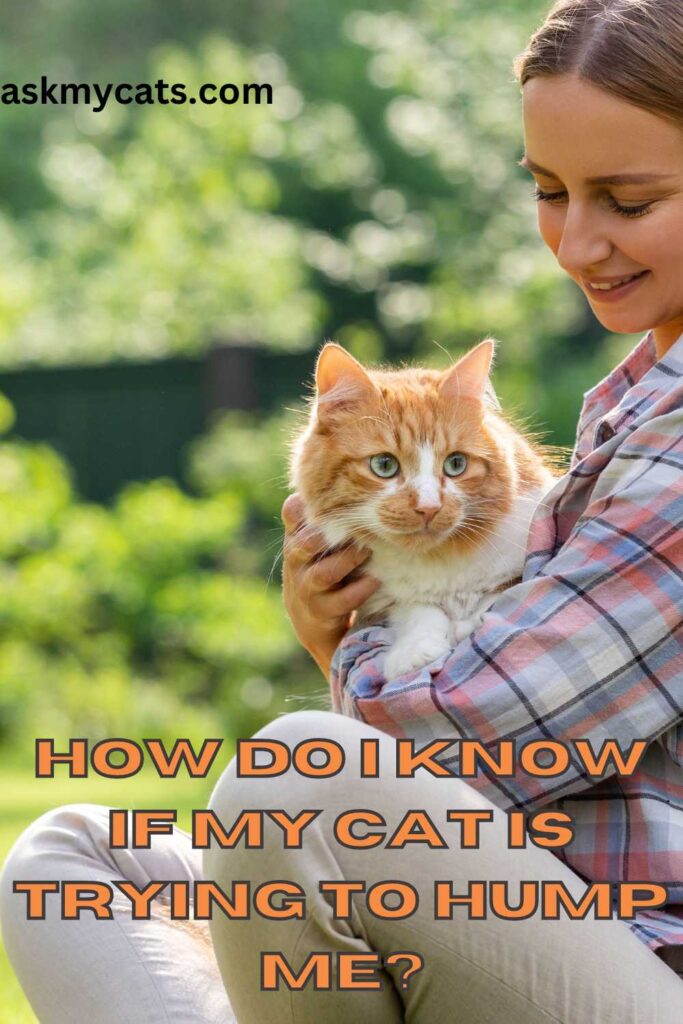 Most of us think of cats as relaxed, calm animals. But sometimes they behave terribly, especially with their humping behavior.
You are not alone who is confused about your feline's humping behavior.
Sometimes it becomes tough to differentiate between- "Whether your cat is trying to play with you or hump you."
In this case, the primary differentiation ground is observing his action when he plays with you.
You'll notice while playing he doesn't act forcefully or aggressively with you instead, he acts normal.
But when is up to humping you, he tries to force his body on you, aggressively.
Signs You Should Know Of When Your Cat Is About To Start Humping You
| Possible sign before humping | Explanation |
| --- | --- |
| Over Affection | If your kitty begins being clingy and shows extra affection than normal- then it is a humping alarm. Try to go away from him or distract him to avoid humping. |
| Pupil Dilation | When you hold your cat, keep checking his pupil, if his pupil begins to dilate, the feline is about to start humping you. |
| Sudden Signs Of Aggression | If you notice that your cat suddenly starts behaving aggressively or purrs when you are holding him, then he is on his way to hump you. |
Interesting Read: Will Male Cats Try To Mate/Hump With Other Males?
Why My Cat Is Humping Me?
1. A Sign of Affection
When a cat humps its owner, it's mostly seen as a way of showing- affection and love.
Cats believe in making bonds with their owner just like us. Humping for them is a way to confirm – that you are his loved one.
So, if your cat loves you, you may find yourself getting humped on regular basis.
2. A Way for Cats to Establish Territory or Dominance Over You
Cats are solitary creatures, they mark their territory through humping, to make sure that it's their property.
If your cats keep humping you regularly then your feline king is marking you as his property.
Cats even see humans as bigger cats, so they sometimes try to show dominance on you by humping you.
3. Stress And Anxiety
If your cat humps you frequently then stress and anxiety can be the primary reason for this behavior. Your kitty can get stressed by new changes.
These changes include -a change in the home environment, a new baby in your home, or a guest.
Cats take their own time period to adapt to sudden changes in their surroundings.
Interesting Read- How Long Does It Take A Cat To Adjust To New Home?
4. Hormonal Reason
Occasionally, your furry feline friend might hump you for hormonal reasons. This action is more common in unneutered cats. Or, if your kitty is recently neutered or spayed. After sterilization hormones take time to be neutralized entirely.
If you have a young kitten (unneutered) and he starts humping you recently, then it's a sign that now, it is high time to sterilize him as his sexual desire is growing slowly. If you'll delay sterilization, then he'll grow a constant habit of humping you.
Several studies illustrate the benefits of spaying/neutering a cat before it reaches 5 months of age, the approximate time it reaches sexual maturity.

An official journal of the NAVC, Today's Veterinary Practice
Interesting Read: Neutered Male Cat Mounting: Reasons & Solutions
5. Insecure Kitty
If you have bought a new cat, then the chances become higher that your old kitty will hump you more frequently.
Cats are 'solitary beings' – they don't want to share their belongings with any other cats.
When you bring a new cat, they feel insecure that now she will get less love from you. In this scenario, she humps you out of insecurity.
Why My Neuter Cat Tries To Hump Me?
If you have a neutered male cat and he's still trying to hump you, you must be amazed at why it's happening and how to stop it. Humping is a natural behavior for both male and female cats, but it can be an annoyance for their owners.
There are many explanations why your neutered male cat might be trying to hump you.
He might be trying to establish his dominance over you. Humping can also be a way of showing excitement or a way to burst excess energy.
The sterilization of cats should be done at the age of 8 weeks or earlier, so they don't learn about humping habits or other sexual behavior.
If your cat got neutered after learning the humping behavior, then there are possibilities that he will continue his habit even post-sterilization.
One other probability is that he's feeling anxious or stressed.
But don't lose hope, he can unlearn the humping behavior with time.
There are a number of things you can do to stop your neutered male cat from humping you.
Provide him with more play time and offer him new cat toys to distract him from humping. Additionally, try to train him with positive support. For example, give him an award whenever he listens to you and stops humping you.
Don't forget to make sure he's doing enough exercise. A tired kitty is less likely to immerse in the behavior of humping.
Also, read- Why Do Neutered Male Cats Try To Mate With Spayed Female Cats?
Why Is My Cat Humping My Arm?
You are holding your kitty and suddenly he hugs your hand with the intent to hump. Weird feeling, especially in front of family and friends, right?
So, the question arises why is your cat behaving this way?
Your feline may hump your arm for many reasons – not necessarily the sexual reason.
Stress and anxiety can be the primary cause, try playing a little more with your cat to help her to overcome depression.
In some cases, cats even hump their owner's arm to show their affection for their master. Your cat loves spending time with you.
But when you fail to give her the required time, then she feels insecure and gets indulges in humping.
If she is humping your arm too frequently then it's not normal. Immediately take her to the vet for the required check-up and medical treatment.
Interesting Read: Why My Cat Humps His Toys And How To Stop It?
Should I Let My Cat Hump Me?
If your cat occasionally humps you then there is nothing to worry much about it. There is nothing uncommon about cat humping their owner.
If you feel that your cat is just showing affection or excitement by humping you, or sometimes just as an act to draw your attention toward her, then this is more than normal.
But always make sure to explain to your cat through verbal and physical expression that humping is not the right way to show love. Because these normal occasional humping can be tomorrow's addiction for your cat.
Just in case, your cat's humping behavior becomes too frequent then it's time to be alarmed. Excess humping behavior is a sign of serious health issues in cats.
If your cat constantly keeps licking her private part and faces pain while urinating, then she might be suffering from UTI.
Take her to the vet without delay.
Interesting Read: Blanket Humping Cat? Understanding & Solving the Behavior
What Can Be The Potential Risks And Drawbacks Of A Cat Humping Its Owner?
While humping may look like normal behavior and sometimes as harmless fun, there are actually a number of potential risks associated with your cat's behavior of humping you.
1. Your Cat May Get Injured
In the process of humping you, your cat might try to over-force and get injured.
Especially when he is humping your leg, chances become higher that you will throw him unknowingly- as a sudden reaction to remove him from your leg, which will end up harming your cat physically.
2. It Can Injure You
Though your cat tries to shower his love on you through humping. But sometimes this love can be a toxic love- which ends up hurting you.
Periodically your cat becomes too rough while humping, which could lead to scratches or bites.
3. Harm The Bond Of Cat And Owner
Cats are very sensitive about their relationship with their owners. If you ever try to be rude or harsh with your kitty in the process to stop him from humping you. Then you'll get nothing but lose your bond with your cat.
As he is not aware that why are you behaving wrong with him because according to him humping is natural.
Humping is an unusual symptom of a urinary tract infection, but it's not unheard of. If your cat is humping but also doing things like urinating outside their box, straining to pee, or peeing more frequently than normal with little pee in the box, then you should schedule an immediate consultation with your veterinarian.

Dr. Joanna Woodnutt MRCVS, Veterinarian
Also, Read- Why Do Female Cats Hump And How To Stop It?
How Can I Use My Cat's Humping Behavior As An Advantage?
Though it might be inconvenient and uncomfortable to let your cat hump you. But every worst thing has some good sides too. Cat humping too has some advantages in your favor.
| Advantages Of Cat Humping | Explanation |
| --- | --- |
| Alarm For Your Cat's Exercise | In most cases, cats hump their owner to burn their excess energy. That means whenever they are humping you, they need to exercise for self-stimulation. |
| A Way To Release Stress | Humping helps your cat to be calm and reduces stress and anxiety. |
| A Way To Make A Strong Bond With Your Cat | If your cat is humping you, that means she is showing you, her love. It makes her feel that you are her loved one. |
| Disease-Indicator | Excess cat humping helps you to deduct that your cat's health is unwell and she needs proper care and treatment to overcome the disease. |
How To Stop My Cat From Humping Me?
1. Never Hit Her While Humping
Hitting your Tom for humping you is never a good option to make him stop.
For cats humping is a natural behavior. They don't find anything wrong about humping their owner. That means according to your cat you're hitting or physically abusing him without any logical reason.
So obviously if you'll hit him for no reason then it will affect your bond with your cat.
Additionally, it will make your cat more aggressive and insecure which will again add up to his humping behavior.
2. Politely Remove Him Away
Instead of hitting your cat for humping you, try to be polite with her while denying humping. Gently push him away from you whenever you notice that he is up to start humping you.
This gentle posture will help him to understand that you're not liking his humping behavior without destroying your bond with your cat.
3. You can use a deterrent
Whenever your cat switches on to hump you, apply any deterrent like peppermint or citrus on your cloth, it will prevent you from getting humped.
As these natural deterrents will calm your cat, and he might change his mood of humping you.
4. Grooming
Grooming will make your kitty feel loved and calm. Grooming even reduces stress and anxiety in your cat. Your attention seeker cat will feel less insecure, and it might help him for reducing humping behavior.
5. Try to distract him
As soon as you see your cat is on his way to start humping you, try dropping something on the ground or just normally start clapping or whistling to distract him.
Distraction helps him to forget that he was about to hump.
So always keep an active eye on your cat's behavior when you hold her- to make sure that you distract her exactly at the right time.
6. Positive reinforcement
We all love appreciation, aren't we?
Whenever you see your cat is understanding your denial of humping, give her a reward for good deeds. These rewards can include a toy or his favorite food.
Rewards will motivate her to stop humping you.
7. Visit Your Vet
Sometimes humping can be a serious call for medical treatment. UTI or other diseases are also major reasons for the humping habit in cats.
If you have tried almost all possible ways to stop your cat from humping you, then take him to the vet for treatment.
Interesting Read: Cat Humping While Kneading (Reason And Solution)
Frequently Asked Question
Why Does My Female Cat Hump Me?
If you are a female cat owner and getting humped by your feline, then you must be confused about this habit. She can try to hump for a few reasons such as showing affection, or it might be possible that she is in heat and willing to mate.
Humping you by your female cat can be a sign that she is stressed.
Play with her a little more and try to redirect and train her to avoid humping you.
Why my cat humps my leg?
Are you frustrated with the humping habit of your cat? Does it become tough to co-exist with your cat when she humps your leg?
My friend, you are not alone. Cats love humping their owner's leg. Through this behavior, she might be trying to tell you that she loves you. Cats show their affection through humping.
But sometimes humping your leg can be an insignia of depression. Arousal or excitement can also be the reason that your cat humps your leg.
Final Word
So now you know the reasons- why your cat is willing to hump you. Cat humping can be normal, but you might want to put a full stop to your cat's humping if he is doing it too frequently.
Humping can be a sign that your cat is overly stressed, bored, anxious, excited, or facing hormonal changes.
If your cat is humping you obsessively, the best thing you can do is take suggestions from your vet. Your vet can also offer guidance on how to restrain stress or other issues that may be causing your cat to hump you.
Whichever above-mentioned method you're applying on your cat to unlearn the humping habit, be consistent with that. As your cat will take time to forget about humping.
How do feel when your cat humps you? How do you stop her from humping you? Do you have any further suggestions related to the cat's behavior of humping its owner? Tell us in the comment section.
Interesting Read: Why My Cat Humps My Dog?
Reference