It is Christmas Time again and you all must be wondering who will be Santa Claus for your kids. But, if you have a feline kid at home you must be more anxious about the 'Oh No!' more than the 'HO HO HO!' of Santa. Right?
Christmas seems incomplete without Christmas trees which are an integral part of the festivities. Unfortunately, natural Christmas trees pose some toxical threats to your cats. So, the best alternative is a fake Christmas tree.
But, fake Christmas trees are also not completely harmless for cats. Nothing to worry about. A few simple precautions and proper planning of your Christmas tree can assure a Christmas that Jingles all the way for you and your kitty.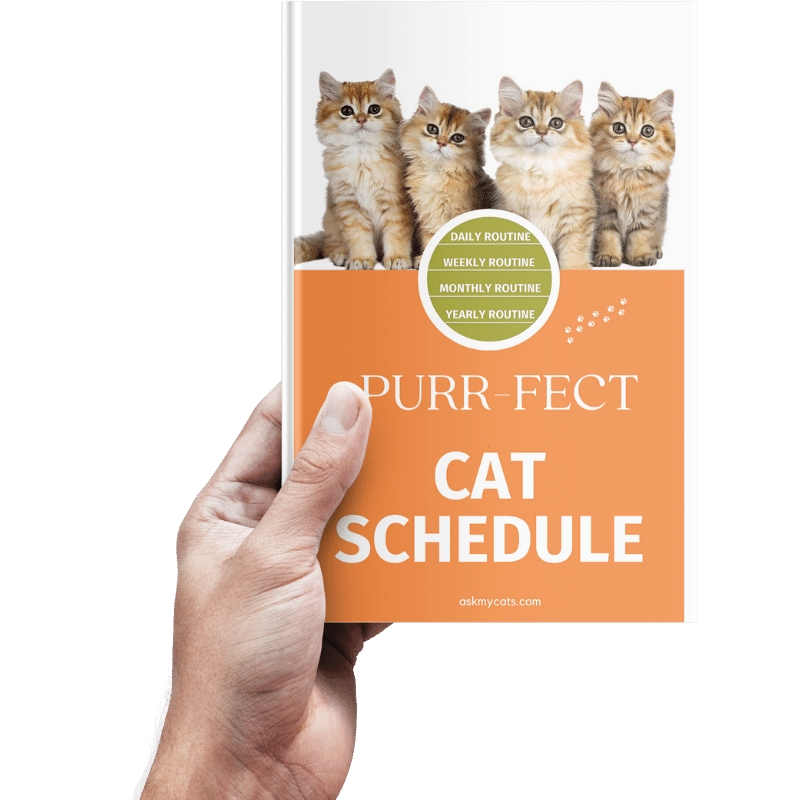 Discover the Secrets to a Happy Cat!
Discover the secrets to creating a happy and healthy daily routine for your feline friend. From playtime to mealtime, sleep to grooming, our expert guide will show you how to make every day a purrfect day for your cat.
Give Your Cat the Perfect Day – Get the Ebook!
Why Are Fake Christmas Trees Better For Cats?
The major difference between a natural Christmas tree and an artificial tree is the smell and toxic harm they cause to cats.
Natural trees have a smell that naturally lures the cat to come and sniff them. This can expose the naive feline to the toxicity associated with chewing the leaves, branches, or shed needles.
Some of the natural things inherent to the Christmas season are mistletoe, holly, berries, etc. But, these are invitations to the veterinarian for your cats.
So, the best option for a risk-free Christmas for your furry friend is to get a fake Christmas tree. The market is full of different options for artificial trees which look exactly like real Christmas trees but without the smell which entices the felines.
Moreover, fake Christmas trees save you the extra vigilant work of watering, changing the water regular-cleaning of the constantly shedding leaves, needles, etc, which can result in a trip to the vet in case of the slightest negligence.
"Live Christmas trees can be deadly for cats. Pine needles can be ingested and puncture intestines. Pine is highly toxic to cats, potentially causing liver damage or death."

Jordan Holliday – Embrace Pet Insurance
On top of that, it saves the bills of a new Christmas tree every year. The artificial trees can be reused for 6-8 years as per the surveys conducted.
During the last leg of the last decade, Neilson from the American Christmas Tree Association trade group conducted a survey and found that 81 percent of Americans use artificial trees and 19 percent still use natural trees.
Interesting Read: How To Decorate For Christmas With Cats?
Why Are Cats Attracted To Fake Christmas Trees?
Our feline friends are exactly like our naive babies who are always curious explorers of new or flashy things and do not know what is safe or harmful to them.
When you set up a Christmas tree at home, irrespective of whether it is natural or fake, it is natural for the kitty to get curious about it.
Fake Christmas tree may not have a smell, yet it is something attractive and new, while the branches seem to hide some prey for them.
Decorations are the most enticing things for cats. The shiny and colorful things can attract baby-kid, let alone curious felines.
So, more than the tree, the baubles hanging on their branches or the flashy wrapped gifts around the tree can excite the cats enough to go- hunting for new play or prey. But, tinsel, lights, and shiny-glassy ornaments are extremely harmful to innocent cats.
Felines are climbers and like to jump from one to another in their playtime or satisfy their instincts to search for hidden prey.
Must Read: How To Keep My Cat Out Of The Christmas Tree?
Do Cats Eat Fake Christmas Trees?
Cats instinctively sniff anything that excites their attention and if the object seems to move and escape its paws, it naturally takes it to be a prey and tries to hunt it. Christmas trees can be very alluring to a cat and the tickly branches may provoke it to chew and taste.
The ornaments and lights that look like toys also attract its attention. What we feel as eating may be your naughty kitty's playtime. The playful nature of these felines thus may land them in trouble.
Flocking to make the tree look snowier is also something that may attract your kitten. Flocking is associated with chemical residue and so, must be avoided to keep your kitten safe.
Interesting Read: Why Do Cats Like Christmas Trees?
Why Do We Need To Keep Cats Away From Fake Christmas Trees?
Artificial Christmas trees may be safe from toxicity to cats, but we still need to keep your furries away from fake Christmas trees. There are many other possibilities that can harm little kittens.
Fake or natural, if we do not secure the tree with a solid base or with a wire at the top region of the tree to the wall, the kitty in its playfulness may try to jump on the branches and topple the whole tree on itself.
This may result in wounds or even fracture leading to an emergency rush to the vet, apart from the cleaning of the resultant huge mess.
Fake Christmas trees are manufactured to resemble as much as possible to the natural ones.
So, though they are made of plastic, they still may shed small parts of fake leaves or needles during setting up the tree. If these bits are ingested by cats while you are busy, the situation can turn very harmful due to plastic poisoning for your feline.
"Cats should not chew on an artificial tree, as they may accidentally ingest pieces of the tree which can cause both irritation and potential blockage."

Dr Bierbrier – Medical director of NYC's Community Medicine.
Must Read: Are Christmas Trees Poisonous To Cats?
How To Keep Cats Away Or Safe From Fake Christmas Trees?
The simplest way is to set up your artificial Christmas tree on at least 2 feet higher mount or box and secure it with a transparent wire to the wall or even place it in a high colorful barrel.
This prevents the kitty from going and sniffing or tugging at it every time it manages to sneak into the Christmas tree room when no one's around.
Of course, the felines like to jump about and explore new toys or prey. So, be sure to arrange the Christmas tree in a room with a door that you can close.
It is better to have a small Christmas which will be less intriguing to your cat.
Always hang the ornaments with a sturdy twine that should not break with the slight tug of the tender-pawed one.
Avoid hanging or tying the ornaments or lights on the lower portion of the fake Christmas tree. If you are a pet parent do not use any tinsel or glass ornaments.
Do not lure your furry friend by placing colorful and shiny wrapped and ribbon-tied gifts on the floor around the Christmas tree. Instead, arrange them on a wall mount beside the tree. Do not tempt them with flocking as well if you do not want your little fur to suffer from a poisoning bout.
Feline moods are reciprocal to your moods. If you are excited and are working on something, the little pawed friend also wants to join the fun or play with what you are working on.
So, another effective method is to set up a fake Christmas tree or even do the decorations with the cat in the room. Keep your kitty distracted in another room while you bring in and do the arrangements for the tree.
This will reduce the chances of its getting too excited with the new arrangements unless you bring their attention to it.
Cats somehow do not like citrusy smells and foils. This can act as an effective deterrent to keep the cats away from your Christmas tree – both fake and real. wrap aluminum foil around the base of the tree.
Place some lemon or orange peels scattered around the area from which you want to steer clear of your sniffing-fur-ball. 
Must Read: What To Gift Your Cat For Christmas?
Important Queries
What are the different types of artificial Christmas trees available?
The fake Christmas trees available in the market come in many ranges of types, sizes, and prices. They are usually made of two types of plastic – PE or PVC, which give the tree an evergreen look. 
Some of the artificial trees have fixed-in branches and so, easy to set up while some have the main pole with slots in which the spare branches are to be assembled at home and are cheaper than the built-in ones. 
What happens if a cat eats a fake Christmas tree?
Fake Christmas trees are commonly made of plastic. are not edible yet, in case of ingestion can make the cat ill. The tender GI tract of cats cannot digest plastic like any other living being. Chewed or bits ingested can get stuck in the GI tract and compel surgery. 
Plastic is obviously poisonous and not an edible or digestible thing. If your cat nibbles at the fake Christmas tree and eats the bits, then the consequences can be severe and incurable without a doctor.
So, monitoring the cats when they are around the tree is a firm advice pet parents must pay heed to.
Conclusion
All in all, Christmas must be a time to enjoy the spirit of love, care, and family joys. So, if you have a feline added to your family, just pay attention to all the above suggestions and precautions and your Christmas will be just as it should be. Celebrate a Happy Christmas with a fake Christmas tree and no medical bills for your cat.
"We believe there is no bad choice when it comes to a Christmas tree, choose either tree, relax, enjoy the holidays."

Jami Warner, Executive director of American Christmas Tree Association trade group
References