The joy of Christmas is infectious, isn't it? You can't stop it from spreading across our families, neighborhood, and nations across the globe.
Then how can the little feline members of our families be excluded from the festive delights?
Good News! It costs nothing but a few little tweaks here and there to help catify your Christmas decorations. If a few replacements and precautions can gain the joyful company of your happy furry friend, isn't it worth the effort?
So, go ahead and delve into the alternatives available, to ensure a Jolly Christmas this year.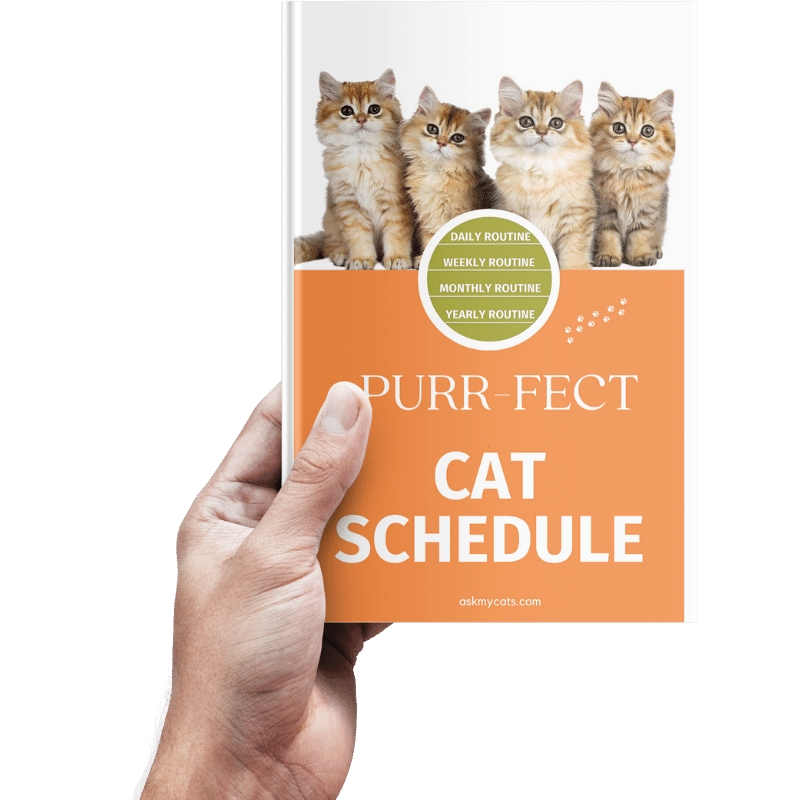 Discover the Secrets to a Happy Cat!
Discover the secrets to creating a happy and healthy daily routine for your feline friend. From playtime to mealtime, sleep to grooming, our expert guide will show you how to make every day a purrfect day for your cat.
Give Your Cat the Perfect Day – Get the Ebook!
Points To Consider During Christmas Decorations When You Have A Pet Cat
Dr. Lori Teller reminds us that most of the natural things we use as a part of Christmas decorations and celebrations are toxic for cats. She confirms —
"Lilies, European mistletoe, amaryllis bulbs, and pine needles can all cause serious health complications if consumed."

Dr. Lori Teller, Associate professor at the Texas A&M College of Veterinary Medicine & Biomedical Sciences
She further adds that eatables shared as Christmas gifts may be a treat for us but may turn into a mood-dampening trip to the veterinary.
Dark chocolates, raisins, alcohol, fatty food, baked chocolate delights, etc make your cat severely ill.
Macadamia nuts if left around, can even result in neurological disorders in the naive ones who eat them away wagging their tails.
Ornaments made out of food materials are also harmful to sniffing-felines.
Interesting Read: Why Do Cats Like Christmas Trees?
How Do To Decorate A House With Your Cat For Christmas?
Now that you know, why we need substitutes for traditional Christmas decorations, celebrate the holiday with some Catty arrangements to avoid the Feline ER visit just when you begin to have some happy family time of fun and frolic.
Here are some excellent and safe alternatives that will keep you worry-free when you are busy baking and hosting guests.
How To Make A Cat-Friendly Christmas Tree?
The best replacement for the constant anxiety of vacuuming the shedding pine needles and leaves, changing the water and monitoring if it is covered or not, securing the tree to avoid toppling, etc, is by some creatively exciting alternatives made at home.
Just like setting up a traditional Christmas tree is a family bonding time, creating a faux tree together for your kitty can also be a very good way to boost creativity, spend some quality time, and instill empathy for the pawed ones.
Must Read: How To Keep My Cat Out Of The Christmas Tree?
So, keep the questions like – 'how to have a Christmas tree with cats?' at rest and try out these easy replacements.
Alternative 1
Take a long piece of green color silk cloth, cut and stitch it into a conical shape with adequate space to stuff it with safe wadding.
Fix the base to a large wooden board or felt.
Stitch ribbons across the breadth of the fabric tree at regular intervals
Create golden and red colored shiny fabric stars, balls, bows, etc, and stitch them up with hanging ribbons on top parts of the tree.
Alternative 2:
Purchase a fantastic life-size table-mount or wooden tree or Wall sticker with no hassles of toppling down or kitty jumping or tugging at fragile ornaments.
All these are available at major shopping stores. Browse through the plethora of options and choose the best that suits your feline kid and retains your Christmassy decor.
Must Read: Which Christmas Trees Are Safe For Cats – Fake Or Natural?
Homemade Fabric Ornaments For Cat-Safe Christmas
Glass carbuncles, tinsel, glittery stars, etc, are part of our festive decorations and a Christmas without all these baubles and strings seems incomplete. Right?
But, these decorative pieces are a constant threat to your cat, which leads to a nagging worry and monitoring for its safety all the time. That should not be the case in this holly jolly season.
The wise option would be to become creative in making colorful fabric baubles and stars stuffed with safe wadding.
Use battery-powered lights instead of connected through risky electrical chords. Make sure to arrange the lights at a height unreachable for the inquisitive feline.
Use LED candles instead of wax ones to prevent burnt mouth and hot wax scalding.
Still, if you feel the look is not complete, put the normally used shiny baubles in large transparent jars and shut them tight.
Place them at high and safe mounts with some fairy lights around the jars. That definitely will satisfy your glittery cravings while keeping your softy pawed safe.
"When putting presents under the tree or around the fireplace, make sure that any gift-wrapped food items are out of reach."

Dr. Teller
Enticing gifts wrapped and kept around the Christmas tree is the most anticipated sight every Christmas. But, these gifts should not become the cause for your kitty's medical bills.
So, create a space for gifts in a cordoned-off area or high wall mount near the iconic tree.
Must Read: What To Gift Your Cat For Christmas?
Keep The Kitty Busy With Catified Gifts And Eatables
If you feel guilty about denying your cat the delights of baked cookies, cakes, chocolates, etc, add lots of Catnip snacks available in the market to your Christmas shopping list.
While you open the gifts and enjoy the surprises, surprise your curious cat with a bowl full of colorful wool or felt cat-toy balls available in the pet stores or a wool stocking with catnip eatables hidden inside to keep it happily engaged for some time.
Interesting Read: Are Christmas Tree Toxic To Cats?
Frequent Queries
What Christmas trees are safe for cats?
The alternatives created at home with padded fabric are the best alternatives for a safe Christmas tree. Still, if you crave a floral look for your festive home –  Easter cacti, Green Ferns also go with the green look, moth orchids, etc, are non-toxic for cats. That doesn't mean you can allow the plants to be nibbled by the felines. No!. Arrange them out of the naughty cat's reach.
Which Christmas trees are safe for cats?
Simple. Cat-proof your Christmas tree, ornaments, and eatables. Keep all the toxic and fragile baubles, gifts, etc out of its reach. Try out the alternatives listed above and you are good to go have a Merry Christmas.
In A Nutshell
"Our pets have played a huge role in our lives, especially during the pandemic. Be sure you take some time to give them extra attention," Teller said. "That will be the best gift of all."

Dr. Teller
Moreover, it complements the spirit of Christmas of sharing, caring, bonding, and smiling. Say, Cattyyyyy, and take lots of snaps to make this cat-proof Christmas a memorable one.
References